Spell Token Price Prediction: Explore Your Investment Path Now!
June 8, 2023
Price Prediction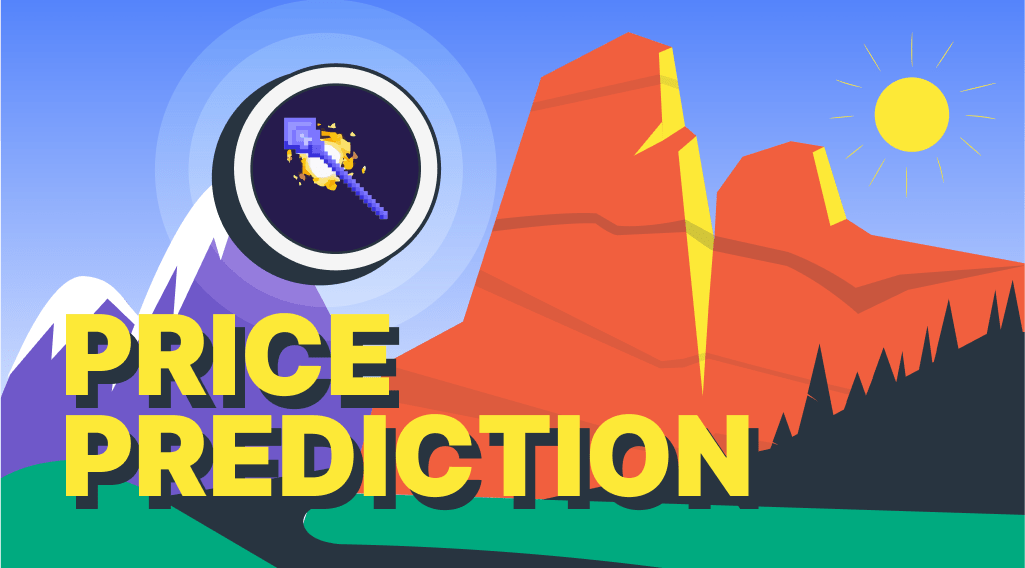 Cryptocurrencies' high volatility hinders their use as exchange mediums, promoting stablecoins' importance in the DeFi system. Lending platforms in crypto let users leverage their digital capital. Abracadabra Money is a cross-chain lending protocol that enables its users to use earned interest-bearing tokens in vaults. The SPELL Token, an ERC-20 governance token for this decentralized crypto lending platform. Read more about Spell token price prediction in the new StealthEX article.
| | | |
| --- | --- | --- |
| Current Spell Crypto Price | SPEEL Prediction 2025 | Spell Token Price Prediction 2030 |
| $0.00051 | $0.00011 | $0.23 |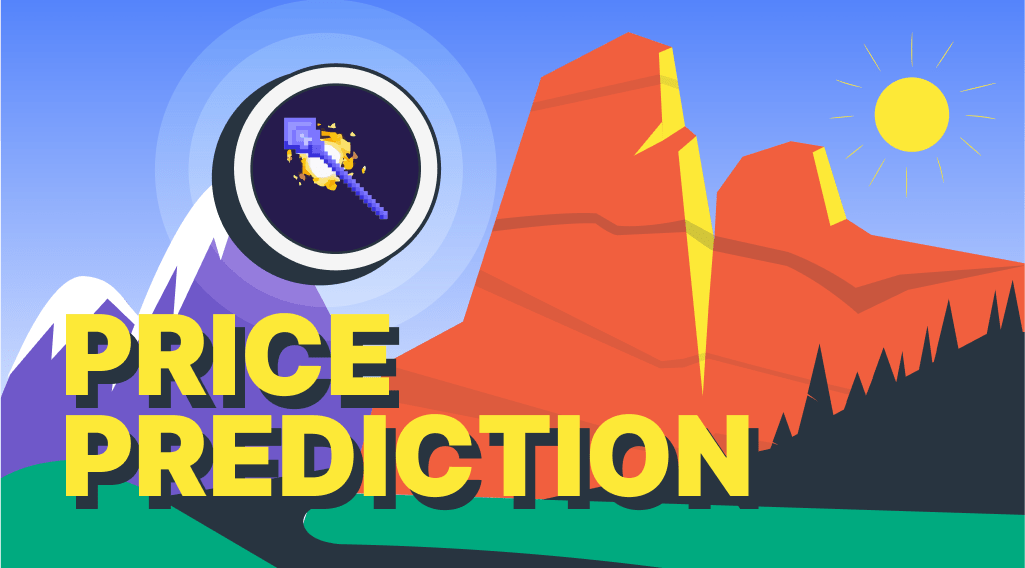 Spell Token Price Prediction
Spell Crypto Price Prediction 2023
WalletInvestor crypto analysts have a negative prediction for Spell Token for this particular year. According to their estimates, this digital currency may fall in price by the end of 2023 – to a record minimum of $0.0000367 (-92%), which is below its current price. The best prediction from their analysts is that the token will lose its position anyway and reach a maximum price of $0.000110 (-78%).
According to DigitalCoinPrice, in 2023 the minimum price of SPELL coin will drop to $0.000991 (+96%), while its maximum price, $0.0011, will see the cryptocurrency rise in price by 117%.
Meanwhile, PricePrediction.net predicts that in 2023, the expected maximum price of Spell Token will be $0.00073608 (+45%), and it may also drop to a minimum of $0.00065610 (+29%).
SPELL Token Price Prediction 2025
DigitalCoinPrice is optimistic about SPELL coin, and their experts believe the cryptocurrency will steadily rise in price. Based on the experts' forecasts, in 2025, SPELL crypto might climb up to $0.00183 (+262%) per coin at its highest point. Its minimum price might reach $0.00147 (+191%).
WalletInvestor believes that SPELL coin is going to fall in price by the end of 2025 – its minimum price in December of 2025 is forecasted to hover around $0.0000416 (-91%). Its maximum price, however, will not be much different from its minimum price, $0.000125 (-75%).
PricePrediction.net are positive about SPELL crypto reaching new price levels. According to their website, the expected maximum price of SPELL coin at the end of 2025 will be $0.002 (+296%), and it may also drop to a minimum of $0.001 (+98%).
SPELL Price Prediction 2030
According to DigitalCoinPrice forecasts, in 2030 the highest price SPELL coin may reach is $0.00529 (+948%) per coin, while its low may amount to $0.00491 (+872%).
PricePrediction.net are positive about SPELL crypto and believe it will reach new price levels. According to their website, the expected maximum price of SPELL coin at the end of 2030 will be $0.011 (+2,079%), and it may also drop to a minimum of $0.009 (1,683%).
Telegaon are even more optimistic than PricePrediction. According to them, in 2030, SPELL cryptocurrency's minimum price may reach $0.095 (+18,723%). Its maximum price, however, may soar to a record level of $0.23 (+45,471%).
SPELL Coin Price Prediction 2040
Telegaon provides us with some estimates for SPELL coin when it comes to long-term predictions. Though the crypto market is highly volatile, the website's experts believe that by 2040, the price of Spell coin will reach an all-time high with $5.46 (+1081,730%) at its lowest point. Its maximum is estimated to be $7.29 (+1,444,322%).
Spell Token Price Prediction 2050
Telegaon also provides us with the all-time highs for SPELL coin for the year 2050. The coin's price may rise even higher and skyrocket to a record-breaking price level of $22.13 (+4,384,683%), while it may also drop down to a minimum of $15.45 (+3,061,124%).
SPELL Coin Price Chart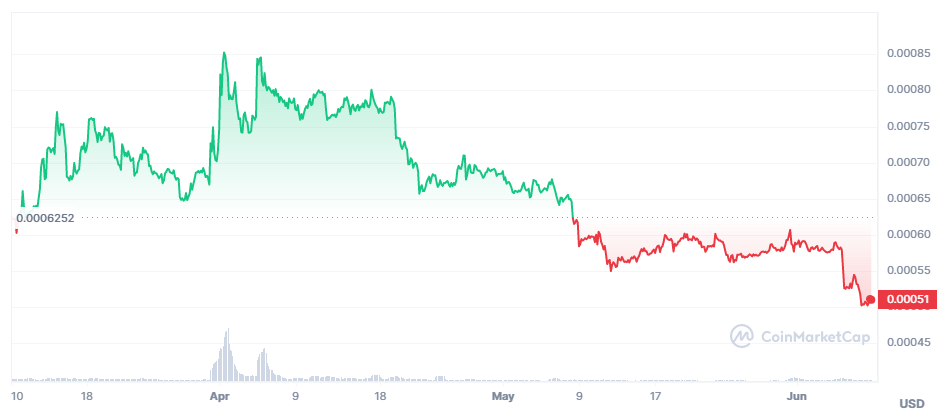 | | |
| --- | --- |
| Current Price | $0.00051 |
| Market Cap | $54,776,105 |
| Volume (24h) | $5,113,705 |
| Market Rank | #351 |
| Circulating Supply | 107,405,628,968.52 SPELL |
| Total Supply | 196,008,739,620 SPELL |
| 7 Day High / Low | $0.0006114 / $0.0005018 |
| All-Time High | $0.07515 Jan 07, 2023 |
Source: CoinMarketCap, 8 June 2023
SPELL USDT Price Technical Analysis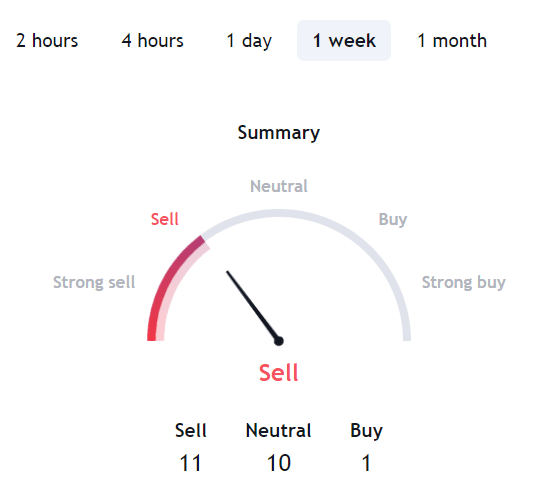 Source: Tradingview, Data was taken on June 8
Now that we've seen what the future may have in store for SPELL coin, let's find out a bit more about the lending protocol behind it and the specifics of this crypto project.
What Is SPELL Token?
In short, Abracadabra's Spell Token (SPELL) is a governance token for Abracadabra.money, a lending platform. A lending platform is nothing more than a DeFi where traders lend and accept Bitcoins in exchange for interest. SPELL token's primary use cases are governance in the Abracadabra protocol and fees earned from the protocol.
Abracadabra.money, a stablecoin lending platform, is run by a co-founder who is only known as 'Squirrel,' along with Daniele Sesta. The platform launched in May 2021 and by October 2021 had surpassed a $1.14 billion market capitalization.
Abracadabra's Features
Abracadabra's primary business is lending, and the support of interest-bearing tokens (ibTKNS) as collateral distinguishes it from other over-collateralized lending protocols.
For example, ibTKNS certificates obtained from assets deposited in Yearn to yVaults can still be utilized as collateral to lend MIM (Magic Internet Money) stablecoins in Abracadabra. This preserves the underlying asset's interest while simultaneously borrowing funds to obtain more liquidity. Unlike most stablecoins, MIM tokens can be simply moved between a variety of blockchains. In May 2023, MIM token became the first omnistable built on LayerZero_Labs's Omnichain Fungible Token (OFT) standard.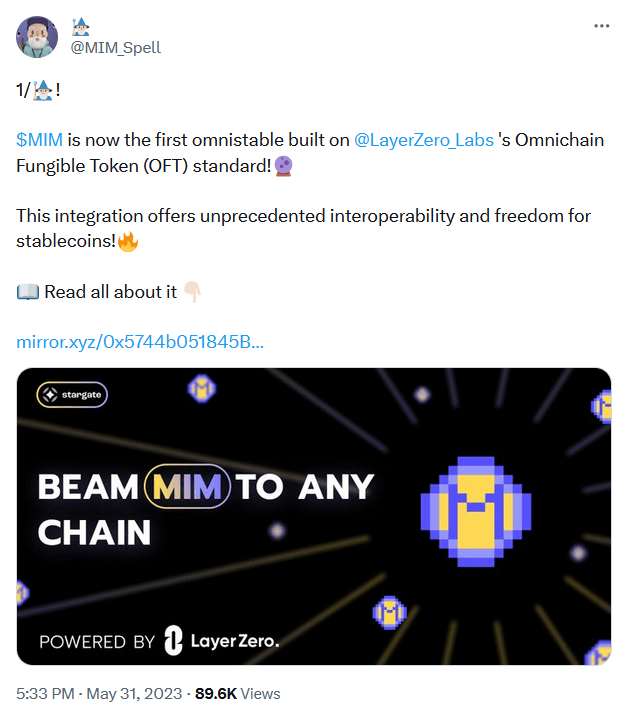 The majority of the collateral now backed by Abracadabra is ibTKNS, with tokens backing:
AGLD, the community governance token of Loot, an NFT project.
ALCX, Alchemix's token.
FTM, Fantom's token.
SHIB.
SPELL and sSPELL, Abracadabra's own tokens.
Despite the dangers of liquidation connected with stablecoin loans, they allow investors to increase yields while maintaining ownership of their digital assets. Investors, for example, can sell or reinvest loan proceeds, enabling more complicated trading methods. DeFi protocols such as Curve, Yearn, and SushiSwap, in general, mint ibTKNs as part of the loan structure. By providing these ibTKNs as collateral in stablecoin loans, Abracadabra.money hopes to further decentralize DeFi investment options.
Abracadabra Roadmap
In January 2023, the team behind Abracadabra presented a Q1 roadmap, according to which they were planning to launch a number of updates, including a list of collateral, some of which are already available on the platform:
GMX Ecosystem Cauldrons: Many exciting projects are all waiting for a leverage engine.
Yearn's Tricrypto Vault: Users will be able to leverage up the best Tricrypto yield on the market.
Magic APE: Abracadabra's in house auto compounder for staked APE tokens.
DEX LP Tokens: Expansion of the Degenbox strategies to Camelot, Solidly and Velodrome LP tokens.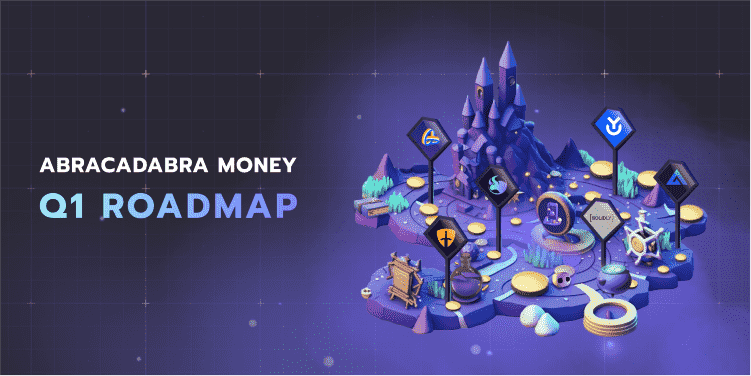 Abracadabra Roadmap, June 8, 2023
SPELL Token and sSPELL Token: Governance and Staking
Although the MIM stablecoin is the principal token in the Abracadabra ecosystem, SPELL token and its close relative, the sSPELL token, both help to manage the network and encourage market involvement. SPELL crypto, which has a total supply of 210 billion, facilitates governance on the Abracadabra crypto platform and is distributed as follows:
Incentives for global farming (63%). These tokens are used to reward specific LP pairs and mining programs. This tailored distribution helps to ensure appropriate liquidity across the platform's markets.
Team allotment (30%). These tokens have been reserved for members of the founding team.
IDO (7%). An Initial DEX Offering (IDO) was used to distribute the initial supply of SPELL tokens to early project backers.
Furthermore, the sSPELL token supports fee-sharing and governance on Abracadabra.money. Users can stake SPELL tokens to mint sSPELL, allowing them to participate in the SPELL staking pool and the Abracadabra DAO. Fees are automatically calculated for sSPELL crypto holders based on their part of the SPELL staking pool. Furthermore, while holders of sSPELL or the SPELL/ETH SushiSwap LP token can participate in governance, staking SPELL does not have to imply giving up governance rights. It is crucial to remember, however, that all sSPELL are subject to a 24-hour lock-up period, which is used to stabilize the staking pool.
How to Buy SPELL Token Crypto via StealthEX
StealthEX is here to help you buy SPELL coin in case you made up your mind. You can do this privately and without the need to sign up for the service. Our crypto collection has more than 1,000 different coins and you can do wallet-to-wallet transfers instantly and problem-free.
Just go to StealthEX and follow these easy steps:
Choose the pair and the amount you want to exchange. For instance, BTC to SPELL.
Press the "Start exchange" button.
Provide the recipient address to transfer your crypto to.
Process the transaction.
Receive your crypto coins.
Follow us on Medium, Twitter, Telegram, YouTube, and Publish0x to stay updated about the latest news on StealthEX.io and the rest of the crypto world.
Don't forget to do your own research before buying any crypto. The views and opinions expressed in this article are solely those of the author.
crypto price prediction
price analysis
price prediction
SPELL
Spell Token
Recent Articles on Cryptocurrency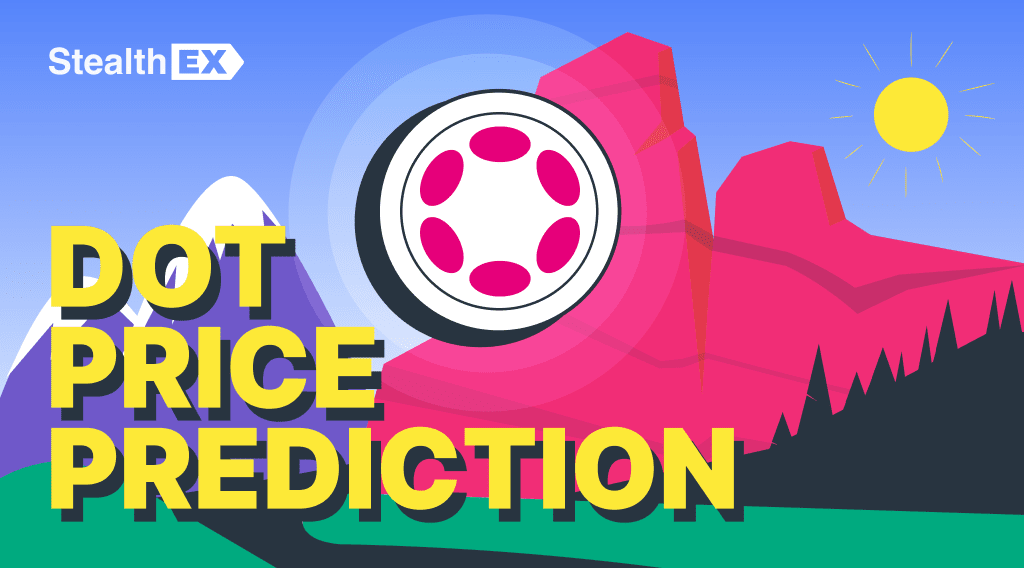 November 29, 2023
Price Prediction
Polkadot (DOT) Price Prediction: Will DOT Coin Reach $1000?
According to the long-term Polkadot price prediction by the end of 2030, the DOT price may rise to $195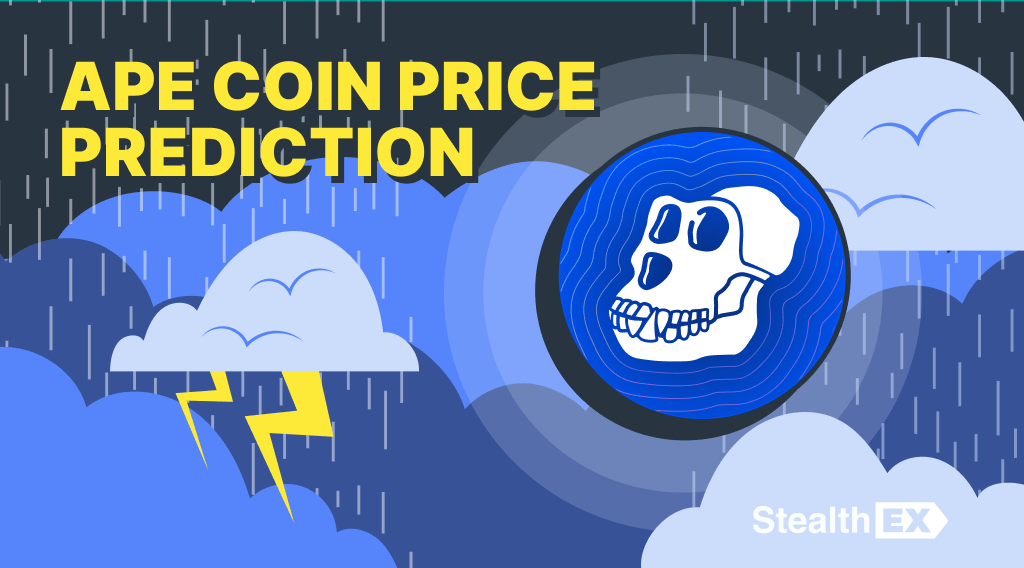 November 29, 2023
Price Prediction
ApeCoin Price Prediction: Is APE Coin a Good Investment?
According to the long-term ApeCoin price prediction by the end of 2030, the APE price may rise to $250