The End of Crypto: Will Cryptocurrency Market Recover?
December 7, 2022
Crypto World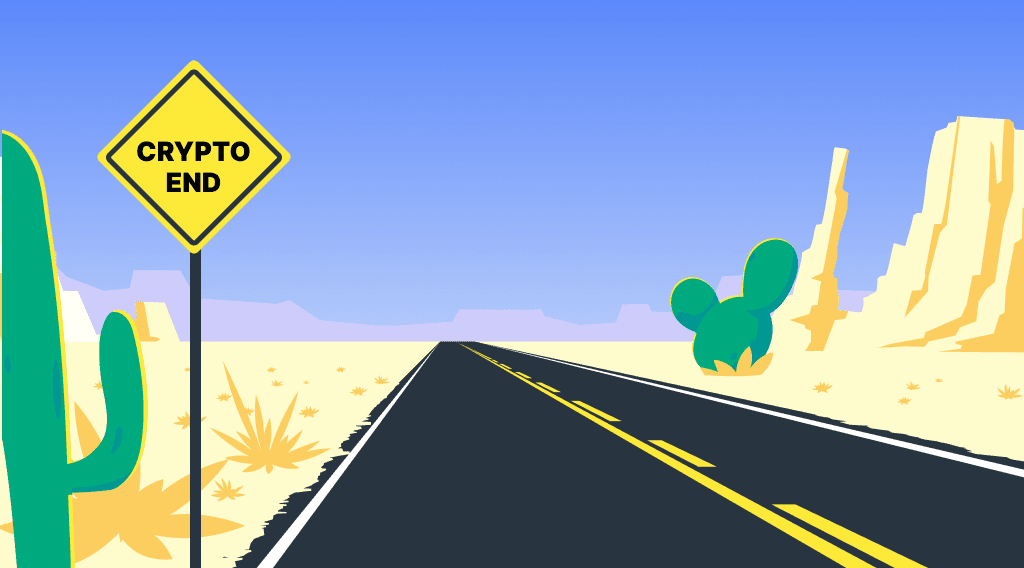 The crypto industry has seen many downs this year. Even before the latest controversy of 2022, the collapse of a major exchange called FTX, reddit users have been speculating whether crypto is dead or not. The turbulence started with an overall market recession, continued with the Luna/Terra crash and Celsius downfall and ended with the FTX collapse. The FTX disaster has produced no shortage of hot takes, and many economists started speculating whether this may be the end of crypto in general and Bitcoin in particular.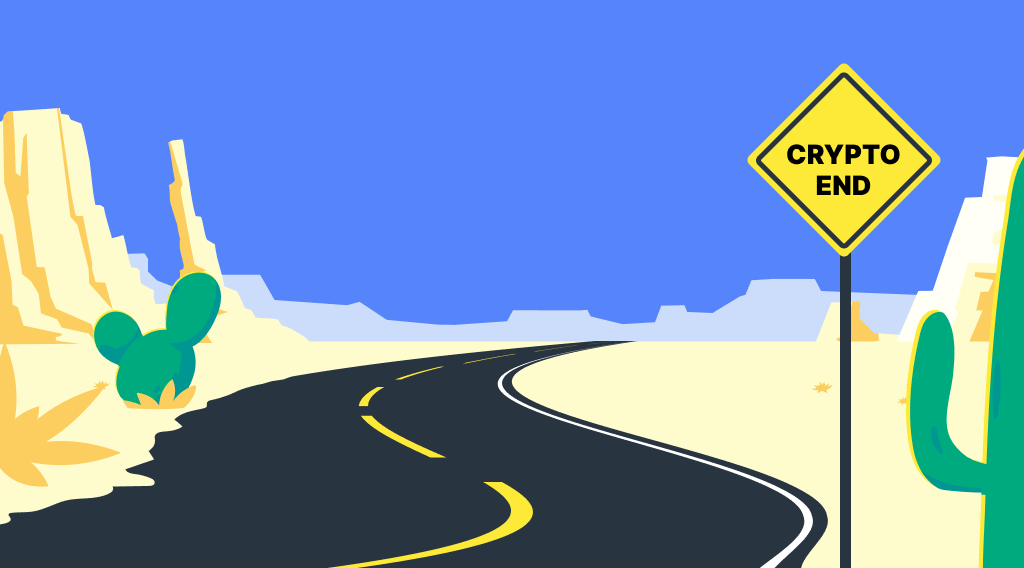 Is This the End of Crypto?
It is true that throughout the last decade there have been hundreds of crypto scams and disasters. One of the most well-known was the catastrophic Mt. Gox hack of 2014, not to mention the short-lived period of ICOs in 2017-2018. However, the FTX collapse not only blew up tens of billions of dollars in value but deeply scarred the whole crypto industry.
FTX Crypto Exchange Collapse
The more we learn about FTX, the crazier the story of the now infamous crypto exchange becomes. Of its assets, FTX had reportedly lent $8bn to Alameda Research, a trading firm also owned by Mr. Bankman-Fried. In turn, it accepted as collateral its own digital tokens, which it had conjured out of thin air, and this led to the exchange's collapse once Binance's CEO Changpeng Zhao hinted at the problems. Eventually, after FTX declared bankruptcy in the US, hundreds of millions of dollars mysteriously flowed out of its accounts.
In response to this, Solana, a popular coin used by developers and touted by Bankman-Fried, fell by more than half. Bitcoin fell another 12% in the last five days, and more speculation about the downfall of crypto began. All in all, the value of Bitcoin peaked at USD 69,000 in November 2021 before falling to USD 17,000 by mid-June 2022.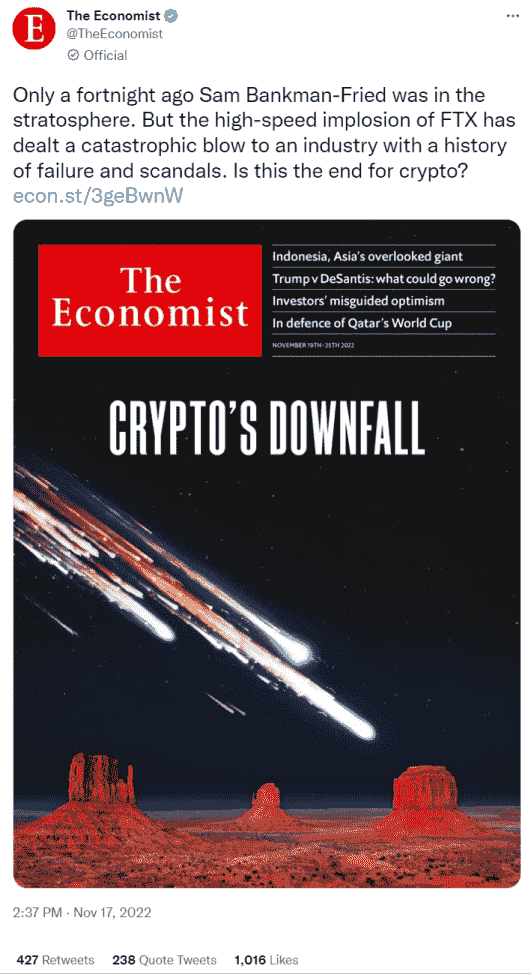 This has led to a number of articles, including the one released by The Economist, that predict the end of cryptocurrency and Bitcoin as an asset. It also added a fair share of articles to the Bitcoin Obituary website. All in all, this would be the 467th time Bitcoin has officially died.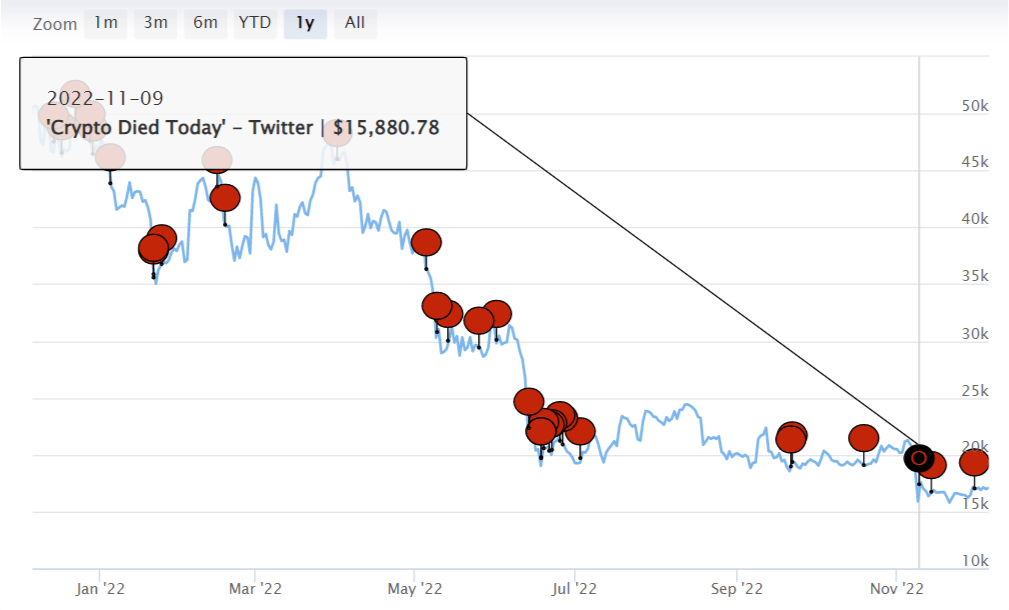 A Change Means More Regulation
The widespread and growing interest that cryptocurrencies, tokens, and NFTs continue to generate with each passing day, has raised concerns from regulators around the world about the protection and security of consumers and agents who make a living in the world of the crypto ecosystem.
Is worth remembering that this is a market that exceeds 1,500 million dollars, larger than the subprime market whose collapse caused the global financial crisis of 2008. One of the problems the crypto industry in many countries now faces, however, is moving within the legal framework.
'Regulation is probably one of the biggest issues in the cryptocurrency industry globally. Clear regulation globally would be greatly appreciated,' said Jeffrey Wang, head of the Americas at Amber Group.
A lot of experts, both inside and outside the ecosystem, believe that regulation is a good thing for cryptocurrencies. 'Sensible regulation is a win for everyone,' says Ben Weiss, CEO and cofounder of CoinFlip, a cryptocurrency buying platform and crypto ATM network. 'It gives people more confidence in crypto, but I think it's something we have to take our time on and we have to get it right.'
It's also expected that it will be during this last semester of the year and throughout 2023 clear regulations will continue to reach the world of blockchain technology. This could mean, according to experts, a short-term increase in volatility, but which will be offset by the increase in new players that are arriving thanks to the security generated by a non-prohibitive regulatory framework.
Negative Predictions
Despite the fact that many governments are now pushing for new crypto regulations, some experts don't believe that cryptocurrencies are going to survive. One of the prominent economists, Paul Krugman, wrote an article where he referred to the ongoing crypto winter as a Fimbulwinter. According to Norse mythology, Fimbulwinter means an 'endless winter' that precedes the world's end. In this case, he suggested that this winter would spell the doom of the crypto industry.
According to Krugman, the original argument that Bitcoin would do away with the need for trust was yet to happen. This is because banks rarely steal customers' funds and crypto institutions are more likely to be vulnerable to temptation and extreme inflation. The Nobel laureate also argued against the idea that cryptocurrencies and blockchain technology will guarantee cheaper transactions saying this was yet to happen.
Yet another source, CNBC.com, stated in their article as early as July 2022 that thousands of digital tokens are likely to collapse while the number of blockchains in existence will also fall over the coming years with reference to unknown crypto market players.
Positive Predictions
One of the most prominent figures in the world of crypto and an avid crypto enthusiast is Elon Musk. Musk speculates that cryptocurrency is not going anywhere. Last year at the 2021 Code Conference, Musk said 'It's impossible to destroy crypto.' In a recent interview with Forbes he also concluded he thinks that Bitcoin is on 'the verge' of breaking into traditional finance. Just on November 14th, he wrote on Twitter that 'BTC will make it, but might be a long winter.'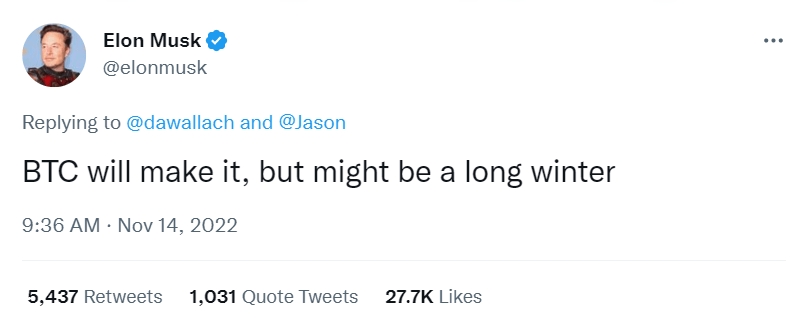 Another well-known expert in finance, venture capitalist Tim Draper, thinks Bitcoin will hit 250 000 USD a coin by the middle of 2023, despite the crypto winter. Draper previously predicted that Bitcoin would top 250 000 USD by the end of 2022, but in early November, at the Web Summit tech conference in Lisbon, he said it would take until June 2023 for this to materialize. He reaffirmed this position once again even after the collapse of FTX.
Most of the leaders in the crypto field aren't too worried about the prolonged crypto winter. They say that this is par for the course and that a bear market in crypto isn't the same as a bear market for stocks: the lows are more extreme, but then so are the highs. Among them is Vitalik Buterin, who said that he's even surprised the prices didn't drop earlier. He believed that a recession was inevitable, however, didn't make any predictions for the future.
Cryptocurrencies and Stock Market
'Crypto bear markets usually draw down between 85% and 90%,' said Jason Yanowitz, co-founder of Blockworks, a crypto research platform. Given how new crypto is, said Yanowitz, it's naturally more volatile. He points to Amazon (AMZN), whose stock price reached highs of $113 per share in the late 90s internet boom before crashing by 95% to $5.51. Before its 20-1 stock split went into effect on June 6, it was trading well above $2,000 per share. Other tech stocks are down significantly right now, he said, not just cryptocurrency. Shares of Uber (UBER) have fallen over 50% year-to-date, Lyft (LYFT) is down 67%, while Netflix (NFLX) has tumbled nearly 72%.
'I really disagree with the folks who say there's no way to recover from something like this,' said Yanowitz. 'I think people look at crypto and think it's weird or that it's not real. If you don't think crypto is real you probably think it's overvalued.' But this drawdown isn't nearly as bad as the last crypto bear market, he added. According to him, this crypto falling is just temporary.
Conclusion
Can the current market situation mean the end of crypto? Things are bad and will likely get worse, but there is a lot of hope that in the long term the industry will recover and emerge stronger than ever. Despite the different opinions about the fate of crypto, there are people who keep making money on the current market. As Warren Buffett famously said, 'It's only when the tide goes out that you learn who's been swimming naked.' Will crypto rise again? We'll take a closer look at the positive tendencies on the crypto market in our next article.
---
If you are looking to buy crypto safely, you can always use the user-friendly and non-custodial StealthEX crypto exchange platform. You can purchase crypto privately and without the need to sign up for the service. Our crypto collection has more than 600 different coins and you can do wallet-to-wallet transfers instantly and problem-free.
Just go to StealthEX and follow these easy steps:
Choose the pair and the amount you want to exchange. For instance, BTC to ETH.
Press the "Start exchange" button.
Provide the recipient address to transfer your crypto to.
Process the transaction.
Receive your crypto coins.

Follow us on Medium, Twitter, Telegram, YouTube, and Publish0x to stay updated about the latest news on StealthEX.io and the rest of the crypto world.
Don't forget to do your own research before buying any crypto. The views and opinions expressed in this article are solely those of the author.
Bitcoin
crypto world
cryptocurrency
Ethereum
FTX
Recent Articles on Cryptocurrency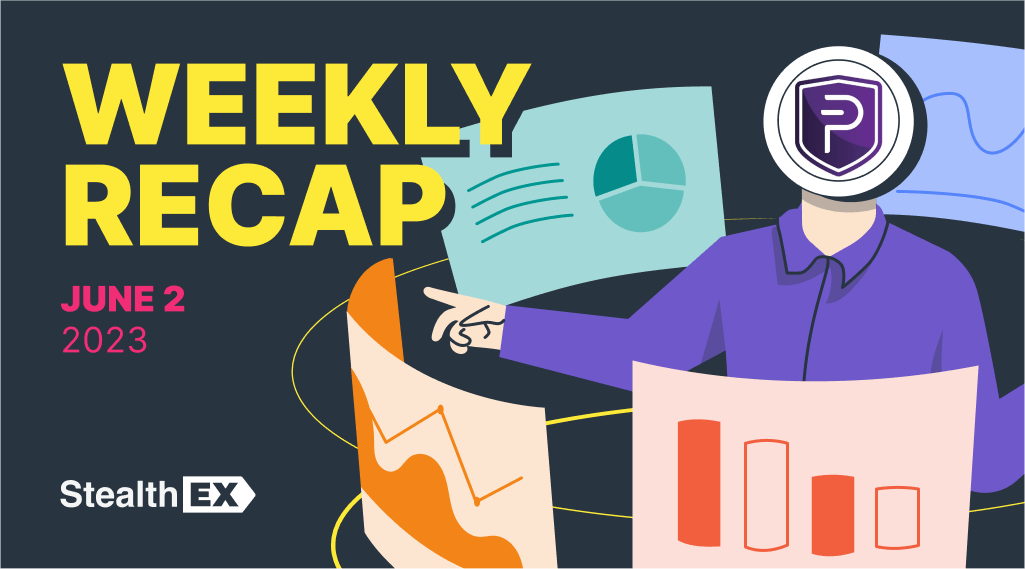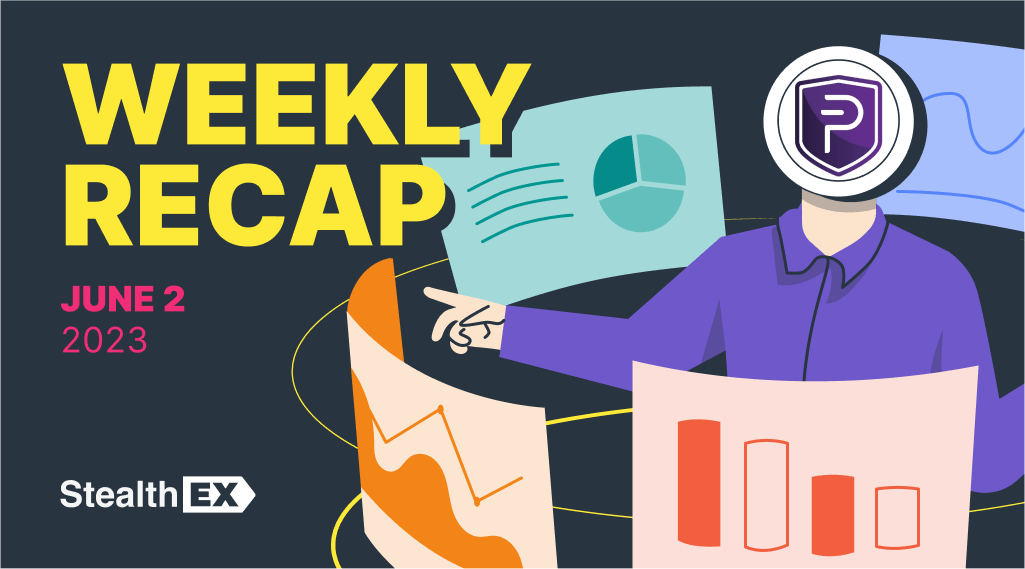 Review of the Crypto Market: June 2, 2023
Weekly Crypto Market analysis with major trends, Ethereum & Bitcoin performance, and impactful news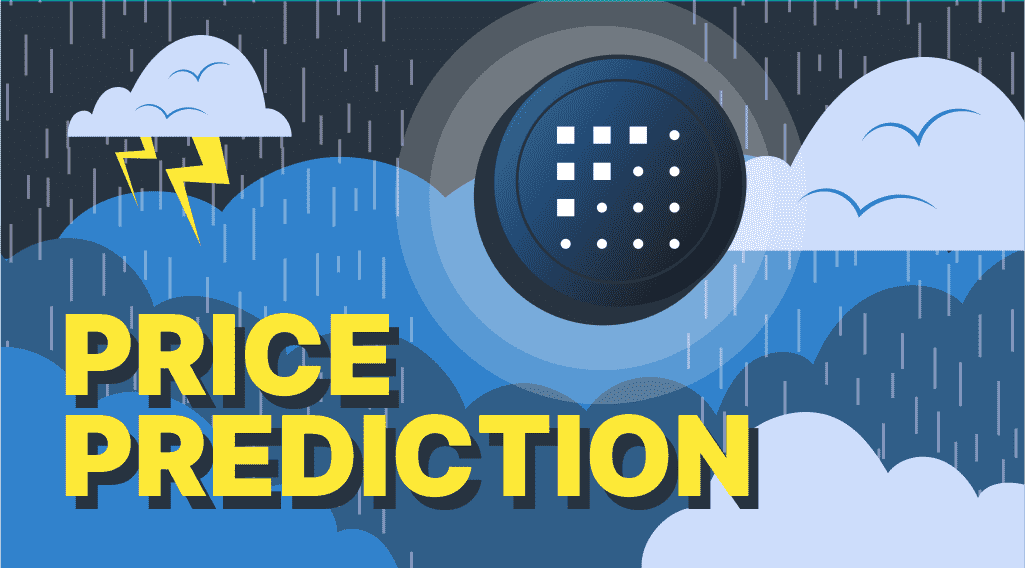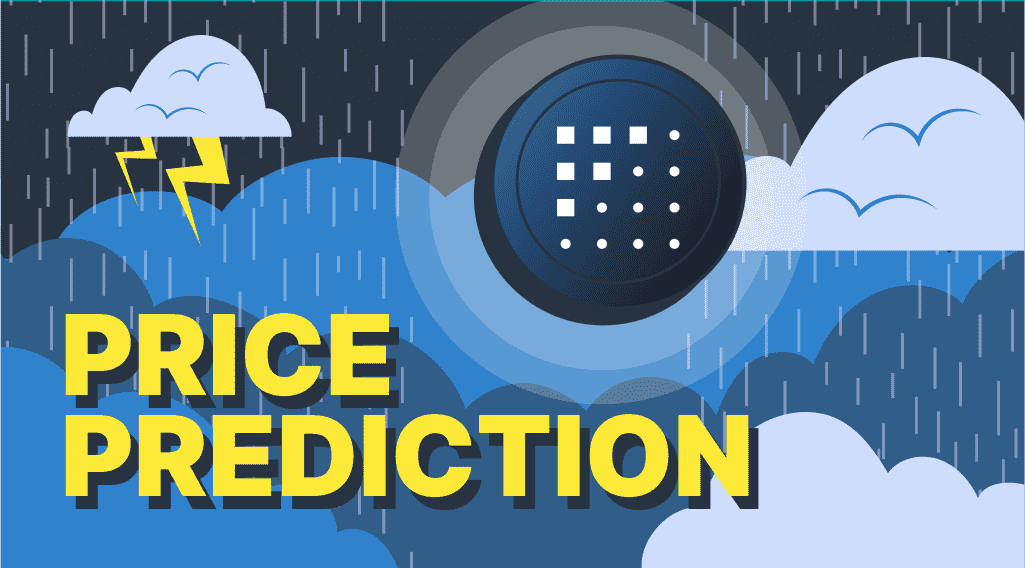 June 1, 2023
Price Prediction
Fetch.ai Price Prediction: Unveiling Future Trends of FET Crypto
Uncover Fetch.ai Price Prediction, empowering you to anticipate market trends and make decisions about its future.