The Status of Cryptocurrency in Northern Europe
November 11, 2022
Crypto World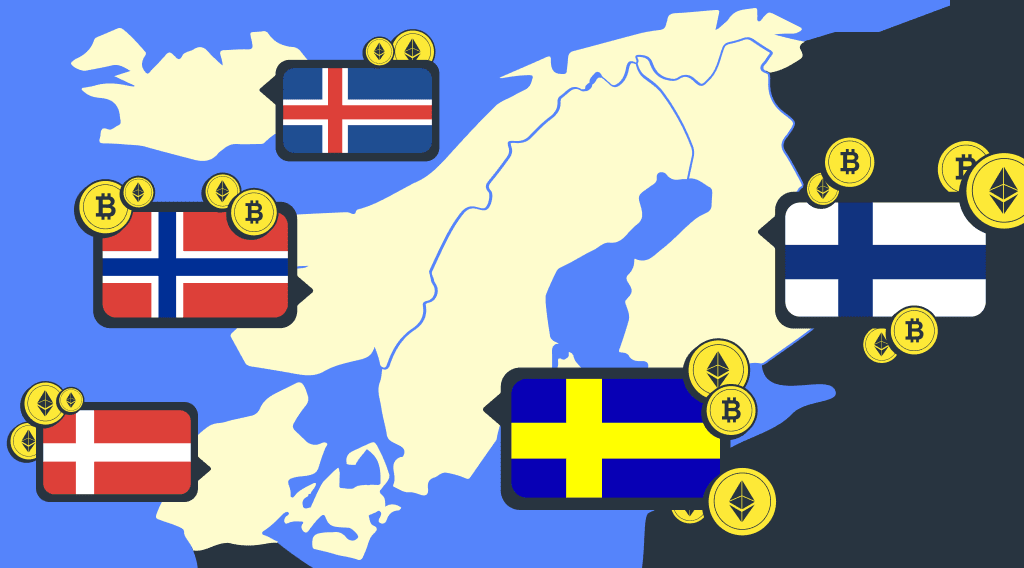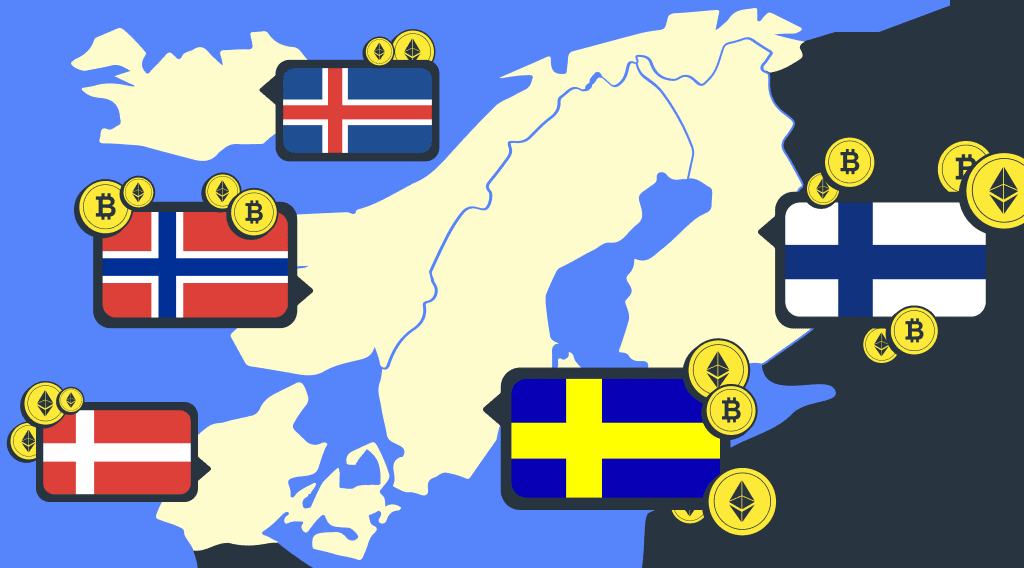 Despite the ongoing crypto recession with Bitcoin price dropping below 18,000 USD, investing in cryptocurrency is still increasingly popular in Europe. A recent survey by the European Central Bank found that one in ten Europeans have invested in crypto, with over 4 million people holding crypto wallets. Overall, investing in cryptocurrency is becoming more popular in Europe as awareness of the asset class grows and regulations around trading become more favorable. Read more about cryptocurrency in Northern Europe in the new StealthEX article.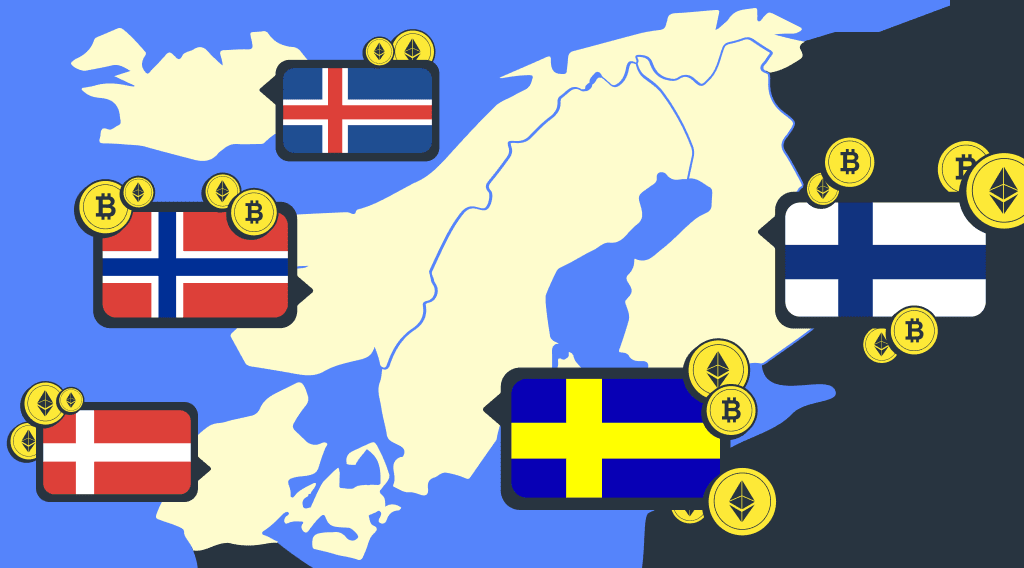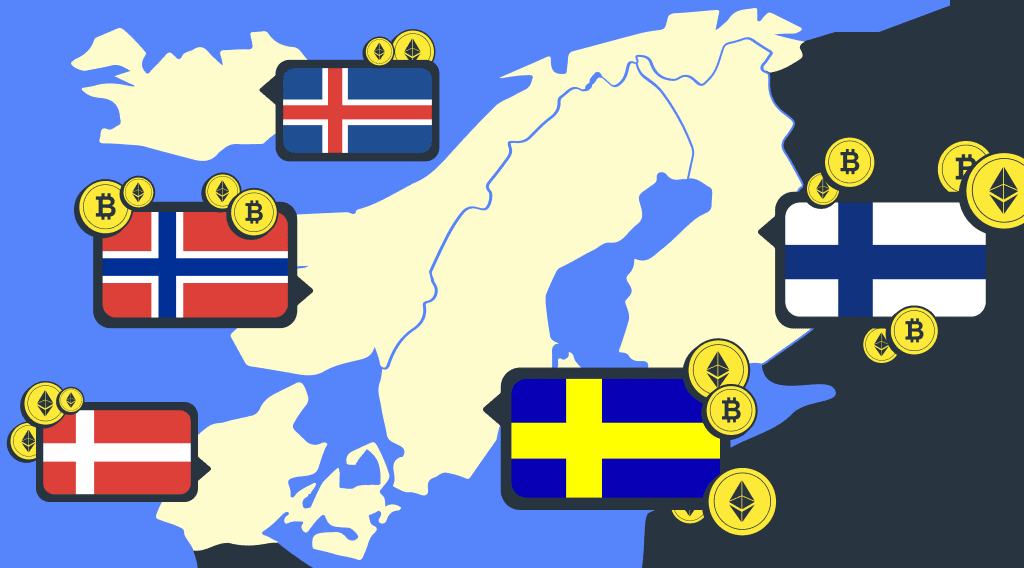 Cryptocurrency in Northern Europe
The EU-Bitcoin relationship has indeed become stronger. With the rocketing spread of cryptocurrency in today's world, we'll take a look at its demand in Scandinavia and find out how this Northern region of the EU treats crypto.
Gambling has always been popular in the Northern countries, such as Sweden and Norway. While other countries around the world would use cryptocurrency to pay for things such as movie tickets, food, and so on, the primary use case for crypto in Scandinavia is online casinos. Crypto casinos use a variety of different cryptocurrencies, including Bitcoin, Ethereum, Litecoin and more. There are three reasons for that.
First of all, crypto casinos offer anonymity. When you play at a Bitcoin casino, all you need is a BTC wallet address. This means that your personal information remains completely confidential. Another reason why Bitcoin casinos are gaining popularity in Sweden is because they offer fast transactions. Finally, the fees are lower compared to traditional online casinos. Some gambling experts also claim that cryptocurrency transactions allow casino users to bypass centralized governments and avoid state-set restrictions.
Bitcoin and Ethereum are far and above the two most known and biggest cryptocurrencies in the world, and that status remains unchanged in the Scandinavian region. Bitcoin's popularity in the region is also down to its mining capabilities due to cheap electricity deriving from renewable energy sources in Europe's Nordic countries.
Sweden
Cryptocurrencies have become increasingly popular in Sweden. This is in part due to the country's robust digital infrastructure and progressive stance on technology. Sweden is one of the nations where cash and coins are hardly used anymore. The Scandinavian country is going cashless and so are its people. Cryptocurrencies offer a number of advantages over traditional currencies, including security, anonymity, and reduced transaction costs. Cryptocurrencies are considered capital assets and are levied with Capital Gains Tax.
For the 2022 tax year, capital assets in Sweden are usually taxed at a fixed rate of 30%. If cryptocurrencies are held like a stock though, any realized profit is considered income from business operations. Income tax in Sweden is based on a progressive model depending on various factors. The current average income tax rate is at 32%.
Sweden has been a leader in the development of cryptocurrency technology. In 2014, the country's first Bitcoin ATM was installed in Stockholm. Since then, cryptocurrency usage has continued to grow in Sweden. A few years ago, the Polkadot exchange-traded product was launched on the country's Nordic Growth Market exchange.
Cryptocurrency Regulation in Sweden
The Swedish government has been supportive of cryptocurrencies and has taken a number of steps to encourage their use. In March of 2018, the government announced that it would be exempting cryptocurrencies from value-added tax. This move is expected to boost cryptocurrency usage in the country. Roughly 3% of those surveyed in Sweden say they own Bitcoin (BTC), with 2% saying they own Ethereum (ETH), 1% own Dogecoin (DOGE) and 1% own Cardano (ADA).
The Swedish Central Bank has also been supportive of cryptocurrencies. In February of 2018, the bank announced that it was considering launching its own cryptocurrency, known as the e-krona. The e-krona would be pegged to the Swedish krona and would be backed by the Swedish government. While Riksbank has already developed the underlying infrastructure for the e-krona, based on blockchain technology, it is not a cryptocurrency. In addition, the Swedish Land Registry Authority, Lantmäteriet, is working on a project exploring the possibilities of blockchain as a technological solution for real estate transactions.
Norway
European crypto regulation has been quite mild in general, and Norway is one of those countries that are also leading in blockchain technologies. In Norway, any crypto assets must be declared in a yearly tax return, and holdings over NOK 1,500,000 are subject to a wealth tax of 0.7%. Any gains on cryptocurrency transactions are also subject to a capital gains tax of 22%. For income earned in crypto, you have to pay an income tax of 22% as well as a bracket tax.
While in Northern Europe a crypto ban doesn't seem to happen any time soon, the Norwegian Tax Administration is to spend more time investigating 'hidden' cryptocurrency wealth. Norway's financial administration agency has generally been viewing crypto activity in the country as largely unregulated and only oversaw companies for money laundering. Now, they believe hundreds of thousands of Norwegians are not declaring their crypto holdings.
In 2019, less than 5,000 Norwegians reported income or wealth in cryptocurrency. On the 2020 tax return, this number had risen to more than 13,000. However, the Tax Administration has identified approximately 70,000 people with cryptocurrency holdings. They suspect the real number could be as high as 300,000, which is more than 5% of Norway's population.
Cryptocurrency Exchange in Norway
In December 2021, the Norwegian Block Exchange (NBX) announced that it would be the first cryptocurrency platform in Scandinavia to list its shares on the pan-European stock exchange Euronext. NBX was created in 2018 by Bjorn Kjos, who also founded Norwegian Air Shuttle and Norwegian Bank. The Norwegian blockchain and crypto exchange scene seems to grow, even when the government is actively researching its citizens' wealth.
In 2021, The FSA established a regulatory sandbox to encourage fintech innovation. Additionally, the Central Bank of Norway is actively exploring a central bank digital currency (CBDC), which is now proceeding through a two-year phase of technical testing.
Denmark
In Denmark, cryptocurrencies, airdrops, and mining are subject to income tax. Any gains or losses on cryptocurrencies must be reported. After accounting for a tax-free amount and labor market contributions a Dane will have to pay a bottom-bracket tax of 12.10% and municipal tax of ~25%. For income over DKK 552,500, citizens will pay an additional 15% tax.
The Danish government has been careful in their approach to cryptocurrencies. Danske Bank, the largest bank in Denmark, laid out its official position on cryptocurrencies on June 17, 2021, when it published a four-point notice describing reasons to be careful when trading in digital assets. The bank also said that it saw no problem with its credit cards being used in connection with cryptocurrency trading platforms, assuming customary Anti-Money Laundering laws were satisfied.
A year before that, the Ministry of Foreign Affairs of Denmark published a report explaining the use of IT technologies and services including blockchain, e-governance, big data, and crowdsourcing to fight administrative, or day-to-day, corruption as well as political corruption. Presented during the International Anti-Corruption Conference, or IACC, the report emphasizes the use of blockchain as a technology that will build a more transparent governance and transaction system, further adding that it will also give individuals greater rights over their own data.
Denmark features over 20 crypto startups. In 2018, Copenhagen-based shipping giant Maersk and IBM announced the launch of TradeLens, a blockchain-enabled shipping solution designed to promote more efficient and secure global trade.
Finland
Cryptocurrency is legal in Finland, and you can buy, sell and use crypto without breaking the law. However, cryptocurrency is not currently considered legal tender in Finland, which means the Finnish government and Finnish businesses are not legally obligated to accept it as payment for goods and services. Profits from exchanging or selling cryptocurrencies are taxed as capital income and subject to Capital Gains Tax in Finland. The capital gains tax rate is 30% for capital income not exceeding €30,000 and 34% on the excess above this limit.
Despite crypto being an official and legal asset in Finland, the country has taken a few unfavorable steps towards stricter cryptocurrency regulation. In 2019, the Finnish financial regulator stated that even though it now supervises virtual currency service providers for anti-money laundering (AML) purposes, this supervision does not extend to investor protection. From November 2019, only those virtual currency providers that meet statutory requirements could trade in Finland, with non-compliance resulting in a provider being forbidden to practice and fines.
However, there has also been positive developments on the Finnish crypto scene. Back in 2018, the Finnish government announced the collaboration with Essentia to build blockchain-based solutions for smart logistics. The country is home to 18 blockchain startups, many of which are very successful.
Finland has also been actively investigating crypto crimes. The National Bureau of Investigation has carried out a large fraud investigation involving Finnish victims who were scammed into investing in cryptocurrency on online platforms and promised considerable interest on their investments. As a result, two Finnish victims have lost about 250 Bitcoins in total. Finnish authorities have cooperated with a number of international partners during the investigation and have been able to trace and locate some of the funds invested by the victims.
Iceland
Cryptocurrencies are not recognised as legal tender in Iceland because the Icelandic Central Bank has issues with the fact that they are unregulated. They are not seen as a legal tender in Iceland, however, it's not illegal to trade them. The government has officially cautioned Icelanders against trading in cryptocurrencies.
However, Iceland is famous for its mining capabilities and it was one of the trailblazing countries. After the 2010s large data centers started popping up in Iceland. Data centers require vast quantities of electricity to run and to keep their enormous processors from overheating. By 2016, data centers were already representing 1% of Iceland's GDP and pretty soon after that, Bitcoin mining operations were also being set up.
Today, Iceland has some of the world's largest Bitcoin mining facilities. Some are set up by locals, others are entirely foreign-owned operations, but Bitcoin mining is big business in Iceland. According to the Icelandic Blockchain Foundation, 8% of all Bitcoins have been mined there. Using geothermal and hydroelectric power, state-owned Landsvirkjun and other energy companies generate nearly 100% of the island's electricity.
Generally, Icelanders have had to take care of themselves for a really long time, and this has, in turn, made them very forward thinkers. If they see that cryptocurrency is the way forward, you will likely find that Icelanders will overwhelmingly support it.
Conclusion
With Scandinavia's high taxes, the crypto field there is less active and booming with blockchain initiatives. The region's governments have approached cryptocurrencies in a cautious way, which may be partly because of the general reserved Scandinavian mentality. Nonetheless, the steadily developing IT sector in the Northern countries provides a solid base for further research.
---
If you are looking to buy crypto, you can always use the user-friendly and non-custodial StealthEX crypto exchange platform. You can purchase crypto privately and without the need to sign up for the service. Our crypto collection has more than 600 different coins and you can do wallet-to-wallet transfers instantly and problem-free.
How to Buy Cheap Crypto?
Just go to StealthEX and follow these easy steps:
Choose the pair and the amount you want to exchange. For instance, BTC to ETH.
Press the "Start exchange" button.
Provide the recipient address to transfer your crypto to.
Process the transaction.
Receive your crypto coins.

Follow us on Medium, Twitter, Telegram, YouTube, and Reddit to stay updated about the latest news on StealthEX.io and the rest of the crypto world.
Don't forget to do your own research before buying any crypto. The views and opinions expressed in this article are solely those of the author.
Bitcoin adoption
crypto world
cryptocurrency adoption
cryptocurrency exchange
European Union
Recent Articles on Cryptocurrency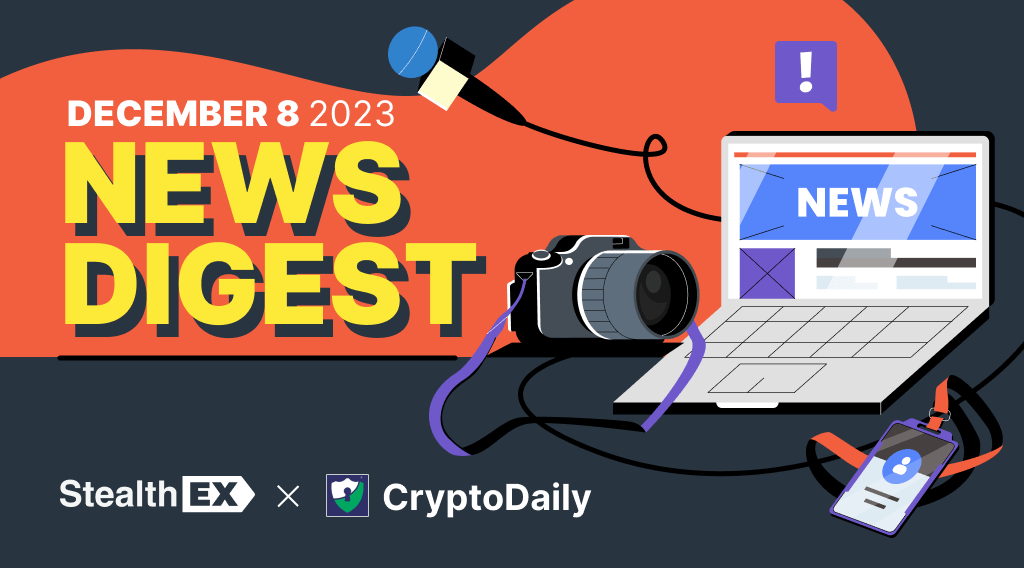 December 8, 2023
Crypto World
StealthEX & CryptoDaily: Weekly Crypto Insights
Explore key cryptocurrency developments and trends in StealthEX's insightful weekly roundup, in partnership with CryptoDaily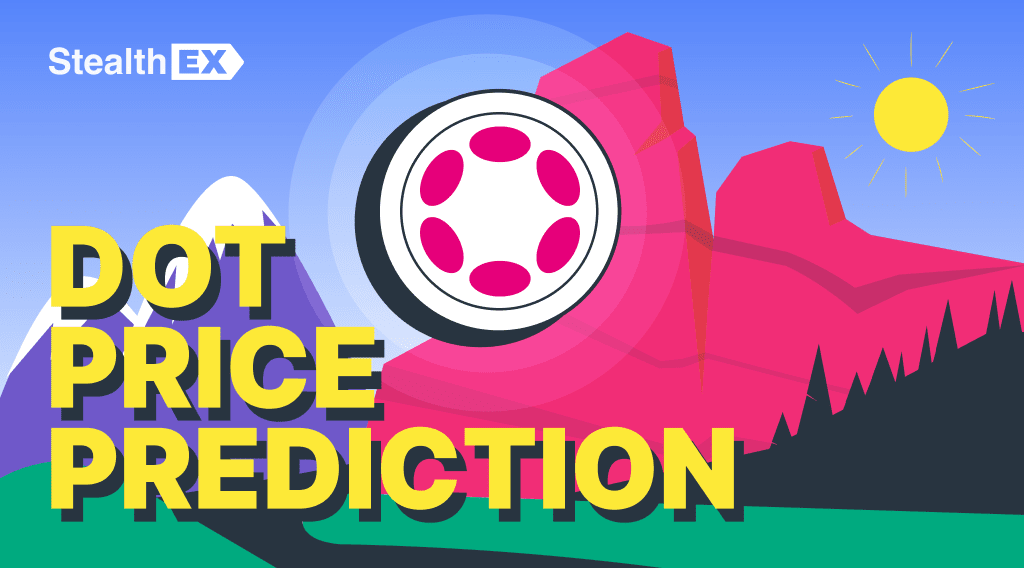 November 29, 2023
Price Prediction
Polkadot (DOT) Price Prediction: Will DOT Coin Reach $1000?
According to the long-term Polkadot price prediction by the end of 2030, the DOT price may rise to $195