TON Coin Exchange: How to Buy Toncoin Crypto?
March 14, 2023
How to Buy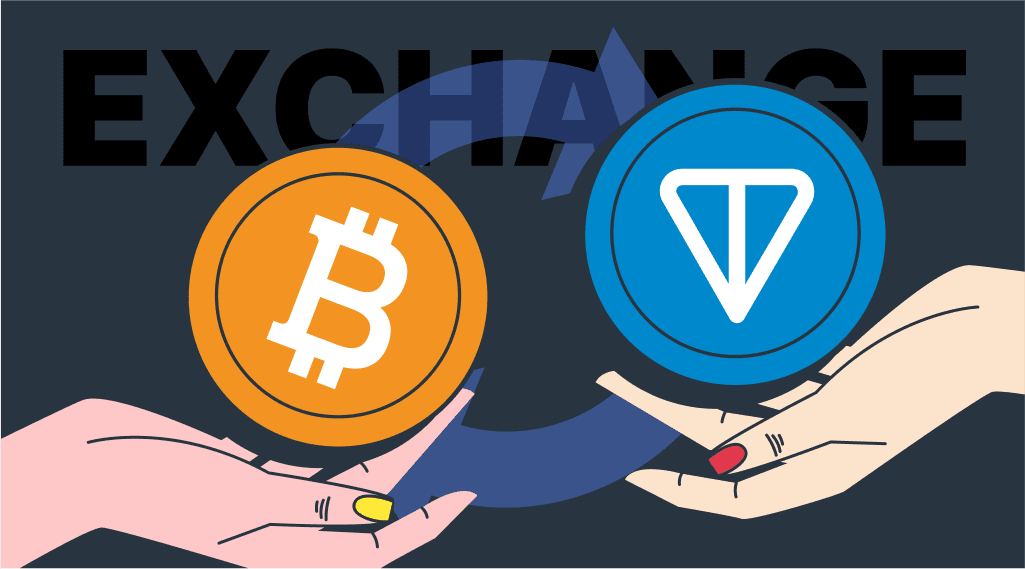 In the world of crypto, even projects that get abandoned or lost in the process of making, can sometimes return to the market, gaining popularity. One of these projects is TON crypto. TON is a fully decentralized layer-1 blockchain originally designed by Telegram. TON – which stands for 'The Open Network' – has been created to enable fast transactions and support a wide variety of decentralized applications (dApps). Read more about TON coin exchange in the new StealthEX article.
TON Coin Exchange
There are many exchanges where to buy Toncoin crypto, and StealthEX is one of the safest options. This platform offers users to get Toncoin crypto with no extra fees and with the best floating and fixed rates. This meme cryptocurrency is always freely available for purchase via StealthEX.
How to Buy Toncoin Crypto?
Just follow the guidelines below. Let's imagine you want to exchange BTC for TON. To make an exchange, you need to take a few simple steps.
First, you should choose Bitcoin in the left drop-down list. Then choose Toncoin (TON) in the list of coins on the right.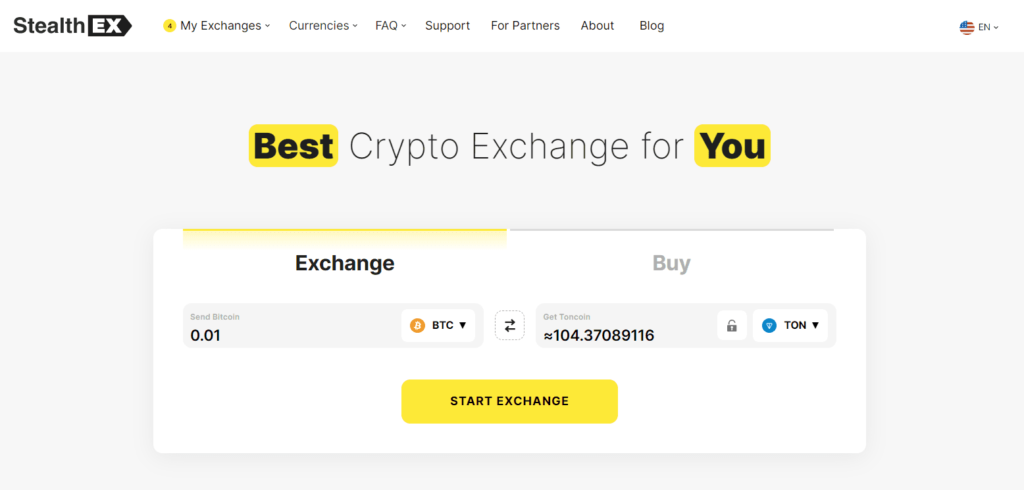 After setting the pair it is necessary to enter the amount of BTC you want to exchange.
Here you will see the estimated amount of TON that you will receive after the exchange.
Now, when everything is set, press the Start Exchange button and you will be taken to the next page.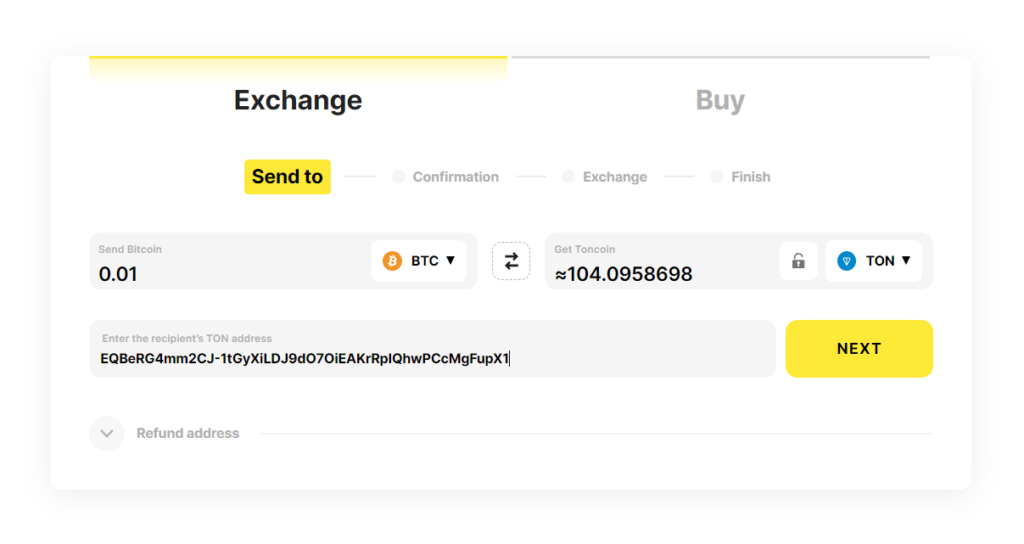 In the second step, you need to provide the Toncoin crypto recipient address. The recipient address must match the crypto you are going to receive. Remember to double-check the information you enter prior to the exchange as the transaction you make cannot be canceled.
As soon as you have carefully checked all the details, you can press the Next button and you will be redirected to the Confirmation page.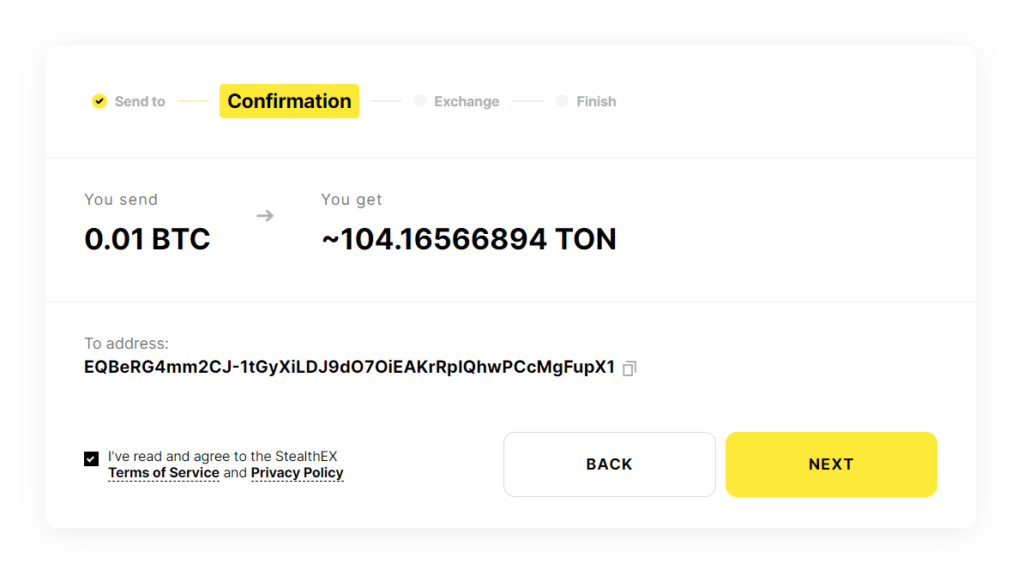 Here you can revise the address provided and the amount of Toncoin you will receive. Don't forget to read and check the Terms of Use and Privacy Policy box. Without checking the box you will not be able to continue the exchange.
Pressing the Next button you will be redirected to the Exchange page.
At first, you will see the address where you need to send your BTC coin to continue the exchange. StealthEX will also provide you with the exchange ID. It will allow you to keep all the information about the swap. It is recommended to save your exchange ID or the link to your exchange.
Exchange Statuses
After sending BTC coins to the shown address, the information on the Exchange page will be renewed automatically. The Exchange page has several statuses that will change during the time of the exchange.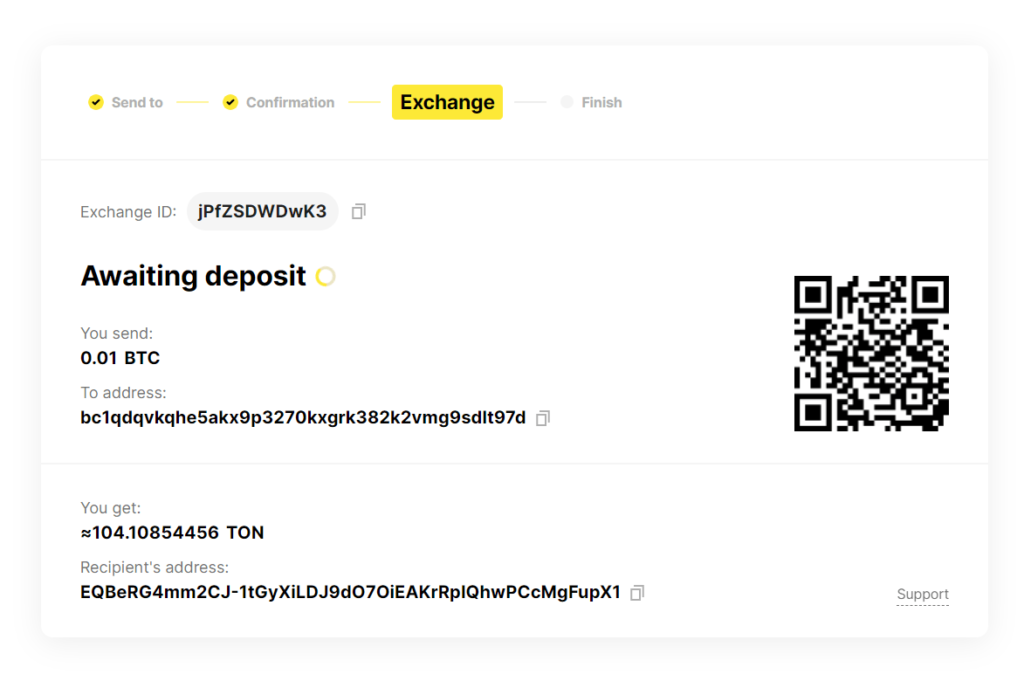 The first status is Awaiting deposit.
The following status is Confirming. This means that StealthEX is confirming the transaction you made.
The next status is Exchanging. During this time the exchange is being made.
Then the status will be changed to Sending to your wallet. This indicates that there are just a few minutes until you receive your Ton coin.
Finally, you will be redirected to the Finish page. This shows that the exchange has been successfully made and you will receive crypto to the address provided. To be sure that Toncoin crypto was sent to your wallet you can also use the Output hash shown on this page and check it in the blockchain list of transactions.
From here you can either create a new exchange on StealthEX.io or leave the page and check your Toncoin wallet to be surprised at how fast you get TON sent to your address. Usually, the process is quite rapid so you won't need to wait long: Solar crypto swaps are processed in a matter of minutes.
Keep reading StealthEX's article to learn more about Toncoin project itself and TON coin.
What Is TON Crypto?
TON is a Turing-complete and high-performance blockchain that boasts the ability to accommodate just about any transaction complexity on its master blockchain and all of its 'workchains.' TON is a Proof-of-Stake (PoS) network with a total supply of 5,069,712,801 Toncoin assets – its native token. Furthermore, Toncoin has an annual inflation rate of .6%, and the network operates by validators who are required to hold a significant number of the native Toncoin asset. Additionally, TON's on-chain governance program integrates Toncoin.
At the moment TON can no longer be mined using a Proof-of-Work (PoW) consensus algorithm. In June 2022, the last Toncoin was mined, and the total supply can only increase by a small percentage each year. TON's PoS consensus algorithm keeps the blockchain moving efficiently. Like many other blockchain ecosystems, TON relies on smart contracts to process on-chain transactions quickly. All smart contracts on the blockchain are executed using their own TVM, or TON Virtual Machine. TVM allows for very complex smart contract deployments.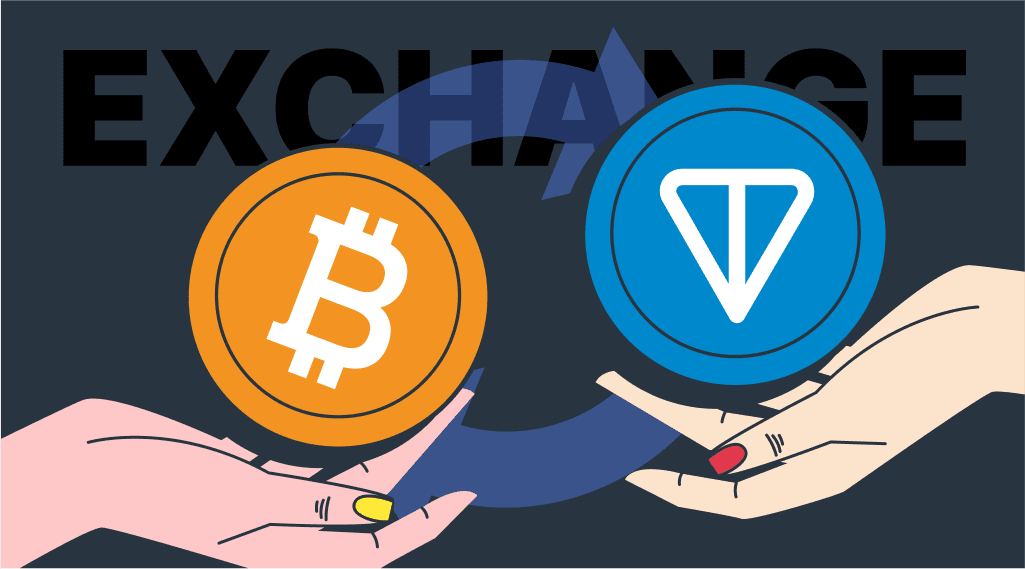 TON Crypto History
TON hit a few roadblocks and challenges in its early stages. Originally called Gram, the project was in active development until 2020. Initially, the network's primary goal was to facilitate crypto payments via Telegram. However, the SEC intervened when Telegram failed to report the sale of its $1.7 billion worth of GRAM tokens. Telegram eventually lost the initial court case and decided to abandon the project.
After Toncoin parted ways with Telegram, software developers continued to work on the TON network. In 2020, they launched again as 'NewTon.' With its new and improved operability and scalability, TON boasts a fast and secure network for all of its users. It facilitates transactions with minimal transaction fees and easy-to-use apps, and it's environmentally friendly. Toncoin also allows users to buy goods and services via the applications on its network.
Validators and Staking
Validators stake Toncoin for a fixed specific term, and the stake is refunded with interest after the completion of a validation round. Open-source software is available for those that wish to become validators. Should a validator attempt to cheat or be unavailable during a validation round, its stake is partially or fully forfeited as a penalty. Network validators verify user transactions. If all validators reach consensus that a transaction is valid, it is included in the blockchain. Invalid transactions are rejected. Therefore, validators have to correctly process user transactions at maximum speed to get rewarded and avoid penalties.
Users send a small surplus amount of Toncoin to their transaction that represents a reward to validators for their work. This amount is distributed proportionally to the stake of validators elected in the given validation cycle. In May 2022, the average income generated per day was around 270 Toncoin per day. Additionally, new Toncoins are generated during validation. These also go to validators.
The TON Nominator service allows Toncoin holders to lend their assets to owners of validator nodes or validators. Toncoin earned by the validator is distributed to those that lent their assets to the validator.
TON Domain Name Service
TON DNS, or TON domain name service, attempts to make cryptocurrency wallets, accounts, smart contracts and other features a little more user-friendly. DNS provides users with easy-to-remember names that aren't just strings of numbers and letters. TON domain name service works a lot like a social media handle and is incorporated into various domain names for easy access. Users can register their domain names and usernames on the blockchain. There are several easy-to-use apps that support TON DNS, including cryptocurrency wallets.
Toncoin Use Cases
Toncoin's impact on the new economy and Web3 could become more prominent. Today, it provides commission payments for processing on-chain transactions with smart contracts. It allows payment for services that apps built on the network provide. TON also lends out capital to nominators in exchange for a share of its rewards. Soon, TON will also allow payment for TON proxy and data storage payments. Several services and applications running on the TON blockchain also accept payment in Toncoin. The TON ecosystem supports the creation of new dApps, making it very adaptable.
The TON network also has a sharding feature. The sharding feature is essentially a blockchain within a blockchain, and it allows for multiple transactions to take place in a sub-blockchain if the main one is already clogged. Furthermore, 'sharding' means a smaller part of a whole. In the case of the TON network, a shard chain would be a sub-chain of the master blockchain. By supporting dynamic sharding and workchains, TON can successfully validate and process millions of transactions per second. In other words, TON's flexible architecture lets it grow continuously without any loss of performance.
TON also features a variety of wallet options. Wallets can be custodial or non-custodial. Furthermore, the wallet feature will be built into applications so users can seamlessly transfer funds and interact with other services on the TON network.
---
TON Coin Swap
We'd like to remind you that if you're looking for a Toncoin exchange or simply want to buy TON crypto right away, you can do it via StealthEX. Our users can purchase cryptocurrencies using fiat and we still offer the opportunity to buy digital assets at fixed rates.

Make sure to follow us on Medium, Twitter, Telegram, YouTube, and Publish0x to get StealthEX.io updates and the latest news about the crypto world. If you need help, drop us a line at support@stealthex.io.
Please make sure to always research any cryptocurrency and assess your risks before you invest.
exchange cryptocurrency
how to buy
how to buy crypto
TON
Toncoin
Recent Articles on Cryptocurrency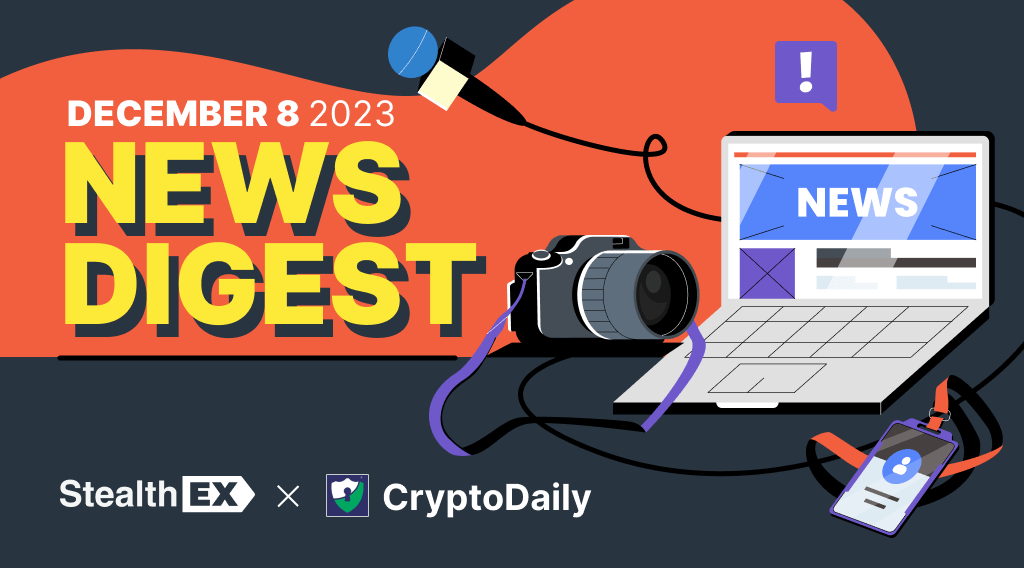 December 8, 2023
Crypto World
StealthEX & CryptoDaily: Weekly Crypto Insights
Explore key cryptocurrency developments and trends in StealthEX's insightful weekly roundup, in partnership with CryptoDaily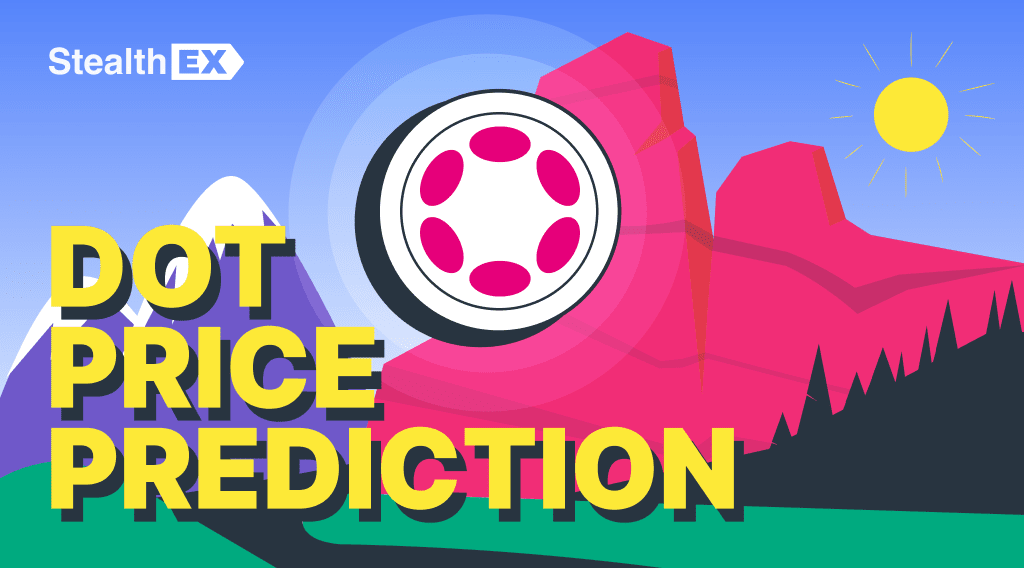 November 29, 2023
Price Prediction
Polkadot (DOT) Price Prediction: Will DOT Coin Reach $1000?
According to the long-term Polkadot price prediction by the end of 2030, the DOT price may rise to $195