Where & How to Buy FIO Protocol: Step-by-Step Guide
August 16, 2023
How to Buy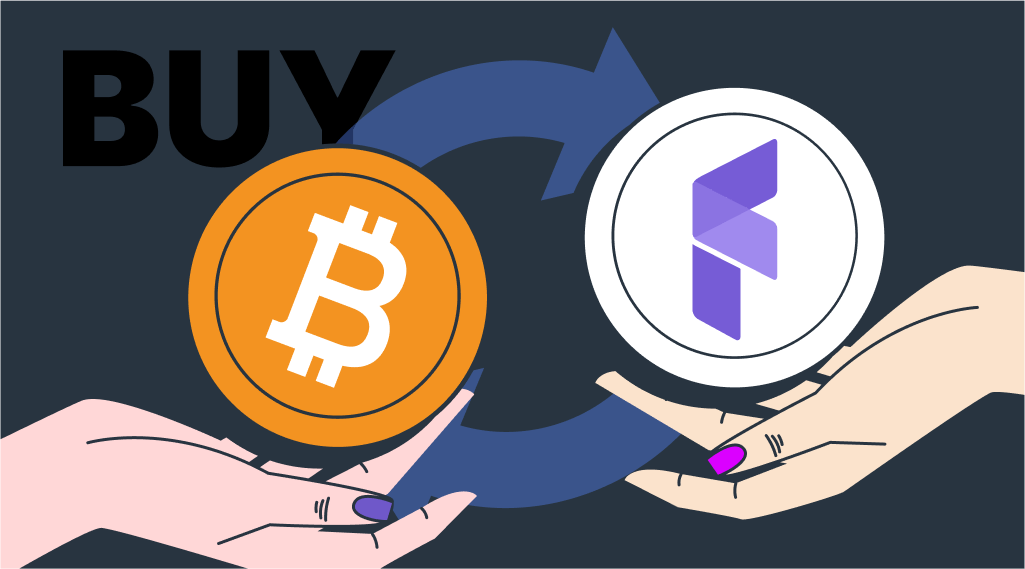 Many crypto startups aim to make any kind of crypto transactions safer and easier. Such projects provide the base for easier crypto management. FIO (short for Foundation for Interwallet Operability) was founded in 2020 and has been designed to ensure the user experience is uncomplicated; this protocol lays the foundation for cryptocurrency mass adoption. Let's take a closer look at this crypto project and where to buy FIO Protocol cryptocurrency.
Where to Buy FIO Protocol Coin?
There are many exchanges where one can buy FIO Protocol crypto and StealthEX is one of the safest options. This platform offers users to get FIO coin with no extra fees and with the best floating and fixed rates. This cryptocurrency is always freely available for purchase via StealthEX.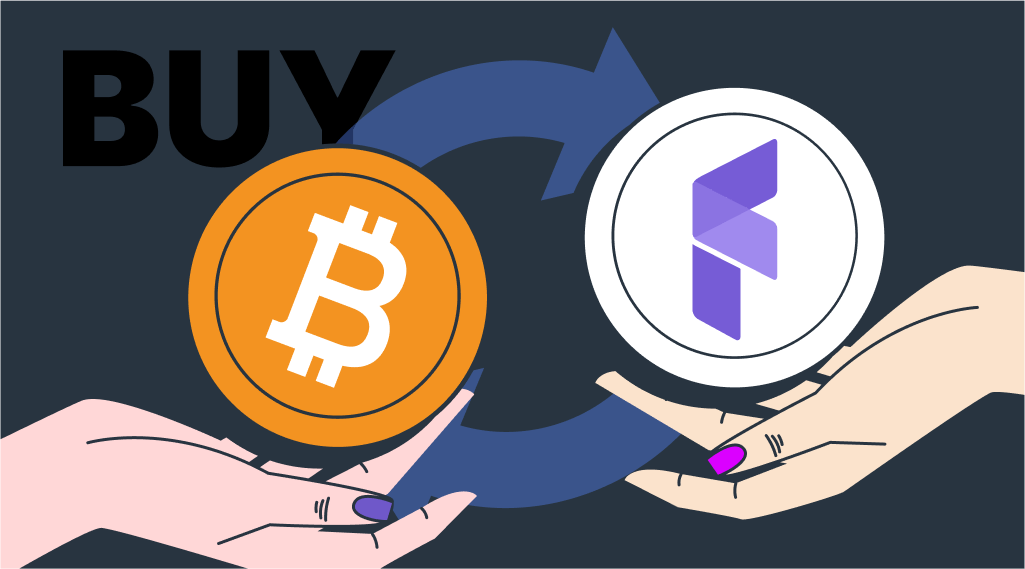 How to Buy FIO Protocol Crypto?
To swap FIO coin on StealthEX, simply follow the instructions provided below.
Let's imagine you want to convert BTC for FIO crypto. To make an exchange, you need to take a few simple steps.
1. First, you should choose Bitcoin (BTC) in the left drop-down list. Then choose FIO Protocol (FIO) in the right list of coins.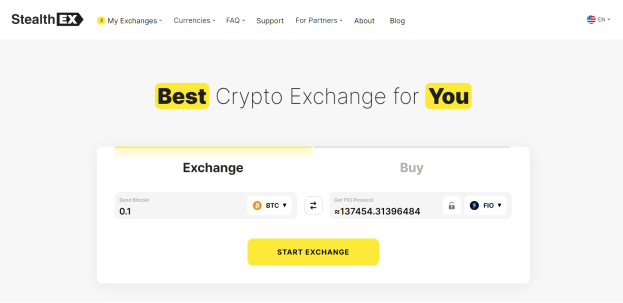 After setting the pair it is necessary to enter the amount of BTC you want to swap. The amount of FIO will automatically adjust according to its current rate. If everything is okay, click Start Exchange and you will be taken to the next page.
2. In the second step, you need to provide the FIO coin recipient address. Remember to double-check the information you enter prior to the exchange as the transaction you make cannot be canceled.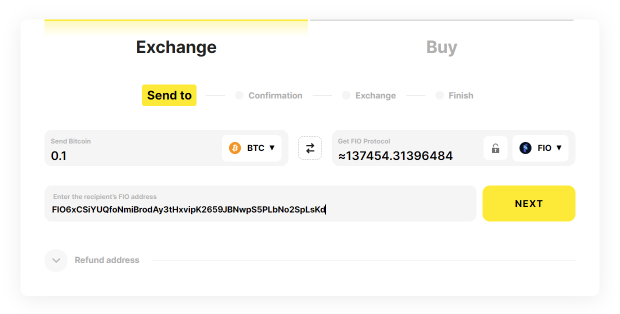 Double-check the address. If everything is correct, proceed to the next step. Don't forget to read and check the Terms of Use and Privacy Policy box. Without checking the box you will not be able to continue the exchange.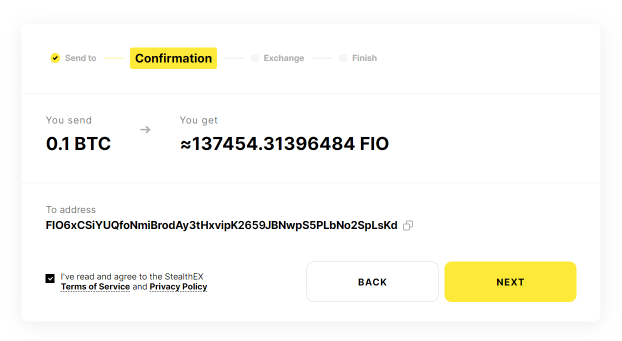 3. All you need to do now is send the deposit in Bitcoin to the address StealthEX has generated for you. After you send BTC coins, your swap will be processed. StealthEX will also provide you with the exchange ID. It will allow you to keep all the information about the swap. It is recommended to save your exchange ID or the link to your exchange.
The exchange statuses on the page will be renewed automatically during the time of the exchange.
The first status is Awaiting deposit.
The following status is Confirming. This means that StealthEX is confirming the transaction you made.
The next status is Exchanging. During this time the exchange is being made.
Then the status will be changed to Sending to your wallet. This indicates that there are just a few minutes until you receive your FIO Protocol (FIO).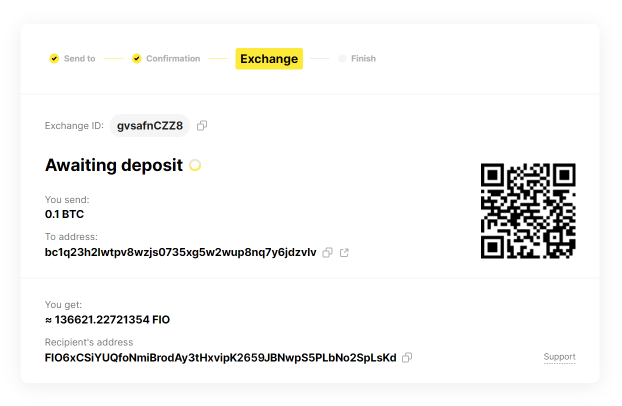 4. To complete the exchange, you will be redirected to the Finish page. This shows that the exchange has been successfully made and you will receive crypto to the address provided. To be sure that FIO Protocol crypto was sent to your wallet you can also use the Output hash shown on this page and check it in the blockchain list of transactions.
From here you can either create a new exchange on StealthEX or leave the page and check your FIO Protocol wallet to be surprised at how fast you get FIO crypto sent to your address. Usually, the process is quite rapid so you won't need to wait long: an FIO Protocol swap is processed in a matter of minutes.
Now that we've found out how you can buy FIO Protocol (FIO) via StealthEX, let's take a closer look at FIO crypto project and its main features.
What Is FIO Protocol?
FIO Protocol makes crypto easy by replacing all of your public wallet addresses with a single, secure, customizable crypto handle. By providing an industry-standard decentralized service layer of data, requests, and confirmations that abstract away the complexities of the underlying blockchains, the FIO Protocol is bridging the gap between wallets (both exchange-based and self-sovereign) and crypto payment processing platforms. The FIO Protocol enables them all to provide a noticeably better user experience, rather than being a wallet, exchange, or processor for crypto payments. Additionally, the protocol added a very helpful and user-friendly feature called Requests that helps FIO users request payments from others.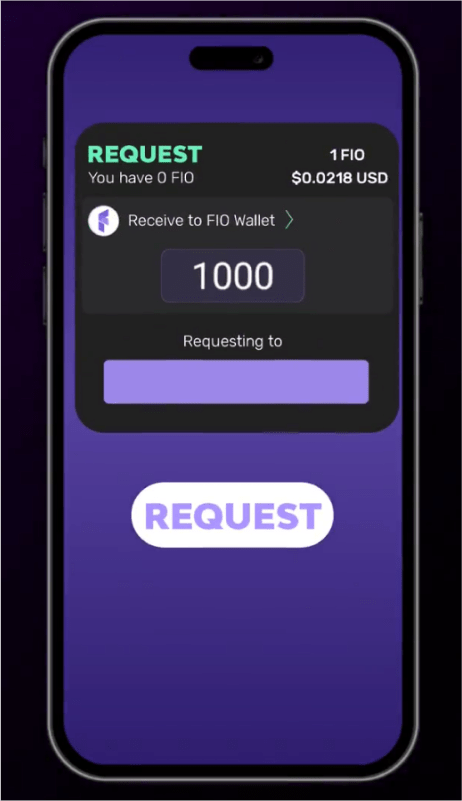 The FIO Protocol makes all blockchains more successful rather than putting them in direct competition with one another, sending value on them, or integrating with them. From a technical standpoint, none of the other blockchains are even aware that the FIO Protocol exists.
FIO Protocol Features
Here are some basic features of FIO Protocol:
The service FIO offers is decentralized. There is only a non-profit foundation that the community trusts to support the technology; no business is profiting from adoption. A decentralized company model that rewards everyone who adds value is the FIO Protocol. By giving fees and tokens to validators, integrators, and (in the future, if FIP-21 is released) voters who stake their tokens, it accomplishes this directly via the blockchain.
FIO Protocol does not directly send or receive your cryptocurrency. The FIO Protocol, which acts like a layer-2 usability layer for all blockchains, doesn't actually integrate directly with any other blockchain. The wallet, exchange, or FIO-enabled service you are using looks up the native blockchain address and transmits directly to it when you send to a human-readable FIO Crypto Handle (also known as a FIO Address) or in response to a FIO Request. In no way is FIO connected to the transaction. For instance, after the wallet locates a bitcoin address associated with user@fio, it performs a typical bitcoin transaction on the bitcoin chain.
FIO Protocol is a standalone blockchain built on EOSIO technology. A Byzantine Fault Tolerant DPOS blockchain is the FIO Protocol. The FIO Chain secures data lookups and validations for FIO Crypto Handle interactions. The only person with the ability to map native blockchain addresses to a FIO Crypto Handle or transmit encrypted FIO Requests from that FIO Crypto Handle is the FIO private key holder who also holds the FIO Crypto Handle NFT. This guarantees that your FIO Crypto Handle mappings are secure as the entire network's security is.
FIO Protocol Coin: Power Behind the Blockchain
The FIO Protocol runs on a utility token called FIO. Its maximum total supply is 1,000,000,000 FIO, each token is divisible into 1,000,000,000 Smallest Units of FIO (SUF), and there's no inflation beyond the maximum total supply.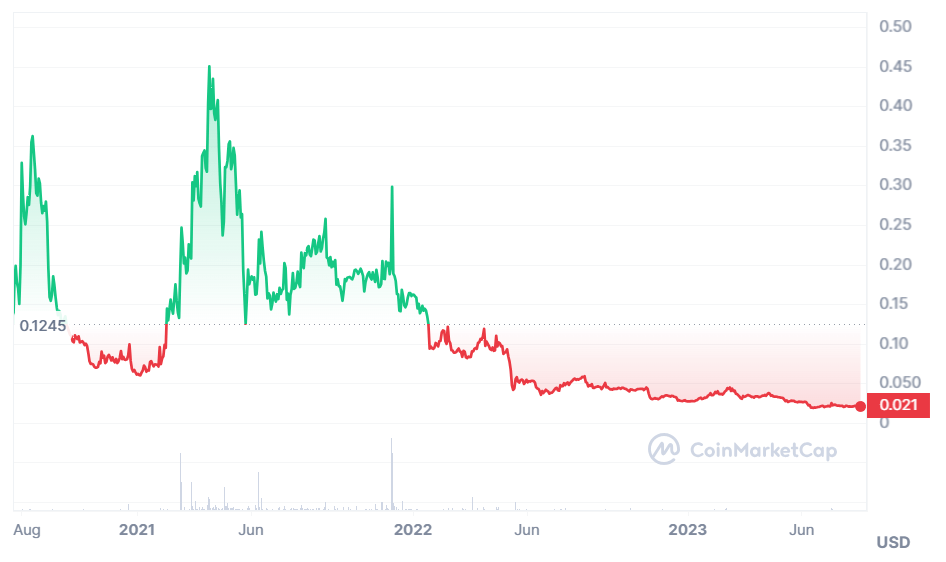 FIO Coin Price Chart, Source: Coinmarketcap.com
Payment for transactions carried out on the FIO Chain are made using the FIO Token. All transfers can be carried out using a FIO public key, and a user only needs a private/public key combination to hold a token or a FIO Address/Domain. As a result, FIO Tokens can be supported without any extra functionality.
The market-based fees element of the FIO Protocol will ensure that the actual token charges to users continually adjust based on roughly the current human perceived value of a FIO Token. So, for instance, as the FIO Token value goes up, the charge for a specific utility like registering a FIO Address will go down in absolute number of FIO Tokens being charged. Fees collected for FIO Address/Domain registration are not immediately distributed, but rather locked and distributed evenly every day over a period of one year. This ensures Block Producers processing bundled transactions are properly compensated.
As with any PoS coin, you can stake your idle FIO assets to earn passive income. Staking with the FIO Protocol is to participate in the network's operations (validating blocks) by becoming a nominator who chooses the network's validators. While your FIO tokens are being staked, they remain in your wallet while you earn staking rewards. The Staking method ensures that stakers of FIO Tokens will always earn a positive return, meaning they receive more FIO Tokens back when they unstake than the number they staked.
Is FIO Protocol a Good Investment?
In October 2021, FIO launched a $5 million Integrator Grant Program to accelerate FIO Protocol integration across wallets, exchanges, and crypto applications. In November 2021, FIO introduced their FIO NFT Signatures via integration with Unique.one's NFT marketplace to protect NFTs created on any blockchain, and in January 2022, FIO officially launched the staking functionality of FIO coin while setting the FIO activation date as 22nd February 2022, allowing early adopters to earn at an early access rate.
It seems that FIO Protocol has a good potential, while certain collaborations and innovations may increase the number of protocol users and its wider adoption. If the market concentrates on investing in FIO Protocol, the price might rise. Some sources claim that FIO crypto may reach $0.86 by 2032, while others state that its price may go even higher, $0.96, by the same year. Overall, the FIO Protocol is an innovative blockchain project with a great community and thriving ecosystem of valuable products.

Make sure to follow StealthEX on Medium, Twitter, Telegram, YouTube, and Publish0x to stay updated about the latest news on StealthEX.io and the rest of the crypto world.
Don't forget to do your own research before buying any crypto. The views and opinions expressed in this article are solely those of the author.
Bitcoin
exchange crypto
FIO
FIO Protocol
how to buy
Recent Articles on Cryptocurrency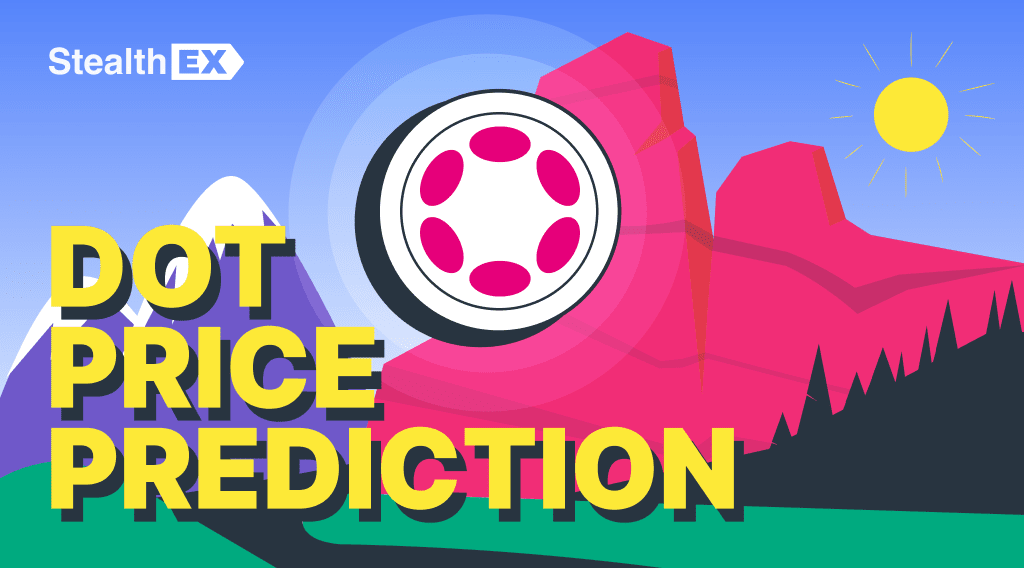 November 29, 2023
Price Prediction
Polkadot (DOT) Price Prediction: Will DOT Coin Reach $1000?
According to the long-term Polkadot price prediction by the end of 2030, the DOT price may rise to $195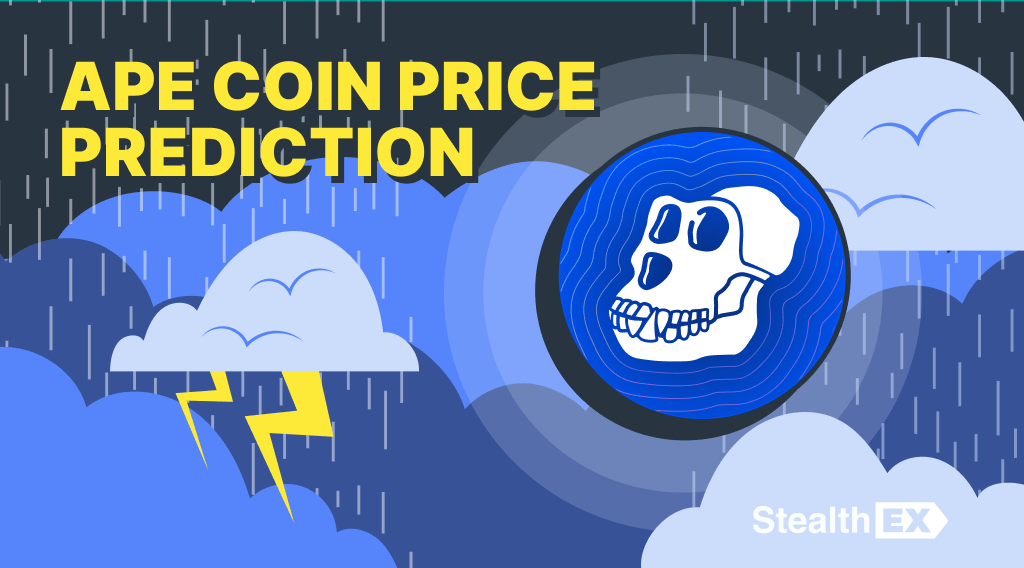 November 29, 2023
Price Prediction
ApeCoin Price Prediction: Is APE Coin a Good Investment?
According to the long-term ApeCoin price prediction by the end of 2030, the APE price may rise to $250