SHIBA INU Swap: Where and How to Buy Shiba Inu Coin?
April 18, 2023
How to Buy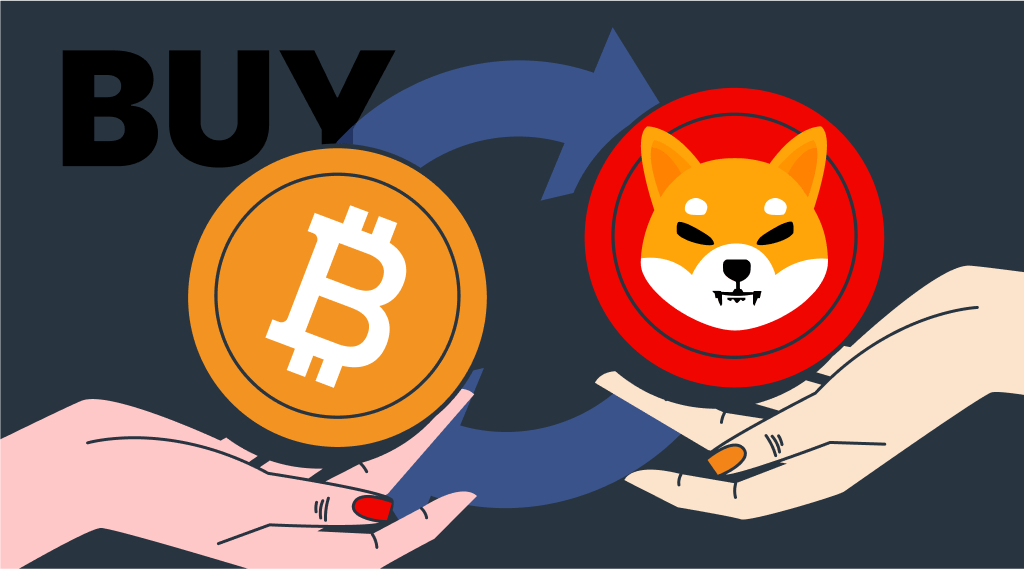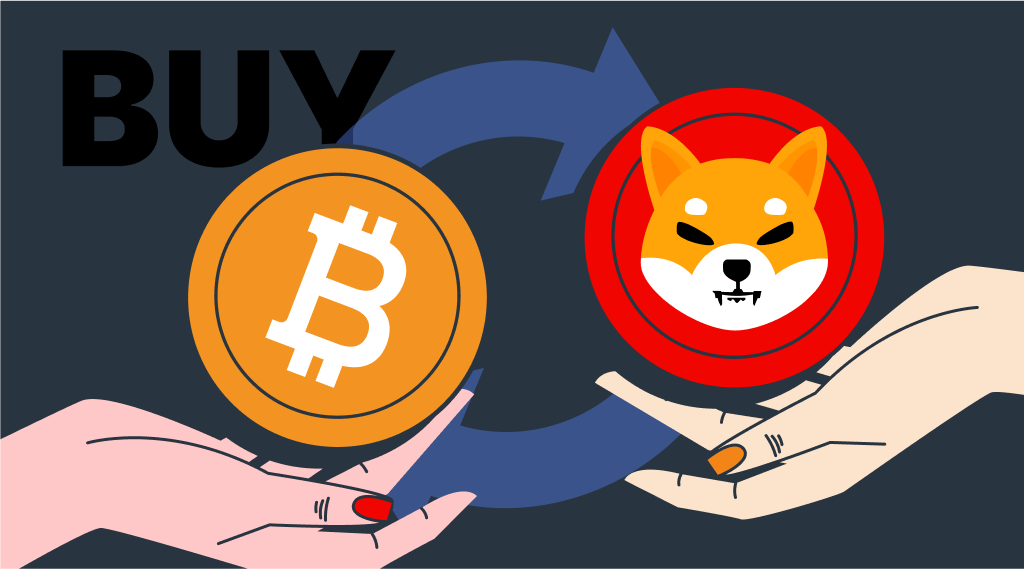 Meme coins are still extremely popular, with the first fun projects paving the way for more dog-related cryptos. Shiba Inu is a meme cryptocurrency that made headlines when it was launched back in August 2020. Shiba Inu keeps developing in an attempt to build a more flexible ecosystem that will promote lower gas fees, better transaction speeds, dApp functionality, and much more. Where is the crypto project heading and can you buy SHIB now to make an investment? Read more about how to buy Shiba Inu in the new StealthEX article.
Where to Buy SHIBA INU Coin?
There are many exchanges where to buy Shiba Inu crypto, and StealthEX is one of the safest options. This platform offers users to get SHIB coins with no extra fees and with the best floating and fixed rates. This cryptocurrency is always freely available for purchase via StealthEX, and it's a quick Shiba Inu swap.
How to Buy Shiba Inu Coin?
Just follow the guidelines below. Let's imagine you want to exchange BTC for SHIB. To make an exchange, you need to take a few simple steps.
First, you should choose Bitcoin in the left drop-down list. Then choose Shiba Inu (SHIB) in the list of coins on the right.
After setting the pair it is necessary to enter the amount of BTC you want to exchange. Here you will see the estimated amount of SHIB that you will receive after the exchange.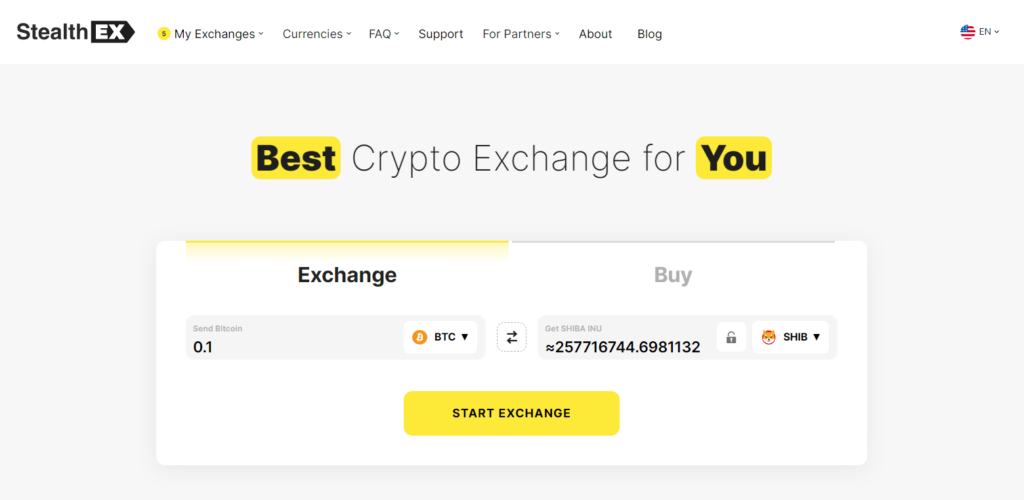 Now, when everything is set, press the Start Exchange button and you will be taken to the next page.
In the second step, you need to provide the Shiba Inu crypto coin recipient address. The recipient address must match the crypto you are going to receive. Remember to double-check the information you enter prior to the exchange as the transaction you make cannot be canceled.
As soon as you have carefully checked all the details, you can press the Next button and you will be redirected to the Confirmation page.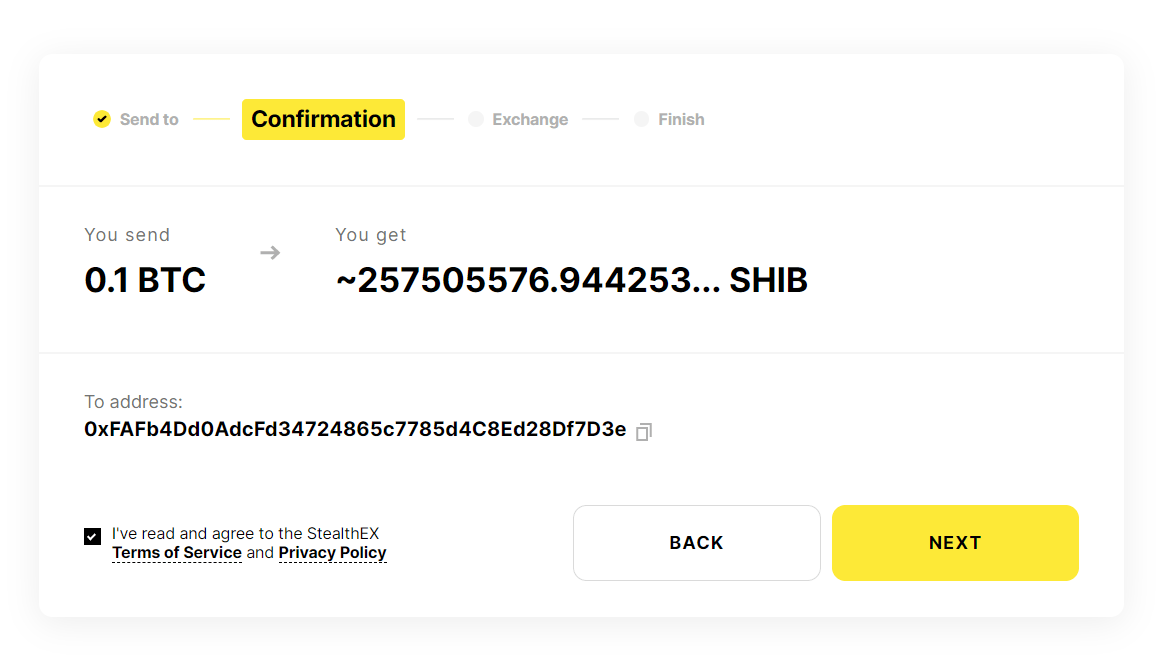 Here you can revise the address provided and the amount of SHIB coin you will receive. Don't forget to read and check the Terms of Use and Privacy Policy box. Without checking the box you will not be able to continue the exchange.
Pressing the Next button you will be redirected to the Exchange page.
At first, you will see the address where you need to send your BTC coin to continue the exchange. StealthEX will also provide you with the exchange ID. It will allow you to keep all the information about the swap. It is recommended to save your exchange ID or the link to your exchange.
Exchange Statuses
After sending BTC coins to the shown address, the information on the Exchange page will be renewed automatically. The Exchange page has several statuses that will change during the time of the exchange.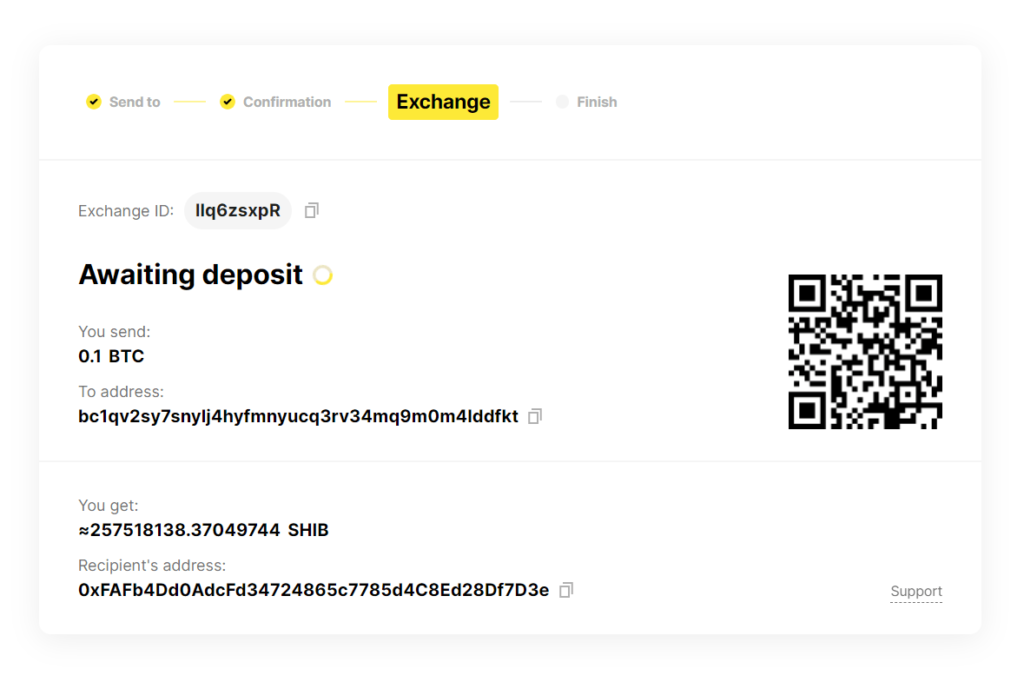 The first status is Awaiting deposit.
The following status is Confirming. This means that StealthEX is confirming the transaction you made.
The next status is Exchanging. During this time the exchange is being made.
Then the status will be changed to Sending to your wallet. This indicates that there are just a few minutes until you receive your Shiba Inu crypto.
Finally, you will be redirected to the Finish page. This shows that the exchange has been successfully made and you will receive crypto to the address provided. To be sure that SHIB crypto was sent to your wallet you can also use the Output hash shown on this page and check it in the blockchain list of transactions.
From here you can either create a new exchange on StealthEX.io or leave the page and check your SHIB coin wallet to be surprised at how fast you get Shiba Inu sent to your address. Usually, the process is quite rapid so you won't need to wait long: SHIB crypto swaps are processed in a matter of minutes.
Keep reading StealthEX's article to learn more about the Shiba Inu project itself and SHIB coin.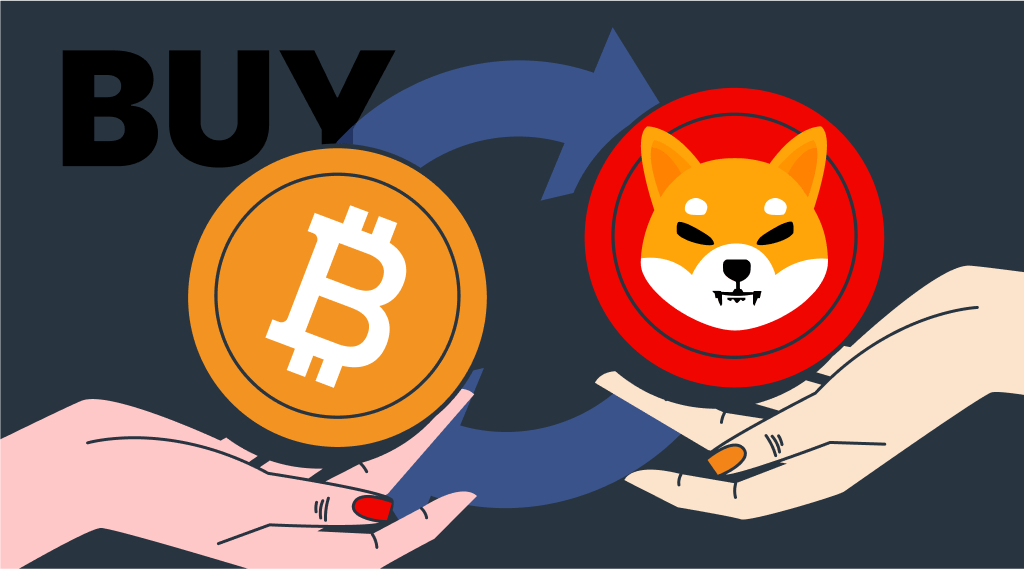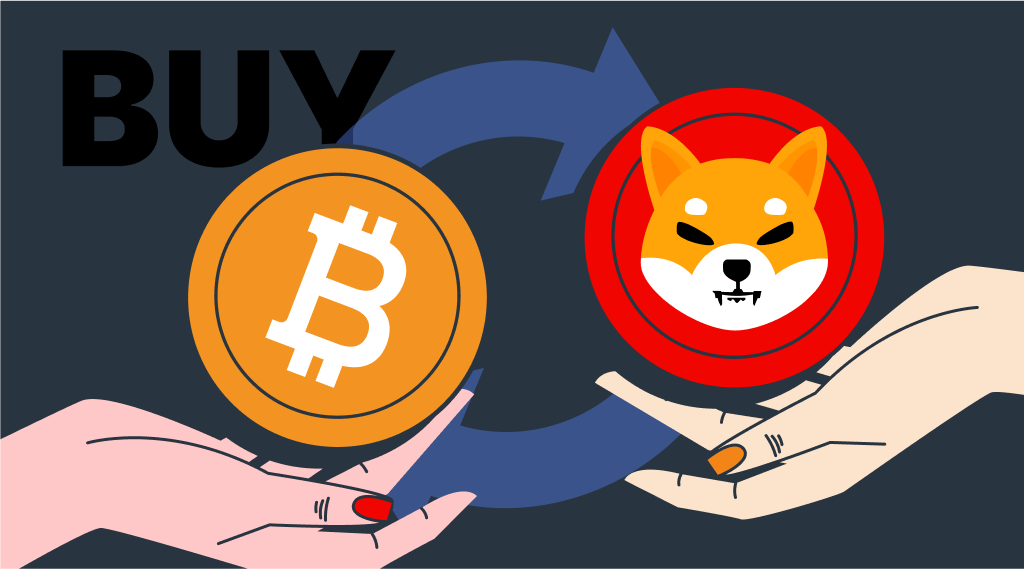 SHIB Metaverse and Massive Growth 
Shiba Inu (SHIB) is the world's second-largest meme token by market cap. Even though this cryptocurrency initially started as a joke, it has quickly evolved into a serious crypto project aiming for true decentralization and becoming 100% community owned.
Shiba Inu (SHIB) itself has a total supply of 1 quadrillion, which equals 1,000 trillion. At the moment, the cryptocurrency is going up in price because of the Shiba Inu coin news that unveiled an alpha preview of SHIB Metaverse. The SHIB Metaverse is a part of the Shibarium portal, which is aimed at reorganizing Shiba Inu as a multi-project and a stable ecosystem. Shiba Inu's testnet, Puppynet, which is an open beta testing version of Shibarium, shows an increase in activity, with more than 1M transactions in just a few weeks. Puppynet can be implemented in 'real-world' businesses as a decentralized backend, a cryptopay gateway, or a decentralized management module.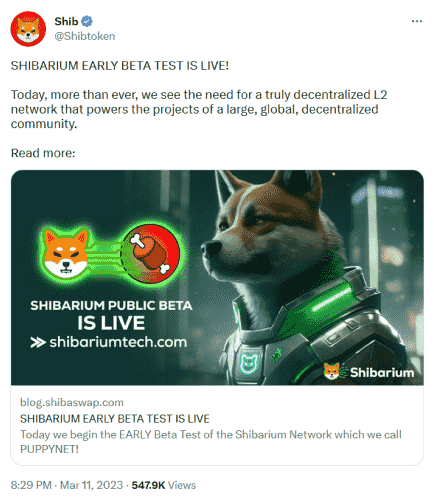 In early April, the project also launched a new Shibarium Discord server dedicated to the Shiba Inu community. It recorded massive growth less than a month after it was introduced by Shytoshi Kusama, Shiba Inu's project lead. The server now boasts almost 7,000 members in the space of two weeks.
Shibarium Project: A New Era for Shiba Inu?
In essence, Shibarium is an upcoming layer 2 blockchain network built on Ethereum for Shiba Inu. Here are the features it promises to bring into the crypto project:
Better transaction speeds. Adding layer 2 to the Shiba Inu ecosystem, Shibarium will increase throughput, enabling the project to handle significant growth. Shibarium should boost the transaction speed considerably.
Complete ecosystem. Contrary to being a mere meme coin, the Shibarium ecosystem will be comprehensive, comprising several projects, including SHIB metaverse, ShibaSwap DEX and blockchain games. The metaverse and games are expected to pull in users, while the DEX will provide better liquidity.
Token utility. The abundant supply of SHIB, despite the burning of more than 40% of the tokens, has been a huge hindrance to its growth. Shiba Inu community showed a record in burning tokens (6.8B $SHIB) in March 2023. Shibarium handles the situation by introducing BONE as the native coin. When Shibarium takes off, validators on the network will get paid in BONE for securing and validating transactions. Moreover, in the new ecosystem, every transaction will consume SHIB, a mechanism to control the hugely inflated supply of SHIB.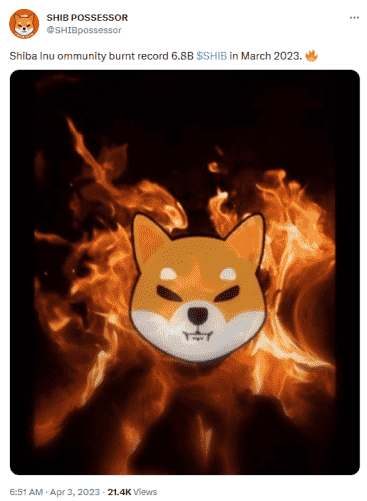 Lower fees. High transaction fees have been a problem for anyone performing a transaction on Ethereum. The introduction of the Shibarium layer 2 solution is likely to lower the gas fees.
DApp development. Shibarium intends to provide a technical ability to create dApps within the ecosystem.
Is Shiba Inu Worth Buying?
In the middle of rumors that Elon Musk promised 3M Shiba Inu would make a millionaire out of any crypto investor, there are many realistic predictions. Some crypto analysts believe that the coin can lose another two zeros, which means the asset will be trading at around $0.001. You can read more about future predictions for SHIB token in the Shiba Inu coin price predictions article. 
Moreover, the project has attracted a number of whales, for instance, a man who made headlines in May 2021 when he invested $50M in Shiba Inu (SHIB) a day before the cryptocurrency was listed on Binance. It's difficult to say where the meme cryptocurrency will be in 5 or 10 years, but if the project keeps developing like now, Shiba Inu can still surprise the crypto world.
We'd like to remind you that if you're looking for the best exchange for Shiba Inu or simply want to buy Shiba Inu coin right away, you can do it via StealthEX. Our users can purchase cryptocurrencies using fiat and we still offer the opportunity to buy digital assets at fixed rates.

Make sure to follow us on Medium, Twitter, Telegram, YouTube, and Publish0x to get StealthEX.io updates and the latest news about the crypto world. If you need help, drop us a line at support@stealthex.io.
Please make sure to always research any cryptocurrency and assess your risks before you invest.
exchange cryptocurrency
how to buy
how to buy crypto
SHIB
Shiba Inu
Recent Articles on Cryptocurrency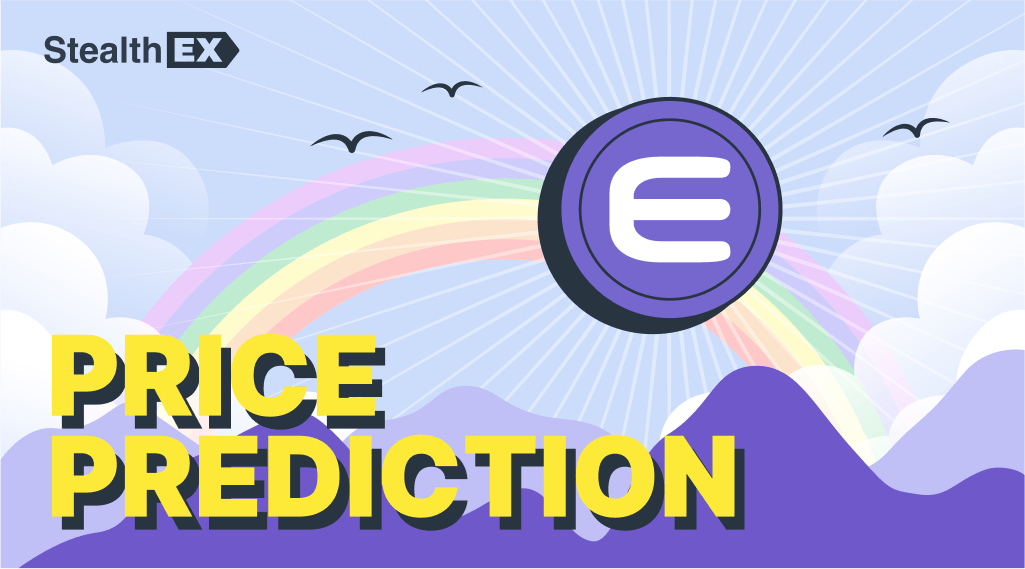 September 27, 2023
Price Prediction
Enjin Coin Price Prediction: How High Will $ENJ Crypto Go?
Based on expert Enjin Coin price prediction, the maximum price of ENJ crypto is predicted to be $75 by 2030.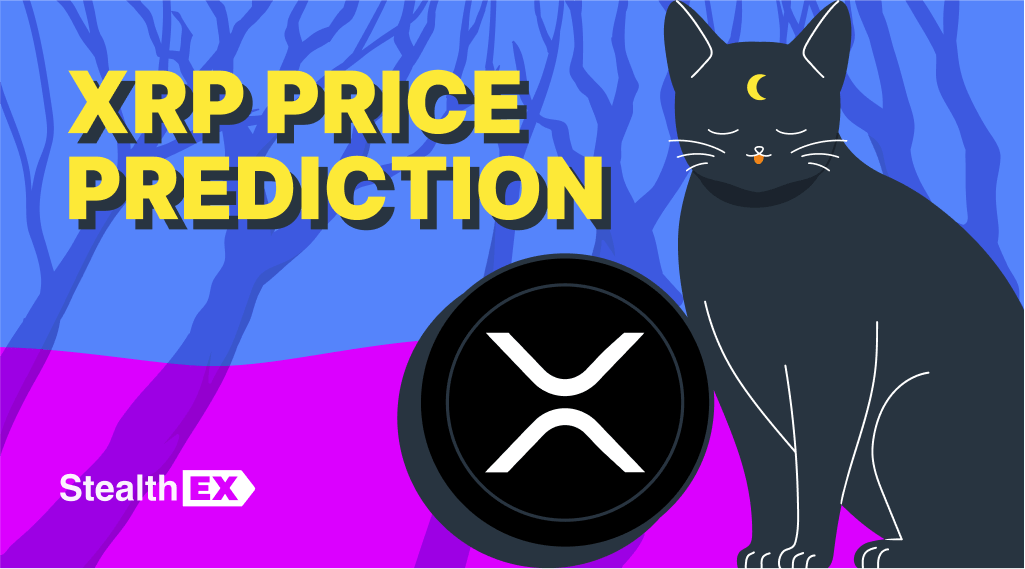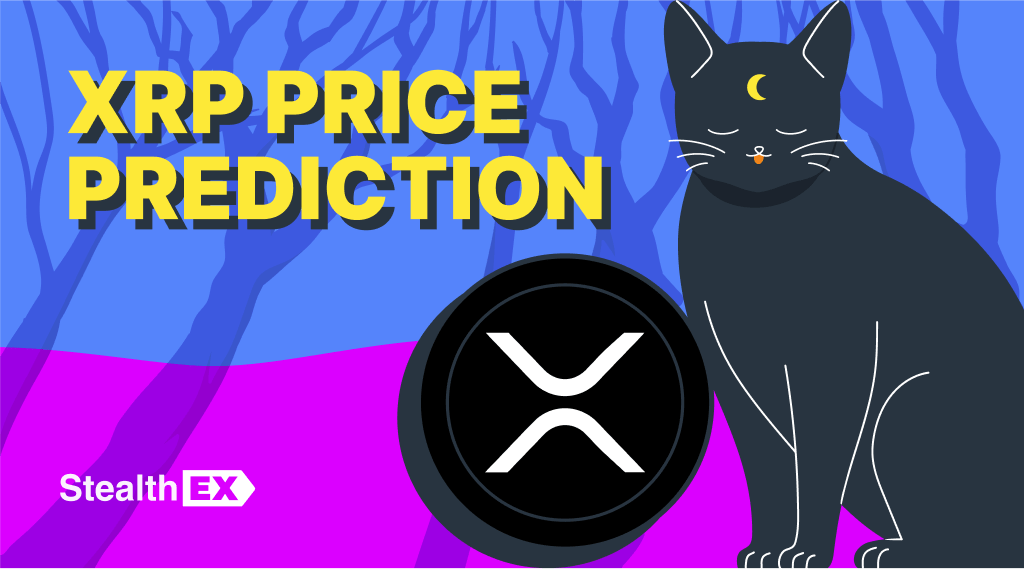 September 26, 2023
Price Prediction
Ripple XRP Price Prediction: How High Can XRP Go?
Based on expert XRP price prediction, the maximum price of XRP coin is predicted to be $12 by 2030.