Best Ethereum Wallets: Part 1
April 28, 2020
Wallets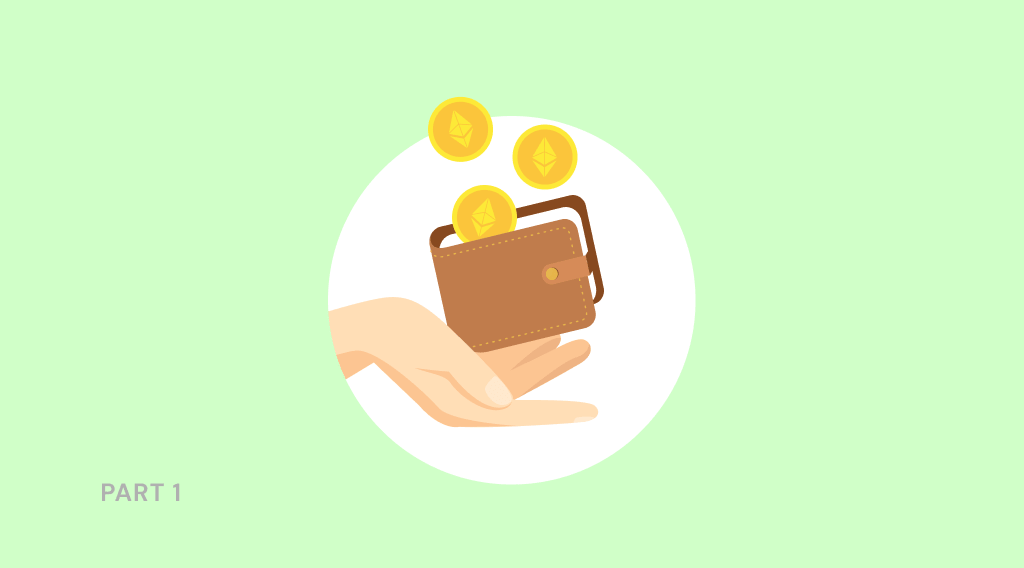 Ethereum is an open-source platform for creating decentralized blockchain-based applications (dApps) powered by smart contracts. The own currency of the platform – Ether – is the second-largest coin by capitalization after Bitcoin.
Ethereum's сreator Vitalik Buterin has been working on the project since 2013, a year later its team launched the crowdfunding. The first block in the Ethereum blockchain was created on July 30, 2015.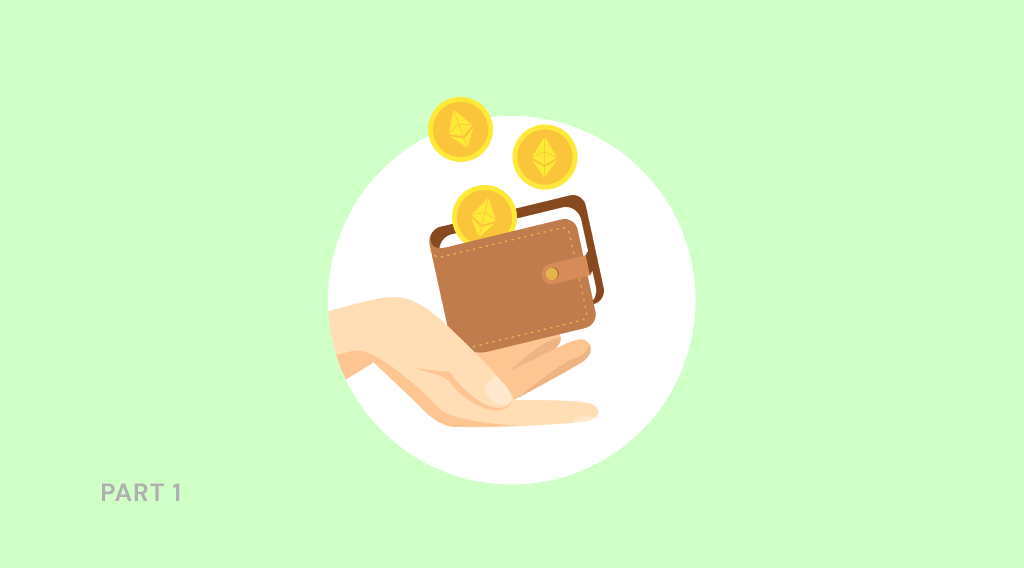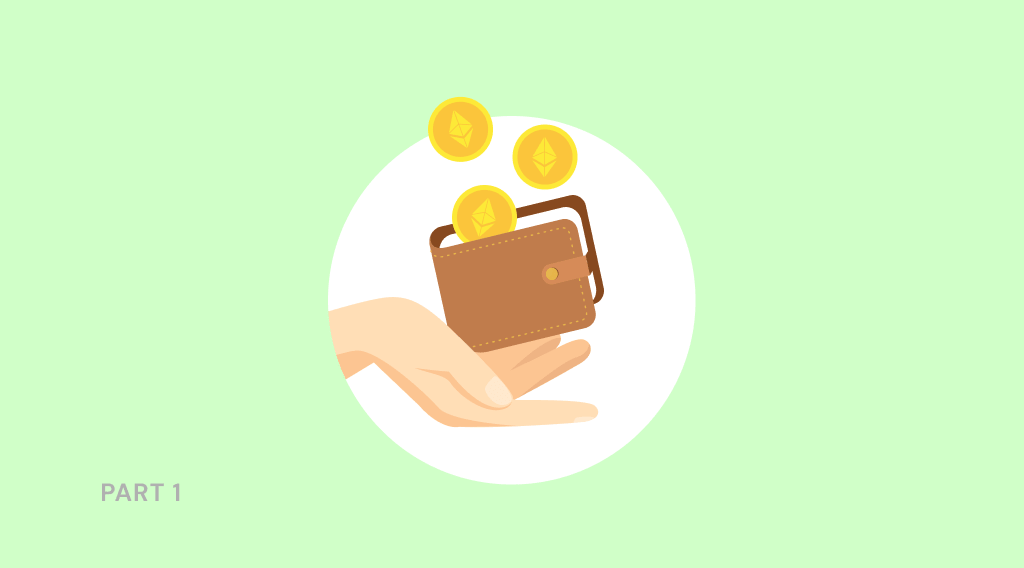 To make a transaction or perform an operation on the network, users must consume or burn "gas" – this is the inner currency in Ethereum, which is paid as a reward for miners. Gas fees also allow to limit the maximum number of executable commands and do not allow you to create worthless contracts.
The problem of storing cryptocurrencies occurs at the same time as the idea of getting it. The storage must be completely secure, easily accessible, and allow the user to manage their funds quickly. There are a lot of wallets of different types, and each one has its advantages and downsides. We will take a glance at the most popular ways to store and work Ether and ERC-20 tokens.
Paper + Mobile Wallet
MyEtherWallet
MyEtherWallet is an open-source wallet for working with Ethereum and tokens created in the blockchain. In fact, MyEtherWallet site is just a tool for making transactions in the blockchain network, while all private keys are created locally on the device. MEW does not store assets, but only provides an opportunity to get a private key and the wallet address.
After creating an account, MEW generates an encrypted Keystore (UTC/JSON) File and a private key. You can save the first one to your device, and print the second one. MEW does not have a backup function, so these keys must be stored in a secure location.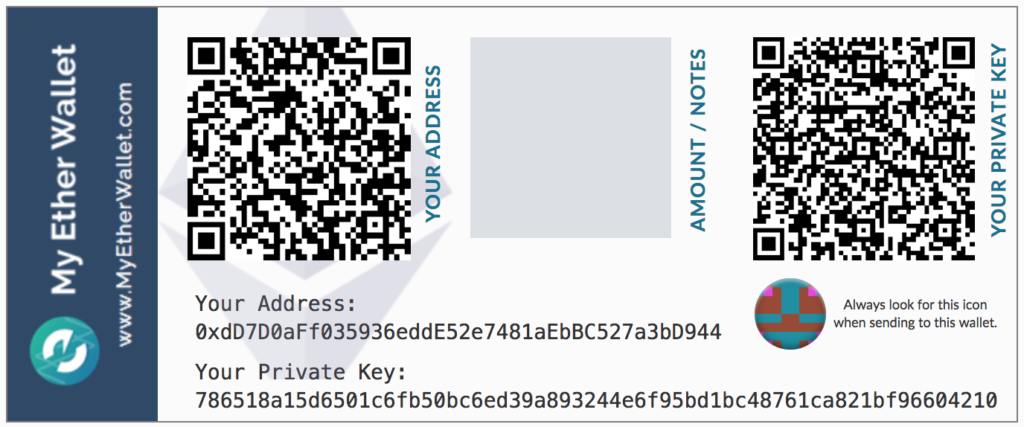 After creating a wallet, there is an option to use the site interface to work with assets or import the private key to another wallet. MyEtherWallet has an integration feature with hardware wallets such as Ledger and Trezor, and MetaMask web plugin. MEW is also available as a mobile app for Android and iOS. With MEWconnect, users no longer need to enter a private key to open their wallet. Instead of using a private key, which may pose a security risk, the user reads a special QR code.

There are many pirated copies of the site, to avoid becoming a victim of phishing, be sure to check the address for the correct spelling – www.myetherwallet.com.
Hardware Wallets
A hardware wallet is a physical electronic device, made specifically for the purpose of storing crypto coins.
Hardware wallets keep private keys separate from internet-connected devices to ensure its safety. Hackers often try to gain access to the software wallets, the technical capabilities and skills allow them to bypass the safety systems and get your private keys. Hardware wallets generate and store your keys offline, where cybercriminals can't reach them.
In case your wallet is lost or physically damaged, you can install a backup code that will allow you to restore your data.
Ledger Wallet
The Ledger Nano X hardware wallet is a new flagship model from the French manufacturer Ledger SAS. Compared to the older Nano S model, it has a Bluetooth connection, built-in battery, increased memory capacity, and an improved high-resolution display. Ledger supports all the tokens of the Ethereum chain.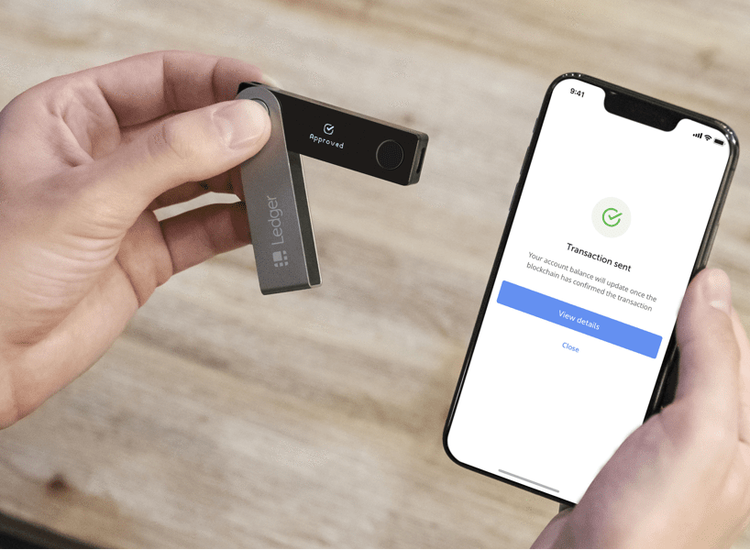 The first step when installing is to create a PIN, then the device will generate a backup 24-words code for you. In the package, there are special sheets where you can write it down.
Ledger Live assistant is compatible with computers running Windows 8+, macOS 10.8+, and Linux and available as an app in both Google Play and Appstore. Using Ledger Live during setup will greatly simplify the work with the wallet for new users. The Ledger app has an outstanding detailed interface and is very easy to use.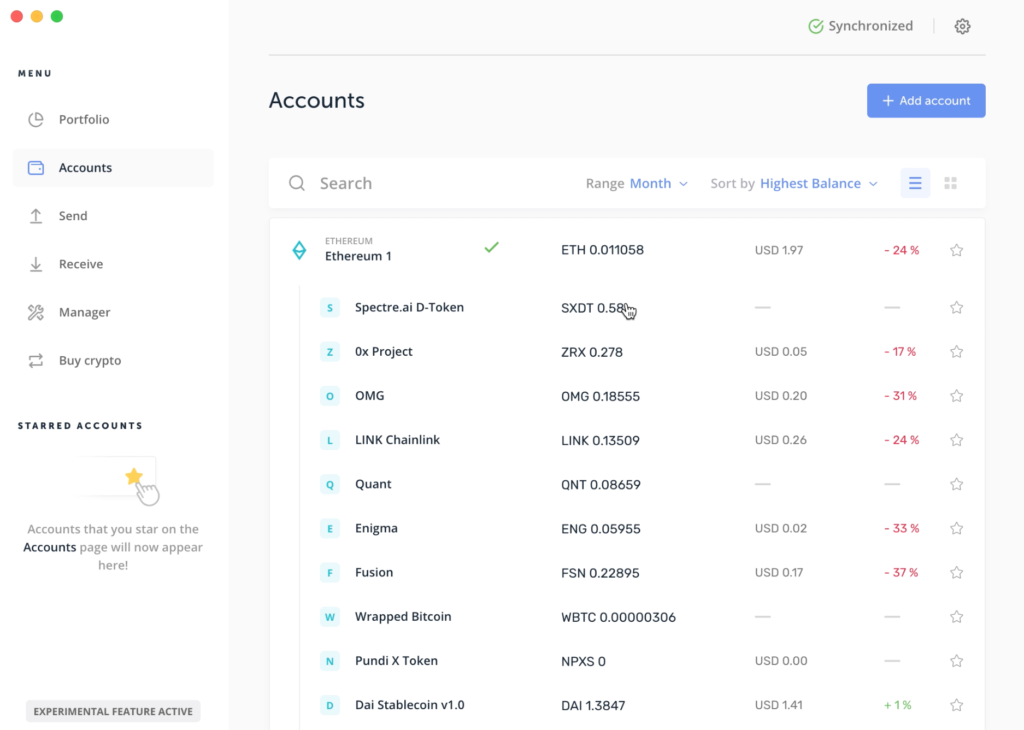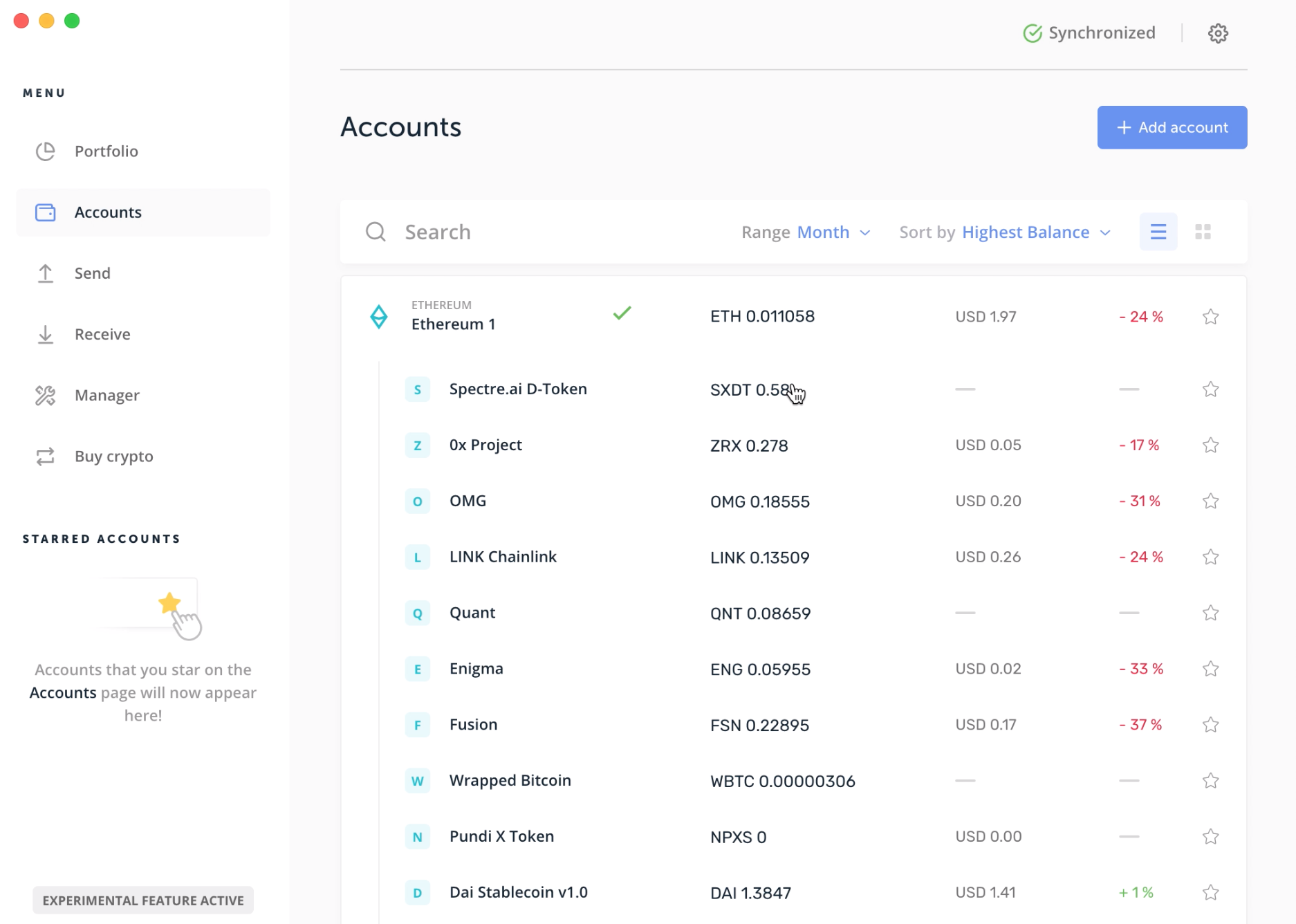 According to the official website, the original app supports 23 coins with its own blockchain and over a hundred tokens. With third-party applications, the number of available digital assets reaches 1,137.
You can buy a wallet through the official website or a network of authorized distributors.
The current price of Ledger Nano X is 119.00 EUR. The previous model Ledger Nano S is selling for 59,00 EUR.
Trezor Wallet
Trezor Wallet was developed by Satoshi Labs, a Czech Republic-based company, back in 2014. Initially designed for Bitcoin now can be used for Ethereum with the MyEtherWallet interface.
Trezor is a small device which connects to your PC or phone via USB. It is technically a password manager that allows you to sign transactions.
Upon set up, the device will generate a 24-word seed – your master-key. It is displayed only once, so it's highly recommended writing it down on paper. After that, the user will have to give a name to their wallet and then set their own password.
Each time you log in, the wallet will generate an order of numbers, according to which you will enter your PIN-code into a blank matrix on the computer.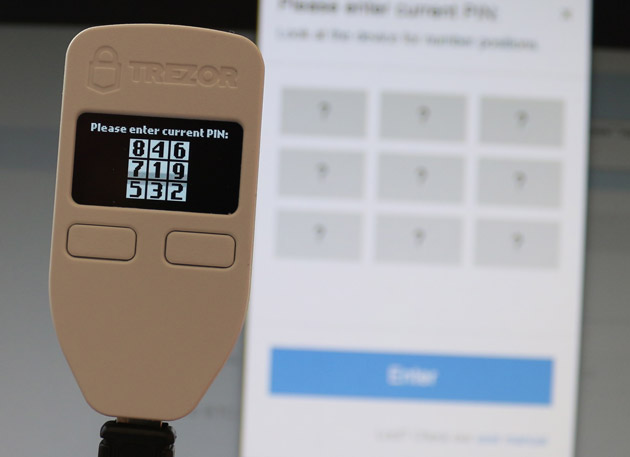 The transaction data displayed on the computer should always be checked against the Treznor display data. The wallet also offers to create new addresses for each following transaction, which is important if you want to remain anonymous. Outgoing transactions must be confirmed on the device itself.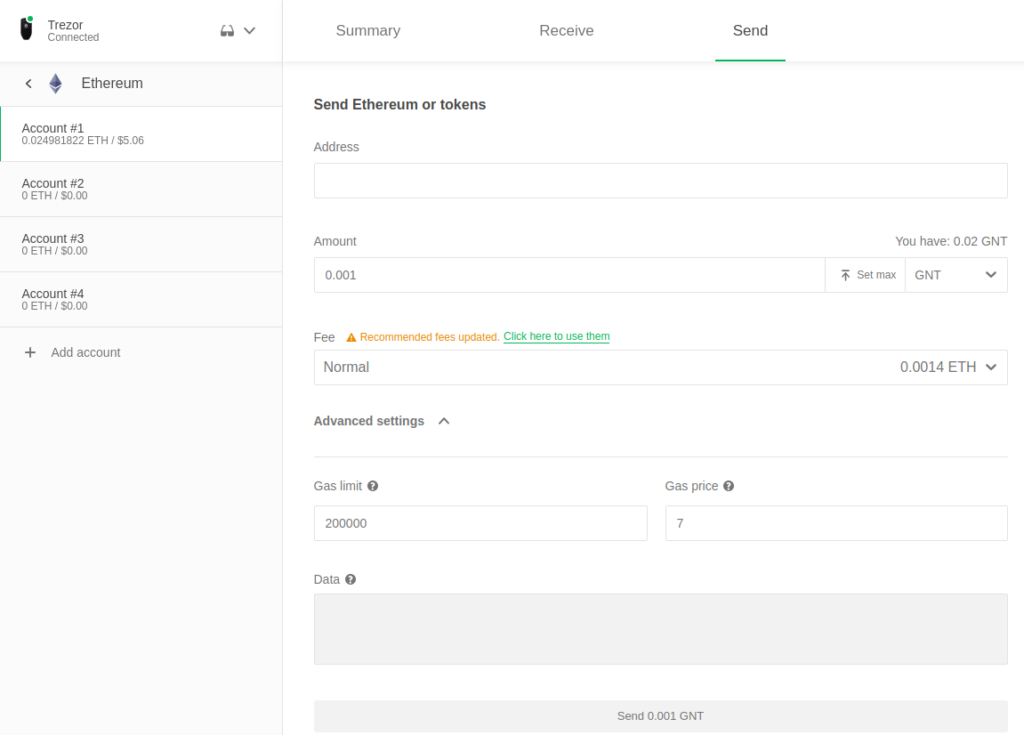 Trezor T is compatible with Windows, Linux, Mac, and Android operating systems. Android smartphones must be compatible with the On the go (OTG) connection type.
The current price for Treznor One is 48.76 EUR, for Treznor Model T – 149 EUR.
Purchase devices solely on the official website.
Desktop Wallets
There are two types of desktop wallets: thin and thick. When it comes to thin wallets, the user installs only the program of the wallet itself on the computer, and information about all financial manipulations is stored on a third-party platform. In the case of a thick wallet, the blockchain is also downloaded to the PC.
If you compare them in terms of reliability, then thick ones are considered preferable, since you do not depend on a service that may have vulnerabilities in the face of cybercriminals. At the same time, thin wallets are much less bulky and perform operations significantly faster.
Mist Wallet
Mist is a desktop wallet with a web interface. It is an official wallet posted on the Ethereum project website. Mist belongs to the type of thick wallets – the entire blockchain is installed on the user's device. There is a test version, that loads only the final segment of the blockchain, it allows potential clients to be introduced with the application's capabilities.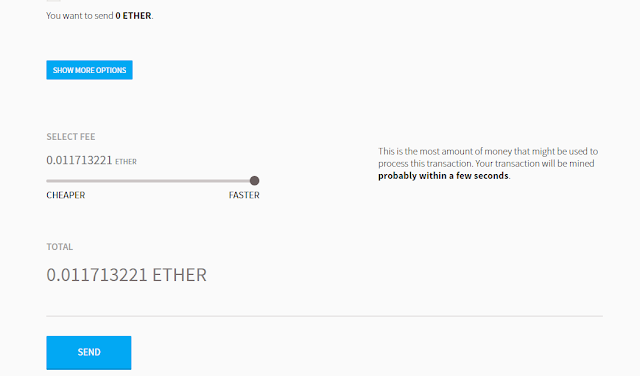 Loading of the entire blockchain formed to the time of installation will require significant time and free disk space. It is very important not to restart the PC during the process and not to disable it, to avoid errors and additional checks.
After the initial download and synchronization of the blockchain, even after a long break, the wallet will update more quickly, since there will be significantly fewer blocks for uploading and syncing.
With Mist users have complete anonymity, it doesn't require providing any personal information and passing verification. You also have full control over the secret keys that are stored on the device with the installed wallet.
Mist Wallet has a user-friendly interface, wide functionality, and a high level of storage security.
The obvious disadvantages are too long synchronization with the Ethereum blockchain and the need to maintain the entire blockchain on the device. This requires significant disk space and slows down the work. Also, this wallet does not support other cryptocurrencies, which may be inconvenient for users who have different assets.
Mist is available for Windows, Linux and macOS.
In conclusion
When choosing a wallet, carefully study all aspects and decide what is more appropriate for your goals. Be careful, because frequently, the safety of your assets depends only on your actions. Whatever wallet you choose for your tokens you can always use the StealthEX exchange for instant and unlimited swaps. Follow these easy steps:
✔ Choose the pair and the amount for your exchange. For example BTC to ETH.
✔ Press the "Start exchange" button.
✔ Provide the recipient address to which the coins will be transferred.
✔ Move your cryptocurrency for the exchange.
✔ Receive your coins.
Follow us on Medium, Twitter, Facebook, and Reddit to get StealthEX.io updates and the latest news about the crypto world. For all requests message us via [email protected]
April 28, 2020
crypto wallet
Ethereum
Ethereum wallet
Ledger Wallet
Trezor wallet
Recent Articles on Cryptocurrency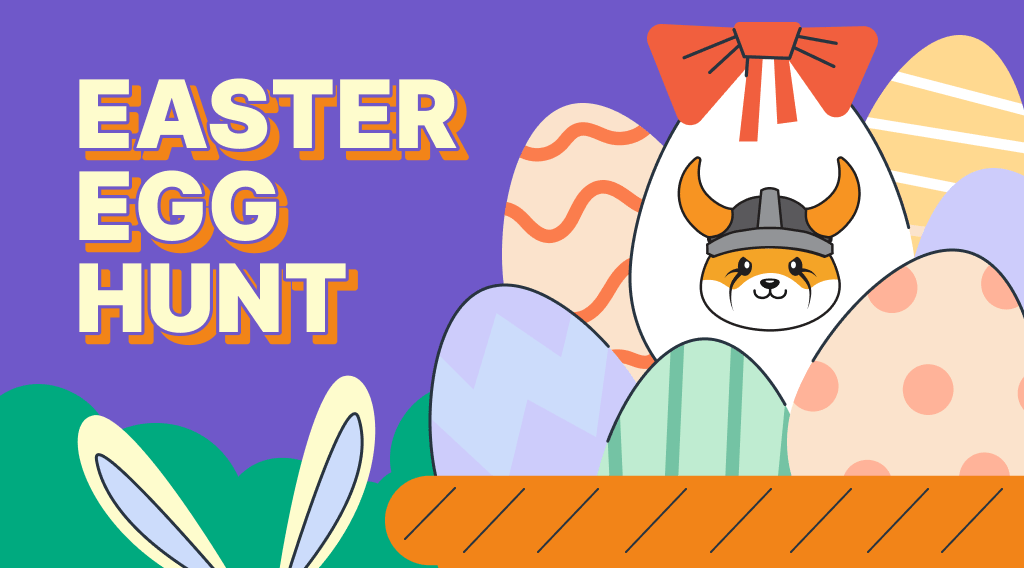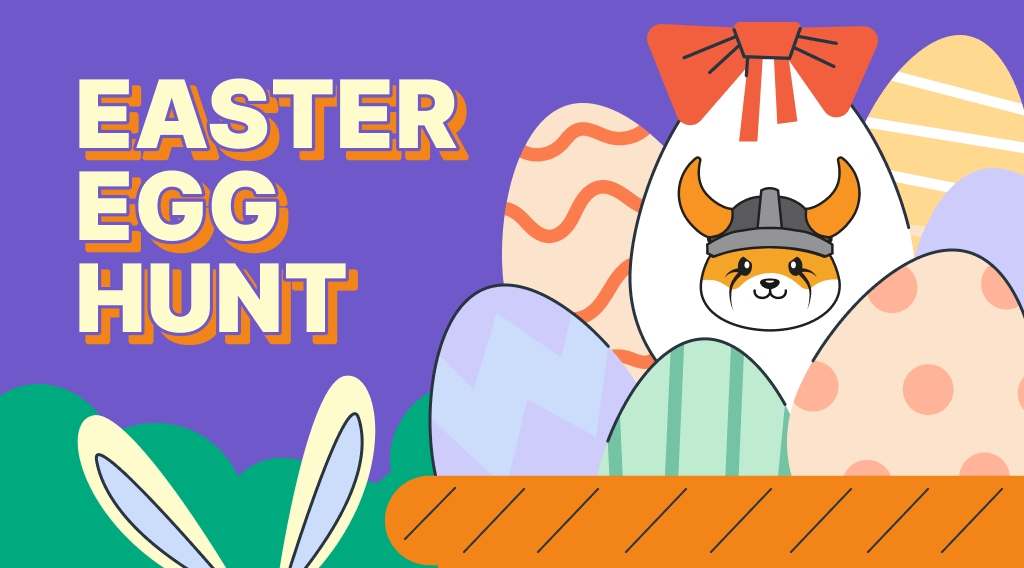 March 30, 2023
Our News
Join StealthEX Easter Egg Hunt & Win from 8M $FLOKI Prize!
Win a share of 8M $FLOKI in Easter Egg Hunt! Solve the secret word & join the fun. Good luck!…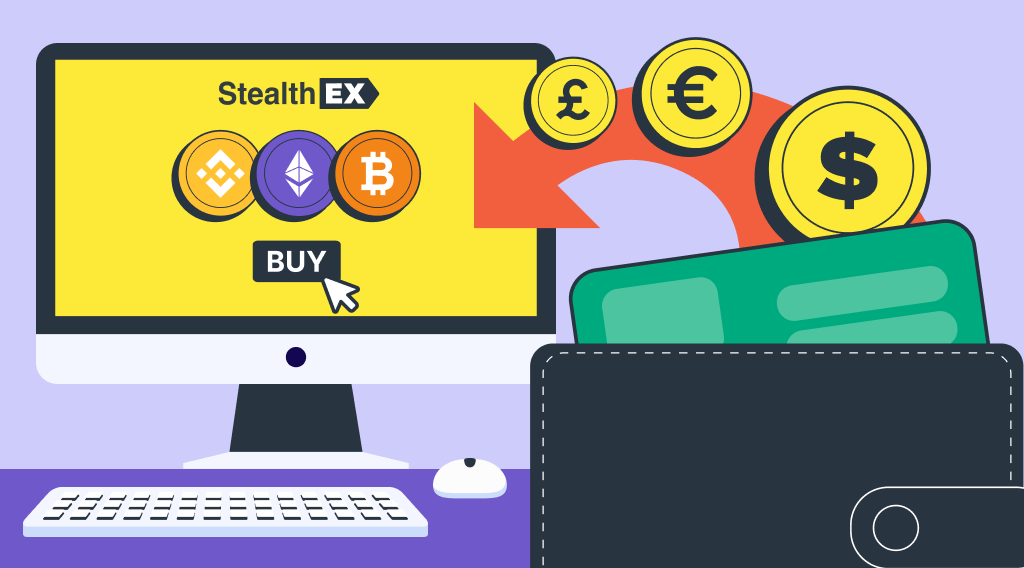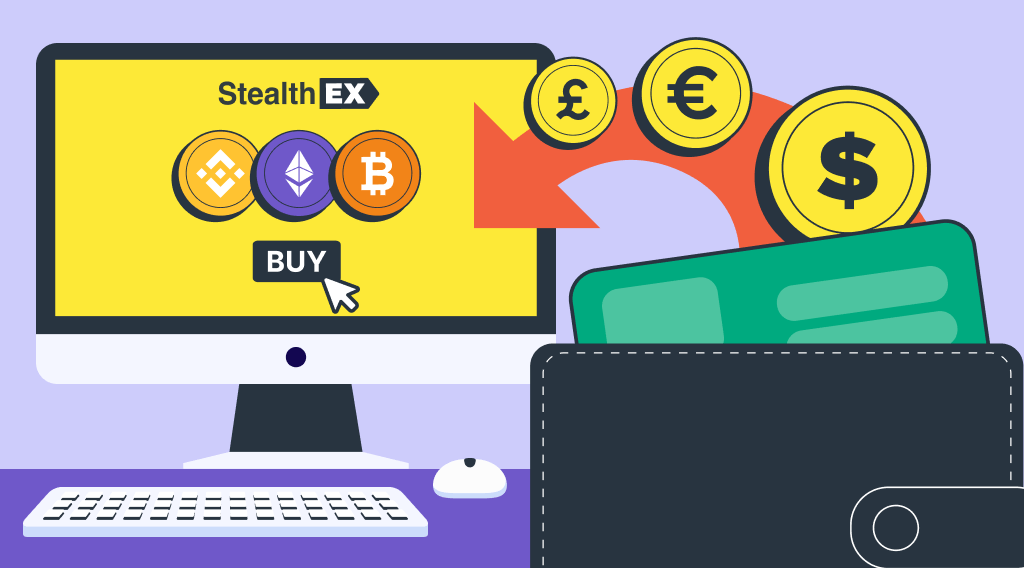 March 29, 2023
Our News
Buy Crypto with Credit Card: Fast & Easy on StealthEX
Buy crypto with a credit card on StealthEX: a secure, user-friendly platform for seamless and convenient transactions.