Buy Crypto with Credit Card in StealthEX Exchange Mobile App
April 4, 2023
Our News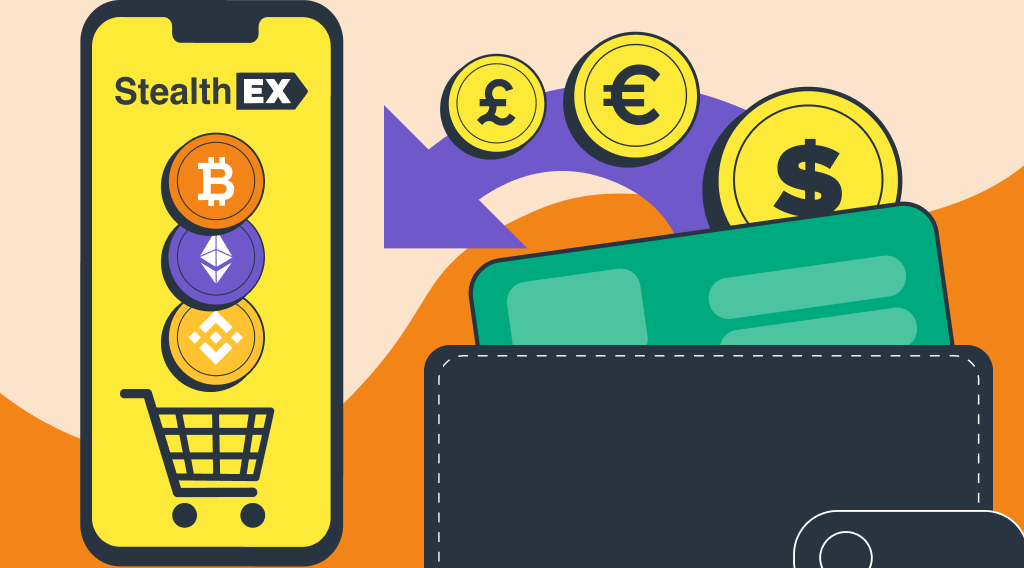 Buy Crypto with Credit Card: Wider public access and growing popularity make purchasing cryptocurrencies more prevalent than ever. As the economies of the world are struggling to cope with major problems, many are thinking about saving money, and crypto seems to be an attractive solution.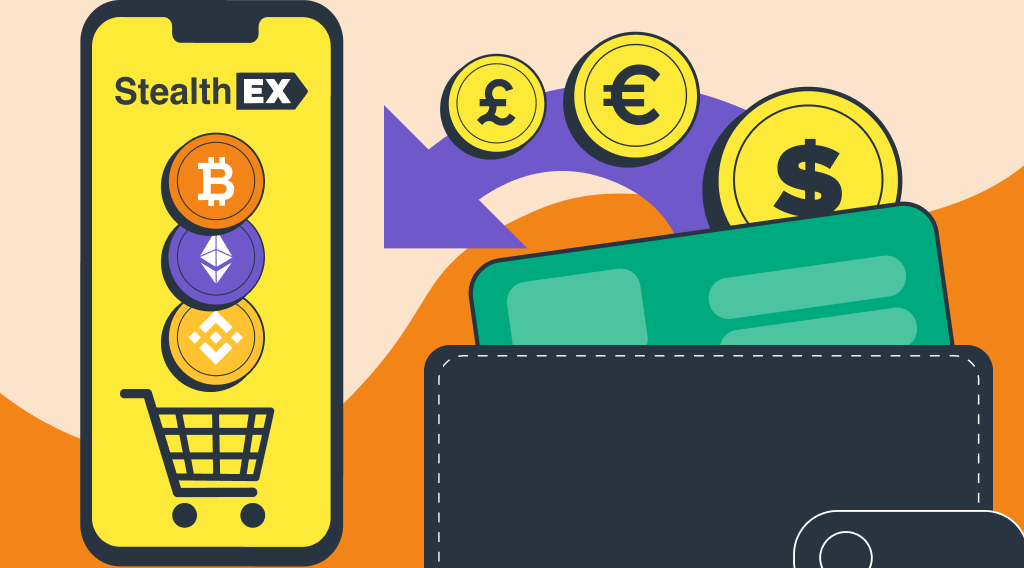 Whether or not you can buy cryptocurrency with credit cards-no verification will depend on the platform you use. If you are required to provide proof of identity, it will usually take the form of submitting a copy of a government ID (such as a driver's license or a passport). This measure helps platforms prevent fraud and in some cases meet federal regulatory requirements. However, many online services, like StealthEX, don't necessarily require their users to pass KYC during their first steps of getting to know the platform, so buying crypto with credit card in a mobile app can be a straightforward process.
Simple Crypto Purchases with Mobile App
2022 has been a great year for the platform. As part of developing the service and helping their users simplify the process of buying crypto without KYC, StealthEX launched a user-friendly Mobile App; it's available for download at GooglePlay. Buying crypto from any part of the world with the help of only your mobile has become a lot less complicated, and StealthEX offers one of the best apps to buy crypto. Over 700 crypto coins are available for you to pick from, including the most popular ones – from Bitcoin to Solana, from Ethereum to Litecoin, and more.
Best App to Buy Crypto: Feature-Packed Solution
StealthEX Mobile App lets you take advantage of the service's benefits, including a feature-packed interface. The Mobile App is transparent, just like StealthEX's website, and requires no sign-up while maintaining your privacy. Here are its main advantages:
A vast crypto collection.
Exchange history.
Watchlist.
Crypto rates.
Choosing floating or fixed rate swaps.
Competitive rates collected from a variety of major providers.
One of the major updates of the app is its brand-new feature that lets you buy cryptocurrency with fiat money. It can be problematic to purchase crypto using a browser on your mobile, so to make your fiat purchases hassle-free, StealthEX has added a number of fiat options to their efficient Mobile App.
How to Buy Crypto with Credit Card? StealthEX App Guide
Fiat to crypto swaps via StealthEX are done in a straightforward, simple, and hassle-free process – whether you're doing them via the platform's website or in the Mobile App. To initiate the purchase with your credit card via StealthEX's user-friendly Mobile App, just follow the instructions below:
Buying crypto with fiat money is a new feature in the app and can be found under the wallet icon in the lower part of the screen. First, insert the amount in dollars you'd like to purchase your crypto with. The amount of BTC or another cryptocurrency will automatically adjust according to its current rate. If everything is okay, click Start Exchange: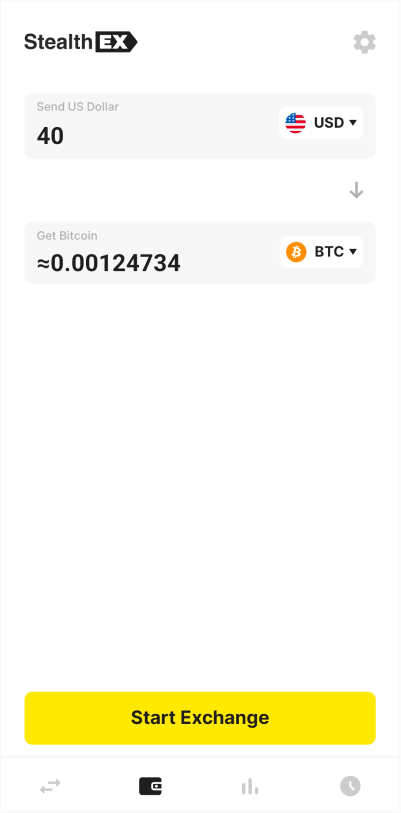 Enter the address of your crypto wallet that you'd like the cryptocurrency to be sent to and click Next Step: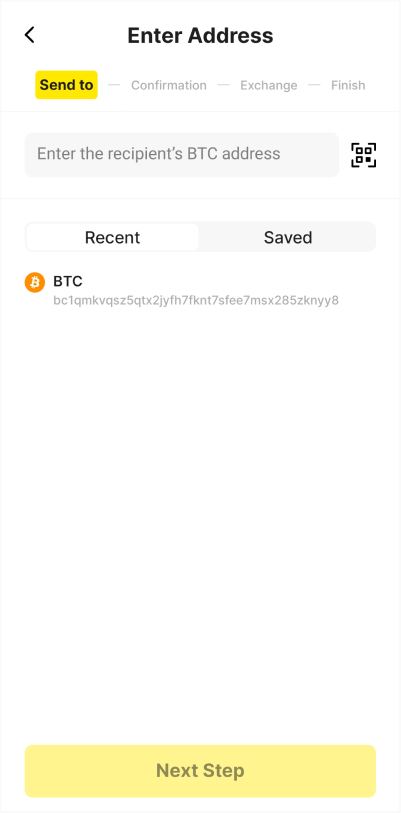 Double-check the address and don't forget to agree to the platform's Terms of Service and Privacy Policy by ticking it off. If everything is correct, proceed to the next step by clicking on the respective button: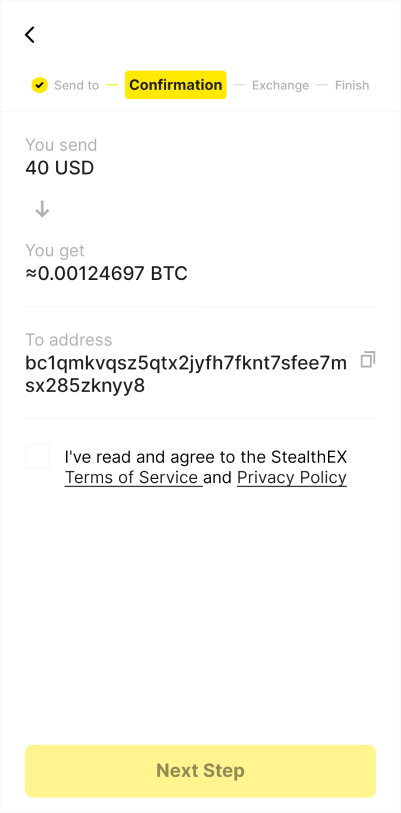 Here's what it should look like: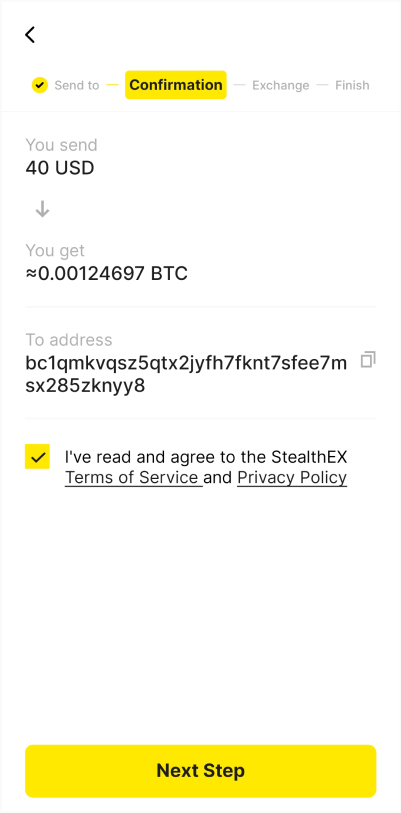 Enter your e-mail address and subscribe to the newsletter by ticking off the corresponding box (optional). Make sure to check your order again and click Continue: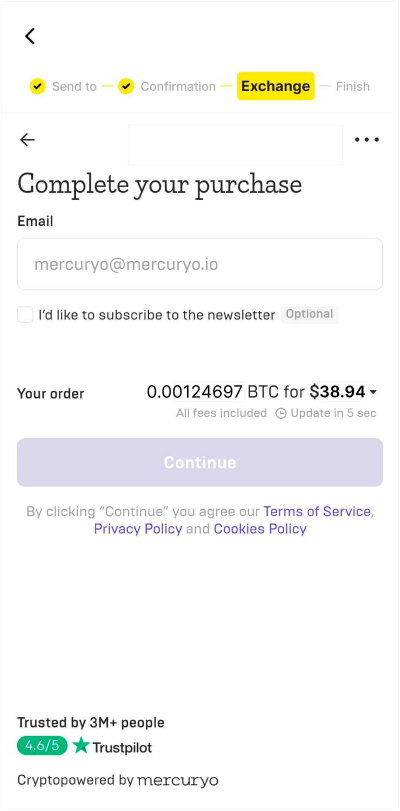 The platform will send you an email with a 5-digit code to confirm your purchase. As soon as you enter it into the field, you will be taken to the next screen: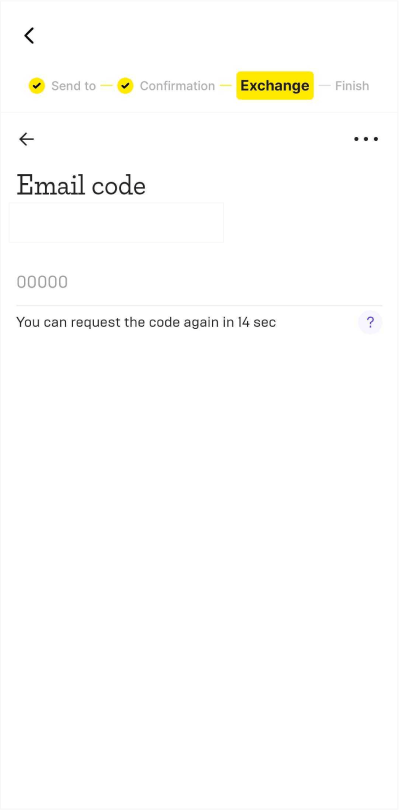 Enter your personal details as they appear on your passport and click Continue: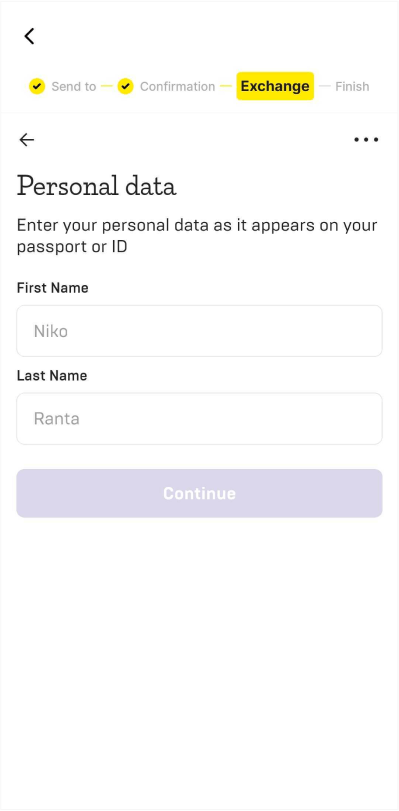 Complete your purchase by entering your credit/debit card details and click Pay the amount to receive your cryptocurrency: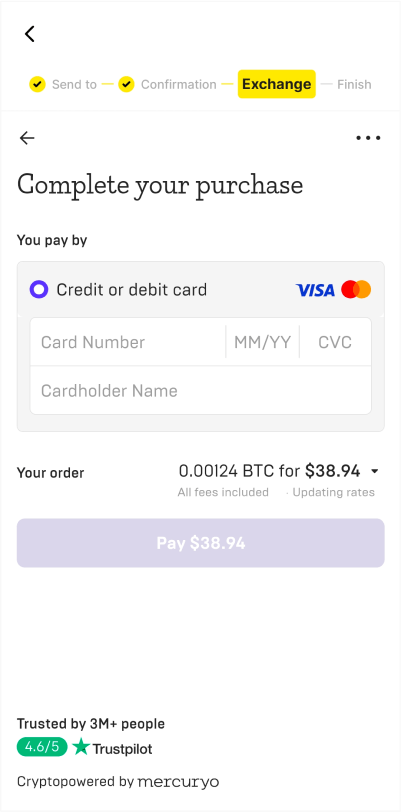 That's it. You're brilliant! You've just purchased some cryptocurrency and you can create a new quick exchange if you like: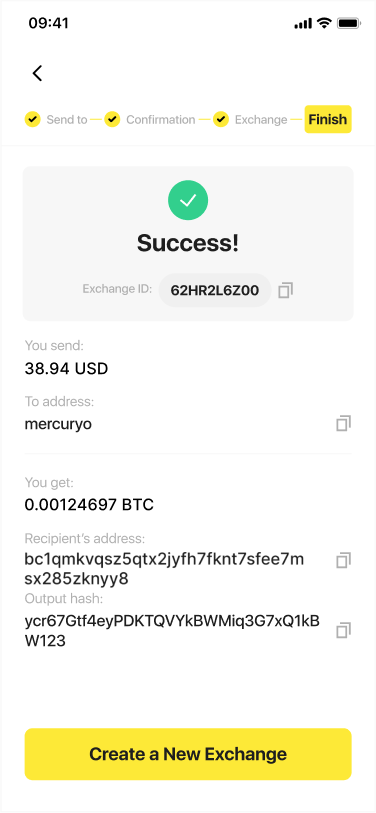 Summing Up: Effortless Crypto Buying
As you can see, the process of buying crypto with a card via StealthEX's Mobile App is quick and effortless. However, the platform's live chat with the Support Team will help you should you have any questions. Don't hesitate to contact them if you need any guidance or tips.
Buying crypto with a credit card is just one of the many benefits of StealthEX. This instant crypto exchange has become popular with professional traders, investors, and cryptocurrency enthusiasts alike as it offers an extensive crypto collection and transparency. Instant trades are processed in a stylish and user-friendly interface.
Simplify Swaps & Enjoy No-KYC Exchanges
Founded in 2018, StealthEX is one of the younger crypto swappers, but it keeps evolving and adapting to the needs of the crypto market. In addition to allowing users to purchase over 700 cryptocurrencies without having to register or create an account, the platform allows no-KYC purchases under 700 EUR, which can be a great advantage for cryptocurrency newbies. The platform is non-custodial and private, and only the customers themselves are in charge of their private keys.
When purchasing crypto with debit/credit cards of fiat money, users can choose between floating or fixed rate swaps. Nearly every crypto enthusiast has found themselves in a situation where an exact amount of coins is needed. However, considering the ups and downs of the market, it can be hard to calculate this amount, so fixed rates can be beneficial. StealthEX also informs the user about all and any possible fees that are associated with their crypto transaction.
Competitive rates are readily available to users: StealthEX has partnered with Binance, Huobi, KuCoin, and HitBTC to find the ultimate best rate for their customers. Moreover, with StealthEX, it's easy to initiate cross-chain swaps between different blockchains without the need to go through numerous steps that most swaps require. Basically, StealthEX allows their users to swap different crypto between two chains directly. It's one of the best features of the platform as it makes any swap effortless and trouble-free.
StealthEX Mobile App: Simplifying Crypto Purchases on the Go
With their branded Mobile App that simplifies crypto purchases even more and makes it easy to buy crypto on the go, StealthEX strives for providing their customers with the best crypto experience on the market. Their app is free of charge and proves to be an essential tool for any crypto investor or enthusiast.
At the moment you can find the service's Mobile App on Google Play, it's freely available for download, with no fees required. Check it out now – it's just as easy to use as StealthEX's website and can be accessed at any time from anywhere in the world. Buying cryptocurrency with your credit card has never been this simple!

Follow StealthEX on Medium, Twitter, Telegram, YouTube, and Publish0x to stay updated about the latest news on StealthEX.io and the rest of the crypto world.
Don't forget to do your own research before buying any crypto. The views and opinions expressed in this article are solely those of the author.
buy Bitcoin
buy crypto
how to buy cryptocurrency
mobile crypto exchange app
StealthEX news
Recent Articles on Cryptocurrency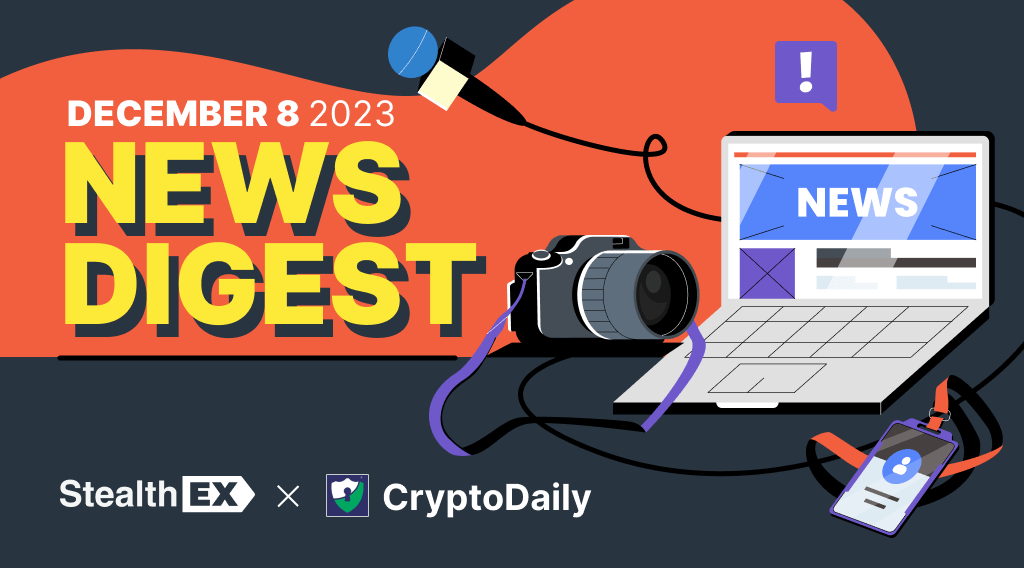 December 8, 2023
Crypto World
StealthEX & CryptoDaily: Weekly Crypto Insights
Explore key cryptocurrency developments and trends in StealthEX's insightful weekly roundup, in partnership with CryptoDaily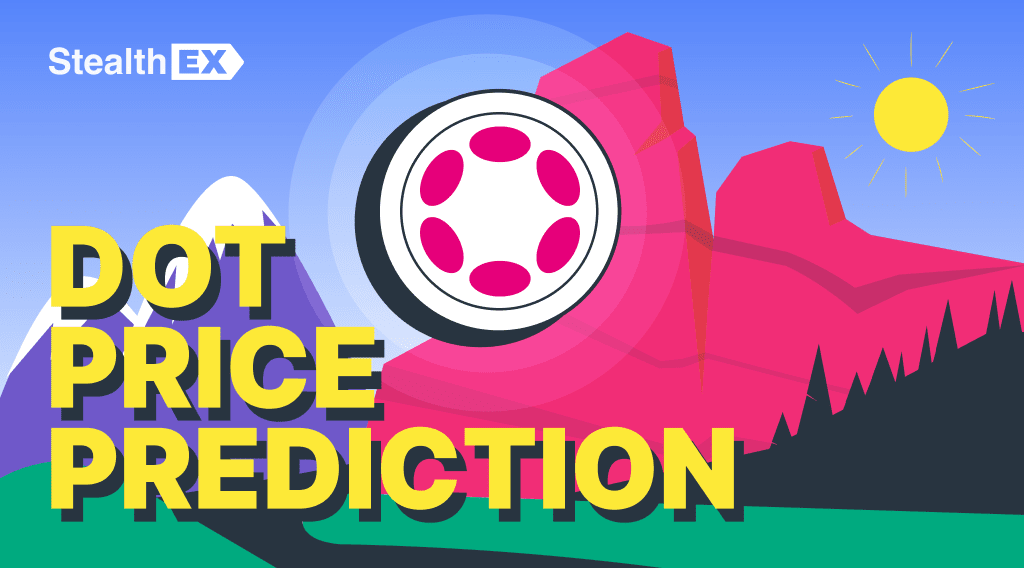 November 29, 2023
Price Prediction
Polkadot (DOT) Price Prediction: Will DOT Coin Reach $1000?
According to the long-term Polkadot price prediction by the end of 2030, the DOT price may rise to $195