Crypto Market Week in Review: February 16, 2023
February 16, 2023
Crypto World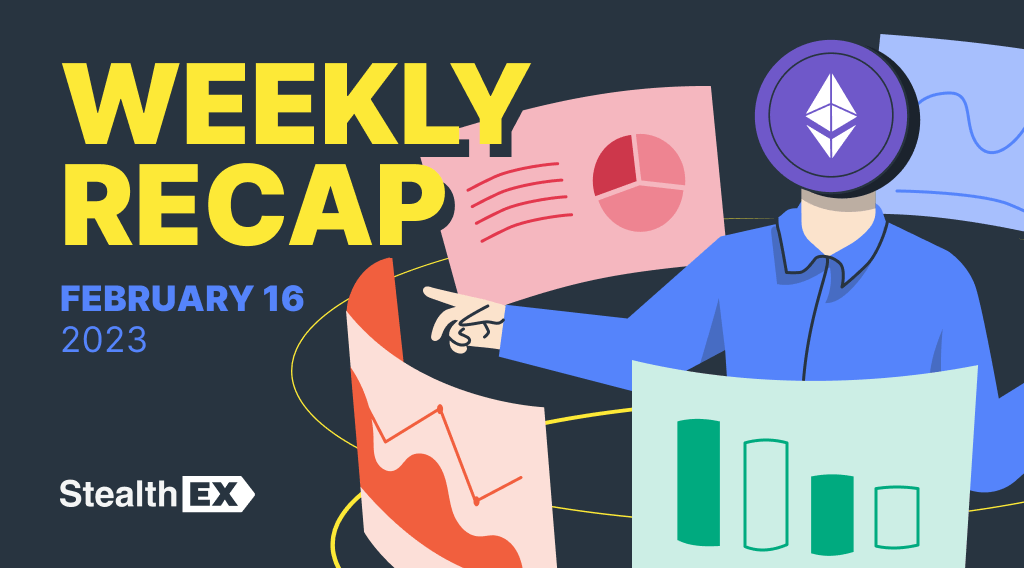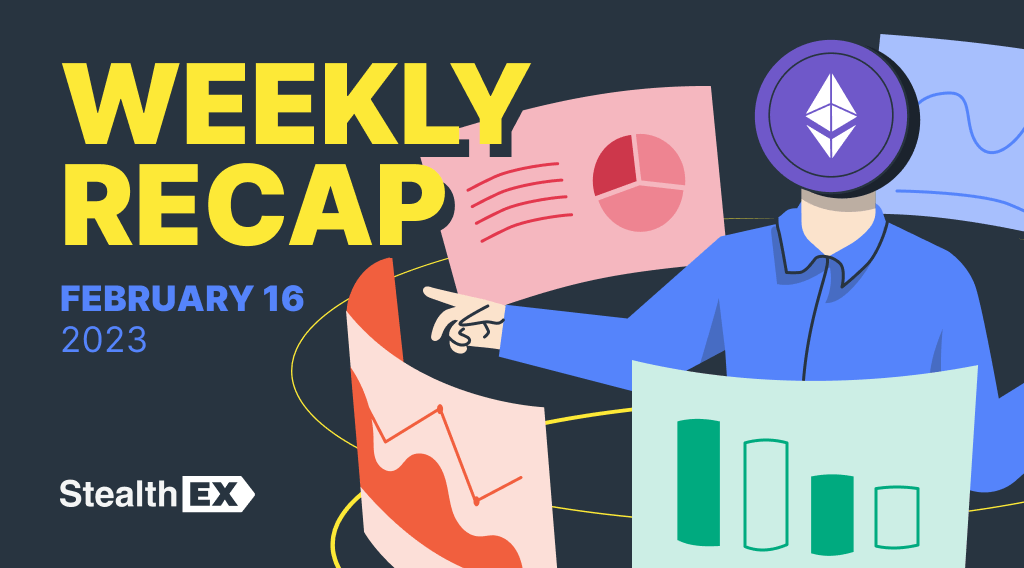 Although the previous week in the cryptocurrency market was quiet, this one looked different. The prices of Bitcoin, Ethereum, and most altcoins skyrocketed in value on February 15. So, what happened to crypto this week? Let's look at the charts and the most important news from this week!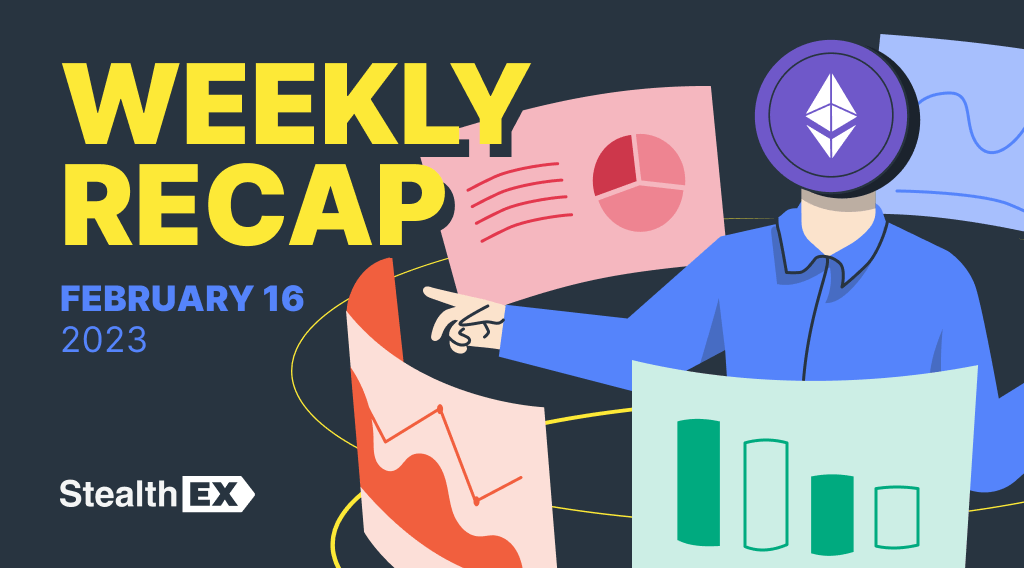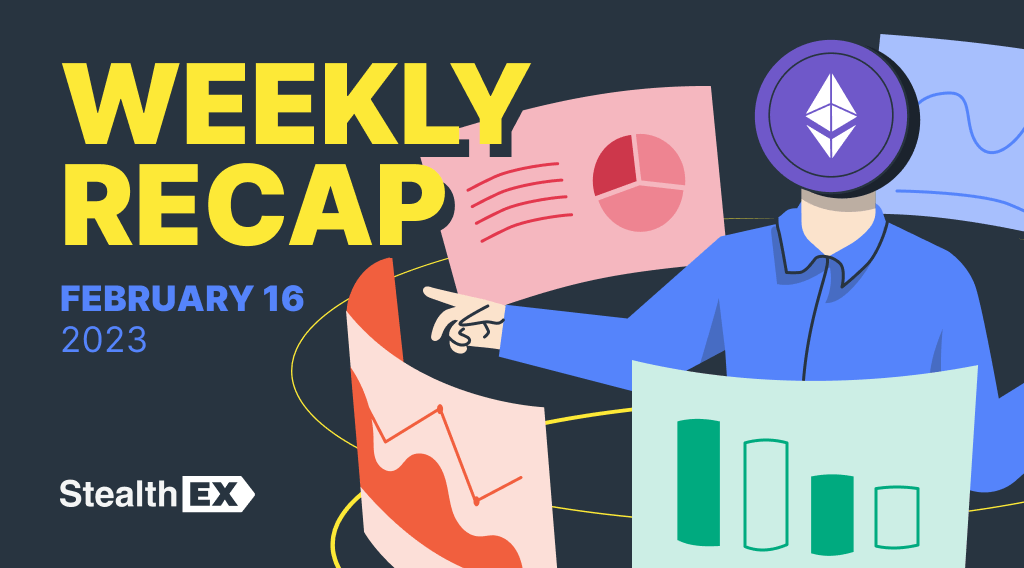 What Happened to Crypto This Week?
Let's start today's recap by analyzing the prices of the major cryptocurrencies, namely Bitcoin and Ethereum. After all, they recorded quite large increases, both in terms of price and network activity.
Bitcoin Price in USD This Week
The price of Bitcoin in USD was relatively calm at the beginning of the week. However, the trend reversed on February 15, after the US government announced inflation data. The figures caused several stock market indexes to slide. On the other hand, the DXY, which is an index that compares the value of the U.S. dollar with other national currencies, climbed up.
Normally, the price of Bitcoin moves in the opposite direction. Thus, if the dollar rises, Bitcoin falls. Nevertheless, BTC has repeatedly shown that it would like to break this inverse correlation over the past year.
So, what is Bitcoin price today? The current Bitcoin price is $24,633, and the market cap stands at $475 billion. The 7d high of BTC was $24,737.24, while the 7d low stood at $22,088.41. The dominance of the primary crypto rose to 40.8%.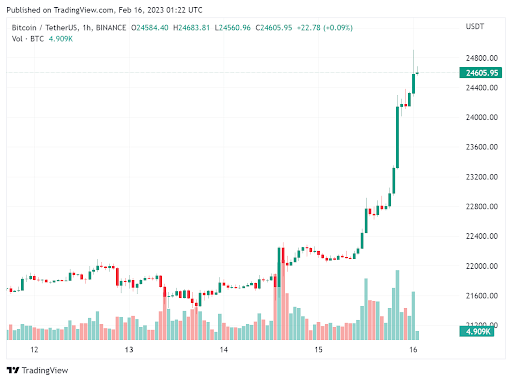 The rise in the price of Bitcoin has once again spurred positive sentiment among investors. The Fear and Greed Index points to a level of 62 – last week it was only 48.
Ethereum Price USD This Week
The price of Ethereum has also risen – although slightly less than that of Bitcoin. ETH currently costs $1678, and the market cap has risen above $200 trillion. ETH's 7d high reached $1,700.57, while the 7d low was $1,546.16. The dominance of the second largest cryptocurrency remains the same as the week before – 17.5%.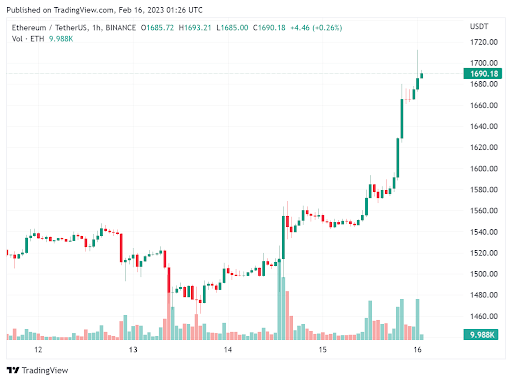 Biggest Crypto Gainers This Week
Although Bitcoin and Ethereum are doing quite well, some altcoins showed even bigger gains from a 7-day perspective. Among the top 100 largest crypto assets, the biggest crypto gainers were:
Hadera (HBAR) and ImmutableX (IMX) also achieved increases above 20%. This week's biggest gainers belonged to various categories – from the metaverse, through exchange tokens, to meme coins. In last week's ChatGPT wave, huge gains were achieved mainly by AI cryptos.
Cryptocurrency News of the Week
We have already analyzed the prices of the biggest cryptocurrencies and gainers. So let's look at what events took place in the cryptocurrency market in the past week.
Inflation in the U.S. Continues to Fall; However, Experts Are Far from Enthusiastic
We know new data on inflation in the U.S. This one fell again in January, according to the latest information from the Bureau of Labor Statistics. The problem is that the drop was smaller than experts had hoped.
CPI inflation in the U.S. fell to 6.4 percent in January, down from 6.5 percent in December and 7.1 percent in November and as high as 7.7 percent in October. The decline is pronounced if we go back even further. In September, inflation was 8.2 percent; in August it was 8.3 percent; and in July it was 8.5 percent.
The above figures show that prices are no longer rising at the rate they were just six months ago. The problem is that the market consensus was 6.2 percent, so experts were waiting for a bigger drop.
However, not to get pessimistic, it's worth noting that this is the seventh consecutive decline in annual CPI growth in the United States. So far, many indications shows the highest reading was recorded in June 2022 – at 9.1 percent. This was, incidentally, the biggest jump in prices in 41 years.
However, it's too soon to open the champagne and declare economic success. Food prices in January were 11.3 percent higher than a year earlier, while gasoline – the lifeblood of the entire economy – became 1.5 percent more expensive over the 12 months. On the other hand, Diesel rose by as much as 27.7%.
This is all very important data for the cryptocurrency market. Inflation is falling, but not as fast as economists had hoped. It may have an impact on the Fed's decisions. The U.S. central bank will probably continue to raise interest rates. The good news is that we don't have to fear high increases – at least for now. These will probably be kept at 25 bps. What may worry investors, however, is that we are unlikely to end up with one such hike, as was hoped just a few weeks ago.
Bitcoin Nework Activity Is Growing. All Because of the Controversial Ordinals
Despite opposition from supporters of the classic application of the Bitcoin network, Ordinals – a project implementing NFT directly on Bitcoin's blockchain – is growing rapidly. De facto made available in January 2023, Ordinals is the latest initiative aimed at NFT adoption in the Bitcoin ecosystem.
Yes, it's been done before, but this time it's different. Ordinals is distinguished from previous projects because NFTs are minted directly on satoshi without needing a sidechain or external token. To date, more than 100,000 NFTs have already been created, and as you can see, Bitcoin is not at all doomed to be a cryptocurrency 'boomer'.
El Salvador Creates a Bitcoin Embassy in Texas
It will only be an overstatement if we argue that Bitcoin brings countries together. After the Salvadoran government formed a partnership with the authorities of the Swiss city of Lugano last year to establish a Bitcoin embassy there, an analogous cooperation has been established with the Texas government.
Information about the new initiative was shared via Twitter by Milena Mayorga, El Salvador's ambassador to the United States.
The establishment of more institutions that are ambassadors of the first cryptocurrency is intended to mark the real commitment of governments toward promoting education and research on Bitcoin.
Paxos and BUSD Have Problems with Regulators
New York's Department of Financial Services has ordered Paxos Trust Co., which is behind one of the most well-known stablecoins – Binance USD (BUSD) – to stop issuing the cryptocurrency. On top of that, the U.S. Securities and Exchange Commission (SEC) plans to sue the company. The stablecoin issuer will be accused of violating investor protection laws.
BUSD is a stablecoin whose value is backed by U.S. dollars. Binance and Paxos created it in 2019. They claimed that New York's financial regulator had approved the project.
The problem is that regulators have scrutinized blockchain companies in recent months. As a result, the Securities and Exchange Commission informed Paxos that it plans to sue the company for violating investor protection laws.
Kraken's Problems. The Company Gets Fined and Halted Staking Services
Cryptocurrency exchange Kraken will no longer offer a cryptocurrency staking service to U.S. customers. On top of that, it will pay a fine of $30 million. This follows a decision by the Securities and Exchange Commission (SEC), which found that the company provided the service without the necessary notification to the authority.
The SEC said Kraken failed to register its "staking-as-a-service" offering. This is what caused the exchange's problems.
The situation raises concerns. Indeed, Kraken's problems could be the beginning of attacks on other such companies. Many centralized exchanges – such as Gemini – offer their customers the possibility of staking cryptocurrencies. This is an interesting alternative to a deposit in a bank.
And this may be key here. According to the SEC, Kraken's U.S. customers alone deposited more than $2.7 billion worth of digital assets through the service. A sizable number of investors were also involved – more than 135,000 people chose to use the exchange's staking service.
Kraken, in turn, advertised the service as something that could give the crypto investor as much as 20% passive return per year. Such an offer bank customer can only dream of!
News and Updates from StealthEX Partners
In addition to news from the global world of cryptocurrencies, take a look at news from our partners.
Akita DAO Project Release HACHI Token
Akita DAO has released its own governance token HACHI. It is built on Ethereum, the ERC-20 standard, and in addition to the organization's other ulility token, Akita Inu (AKITA).
As HACHI is a governance token, it allows holders to vote on decisions in the ecosystem. In the future, however, it is also expected to become a utility token allowing AKITApurchases.
If you want to buy HACHI you already have this option on Uniswap. You can find the contract at this link.
Solar Network Launches Crypto Card
The Solar network project has launched its cryptocurrency card in cooperation with Choice. It has also introduced an "Early Bird" program to encourage users to use it. The first 5,000 users can take advantage of the favorable pricing, which is as follows:
€79 per year for a virtual Solar Card
€99 per year for a standard Solar Card
€149 per year for a metal Solar Card
When you own a crypto card from Solar Network, you can expect the following benefits:
IBAN accounts
Low fees
USD, EUR, GBP, KRW accounts
24-hour support 7 days a week from Choise
Buy and sell crypto easily
Pay for goods and services around the world
Withdraw money from ATMs
Concierge services and discounts on a range of goods
Fee burn in SXP (facilitated by Dokdo)
Summary
This week turned out to be positive for crypto investors. Rising prices have influenced market sentiment much better than the week before. However, will this trend continue? That remains to be seen. After all, regulators are increasingly attacking the industry, and so far, there is no indication that they will stop. As always, we remind you to invest only as much money as you can lose. The cryptocurrency market is extremely volatile, and while we have seen increases this week, the next situation could turn 180 degrees.
---
Follow us on Medium, Twitter, Telegram, YouTube, and Publish0x to stay updated about the latest news on StealthEX.io and the rest of the crypto world.
Don't forget to do your own research before buying any crypto. The views and opinions expressed in this article are solely those of the author.
Bitcoin
crypto news
crypto world
Ethereum
news
Recent Articles on Cryptocurrency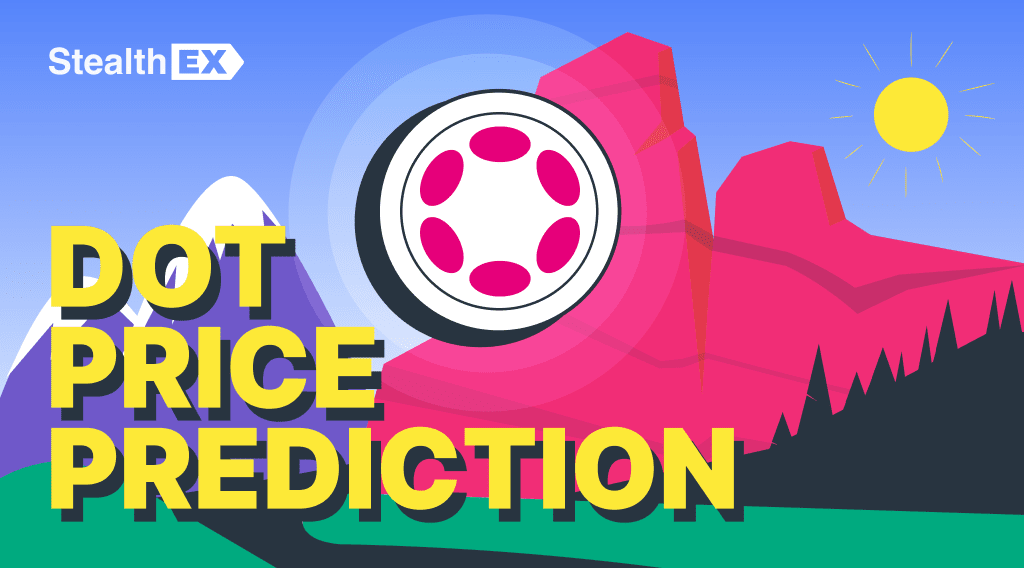 November 29, 2023
Price Prediction
Polkadot (DOT) Price Prediction: Will DOT Coin Reach $1000?
According to the long-term Polkadot price prediction by the end of 2030, the DOT price may rise to $195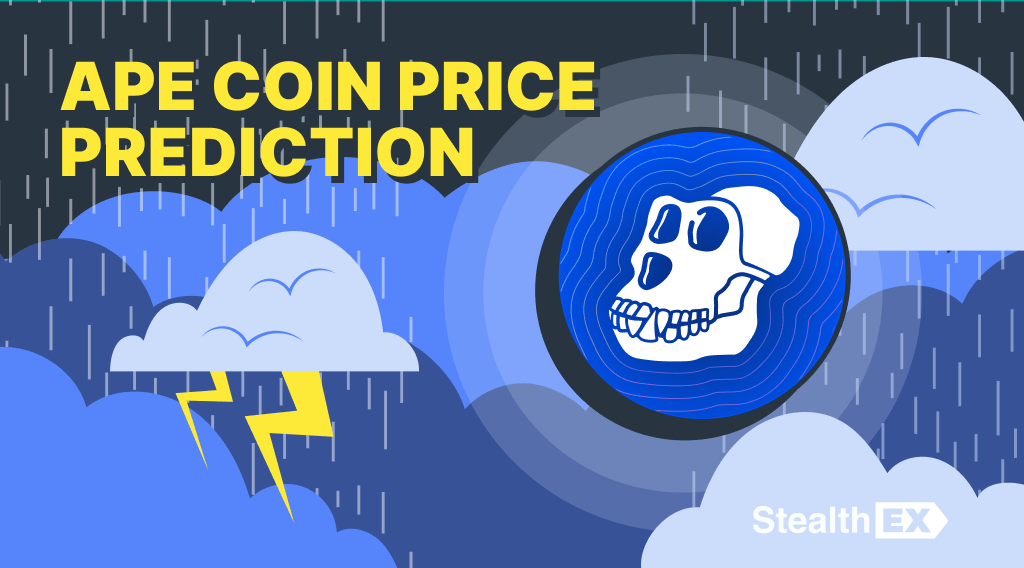 November 29, 2023
Price Prediction
ApeCoin Price Prediction: Is APE Coin a Good Investment?
According to the long-term ApeCoin price prediction by the end of 2030, the APE price may rise to $250