Review of the Crypto Market: April 13, 2023
April 13, 2023
Crypto World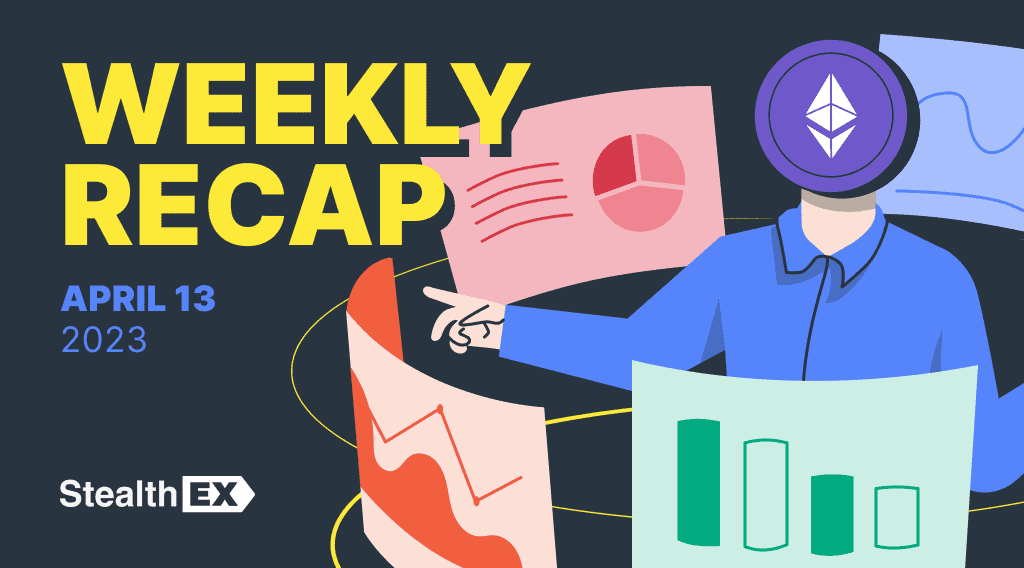 Last week was very quiet for Bitcoin and the entire crypto market. Most coins oscillated in a low price range. This week, the situation is quite different. Bitcoin exploded like a rocket and broke through the psychological barrier of $30,000. Its dominance, in turn, rose to levels last seen in 2021.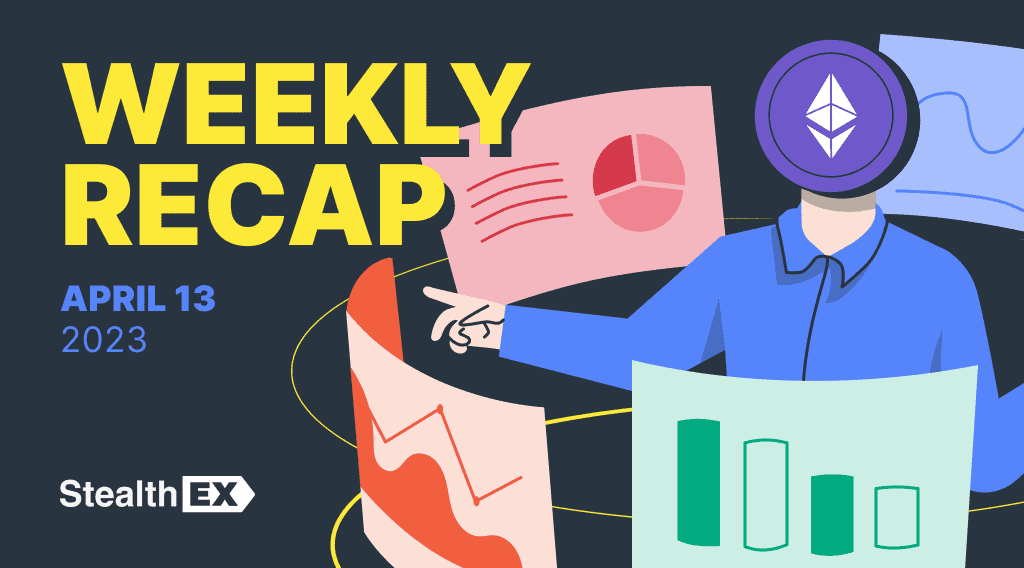 Moreover, Ethereum tonight passed the Shanghai update. So, as we already have in the routine, let's check out what happened to crypto this week. First, let's look at how the price of BTC and ETH behaved last week and then move on to the most important news.
What Happened to Crypto This Week?
As always, we begin our recap by analyzing the two largest coins in terms of market capitalization – BTC and ETH.
Bitcoin Price in USD This Week
Last week, Bitcoin's price fluctuated in a very low range. But now the situation has changed. Bitcoin, on April 10, broke through the psychological barrier of $30,000 after three daily high green candles. 
So, what is the Bitcoin price today? Bitcoin's current price is $30,089, and its market cap equals $583 billion. The 7d high of BTC was over $30,500, while the 7d low stood at around $27,700. The dominance of the crypto's king rose to its highest level since mid-2021 – 45.6%.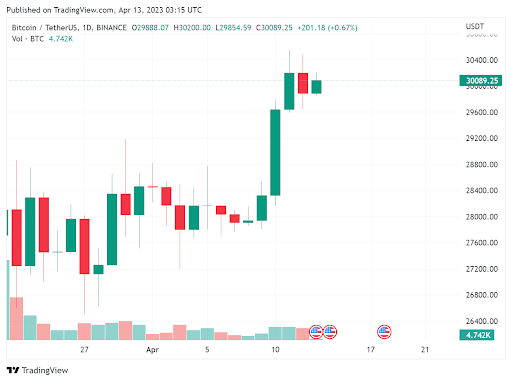 Investors are still greedy. The Fear & Greed Index indicates a level of 61 – down slightly from last week.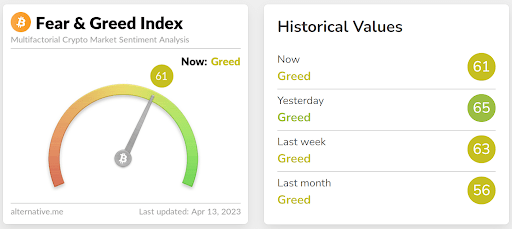 Ethereum Price USD This Week
The situation for Ethereum looks quite different. ETH has not experienced as impressive growth as Bitcoin. The current price of ETH is $1907, but there may be increased volatility in the coming days. Why? Tonight ETH passed a major update, which caused validators to withdraw their ETH from staking already. This could trigger selling pressure.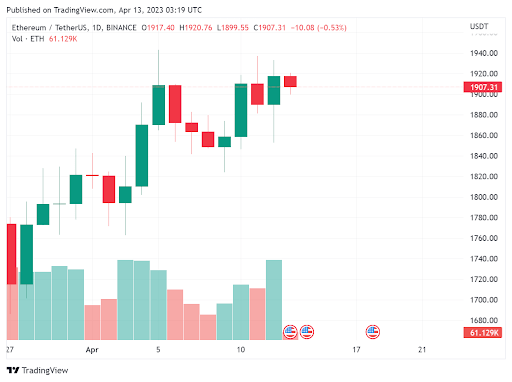 Over the past week, the second-largest cryptocurrency by market cap oscillated between $1840 – $1935 levels. The dominance of Ethereum is still exactly 18%.
Biggest Crypto Gainers This Week
Bitcoin has risen an impressive 6.5% over the past seven days. However, there are better performing crypto. Several altcoins have outperformed the king and provided investors with higher returns. So, which projects are the biggest crypto gainers this week?
Other projects in the TOP 100 that have experienced higher increases than Bitcoin are Fantom (FTM) and Kaspa (KAS).
Crypto News of the Week
Now that we know how Bitcoin and Ethereum's USD prices behaved in the past week, it's time to move on to the second part of our recap. Let's now discuss the most important crypto news from the past week.
Chinese Authorities Are Considering How to Regulate Crypto Market
Regulators should pay more attention to cryptocurrency risks when introducing technological innovations in the country. That's according to official Xuan Changneng, deputy governor of the People's Bank of China. He spoke at the Boao forum.
Xuan Changneng called on regulators to analyze the risks associated with cryptocurrencies. Among other things, he pointed to the danger of banks failing due to regulatory innovations. He cited the recent bankruptcies of U.S. banks that provided services to blockchain customers as an example. In his view, "regulatory philosophy, technology and capabilities must be improved so that financial innovation does not come at the expense of financial stability."
Two Congressmen Want to Issue a Gold-linked CBDC
Two Texas congressmen have drafted bills allowing the issuance of a state-owned, gold-backed digital currency. Senator Bryan Hughes has introduced Senate Bill number 2334, while House of Representatives member Mark Dorazio has prepared Bill number 4903.
Both want the same thing – issuing a digital dollar backed by gold. As both documents read, "each unit of digital currency issued represents a specific fraction of a troy ounce of gold." A troy ounce is about 31.1 grams.
How is the whole thing supposed to work? When a person buys a certain amount of digital currency, the issuer will use the money received to buy an equivalent amount of gold. Such a mechanism will ensure that the yellow metal backs the currency. "The custodian will hold enough gold to ensure redemption in gold of all units of digital currency that have been issued."
Twitter Is Bringing Back the Original Logo
In early April, Dogecoin became the symbol of Twitter. Elon Musk announced that the new logo of his social network is a friendly-looking dog. He published a funny post that notified his followers of the switch. Replacing Twitter's logo with a friendly dog caused the price of DOGE to rise 27% overnight.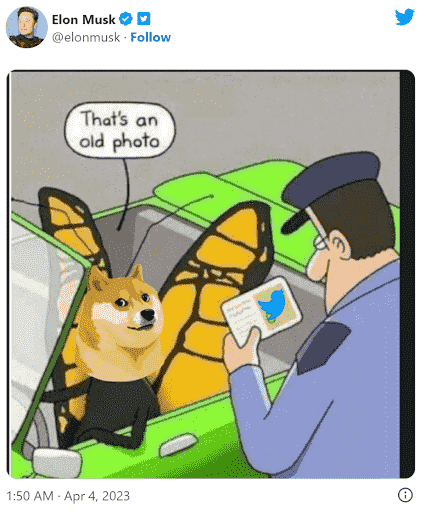 And now, as Twitter's logo has been changed again to the old one with a bird, it is hard to see any rationality in Musk's actions anymore. The price has fallen from $0.1 to $0.083 (the current price). In one week, this represents a drop of more than 10%.
Bitcoin Price Has Broken Through the $30,000
The Bitcoin price has broken through a level as high as $30,000. Currently, 1 BTC costs nearly $30,100. How does ether compare to this? 1 ETH follows in the footsteps of Bitcoin and costs $1,922.
At the beginning of the year, one bitcoin was priced at around $16,500. This means that soon an investor who purchased bitcoins at the beginning of January this year will generate as much as 100% in profit. In contrast, 1 ETH price was $1,200 at the beginning of the year. As with Bitcoin, Ethereum investors will soon boast as much as 100% gains if the current increases continue.
The question is whether the current increases are already the beginning of a bull market. This cannot be excluded because, as you can see, the leading cryptocurrencies are growing strongly.
The macroeconomic situation is also favorable for cryptos. The Fed will move slowly towards quantitative easing. Even if it does not lower interest rates this year, it will probably begin in 2024. On the other hand, investors are thinking ahead and – like in a game of chess – are trying to anticipate certain economic movements to make more money. Hence, they are probably returning to the digital asset market. There is also one year left until the next halving, which has always fueled increases on the crypto market. This is another pro-growth factor.
At the same time, we should remember the risks. Something else could happen in the economy that would cause the Fed to return to permanently raising interest rates. On top of that, we are constantly seeing tensions between the US and China. The outbreak of war between the two empires could also greatly impact the entire market.
Developers Have Deployed the Ethereum Shanghai Update
Ethereum developers have completed the Shapella update, which introduces several new features and improves network security. Another name for the fork is EIP-4895 or Shanghai Capella. It allows users to withdraw their staked coins and rewards.
However, these are only some of the benefits. It will allow Ethereum to process more transactions per second, reduce gas fees, and improve the security and performance of smart contracts. Some enthusiasts believe this will make digital currency a more viable long-term investment.
Etherscan data shows that there is currently about 18 million ether ($34.5 billion) in staking. That's about 15% of the total supply. So there have been concerns that owners may rush to sell coins to lock in profits. And such pressure would drive prices down.
But according to CryptoQuant's February report, analysts don't expect a surge in ether sales. After all, most investors have staked ETH at a higher price – and it's not profitable to sell it now.
News and Updates from StealthEX Partners
EVO Wallet, the user-friendly Aptos (APT) wallet, is looking for testers. For completing weekly tasks, you can receive free NFT Aptodinos. To apply, fill out the form at this link. The project team will select 15 people this Monday.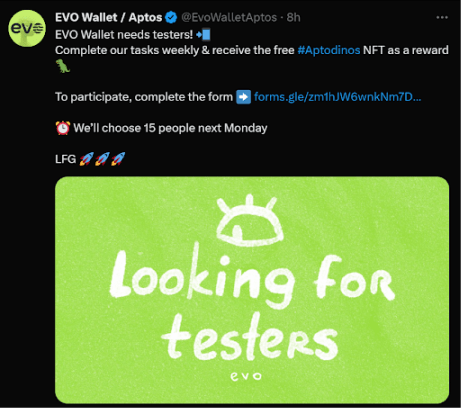 ---
Follow us on Medium, Twitter, Telegram, YouTube, and Publish0x to stay updated about the latest news on StealthEX.io and the rest of the crypto world.
Don't forget to do your own research before buying any crypto. The views and opinions expressed in this article are solely those of the author.
Bitcoin
crypto world
cryptocurrency
Dogecoin
Ethereum
Recent Articles on Cryptocurrency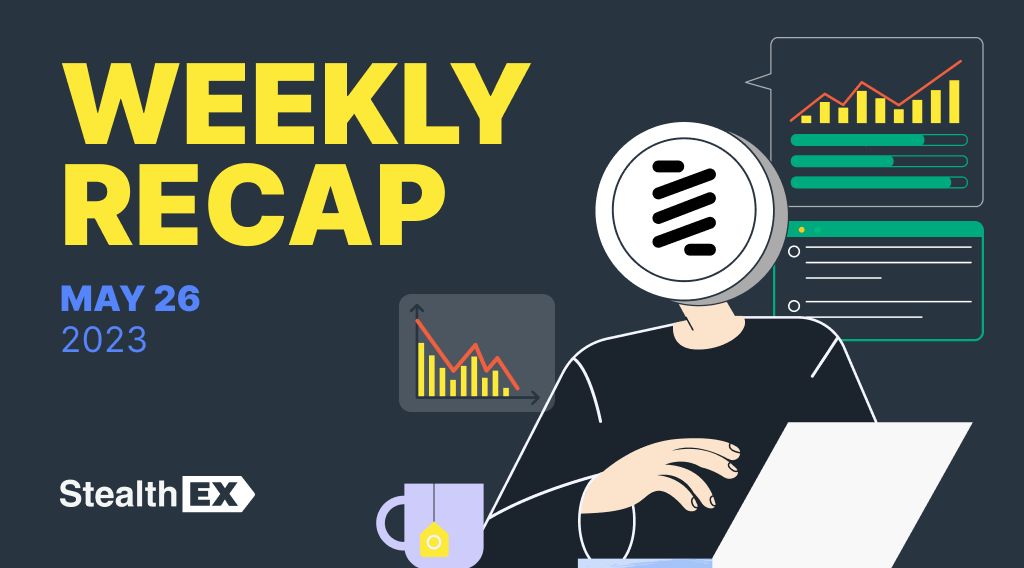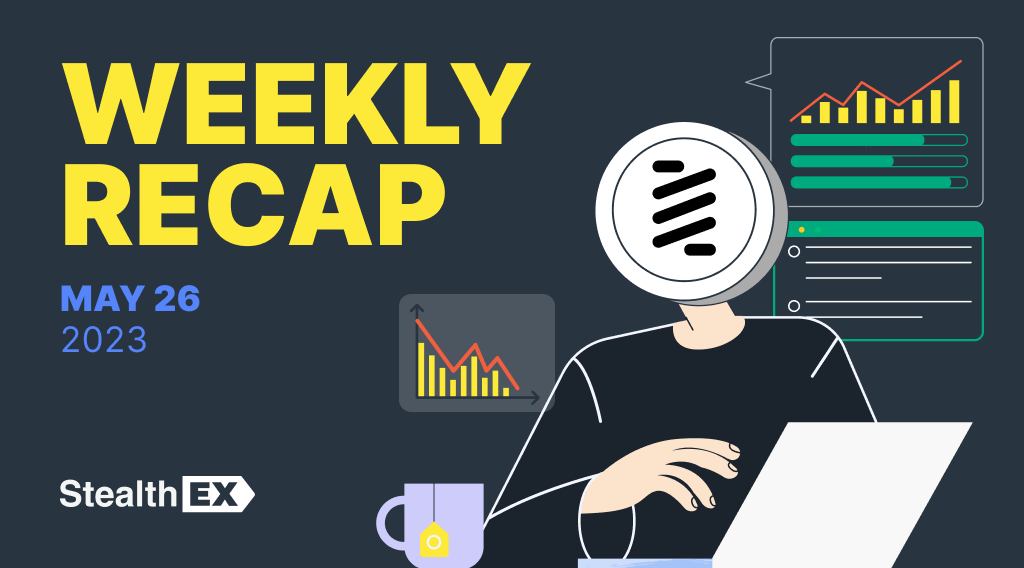 May 26, 2023
Crypto World
Review of the Crypto Market: May 26, 2023
Dive into the crypto market's weekly trends: get the detailed analysis and major news for May 20-26, 2023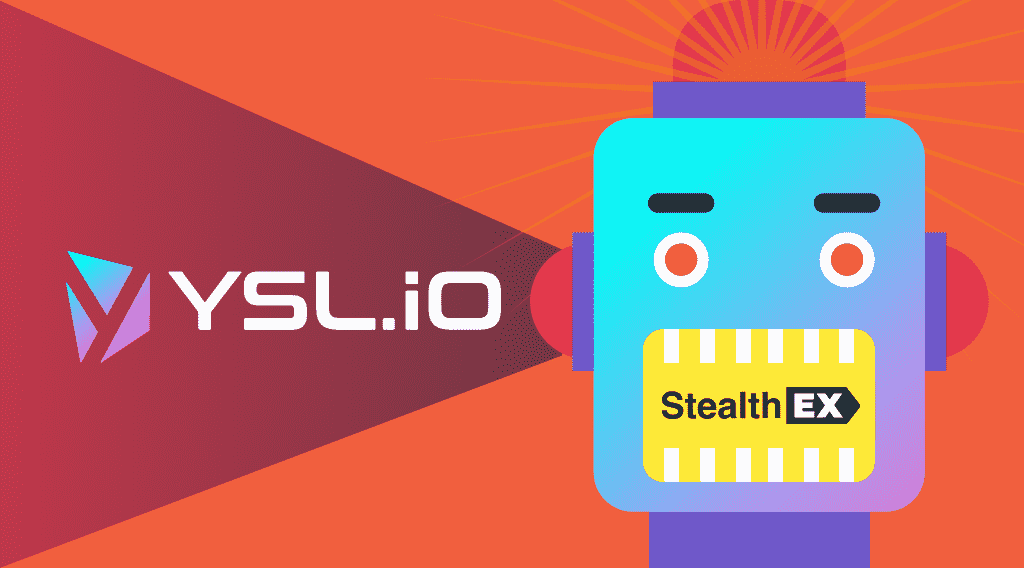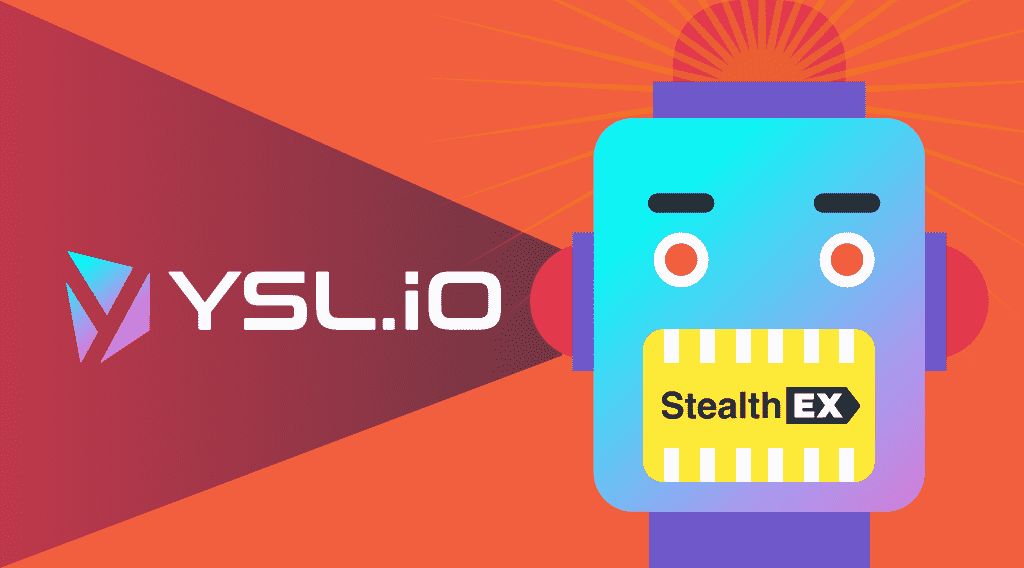 May 25, 2023
Our News
StealthEX Has Been Integrated into ChainZap by YSL.IO
Instant crypto exchange StealthEX partners with DeFi 3.0 protocol YSL.IO for seamless integration into ChainZap