How and Where to Buy DAG Crypto?
September 13, 2022
How to Buy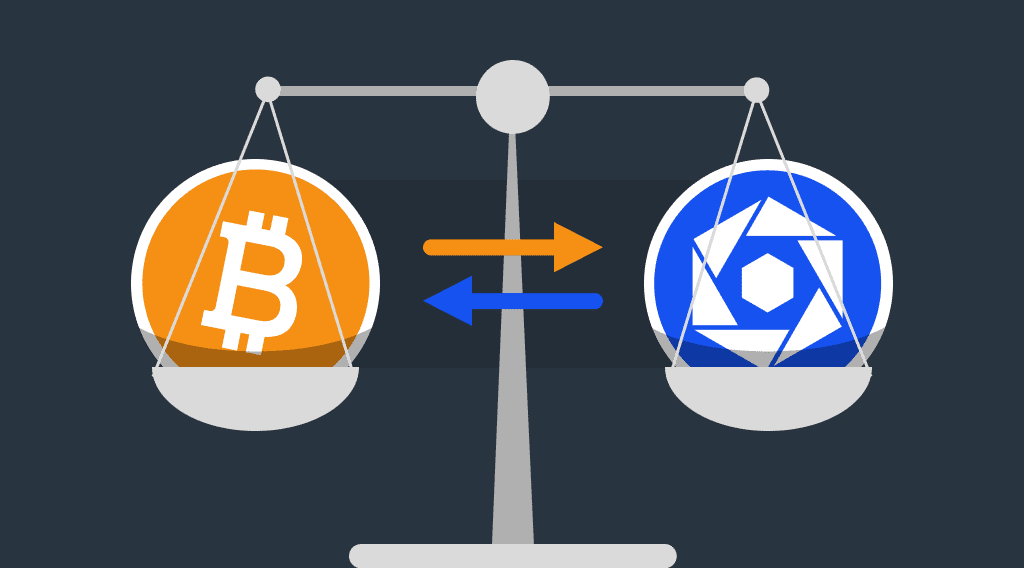 Many crypto projects are developing their own blockchains to add value and bring something of their own into the space. This also relates to the Constellation project that uses a directed acyclic graph (DAG) for storing data. DAG is a decentralized cryptocurrency which is meant for wide usage mainly in developing economies but can be used all around the world. Read more about how and where to buy DAG coin in the new StealthEX article.
Where to Buy DAG Crypto Coin?
There are many exchanges where you can buy DAG crypto, and StealthEX is one of the safest options. This platform offers users to get DAG with no extra fees and with the best floating and fixed rates.
How to Buy DAG Constellation Network Coin?
Just follow the guidelines below. Let's imagine you want to exchange BTC to DAG. To make an exchange, you need to take a few simple steps.
First, you should choose Bitcoin in the left drop-down list. Then choose DAG (Constellation) in the right list of coins.
After setting the pair, just enter the amount of BTC you would like to exchange.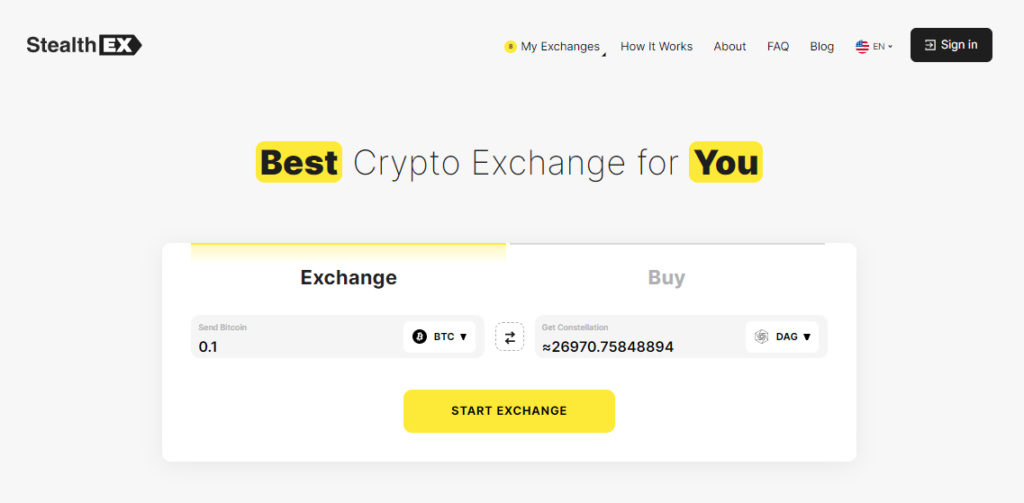 Here, you will see the estimated amount of DAG crypto that you will receive after the exchange.
Now that everything is set, click the Start Exchange button, and you will be taken to the next page.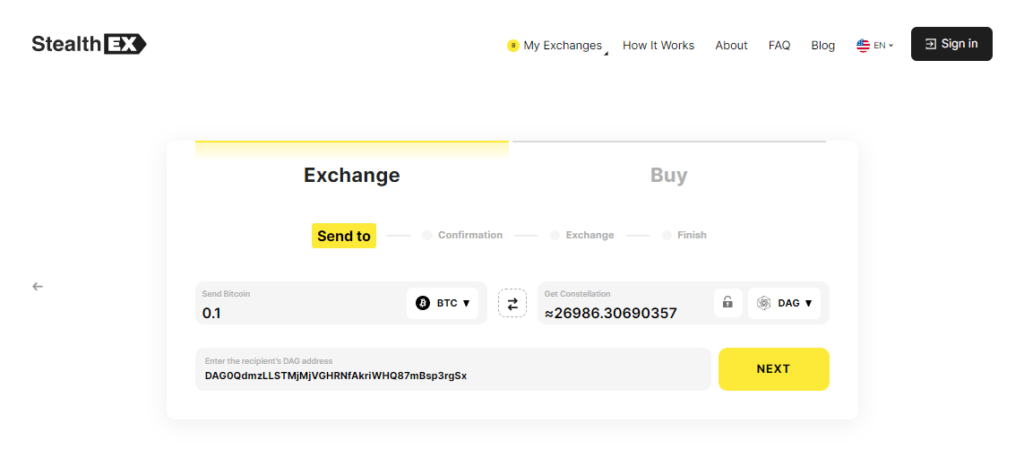 In the second step, you need to provide the coin recipient address. The recipient address must match the crypto you are going to receive. Remember to double-check the information you enter prior to the exchange as you won't be able to cancel the transaction.
As soon as you have carefully checked all the details, you can press the Next button and you will be redirected to the Confirmation page.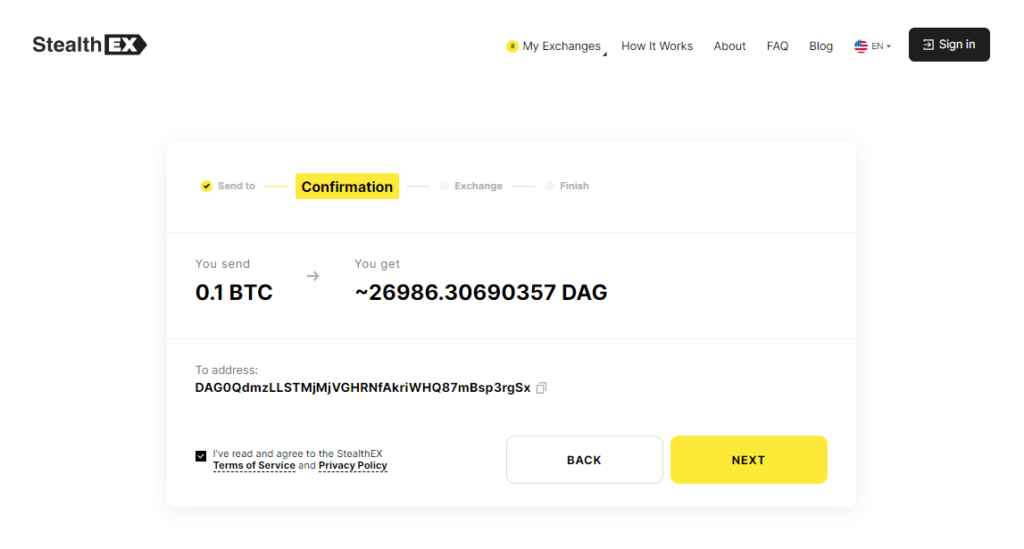 Here you can revise the address provided and the amount of DAG coins you will receive. Don't forget to read and check the Terms of Use and Privacy Policy box. Without checking the box you will not be able to continue the exchange.
Pressing the Next button you will be redirected to the Exchange page.
At first, you will see the address where you need to send your BTC coin to continue the exchange. StealthEX will also provide you with the exchange ID. It will allow you to keep all the information about the swap. It is recommended to save your exchange ID or the link to your exchange.
Exchange Statuses
After sending BTC coins to the shown address, the information on the Exchange page will be renewed automatically. The Exchange page has several statuses that will change during the time of the exchange.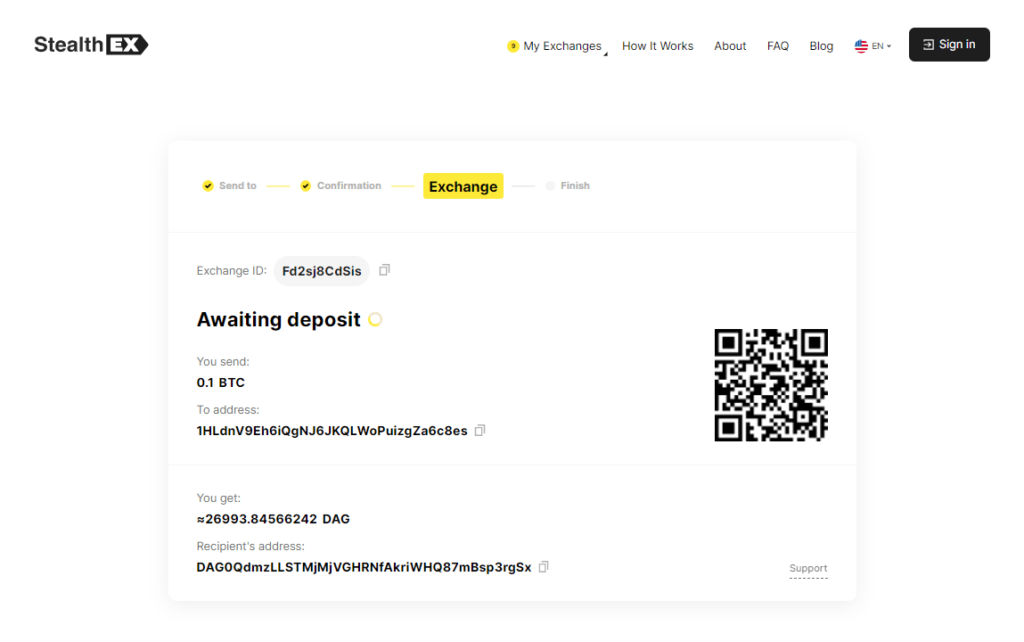 The first status is Awaiting deposit.
The following status is Confirming. This means that StealthEX is confirming the transaction you made.
The next status is Exchanging. During this time the exchange is being made.
Then the status will be changed to Sending to your wallet. This indicates that there are just a few minutes left until you will receive your DAG coins.
Finally, you will be redirected to the FINISH page. This shows that the exchange has been successfully made and you will receive crypto to the address provided. To be sure that DAG coins were sent to your wallet you can also use the Output hash shown on this page and check it in the blockchain list of transactions.
From here you can either create a new exchange on StealthEX or leave the page and check your Constellation crypto wallet to be surprised at how fast you got DAG crypto. Usually, the process is quite rapid so you won't need to wait long.
Keep reading StealthEX's article to learn more about Constellation crypto.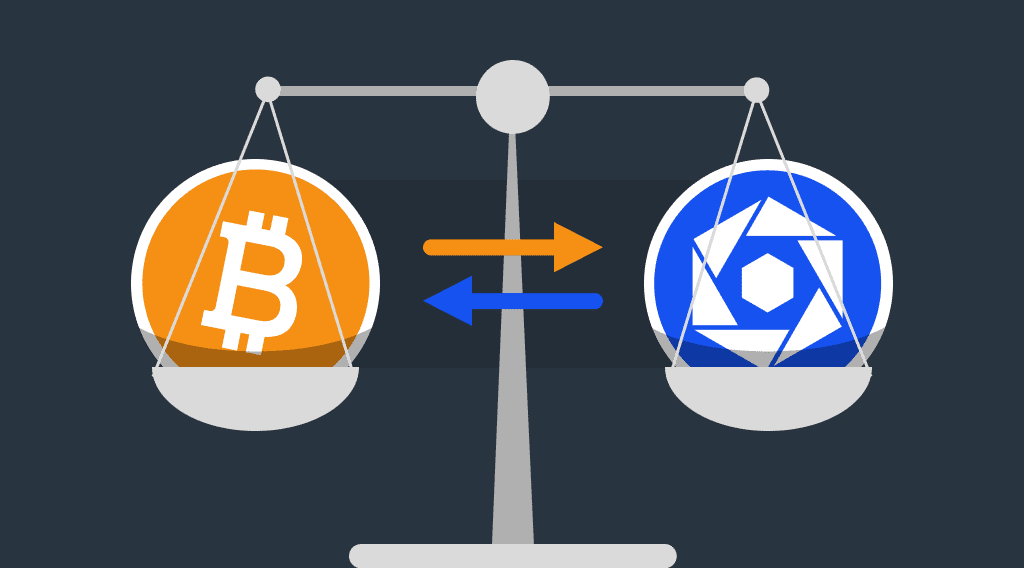 Constellation Crypto: About the Project
As a project, Constellation has been on the market for over 6 years. DAG coin was initially built on top of the Byteball network. Byteball was first introduced by Anton Churyumov in 2015 and has been live since September 2016.
Constellation is a decentralized network that enables anyone to build the future of Web3 with smooth transactions. It's presented as secure, infinitely scalable, and cross-chain interoperable. Engineered for developers, designed for the universe. All its data is stored and ordered using directed acyclic graph (DAG), not on the blockchain. This allows all users to secure each other's transactions by referencing earlier transactions created by other users, and also removes scalability limits common for blockchains, such as block size issues. The consensus algorithm used to protect from double-spends is based on establishing a total order within the DAG.
Constellation Features
The blockchain offers a number of innovative features, including:
Near-zero transaction fees. Fixed transparent transaction fee without any hidden fees or exchange rates. The cost for sending any amount of DAG crypto will always be around 0.0005 DAG coins. It's a huge advantage if compared to fees in the majority of blockchains.
Almost instant transactions. Regular transactions can take weeks or days, several cryptocurrencies can take hours or tens of minutes. DAG coin transactions are fully completed within 30 seconds on average.
Licensed digital asset. DAG crypto has been granted government licenses for cryptocurrency and is strictly following KYC and AML laws to reduce illegal or criminal transactions of the financial world.
Merchant Finder. The project has partnered with many online and offline businesses that are featured on a special map that will help you use your DAG coins in case you'd like to pay with them for any goods or services.
Constellation Network Ecosystem
There are various aspects to the Constellation Network ecosystem. Together, they offer transparent, secure, and scalable frameworks for building decentralized applications with the ability to index and query data. Further, the network ensures the integrity and validity of said data. The project designed its consensus mechanism, proof of reputable observations (PRO), from the ground up. Additionally, the Hypergraph transfer protocol (HGTP) allows for secure message transfer between devices while simultaneously generating a secure audit trail with the retrospective metadata. Overall, the project aims to create a community of interoperable networks aggregating trusted data sources, using a self-sustainable, self-governing model.
What Is DAG Crypto?
DAG is the crypto asset of the Constellation Network project. Further, as DAG is native to the project running on the Hypergraph network, the asset is technically a coin, not a token. Any further cryptocurrencies built on the Hypergraph network will conversely be a token. Additionally, the DAG coin is more than just the medium of exchange throughout the network.
DAG holders can use the coin to run a node on Constellation Network's Hypergraph protocol or set up and run a state channel. The multi-utility DAG coin incentivizes honest behavior on the network. In turn, the protocol rewards nodes and validators with DAG coins for their contribution to the project. In addition, the DAG coin facilitates frictionless interactions across the Constellation Network ecosystem. This includes nodes, state channels, L_0 tokens, and different businesses using the Hypergraph network protocol. Lastly, DAG coin allows for cross-chain liquidity pools available throughout other blockchain ecosystems as well.
Why Is It Called DAG?
DAG is the short from 'Directed Acyclic Graph.' A directed acyclic graph is a data modeling or structuring tool typically used in cryptocurrencies. Unlike a blockchain, which consists of blocks, directed acyclic graphs have vertices and edges, and crypto transactions are recorded as vertices. These transactions are then recorded on top of one another. Similar to a blockchain, however, transactions are also submitted to the DAG via nodes. Proof-of-Work tasks are required of nodes to submit a transaction. A directed acyclic graph is more efficient at data storage.
Simply put, whereas a blockchain system looks like a chain, DAG's system looks more like a graph. The DAG model is currently seen in the industry as a possible substitute for blockchains in the future due to its efficiency in data storage and processing of online transactions. This model can be seen as a future of crypto as miners will not have to compete for new blocks to add to the chain.
The DAG model seeks to address two perceived weaknesses of blockchain technology, namely, decentralization and scalability. It seeks to improve security and usability as well. However, the use of DAGs in crypto is still in the early stages, and the Constellation project aims to develop the system further.
Constellation DAG Price Prediction
The Constellation project seems to be doing fine even during the turbulent crypto recession. According to Constellation Twitter, the project seems to be regularly informing DAG holders about the current DAG coin news. At the moment Constellation (DAG) price hovers around $0.07865. A year ago DAG Constellation price rose to an all-time high, $0.4624. With its current development, Constellation's future seems bright to many crypto experts. For instance, TechNewsLeader experts forecast that the coin will cost around $3.63 in 2031. PricePrediction seems to back it up: their crypto enthusiasts believe that in 2031, DAG crypto price may skyrocket to $4.19.
Constellation network is one of the crypto projects that seems to be able to tackle the problems that burden the blockchain along with adding more value to their cryptocurrency. However, supply and demand is what will ultimately define the value – or rather, the price – of DAG-USD.
And by the way, don't forget that if you're looking for a place to buy Constellation (DAG) crypto, StealthEX is exactly what you need.

In addition, our users can purchase cryptocurrencies using fiat and we still offer the opportunity to buy crypto at fixed rates!
Make sure to follow us on Medium, Twitter, Telegram, YouTube, and Reddit to get StealthEX.io updates and the latest news about the crypto world. If you need help, drop us a line at support@stealthex.io.
Please make sure to always research any cryptocurrency and assess your risks before you invest.
Constellation
DAG
exchange cryptocurrency
how to buy
how to buy crypto
Recent Articles on Cryptocurrency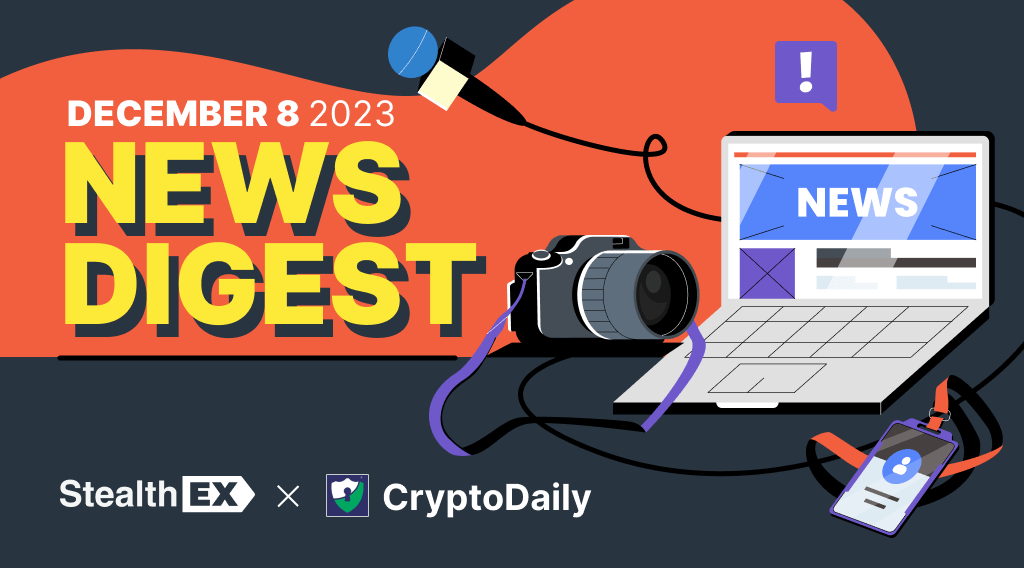 December 8, 2023
Crypto World
StealthEX & CryptoDaily: Weekly Crypto Insights
Explore key cryptocurrency developments and trends in StealthEX's insightful weekly roundup, in partnership with CryptoDaily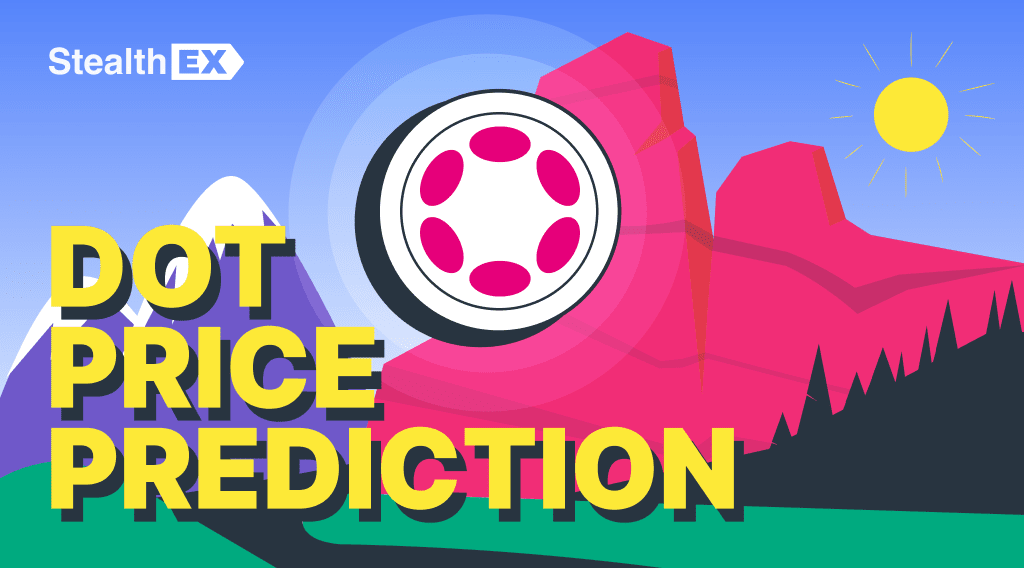 November 29, 2023
Price Prediction
Polkadot (DOT) Price Prediction: Will DOT Coin Reach $1000?
According to the long-term Polkadot price prediction by the end of 2030, the DOT price may rise to $195