How to Buy Monero XMR Coin: A Step-by-Step Guide
June 14, 2023
How to Buy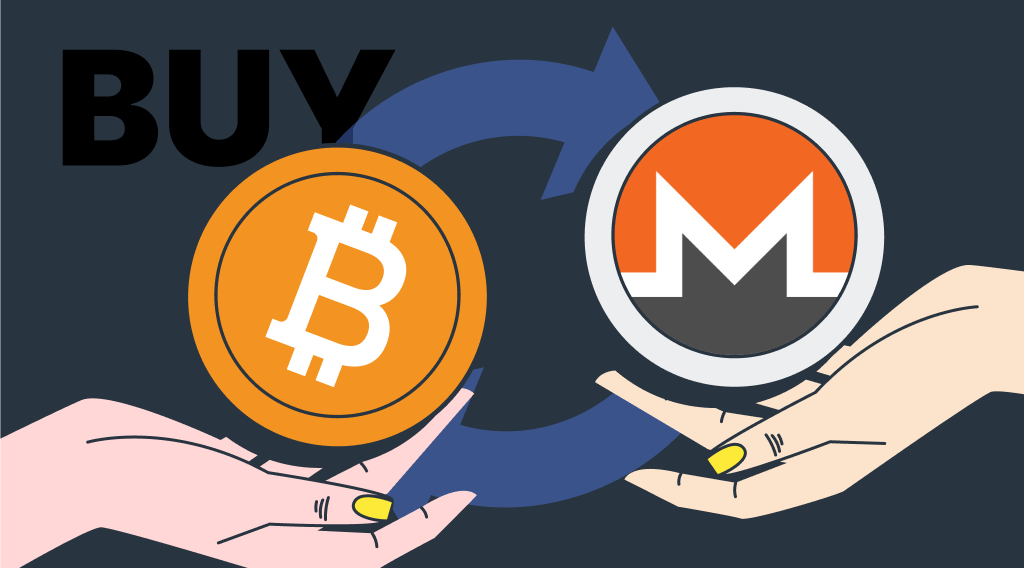 Regulations in the crypto industry become tighter, and some crypto enthusiasts are unhappy with this. Luckily, a number of cryptocurrencies offer much-needed anonymity. One of the most popular ones is Monero (XMR). Monero is the only major cryptocurrency where every user is anonymous by default, and because every transaction is private, Monero cannot be traced or analyzed. Monero and privacy are synonymous. Let's take a closer look at this popular digital asset and how to buy Monero XMR coins.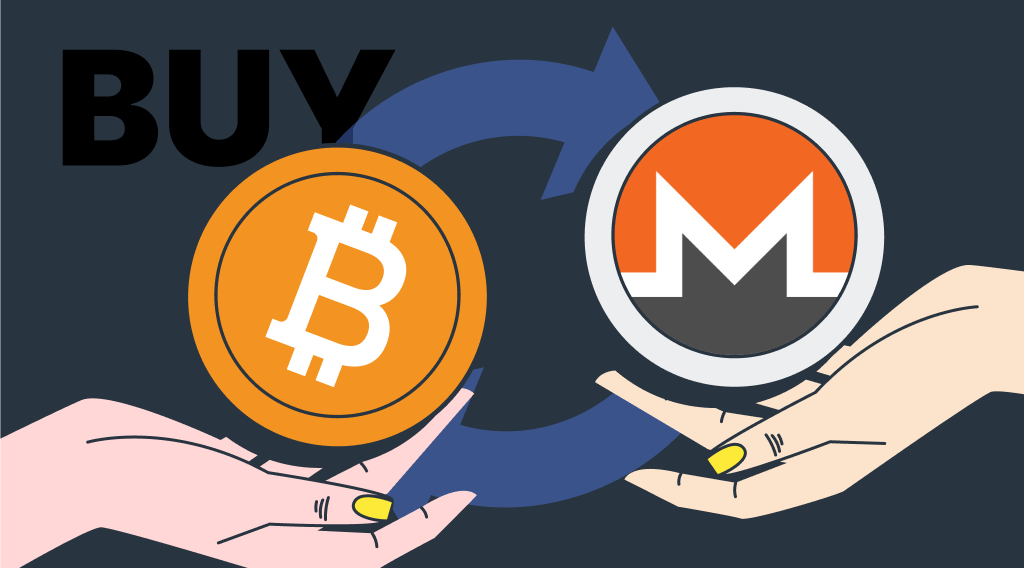 Where to Buy Monero (XMR)?
There are many exchanges where one can buy Monero (XMR), and StealthEX is one of the safest options. This platform offers users to get Monero token with no extra fees and with the best floating and fixed rates. This cryptocurrency is always freely available for purchase via StealthEX.
How to Buy Monero Coin?
Just follow the guidelines below. Let's imagine you want to exchange BTC for XMR, that is, to use its Bitcoin to Monero exchange. To make an exchange, you need to take a few simple steps.
First, you should choose Bitcoin in the left drop-down list. Then choose Monero in the list of coins on the right.
After setting the pair it is necessary to enter the amount of BTC you want to exchange. Here you will see the estimated amount of XMR that you will receive after the exchange.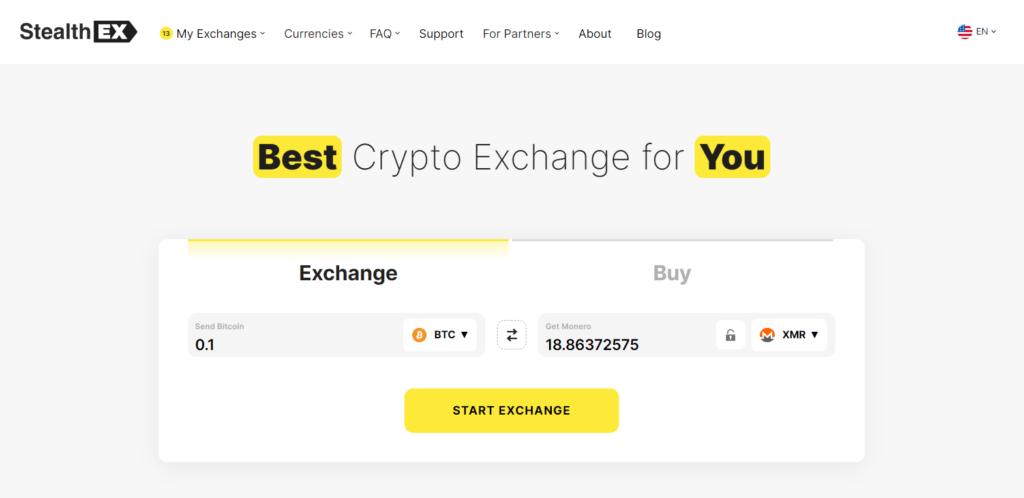 Now, when everything is set, press the Start Exchange button and you will be taken to the next page.
In the second step, you need to provide the Monero recipient address. The recipient address must match the crypto you are going to receive. Remember to double-check the information you enter prior to the exchange as the transaction you make cannot be canceled.
As soon as you have carefully checked all the details, you can press the Next button and you will be redirected to the Confirmation page.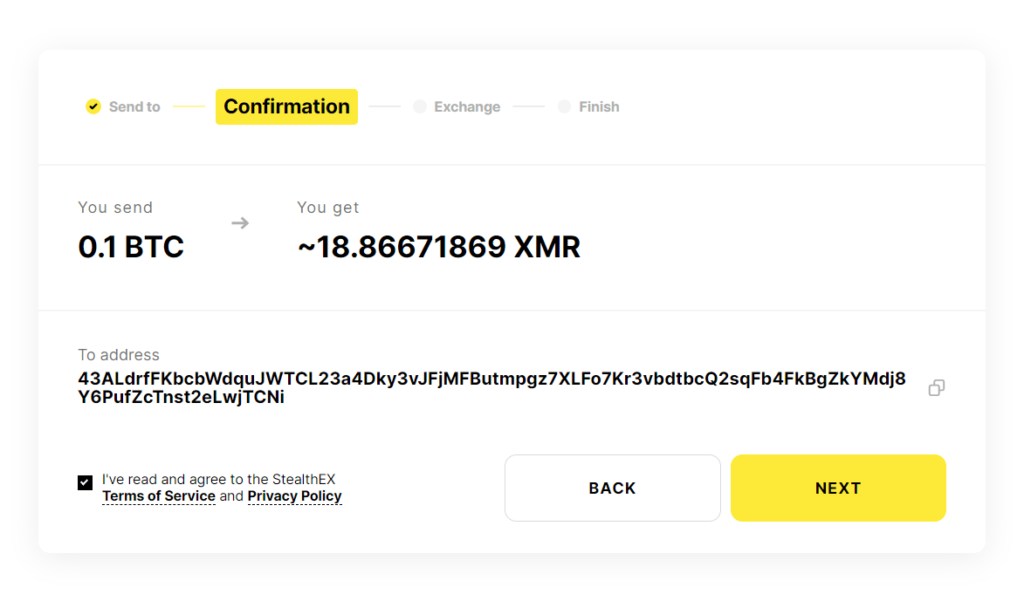 Here you can revise the address provided and the amount of XMR you will receive. Don't forget to read and check the Terms of Use and Privacy Policy box. Without checking the box you will not be able to continue the exchange.
Pressing the Next button you will be redirected to the Exchange page.
At first, you will see the address where you need to send your Bitcoin to continue the exchange. StealthEX will also provide you with the exchange ID. It will allow you to keep all the information about the swap. It is recommended to save your exchange ID or the link to your exchange.
XMR Coin Exchange Statuses
After sending BTC coins to the shown address, the information on the Exchange page will be renewed automatically. The Exchange page has several statuses that will change during the time of the exchange.
The first status is Awaiting deposit.
The following status is Confirming. This means that StealthEX is confirming the transaction you made.
The next status is Exchanging. During this time the exchange is being made.
Then the status will be changed to Sending to your wallet. This indicates that there are just a few minutes until you receive your Monero (XMR).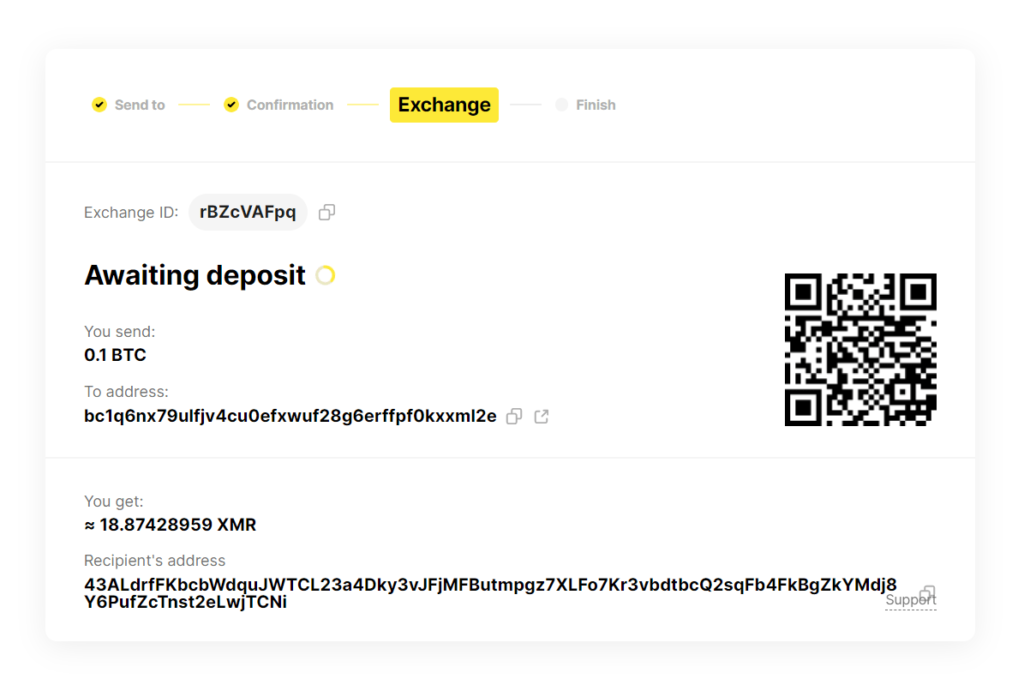 Finally, you will be redirected to the Finish page. This shows that the exchange has been successfully made and you will receive crypto to the address provided. To be sure that Monero crypto was sent to your wallet you can also use the Output hash shown on this page and check it in the blockchain list of transactions.
From here you can either create a new exchange on StealthEX or leave the page and check your Monero wallet to be surprised at how fast you get XMR sent to your address. Usually, the process is quite rapid so you won't need to wait long: Monero swaps are processed in a matter of minutes.
Now that we've sorted out how you can buy Monero (XMR) via StealthEX, let's take a closer look at the project and its properties.
Privacy-Focused Crypto with Fungibility
Monero was launched in 2014, 9 years ago, as Bitmonero and initially represented a fork of the codebase of Bytecoin. When Bitcointalk forum user thankful_for_today released Bitmonero, community backers were frustrated over changes that hadn't taken place. Thankful_for_today was eventually usurped and replaced by volunteers from the community, including a handful of developers who helped maintain and develop the project. Many of them remained pseudonymous.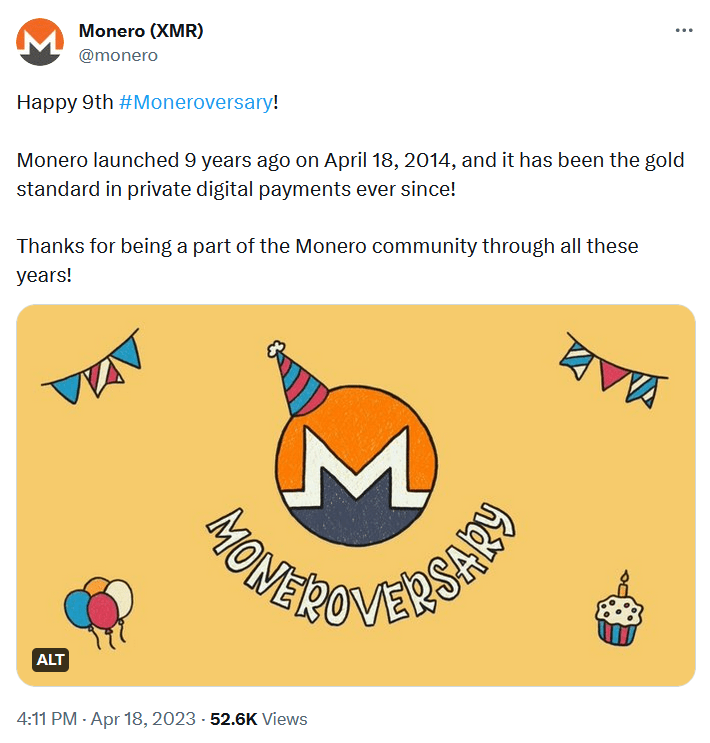 As one of the few original alternative coins (altcoins) that didn't rely on Bitcoin's code, Monero chose not to have a limited supply for XMR. Unlike other privacy coins, it embeds privacy into the protocol rather than making it an optional feature, or relying on a second layer to be developed and added later.
Monero (XMR) is an open-source crypto and focuses on anonymity as the main idea behind the project. These blockchains, which are the basic technology behind digital currencies, are public ledgers of participants' activity that display all network transactions. Monero's blockchain is purposefully designed to be opaque. It conceals transaction details, such as the identities of senders and recipients and the amount of each transaction, by masking the addresses used by participants.
Monero: Fungible Privacy Beyond Bitcoin
Monero is very different from the oldest and most famous cryptocurrency Bitcoin. Both Bitcoin addresses and transactions are recorded on the blockchain, making them available to the public. Even pseudonymous email addresses are not completely private. A few transactions carried out by a participant over time can be connected to the same address, allowing others to learn about an address owner's patterns and identity.
Compared to Bitcoin, Monero has fungibility. This means that two units of a currency can be substituted for each other with no difference. While two $1 notes have the same face value, they are not fungible because each has a unique serial number. Two one-ounce gold bars of the same grade, on the other hand, are fungible since they have the same value and no identifying traits. One can say that a Bitcoin is the $1 bill, while a Monero is that piece of gold.
How Does Monero Privacy Work?
Monero's main privacy feature includes:
Ring confidential transactions (Ring CTs).
Stealth addresses.
Bulletproofs.
Dandelion ++.
Ring Confidential Transactions
A ring confidential transaction has two components:
The first is a Multilayered Linkable Spontaneous Anonymous Group (MLSAG) ring signature, which obscures transaction amounts, sources, and destinations.
The second is confidential transactions, which disguise transaction quantities via a cryptographic mechanism known as the Pedersen commitment.
The Pedersen commitment allows cryptography to be applied to a transaction so that it may be confirmed while only the sender and receiver see the amount being transferred. Ring CTs allow 'decoy' coins to be added to transactions, which means the exact amounts are hidden from all but the persons involved. Even with many inputs, the transactions balance out, ensuring that no new Monero coins are created in the process.
Stealth Addresses
Stealth addresses provide Monero users with an additional layer of privacy. For each transaction, stealth addresses generate burner addresses – or one-time public keys – with a sender producing a new address to transfer XMR tokens with a little extra info attached. The owner of the address then uses those bits of data to generate the private keys necessary to access the funds in the address.
Only those engaged are aware that the stealth address matches to the true Monero address. Transactions on the blockchain do not relate back to the actual address because each sender generates a new stealth address. Consider it like contacting someone multiple times with a different phone number each time. Anyone on the outside would have no way of knowing who was phoning and whether it was the same person or not.
Bulletproofs and Dandelion++
Bulletproofs, a system that makes confidential transactions faster and more scalable, were added by Monero in 2018. It reduced the data size of confidential transactions by around 80%, which were fairly big given the decoy coins involved.
In 2020, Monero added Dandelion ++, a feature that hides the IP addresses connected with nodes (computers that help validate the Monero blockchain), reducing the possibility of such identifiable information being used to deanonymize transactions. Dandelion ++ was originally created for Bitcoin but was later ported to Monero. Thanks to it, IP addresses may be used to identify you by internet service providers (ISPs) or virtual network providers (VPNs). It basically selects a proxy node to broadcast from and then broadcasts 'fluff' information symmetrically, making it impossible for adversaries to monitor transactions.
Monero's Potential Use Cases
Most cryptocurrencies show a list of all transactions ever made on a public ledger (the blockchain). Anyone can inspect the wallet that provided them with the funds and evaluate every transaction they have ever performed if they receive Bitcoin, Ethereum, or any other major cryptocurrency. For corporations, this means that their financial assets would be made public, allowing competitors to get critical insights into how much money a company has, when it restocks, and more. Monero enables businesses to send money at any time of day or night, seven days a week, but in private, and this is one of Monero's potential use cases.
Overall, Monero is a well-known and popular cryptocurrency. As Monero can be mined on low-budget computers using CPUs, hackers have been known to infect unsuspecting website visitor's computers with malware designed to use their CPU to mine Monero. At the moment, XMR is best known as the currency of the dark web. Some exchanges and tools use it to make their users' transactions fully anonymous, for instance, HoudiniSwap. Monero's developers were concerned by the recent Tornado Cash sanctions, however, they remained under the radar.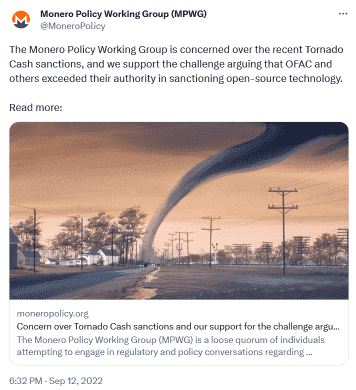 While at the moment, Monero costs around $140, some experts claim that by 2030, its price will rise to $1000. Since its launch date, Monero has shown extensive growth in the crypto market and has given a great return to its initial investors. While having a controversial reputation, XMR is indeed a popular choice for crypto enthusiasts.
---
StealthEX offers one of the quickest ways to buy Monero (XMR) effortlessly and without any hassle. It's simple, it's safe, and it's easy!

Make sure to follow StealthEX on Medium, Twitter, Telegram, YouTube, and Publish0x to stay updated about the latest news on StealthEX.io and the rest of the crypto world.
Don't forget to do your own research before buying any crypto. The views and opinions expressed in this article are solely those of the author.
BTC to XMR
how to buy
Monero
Monero XMR
XMR
Recent Articles on Cryptocurrency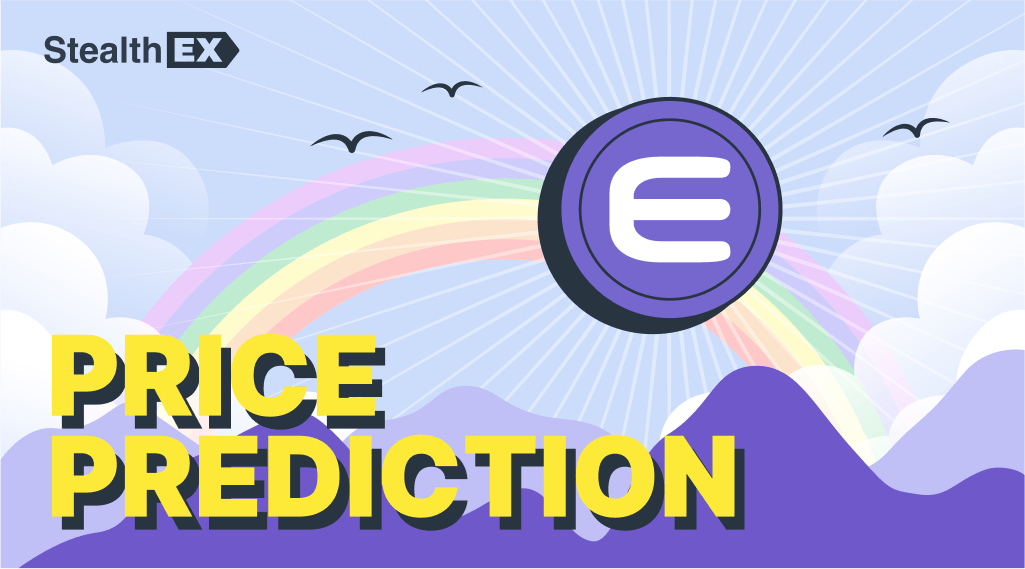 September 27, 2023
Price Prediction
Enjin Coin Price Prediction: How High Will $ENJ Crypto Go?
Based on expert Enjin Coin price prediction, the maximum price of ENJ crypto is predicted to be $75 by 2030.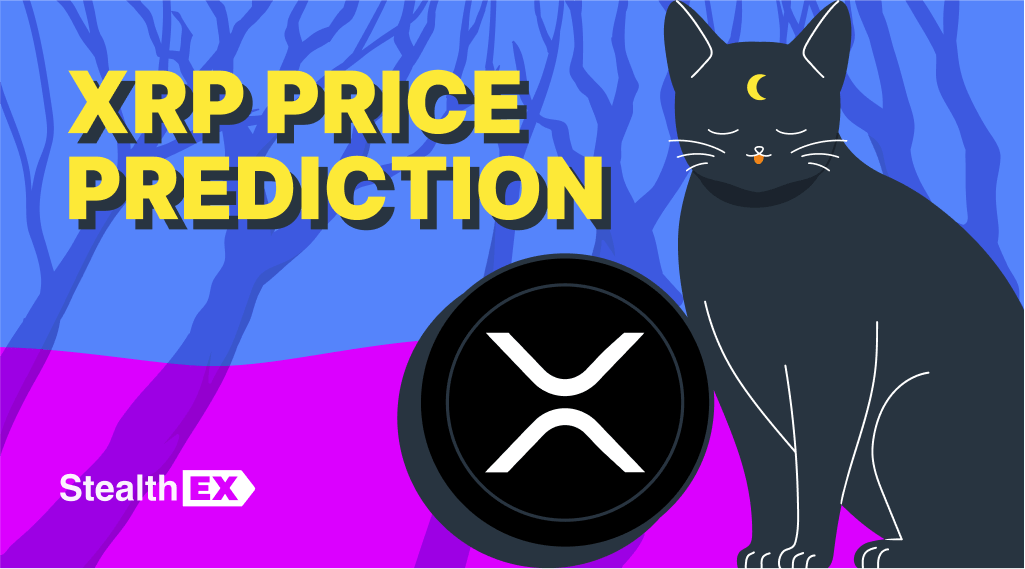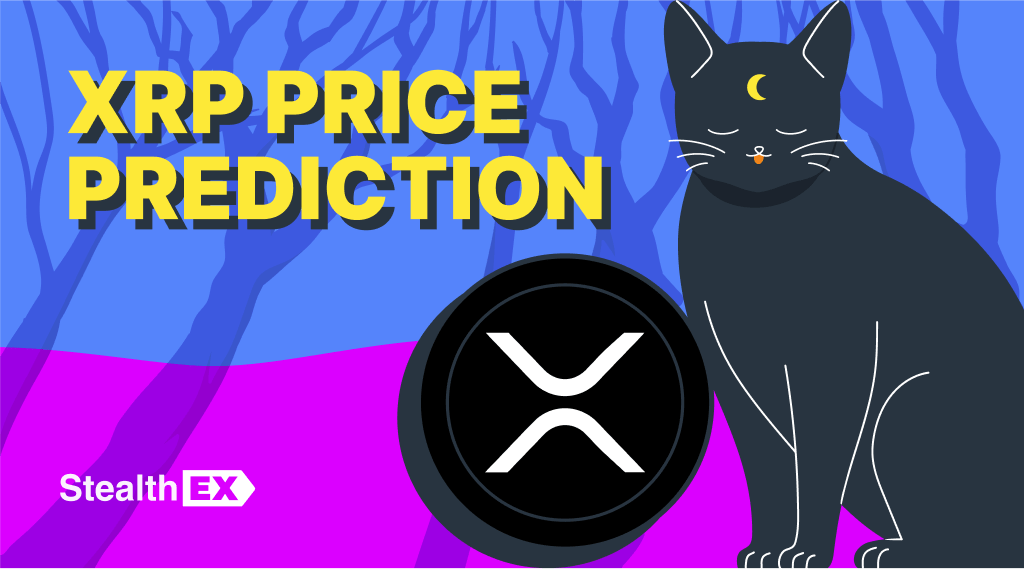 September 26, 2023
Price Prediction
Ripple XRP Price Prediction: How High Can XRP Go?
Based on expert XRP price prediction, the maximum price of XRP coin is predicted to be $12 by 2030.