MINT Crypto & StealthEX AMA Recap – All You Need To Know
December 28, 2021
Crypto World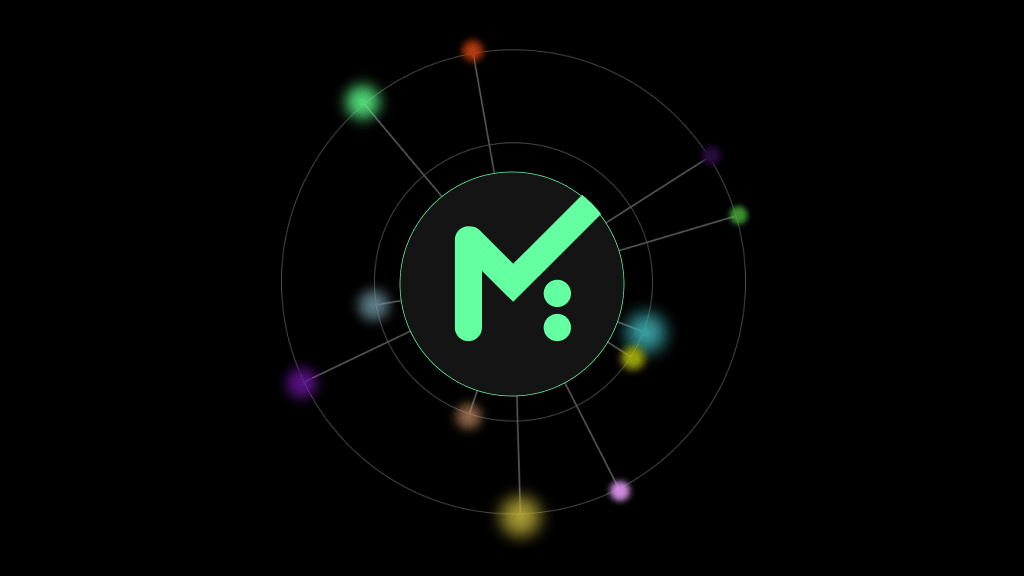 On December 28, 2021, we had StealthEX & Mint crypto AMA Session in our Telegram Community Chat and here is a recap. Just take a little time to read through and learn everything you need about MINT Club cryptocurrency. Let's start!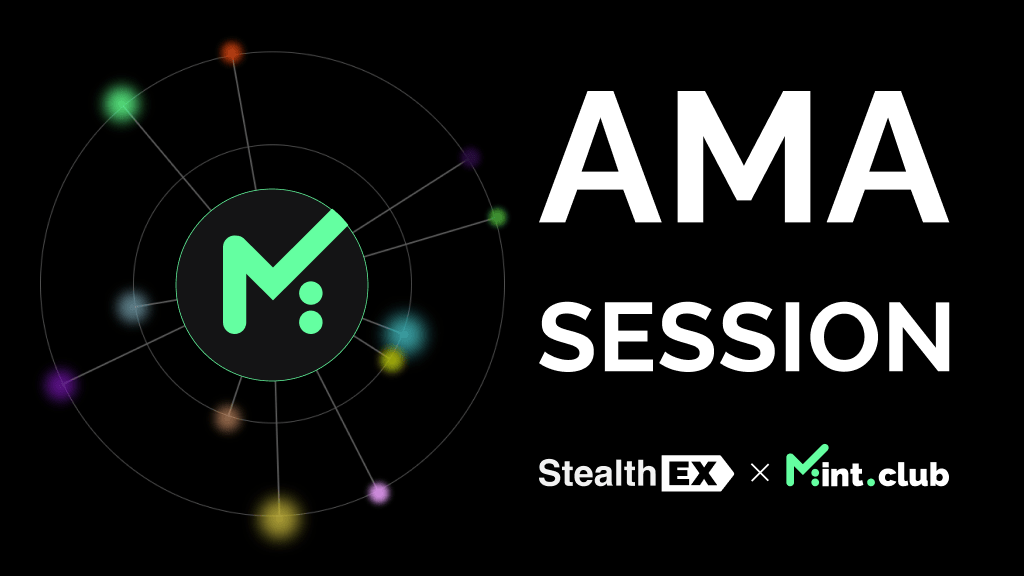 Greetings and Merry Christmas and upcoming New Year's for everyone who has gathered today!
Today we are excited to be joined by YoungHwi Cho (@theproject7), a Co-Founder/Designer of Mint.club.
As usual, we will fire off with a round of Twitter questions with chat being turned off. After that is finished we will proceed to the round of the live questions, where the chat will be turned back on and you will have the possibility to ask away.
Questions from Twitter
YoungHwi Cho: Hi everyone! My name is YoungHwi, a co-founder and designer of Mint Club.
Thank you so much for the AMA invitation.
It's such a great honor for me to introduce about Mint Club platform to the awesome StealthEX community 😻
StealthEX: Wondeful, let's jump right in!
Q1: With Mint a user can create a token without using code and set the token name, symbol, max minting supply, and descriptions. What happens if a user wants to define other characteristics besides these? is there an advanced mode in Mint?
YoungHwi Cho: Great question. The token name, symbol, and max supply are on-chain based data. Once they are set, it won't be able to be changed.
You can also set the token description, official website, chat group, and token logo image. These data will be stored on the Mint.club server. You can change them anytime you want. As a token creator, you can also make an announcement for your project. When you publish an announcement, it will be shown via your announcement tab.
Q2: Why is the max supply of newly created token is 1Million? Why not more than 1Million. What happens if someone rug pull the newly created token? How you audit the new tokens? Can we list the newly created tokens on different exchanges?
YoungHwi Cho: Hm.. there are multiple questions here haha!
Will answer one by one:
Why is the max supply of newly created tokens 1Million? You can set from 1 to 1 million for the max supply. Tokens created via Mint Club (called "Smart Tokens") run by the MINT bonding contract. Whenever people buy your tokens, more MINT tokens will be bonded in the contract to back the value of your token. If your token reaches 1 mil max supply, it will require 500 bil MINT tokens to be bonded that is about 45% of the total MINT supply. This is why we set the max supply of each token to be 1 million. Larger than this number will require more MINT tokens.
What happens if someone rug pull the newly created token? This is also a decentralised platform like other DEXs. Of course there may be some scam tokens whose token creator tries to sell out their initial purchases. However, it's still far better than the LP-based rug pulling. For the smart tokens (Mint Club tokens), there are no free allocated tokens for the token creators. To rug people, they must spend money to buy their own tokens. So, the cost of rug pulling is far more expensive and not lucrative than other LP-based tokens.
How you audit the new tokens? We're not a centralised platform. We don't do audit. But the community members can rate each token by using MINTDAO tokens via Mint.club site. You can check the ratings via the rating tab menu.
Can we list the newly created tokens on different exchanges? Yes, it's the same BEP20 token. You can apply to list a place that supports the BEP20 tokens.
Hope I answered for all questions listed there 😀
Q3: All tokens created in Mint Club are collateralized with the MINT token. Have you thought about creating a blockchain where the native token is the MINT token?
YoungHwi Cho: Not at the moment.
We still believe that using BSC is a better strategy than creating our own blockchain for two reasons:
BSC has the biggest crypto users in terms of active users/wallets compared to any other blockchain networks. As a SocialFi project, the max number of targets is a highly important criteria to choose the blockchain network.
Making our own blockchain network will limit the adaptations by other platforms like centralised exchanges.
Even though we're using the BSC network, the MINT token is still the platform token to use for the collateral contract.
Q4: After a few weeks of incubation program on BinanceLabs, what things you guys have learned from the Incubation Weeks that have influenced @MintClubPro on shaping this project into now, and what to expect on the future?
YoungHwi Cho: Great questions. Learning is always the most important 😀
The incubation program gave us lots of mentoring sessions with many industry experts. We're discussing with many teams to collaborate to expand the Mint Club ecosystem.
Also, we expect that the demo day can give some opportunities for us to be connected with institutional investors or key industry leaders. We're trying to fully utilize those opportunities to expand our ecosystem.
Q5: What functions does the CREATOR token fulfill within Mint Club?
YoungHwi Cho: Mint Club Creator (CREATOR) about this token, right? CREATOR is a utility token for the token project owners on Mint.club website.
We're planning to set the three areas for the utility:
Top section visibility.
Pro feature.
Accessing premium APIs.
Currently there is one feature running called Featured listing. To list your token on the featured section on the Mint.club website, you need to keep burning 50 CREATOR tokens on a monthly basis.
Will introduce more features using CREATOR token soon 😀
Q6: I see the NFT is involved here too, can you explain a little more how that plays into the $MINT system?
YoungHwi Cho: Interesting question. Many NFT platforms have their own utility or governance tokens and they are fungible tokens.
I think that using Mint Club to create fungible tokens to use for their NFT platform can be a great idea and have lots of synergy due to the price bonding curve system.
We're actively looking for the NFT projects at the moment that may want to create their platform tokens on Mint Club, and the team is also preparing to launch our own NFT project on Mint Club soon too.
More detailed information about this new project will be announced soon.
Q7: What features are we to expect in the future and as a social platform how do you intend to gain a competitive advantage?
YoungHwi Cho: Basically we want to build an open platform for all the social tokens.
The meaning of "social tokens" is the tokens backed by community power, individual fandoms, or the utility tokens of individual apps/websites.
There are so many sectors outside of the blockchain scene that can have huge synergy with the tokenisation, but the current way for them to consider launching a token is highly complicated and requires lots of resources.
So, our aim is to build an open platform for them to simply launch their token without coding or lp providing. Also any devs or teams can create their own token building platform by simply utilising our Mint Club protocol.
Mint Club is one of the very few bonding-curve-based no code token launching platforms. Also it's one of the very few "open" platform compared to other token building platforms like BitClout, Rally, etc.
Q8: What policies does Mint have against hackers? And the future roadmap mint will develop towards social fi?
YoungHwi Cho: Oh you hid a great question haha!
I'm not sure about what "policy" we can set for hackers when they are criminals whose job is to break the policy/law…
But what we set for the Mint Club protocol to prevent hacker's attacks are well-structured.
Mint Club protocol is NOT an upgradable protocol and has no ADMIN role. Most common way for hackers to attack a decentralised protocol is to steal the admin key of the wallet that has ADMIN roles of the contract (e.g. withdrawal, changing parameters/scripts, etc.). We removed the admin roles for the bonding contract, meaning that there is no way for hackers to steal the fund from the bonding contract because there is no function to call.
Sometimes hackers are trying to steal the admin wallet of the token contract and use the minting function to issue more tokens to a certain wallet. We also removed this function from the MINT token contract. Including the team, no one mint more MINT tokens at the moment.
Hope this can explain well 😀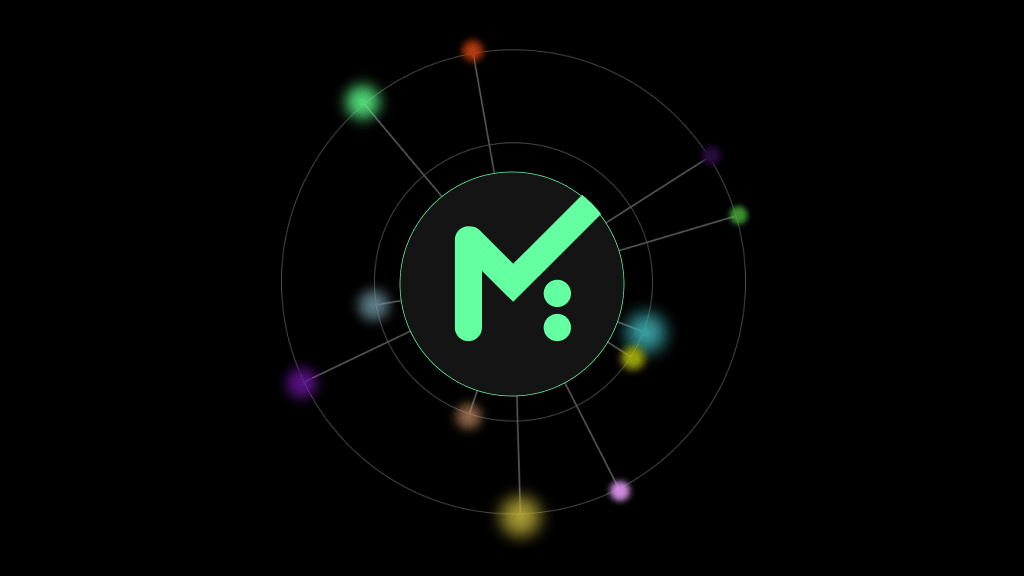 Live Questions
Q1: Do you have any Bug Bounty to check for weakness? In what way do you plan to make Your project more complete?
YoungHwi Cho: We don't have an official bug bounty, but you can report to the team directly and submit your contribution report via the mint.club/grant. You can get rewarded by GRANT tokens.
Q2: In docs I see: "All smart tokens have a collateral contract where the value of the token is backed by MINT token". In which protocol is the liquidity of the created tokens housed?
YoungHwi Cho: It's not a liquidity, but a bonding contract that backs the value of the Mint Club tokens.
Q3: Can you list 1-3 killer features of this project that makes it ahead of its competitors? What is the competitive advantage your project has that you feel most confident about?
YoungHwi Cho:
No need to create LP to make the tokens tradable.
No need to code.
Open platform with a public SDK —> meaning that its adaptation is maximum level on all kinda platforms/projects.
Q4: Can you provide a simple explanation of *Mint club platform*?
YoungHwi Cho: Mint Club is a crypto building platform that has no need to code and also no need to create liquidity pools to make them tradable. Literally, anyone can launch a token project with just a few simple clicks and they don't need to think about all the complicated matters like coding, liquidity pool, and even listings.
Q5: Marketing is a central element for every project, so that everyone knows the potential that a project can bring is vital to achieve the goals set. What is your strategy to attract new users and investors to your project and keep them long term?
YoungHwi Cho: We have three ways of go-to-market strategies 1) by using each token project, 2) by nurturing more platforms on top of Mint Club protocol 3) community-driven activities by using GRANT fund program.
Q6: What is your Plans in METAVERSE and WEB 3.0 ? Is Mint Club is working on that?
YoungHwi Cho: Mint Club itself is considered to be a web3 protocol.
Q7: Hi Mr. YoungHwi, most of investors just focus on the price of token in short term instead of real value of project. Can you tell us the motivation and benefits for investors to the Mint token long term?
YoungHwi Cho: MINT has high up potential for two reasons:
MINT is using for the collateral assets for all smart tokens (created mint club). More successful tokens created on mint club will require more MINT tokens.
MINT has no inflation. With the reason no.1, the token valuation will keep increasing when we have more succesful token projects.
Q8: In the docs I saw references to a token called HUNT. Can you tell us what relationship exists between this token and the MINT token? What role does the HUNT token play within the Mint Club?
YoungHwi Cho: HUNT is the mother project of the Mint Club. Mint Club is considered to be one of the HUNT DApp projects. You can see more info here at token.hunt.town
Q9: What about the burning proceed for coin to increase the coins potential prize ?
YoungHwi Cho: MINT has no need to have burning scheme. You can read more about this here.
Q10: What does the Widget link consist of? What function does it play in the tokens created in Mint Club?
YoungHwi Cho: You can create a link widget where your target audiences can trade your tokens without visiting mint.club website. You can even embed in your website/blogs.
Q11: Can you explain in simple words what the "Smart Token Bonding Curve" consists of?
YoungHwi Cho: A mathematical curve (actually not a curve, but a linear line (y = x)) that sets the token price = token supply
Q12: Your project name seems to be very interesting. Does it have any story behind it? Can you share us with the inspiron for approaching to this name?
YoungHwi Cho: Thanks!! We wanted make the easiest name for people to remember and understand the meaning of this platform right away from the name of the platform.
Q13: The idea of project is really unique and incredible, how did this idea come about?
YoungHwi Cho: It's from my personal difficulties. I'm not a dev but always wanted to make my own token projects personally. So, I created a tool for myself 😀 I even created my personal project by using mint club. Check mint.club/monkey
Q14: Do the token holders have the right to participate in the governance of the project? What kind of decisions can they vote on about the project?
YoungHwi Cho: We will build more concrete DAO system by using the mint.club/mintdao token
Q15: Do you have any plans to attract non-crypto investors to join your project? Because the success of a project attracts more investors who haven't yet entered the crypto world. What are the plans to raise awareness about your project in the non-crypto space.
YoungHwi Cho: Yes of course. The mint.club site itself is extremely easy to understand. Also we're targeting normal people via our partnering platforms like 1s.market
Q16: Increasing Token price 2- make Token Valuable 3-Building Community Trust From 3 aspects above,. I want to ask,. Which one the most important for you?? If all above are important for you,. Which one that Will you do first??
YoungHwi Cho: If I have to choose only one among three, definately no.3. We think the community trust is the most important thing that we need to build and maintain well
Q17: Can you share Your opinion about Defi & NFT ? What makes your NFTs rate and special?
YoungHwi Cho: I think I answered to the similar question for this one. The team is also planning to launch an NFT project on top of Mint Club. More details will be announced soon.
Q18:Too many projects promise magic but never release any working product or prove any revenue, Within a short/long time of release. Is your project also like this? If not can u tell us, what makes your projec different from projects ?
YoungHwi Cho: We do have working, no not just working, but actively pleasing product already. All the DApps we launching are far exceeding level of usability than other DApps.
Q19: Security audits are extremely important for any project, especially DeFi protocols that deal with user funds. So, can you explain if your project has been audited to convey confidence and security to the crypto community that is interested in investing in your project?
YoungHwi Cho: Yes the contract is audited.
Q20: Do you have an ambassador program available? If yes, how can I join it? And may I know what's the benefit available for the ambassador?
YoungHwi Cho: Don't have an official one, but we do run the community volunteers called Ambassadors.
Q21: My question is about your long term marketing plans. How, or through which big partnerships do you plan on utilising to pass your product onto the normal – especially non-crypto people?
YoungHwi Cho: Normally by partnering with awesome companies. 1s.market is the one good example.
StealthEX: Well, that was it, folks! Huge thanks to everyone for taking the time to be here today.
But an especially huge thanks to YoungHwi Cho (@theproject7) and the whole mint.club team for not only creating an awesome crypto project, but also opening the doors to others for doing the same.
That was an insanely informative AMA.
Make sure to check Mint out at: Mint.club and Token Hunt Town, Twitter, Telegram, and Reddit.
And you can always swap $MINT with 400+ assets on StealthEX platform 😎
How To Buy MINT Coin?
Always welcome to buy Mint token on StealthEX.
Just follow these easy steps:
Press the "Start exchange" button.
Provide the recipient address to which the coins will be transferred.
Move your cryptocurrency for the exchange.
Receive your crypto coins!

If you have remaining questions about the StealthEX exchange service you can go to our FAQ section and find all the necessary information there.
Follow us on Medium, Twitter, Telegram, YouTube, and Reddit to get StealthEX.io updates and the latest news about the crypto world.
We are always ready to give you support if you have any issues with exchanging coins. Our team does our best to protect all members and answer their questions. For all requests message us via support@stealthex.io.
You are more than welcome to visit StealthEX exchange and see how fast and convenient it is.
AMA
blockchain technology
crypto world
cryptocurrency
MINT
Recent Articles on Cryptocurrency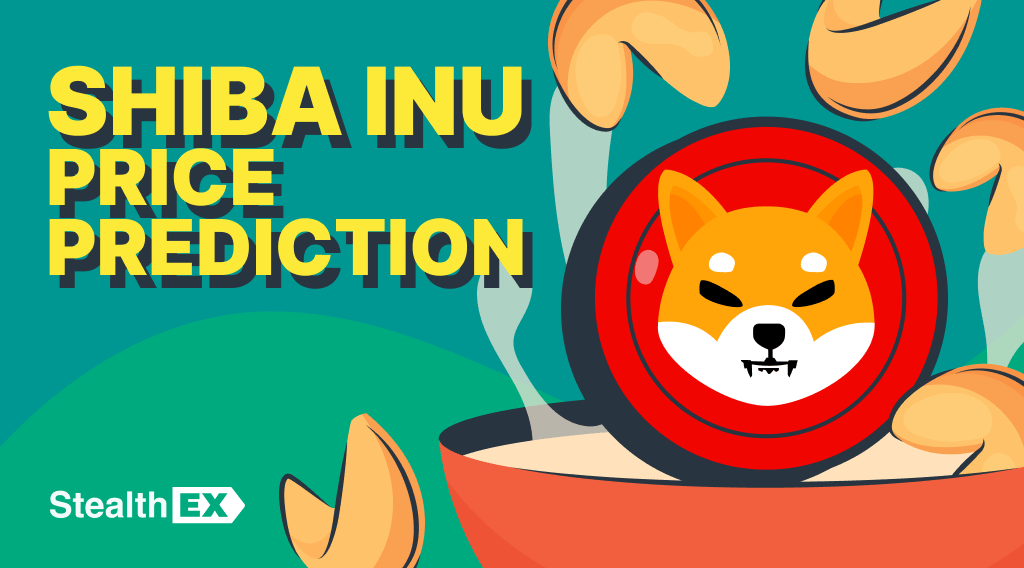 November 28, 2023
Price Prediction
Shiba Inu Price Prediction: Will SHIB Coin Reach $1?
Shiba Inu price prediction, by the end of 2030, the SHIB coin price is expected to reach a maximum level…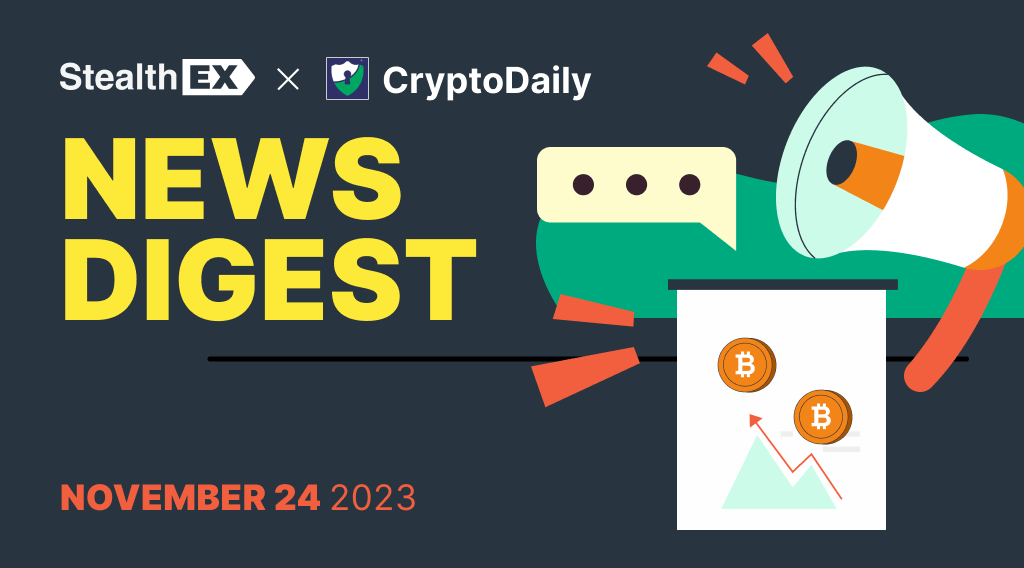 November 24, 2023
Crypto World
StealthEX & CryptoDaily: Key Elections, Investments, and Crypto Market Movements
Welcome to StealthEX weekly crypto digest, in collaboration with CryptoDaily: summary of this week's key events and trends in the…