Next Crypto Bull Run: Is It Already Here?
October 27, 2023
Investment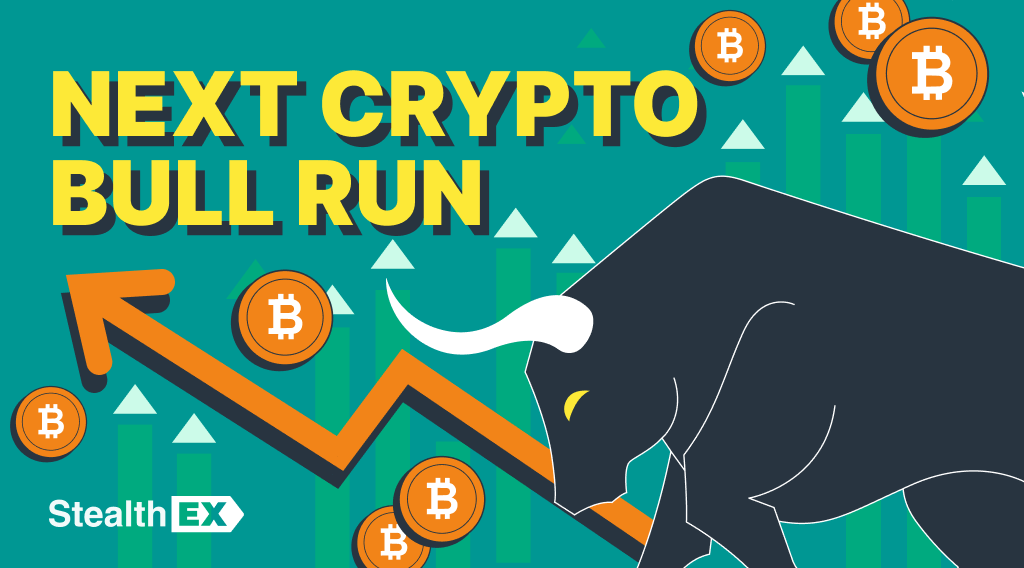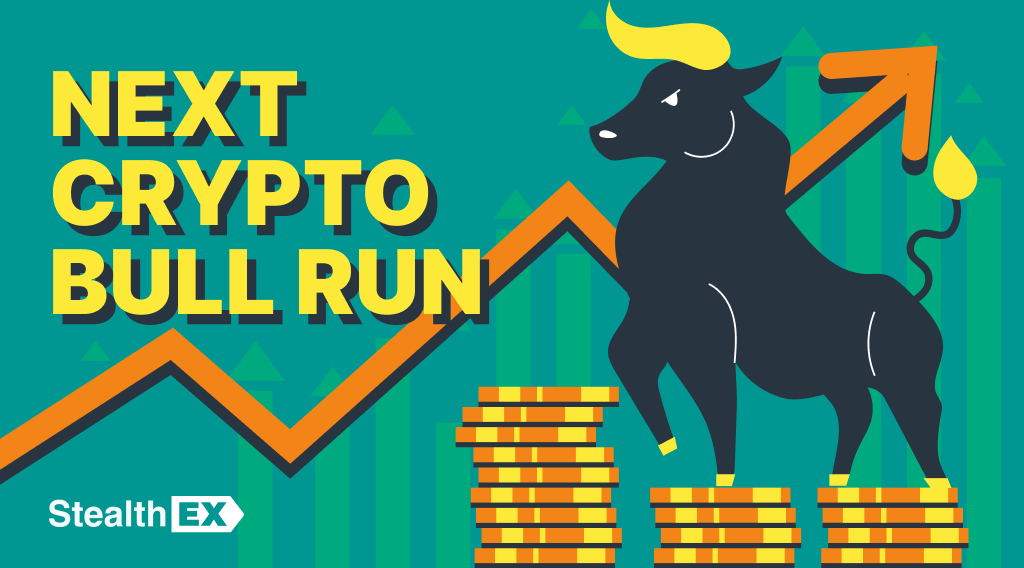 When is the next Crypto Bull Run expected? When prices in the financial market are rising or are predicted to rise, the market is said to be bullish. Most commonly, the wording "bull market" refers to the stock market, but it can also apply to any trading environment, including cryptocurrencies. On the contrary, a "bear market" is a period of significant price decline.
The cryptocurrency market has already encountered periods of major price growth in the past, and it is essential to comprehend these bullish cycles in order to assess the current status of the market.
Previous Crypto Bull Runs and Their Influence on the Market
The year 2013 marked the first official bull run for Bitcoin. The price of Bitcoin hovered around $145 for the majority of the year until October when within two months reached its first all-time high of over $1,200. In 2015, the market changed with Bitcoin at the beginning of the year trading around the $200 market and near the end of the year, from September onward realized its all-time highs for the year of almost $500, and the crypto market continued its bull run.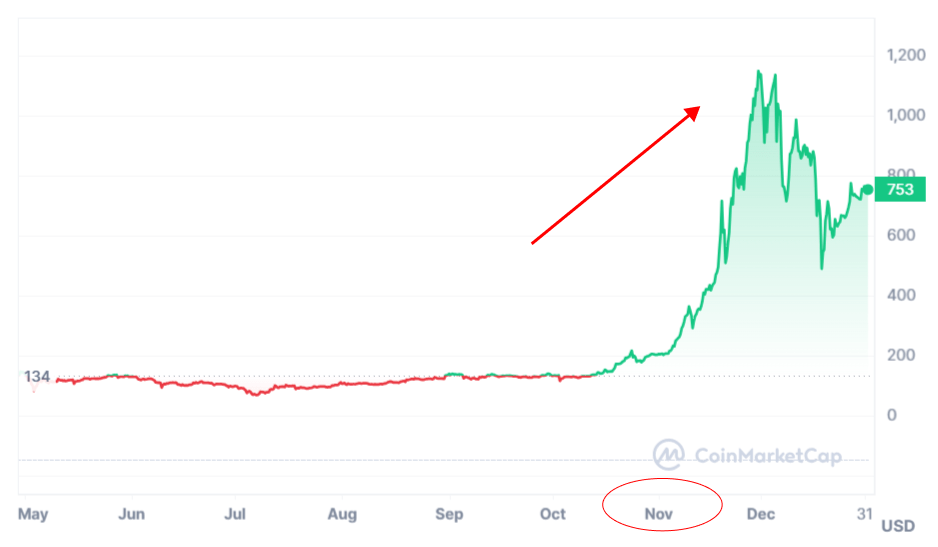 In the 2013 Bull Run – Bitcoin's Price Peaked in November
In January of 2017, Bitcoin was trading at around $1,000, moderately increasing each and every month, until September when Bitcoin was priced at around $4,000 and over the next few months, until December when Bitcoin hit the historic all-time high of almost $20,000.
The last significant surge in Bitcoin occurred in late 2020 and early 2021. The price of Bitcoin surged throughout this period, reaching an all-time high of over $64,000 in April 2021. But the joy was fleeting, as Bitcoin and the broader cryptocurrency market experienced a sharp decline. In January of 2021, Bitcoin was trading at just over $23,000 and within three months increased to a new all-time high of $63,300 in mid-April. The price dropped to a low of $29,800 in mid-July after hitting this new all-time high, and it then rose to a new all-time high of $68,700 in mid-November before ending the year at $35,500.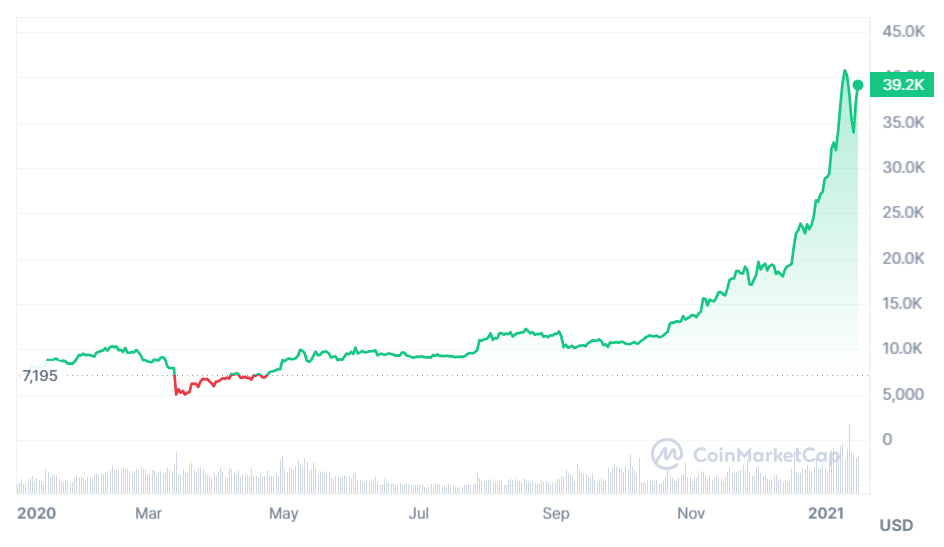 Bitcoin Price in 2020
Two all-time highs were hit in 2021, making it a special year. The first was reached by Bitcoin, which peaked at little under $70,000.
Factors Influencing a Crypto Bull Run
There are a number of factors influencing any major crypto bull run, including:
Market sentiment. The rise and fall of market sentiment can be compared to a powerful tide that can either lift Bitcoin to unprecedented heights or submerge it. An upswing in positive sentiment frequently drives up demand as investors swarm to seize opportunities they perceive. Additionally, broad institutional and individual adoption can be a game-changer, elevating the currency's credibility and potentially driving up prices.
Technological advancements. The blockchain, the underlying technology behind Bitcoin, is still developing. Online platform sites are becoming more appealing to both individual and institutional investors due to technological advancements including scalability solutions and improved security measures. For instance, scalability enhancements allay worries about transaction costs and speeds, making Bitcoin a more effective and practical way to conduct transactions.
Economic factors. Beyond just being a digital money, people are beginning to view Bitcoin as a store of wealth and a buffer against unstable economic conditions. As economic conditions such as recessions or currency devaluations get more dire, investors turn to Bitcoin as a safe haven asset. The fear that inflation will devalue fiat currencies and that geopolitical developments will erode confidence in traditional banking systems is what is driving this increase in demand. In essence, the value of Bitcoin is strongly correlated with the state of the macroeconomy, making it a useful asset during uncertain times.
Regulatory changes. Changes in the regulatory landscape and increased mainstream acceptance of cryptocurrencies are also potential catalysts for a bull run. While some countries have accepted crypto, others are still wary of its potential.
---
Choose StealthEX for Exchange and Buy Crypto
Earn from Each Exchange by Joining StealthEX Affiliate Program.
Become a partner right now and use affiliate tools:
---
Current Market Trends
The crypto market seems to have started to come out of the long crypto winter. September 2023 witnessed only little changes in the cryptocurrency market, with a 2.6% rise in total market capitalization. Throughout the month, there were two major bouts of volatility. The first can be linked to the September 11 announcement by FTX that it was selling its Bitcoin assets. The second focused on the September 20 meeting of the Federal Open Market Committee. Even though the market was alarmed by these developments, it managed to recover and close the month on a positive note.
At the end of September, the prices of the majority of the top 10 coins by market capitalization increased. With a significant increase of more than 20%, TONNE emerged as the most prosperous performer. Telegram's incorporation of the TONNE wallet and its support of a TON-based ecosystem may have contributed to this rise. Throughout the month, BTC and ETH showed resiliency, which was mostly indicative of the mood of the market.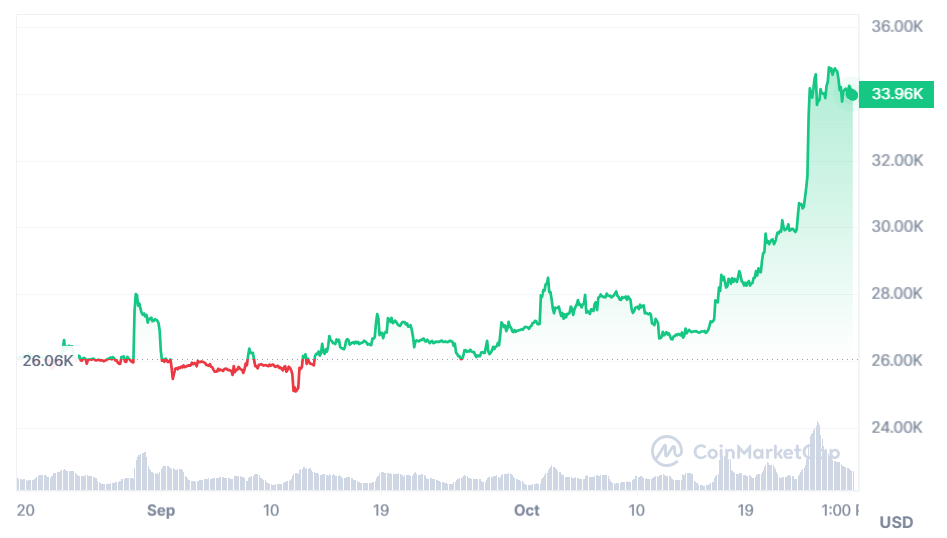 Bitcoin began to slowly recover in late September 2023
DeFi continued its downward trend for the seventh consecutive month, but with a very little decline in total value locked (TVL) of 0.36%. Notably, Tron performed well in September, seeing a 25% increase in TVL over the month.
September saw an even greater decrease in the NFT sector, with total monthly trading volumes hitting a new low of $0.29B for the year. Since the year's beginning, Nansen's NFT-500 index and the Blue-Chip-10 index have decreased by 58% and 53%, respectively. NFTs have had a difficult year overall in 2023, with trade volume reaching new lows virtually every month.
Amid the latest market stir, Bitcoin price fluctuates around $34,000, apparently due to the latest price surge fueled by anticipation of a spot BTC exchange-traded fund (ETF). Grayscale filed a new BTC ETF registration statement with the SEC on October 19, a few days after ARK amended its spot Bitcoin ETF filing on October 11.
Indicators of a Potential Next Crypto Bull Run
Traditionally, a number of reliable indicators may predict a next crypto bull run. Some of these include the following.
Technical Indicators
Every technical indicator is based on the concepts of market psychology, thus an appreciation of crowd behavior is essential to understanding the foundations of some technical indicators. The moving average convergence divergence (MACD) is a tool that measures shifts in consensus from bullishness to bearishness, and vice versa. Extending the basic MACD to a deeper level, investors find the MACD-histogram, which is actually a tool for determining the difference between long-term and short-term consensus of value. The measure tracks the difference between the fast MACD line (short-term consensus) and the slow signal line (longer-term consensus).
Another market metric called RSI measures market psychology, and it's almost always measured with a computer, typically over a seven- or nine-day range, producing a numerical result between 0 and 100 that points to oversold or overbought situations; the RSI, therefore, gives a bullish or bearish signal, respectively.
Fundamental Indicators
Fundamental factors include adoption rates, institutional investments, and more. The current crypto market has just shifted following the revelation on June 15th that BlackRock, the largest asset management in the world, had filed for a ETF with the SEC, the price of Bitcoin saw a significant spike, breaking the $30,000 mark. Following suit, other big financial firms including Fidelity and ARK financial filed their own applications for spot Bitcoin ETFs, setting off a domino effect. The market then saw a surge of enthusiasm as a result of this coordinated action.
More broadly, BlackRock might lead the way in the widespread acceptance of Bitcoin and trigger a dramatic change in the direction of institutional adoption of digital currencies thanks to its enormous $30 trillion capital pool. More acceptance is anticipated by analysts, which might spark a next crypto bull run.
Crypto News and Events
In addition to technical and fundamental indicators, major partnerships and technological breakthroughs play a crucial role in determining the next crypto bull run. Digital assets have continued to expand and evolve even in times of market pessimism. In the approaching Web 3.0 revolution, coins and tokens will play a more significant role than just being financial tools. They will now be valuable in opening up new use cases and improving user experiences. The field of NFTs is one instance of this progression. After booming during the previous cryptocurrency boom, their value came under intense scrutiny, which caused demand to sharply decrease. Today, though, NFTs have changed their purpose to include a number of uses, including ticketing, transparent record-keeping, digital identity authentication, and more.
Decentralized technologies have also greatly expanded their use cases, giving people even more influence. For example, Phemex has unveiled its innovative Web 3.0 ecosystem as part of its shift to a semi-centralized, hybrid exchange. Phemex Soul Pass, a soulbound token that authenticates online identities in the Web 3.0 field, is at the center of this transformation. These are only some of the latest developments within the crypto industry, and many more are certain to emerge.
Is the Crypto Next Bull Run Already Here?
Divergent opinions exist among analysts over the potential path of Bitcoin this month. Some argue that lower market liquidity in September and October has historically resulted in poor performance for Bitcoin, with October usually showing a positive trend. On the other hand, some analysts say that low volatility in traditional markets along with a likely delay by the SEC in making a decision about the Blackrock ETF will force traders to wait until the halving event for a consistent price increase. Some experts already proclaim that the next crypto bull run is about to start. For instance, Anthony 'Pomp' Pompliano hinted at a potential big Bitcoin bull run during a recent appearance on Fox Business. Pompliano, a prominent personality in the Bitcoin community, offered his thoughts on the future of the cryptocurrency and the reasons he thinks it is ready for another upsurge.
Despite individual opinions, the vast majority of crypto experts believes that Bitcoin price will start rising right before its next halving, a typical situation that has already been seen throughout the relatively short crypto history. Throughout history, Bitcoin's price surges have been closely associated with halving events, as rising demand and reduced supply create positive market sentiment. Presently, Bitcoin's price is approximately 40% below its 2021 peak. Bitcoin has a finite supply of 21 million, and this scarcity is a key driver of its value. During a halving event, the reward for mining Bitcoin transactions is halved, effectively curbing inflation and ensuring the asset's scarcity.
And while experts can't agree on when the next bull market will begin, most of them agree that it won't look like the previous one. For instance, Ben Simpson, founder of crypto education platform Collective Shift, said there's a wealth of data and indicators that suggest that we're already witnessing the initial stages of a Bitcoin bull market. And the Bitcoin ETF will have the same impact on the price of BTC that gold ETFs had on the price of gold in the early 2000s.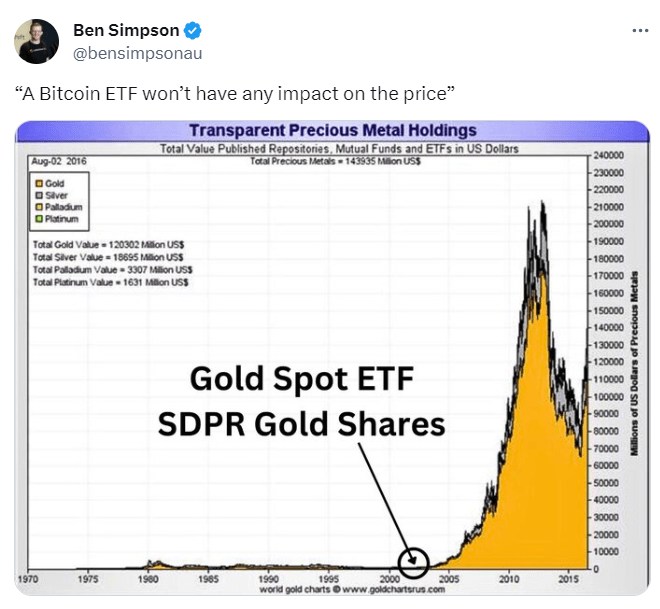 Standard Chartered, a prominent British multinational bank, has just revised its Bitcoin price projection. They now anticipate Bitcoin's value to reach a range of $100,000 to $120,000 by the conclusion of 2024, attributing this adjustment to heightened profitability for Bitcoin miners. The bank also forecasts Bitcoin reaching $50,000 by the close of this year. And while opinions remain divided, it remains to be seen whether the next bull run will gain momentum soon.
Potential Risks Associated with a Next Crypto Bull Run
As the potential bull market might just be around the corner, it's crucial to remember that it may bring not only new hopes and investment opportunities, but also new risks. First of all, in bull markets, you may have a recency bias that the market will continue to rise, and thus be willing to take more risk than is prudent. As the cryptocurrency market is exceptionally volatile, it may lead to much more severe losses.
The next thing to consider is corrections. We know for certain that bull runs are often interrupted by corrections, which are declines of 10 percent or more in the value of the market. In addition, we know that, eventually, bull markets end and bear markets begin. Typically, the start of a bear market is signaled by a 20 percent or greater decline in the value of the market. When the market corrects, or a bear market arrives, it's important to keep your wits about you. A drop in market valuations often creates buying opportunities. Selling during a correction or bear market may not be an appropriate strategy. It may be better to stay calm and refuse to sell low. Historically, after all, bull markets follow bear markets.
As the market evolves, it also brings about new challenges. Regulation could become stricter, market manipulation may become more prevalent, and technological challenges could emerge. As such, the landscape for future bull runs may be vastly different from those of the past. As usual, it's important to do your own research and not make investment decisions based solely on market speculation.
Conclusion
The next crypto bull run is undoubtedly coming, and the question remains: when exactly is this going to happen? The future of Bitcoin remains to be seen. In 2023, navigating the crypto-changing environment requires vigilance and knowledge. Making educated decisions, learning new things constantly, and keeping an eye on market trends are all essential to becoming ready for and profiting from the next cryptocurrency boom. Technical and fundamental indicators are the things to analyze before we enter the new market uptrend. The path may be unstable, but it may also be filled with opportunity for those who proceed cautiously and sensibly.
---
Follow us on Medium, Twitter, Telegram, YouTube, and Publish0x to stay updated about the latest news on StealthEX.io and the rest of the crypto world.
Don't forget to do your own research before buying any crypto. The views and opinions expressed in this article are solely those of the author.
Bitcoin
crypto bear market
crypto bull run
crypto market
cryptocurrency market
Recent Articles on Cryptocurrency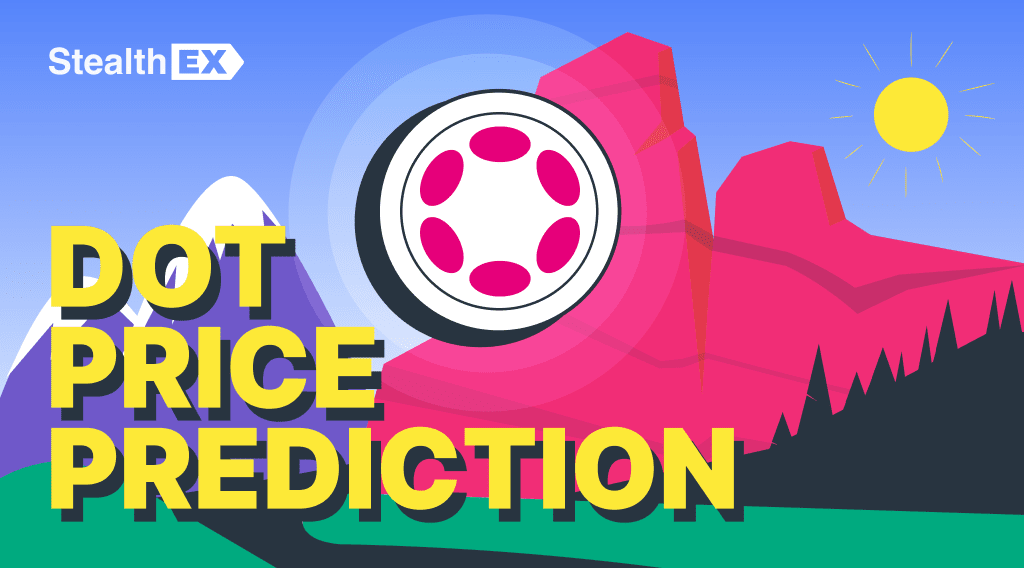 November 29, 2023
Price Prediction
Polkadot (DOT) Price Prediction: Will DOT Coin Reach $1000?
According to the long-term Polkadot price prediction by the end of 2030, the DOT price may rise to $195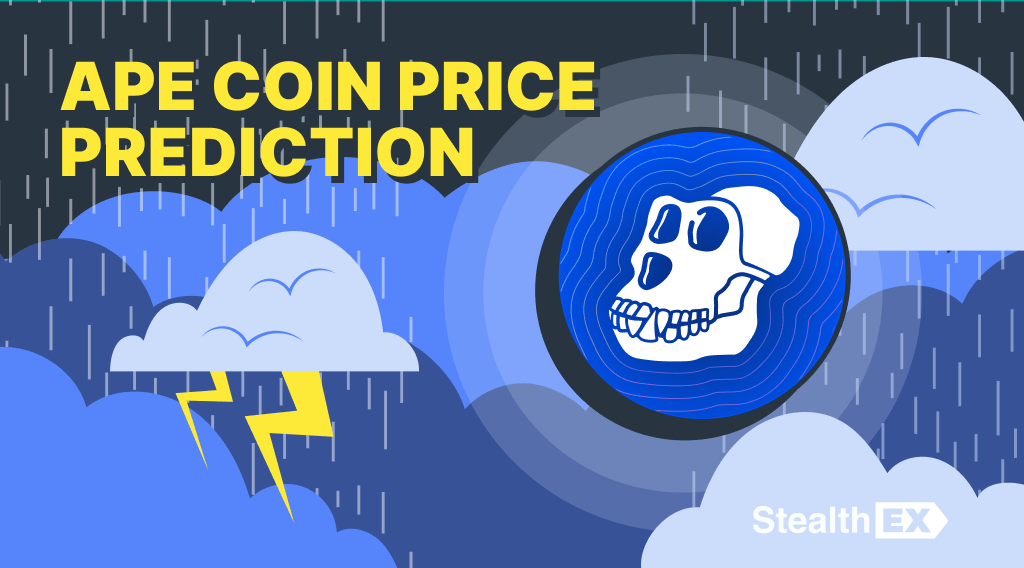 November 29, 2023
Price Prediction
ApeCoin Price Prediction: Is APE Coin a Good Investment?
According to the long-term ApeCoin price prediction by the end of 2030, the APE price may rise to $250