$PIT Coin: Where and How to Buy Pitbull Token?
December 20, 2022
How to Buy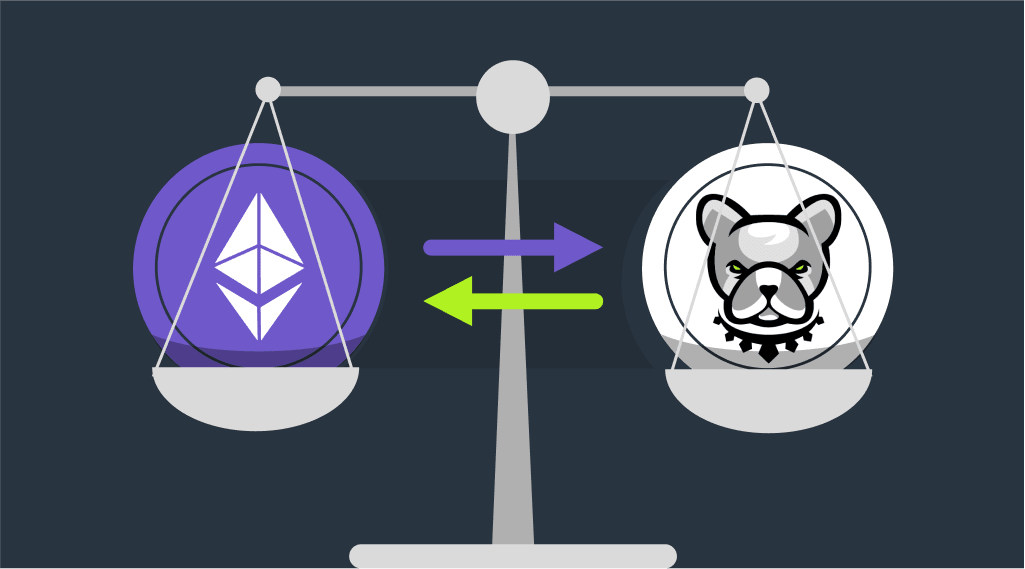 The crypto community is active despite an ongoing market recession, and many projects are relatively new, with some released in 2021 and later. One of such crypto projects is Pitbull which was raised by the community, just like the POODL token. Pitbull ($PIT) is a decentralized digital currency with a secured, audited smart contract function and a unique deflationary passive income token-economic, creating its ever-growing ecosystem by building decentralized utility apps for blockchains and users. Read more about how to buy Pitbull token in the new StealthEX article.
Where to Buy Pitbull Coin?
There are many exchanges where to buy PIT token and StealthEX is one of the safest options. This platform offers users to get PIT crypto with no extra fees and with the best floating and fixed rates. This meme cryptocurrency is always freely available for purchase via StealthEX.
How to Buy Pitbull Token?
Just follow the guidelines below. Let's imagine you want to exchange ETH to PIT. To make an exchange, you need to take a few simple steps.
First, you should choose Ethereum in the left drop-down list. Then choose Pitbull Token (PIT) in the list of coins on the right.
After setting the pair it is necessary to enter the amount of ETH you want to exchange.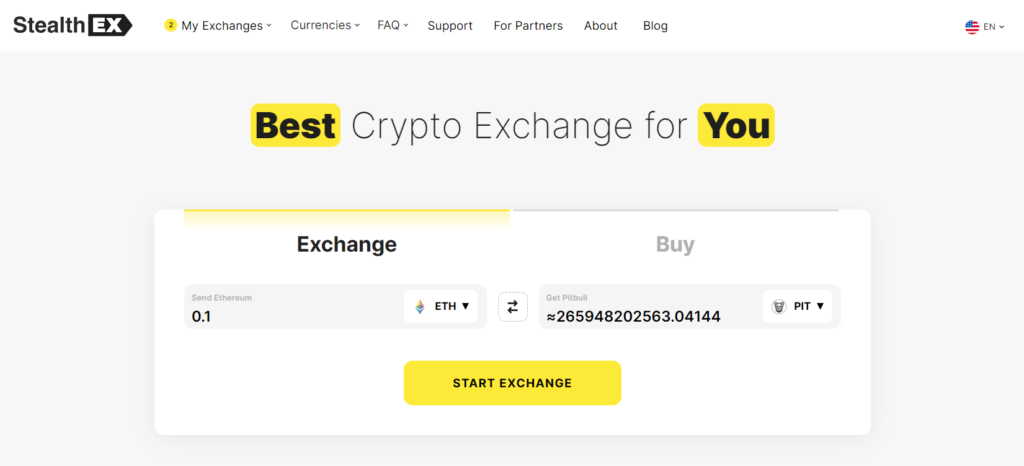 Here you will see the estimated amount of PIT coin that you will receive after the exchange.
Now, when everything is set, press the Start Exchange button and you will be taken to the next page.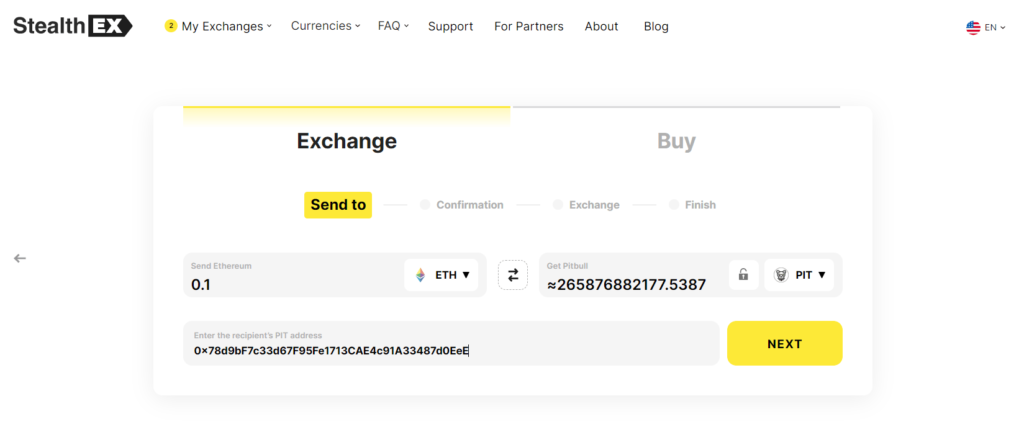 In the second step, you need to provide the Pitbull crypto recipient address. The recipient address must match the crypto you are going to receive. Remember to double-check the information you enter prior to the exchange as the transaction you make cannot be canceled.
As soon as you have carefully checked all the details, you can press the Next button and you will be redirected to the Confirmation page.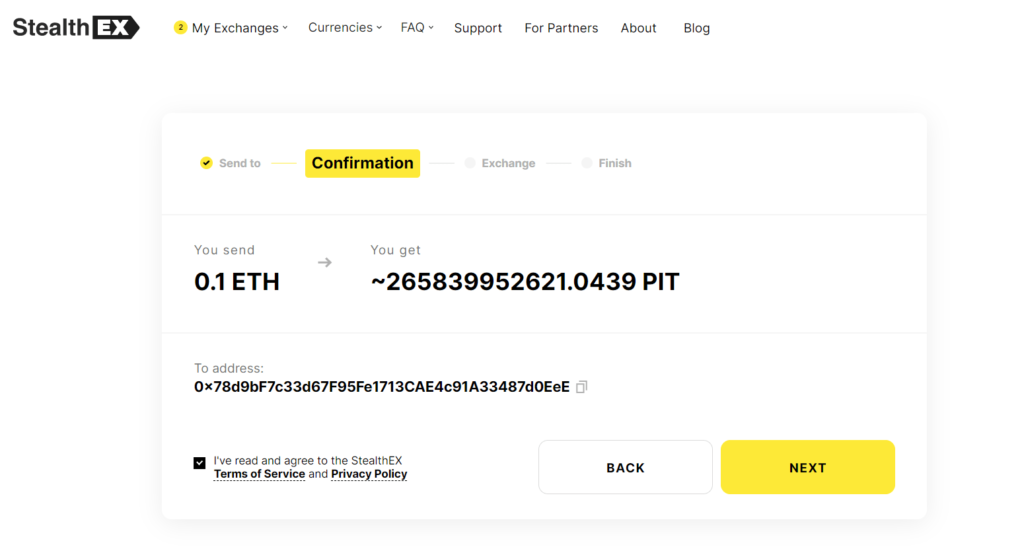 Here you can revise the address provided and the amount of Pitbull coin you will receive. Don't forget to read and check the Terms of Use and Privacy Policy box. Without checking the box you will not be able to continue the exchange.
Pressing the Next button you will be redirected to the Exchange page.
At first, you will see the address where you need to send your ETH coin to continue the exchange. StealthEX will also provide you with the exchange ID. It will allow you to keep all the information about the swap. It is recommended to save your exchange ID or the link to your exchange.
Exchange Statuses
After sending ETH coins to the shown address, the information on the Exchange page will be renewed automatically. The Exchange page has several statuses that will change during the time of the exchange.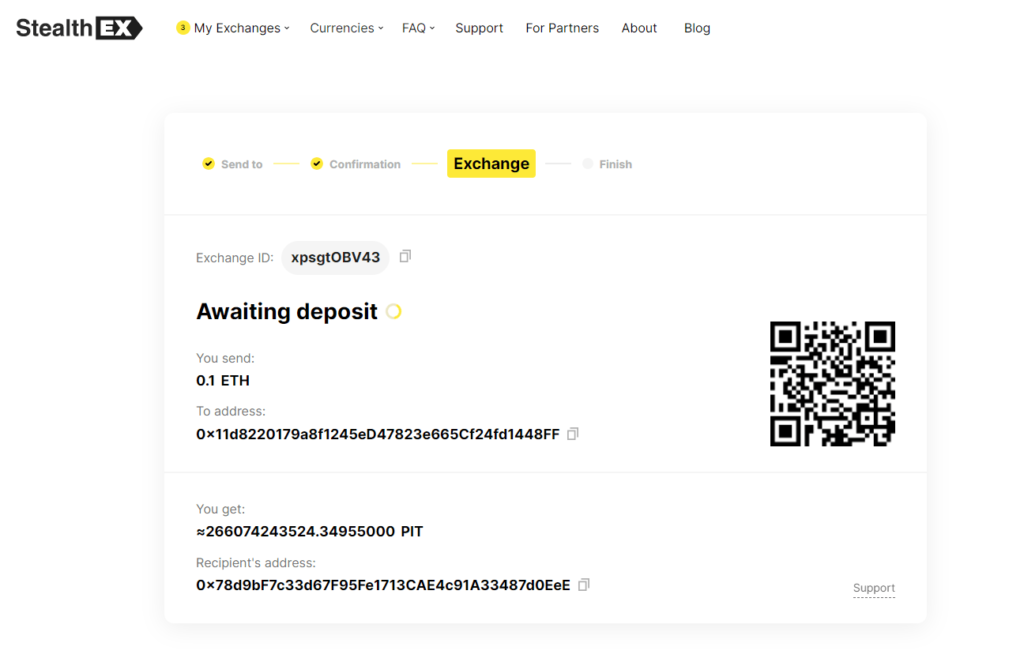 The first status is Awaiting deposit.
The following status is Confirming. This means that StealthEX is confirming the transaction you made.
The next status is Exchanging. During this time the exchange is being made.
Then the status will be changed to Sending to your wallet. This indicates that there are just a few minutes until you receive your Pitbull coin.
Finally, you will be redirected to the FINISH page. This shows that the exchange has been successfully made and you will receive crypto to the address provided. To be sure that Pitbull coins were sent to your wallet you can also use the Output hash shown on this page and check it in the blockchain list of transactions.
From here you can either create a new exchange on StealthEX.io or leave the page and check your Pitbull crypto wallet to be surprised at how fast you get Pitbull token to your address. Usually, the process is quite rapid so you won't need to wait long: Pitbull swaps are processed in a matter of minutes.
Keep reading StealthEX's article to learn more about the project itself and Pitbull crypto.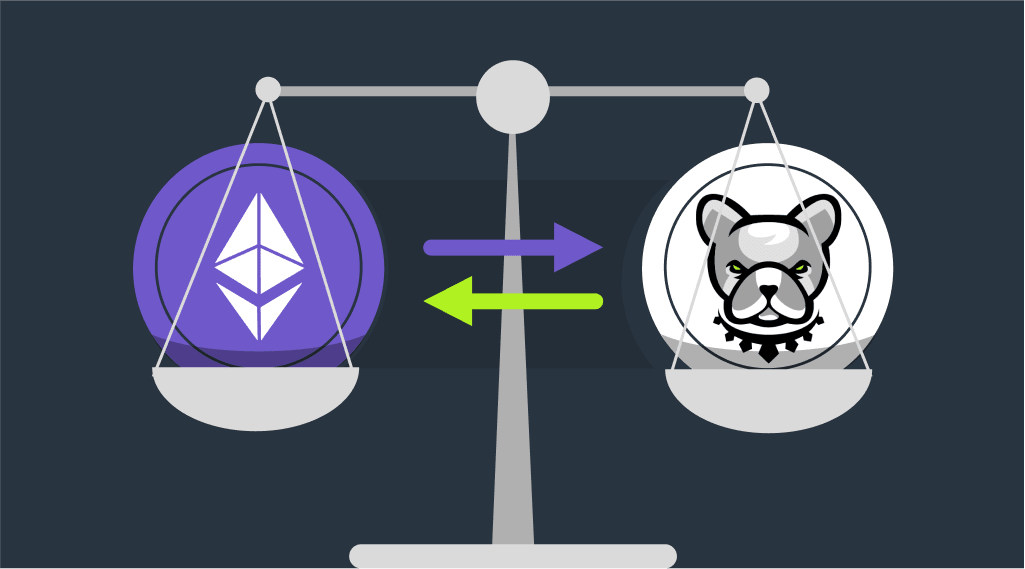 Pitbull Token: About
Pitbull (PIT) is an auto-staking token whose ownership was renounced and given to the community upon the token's creation. Due to decentralization, the token is a 100% community-driven project. Further, Pitbull is a social experiment, wherein traders are consolidated into the project both from a developmental standpoint as well as the community. Pitbull was released in March 2021 and has been built by the community.
The token operates on the Binance Smart Chain (BSC) network. BSC was launched in 2020 to develop decentralized applications with greater capacity and lower latency and at a faster pace. The chain uses a Proof-of-Stake authority mechanism, a modified version of the Proof-of-Stake mechanism, and seeks to leverage the high transaction capabilities.
Pitbull cryptocurrency is designed in a secure form, with every buy and sell automatically contributing to a liquidity pool (LP) that is forever locked. LPs allow users to trade crypto tokens on decentralized exchanges and other decentralized finance platforms, not needing any centralized market makers. In other words, LPs refer to a pool of cryptocurrencies or tokens that are crowdsourced and locked in a smart contract that supports the trade between assets on a decentralized platform. Half of the token's supply was burned into a dead address in the project's initial phase, so no new changes to the token's contract can be made.
Pitbull Crypto Features
The project's smart contract was professionally audited by TechRate, and the token was confirmed as safe with no high to severe issues, no medium to severe issues, and no low to severe issues. Additionally, the audit confirmed that there are no owner privileges.
The token also lends its support to charities, including Kennel to Couch, a non-profit organization that works with shelters and community partners to safeguard at-risk PITs and offer support and incentives required to motivate the adoption of their sponsored Pitbull. Further, the project plans to implement tools for automatic donations to be given to the charity whenever users purchase NFTs, merchandise, etc.
The token has a community wallet that allows members to donate to develop the project further. Moreover, a few features of the token include the following:
PitTracker: for traders to track their token holdings and their accumulated from auto-staking rewards.
PitCharts: A charting and analysis tool for tokens on BSC.
PitGames: Token's website that enables users to play various games in the browser, and so on.
Pitbull Coin Price Predictions
Future price levels for Pitbull crypto are difficult to predict, however, you can find a number of forecasts of PIT in terms of price. For instance, DigitalCoinPrice experts think that in 2031, Pitbull (PIT) crypto price will reach $0.00000000777 (+2000%).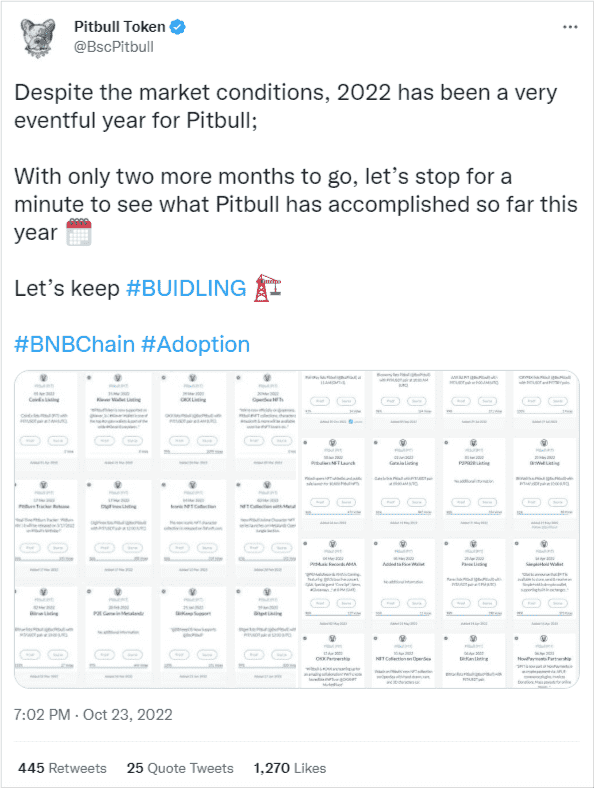 Considering PIT reached a number of goals in 2022, the token may develop further and become a considerable asset in any crypto wallet.
We'd like to remind you that if you're looking for a Pitbull token exchange or simply want to buy Pitbull coin right away, you can do it via StealthEX. Our users can purchase cryptocurrencies using fiat and we still offer the opportunity to buy crypto at fixed rates.

Make sure to follow us on Medium, Twitter, Telegram, YouTube, and Publish0x to get StealthEX.io updates and the latest news about the crypto world. If you need help, drop us a line at support@stealthex.io.
Please make sure to always research any cryptocurrency and assess your risks before you invest.
crypto swap
exchange cryptocurrency
how to buy
PIT
Pitbull
Recent Articles on Cryptocurrency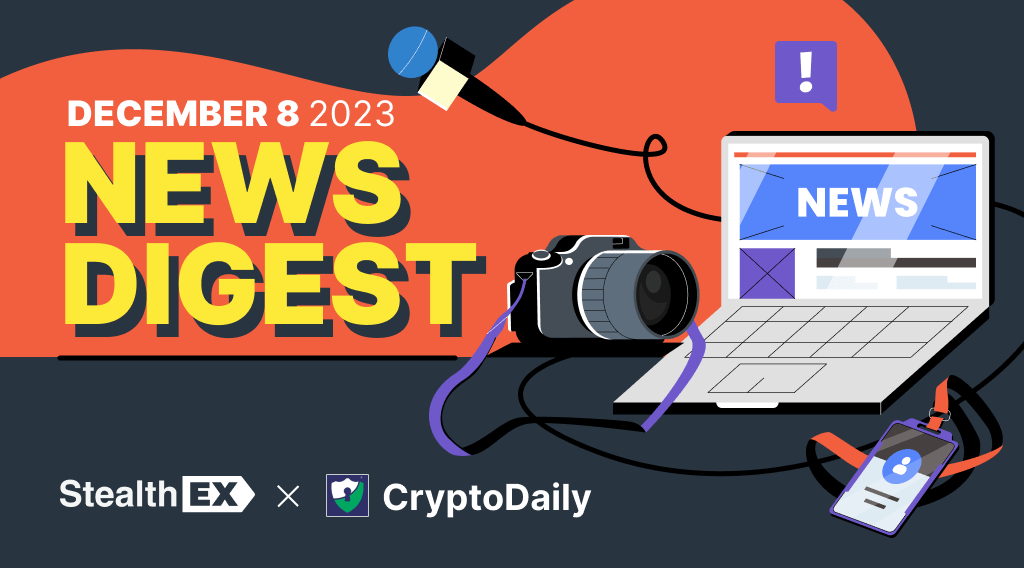 December 8, 2023
Crypto World
StealthEX & CryptoDaily: Weekly Crypto Insights
Explore key cryptocurrency developments and trends in StealthEX's insightful weekly roundup, in partnership with CryptoDaily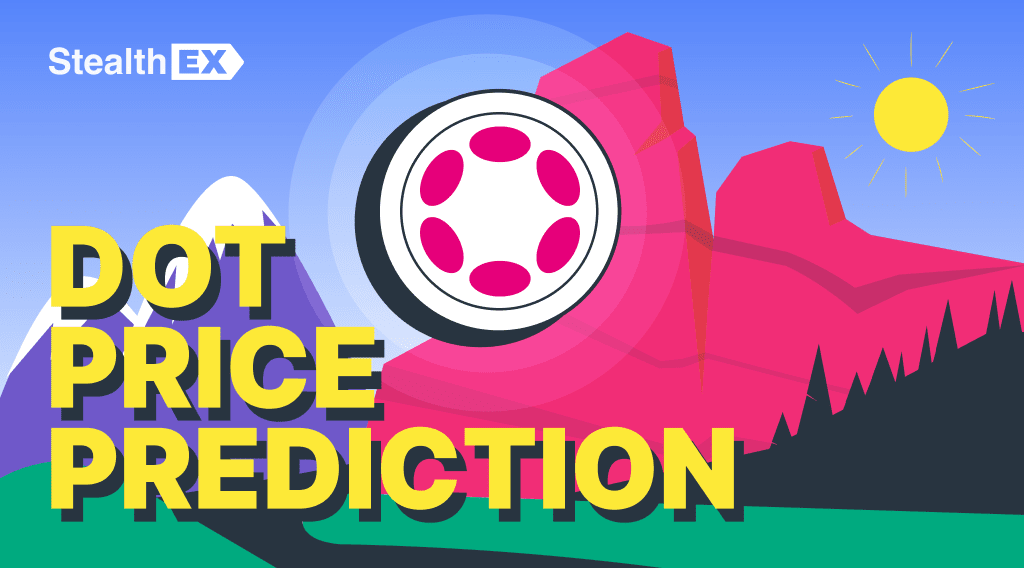 November 29, 2023
Price Prediction
Polkadot (DOT) Price Prediction: Will DOT Coin Reach $1000?
According to the long-term Polkadot price prediction by the end of 2030, the DOT price may rise to $195