CRO Price Prediction 2030: How High Will CRO Coin Go?
October 27, 2022
Price Prediction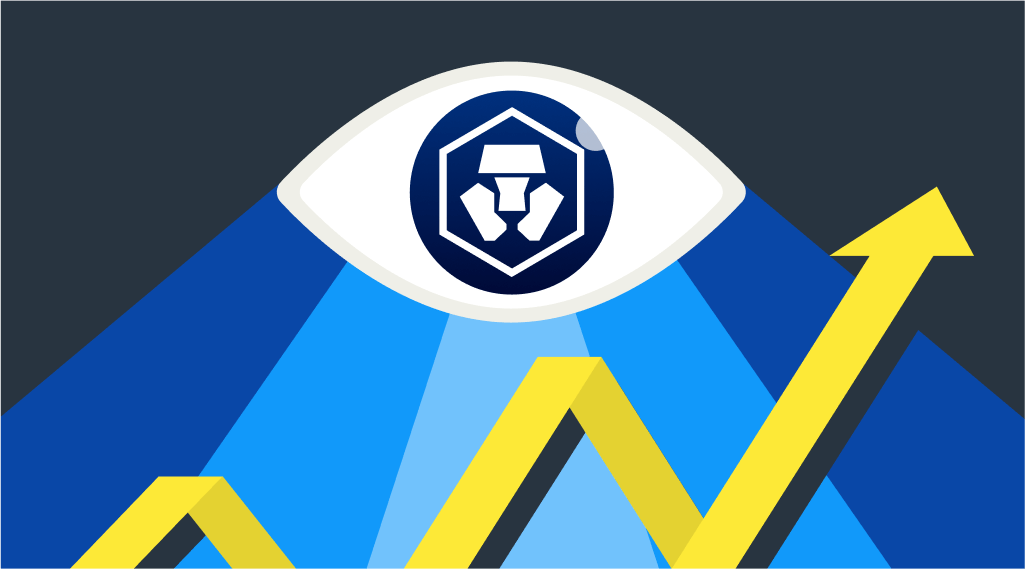 A lot of exchanges have launched their own tokens, for instance, Binance launched BNB token, Huobi launched Huobi token, and KuCoin launched KuCoin token. And Cronos is no exception. Cronos belongs to a popular exchange called Crypto.com. CRO is Cronos's base settlement currency, the native token of its parallel blockchain, the Crypto.org Chain. Read more about CRO price prediction in the new StealthEX article.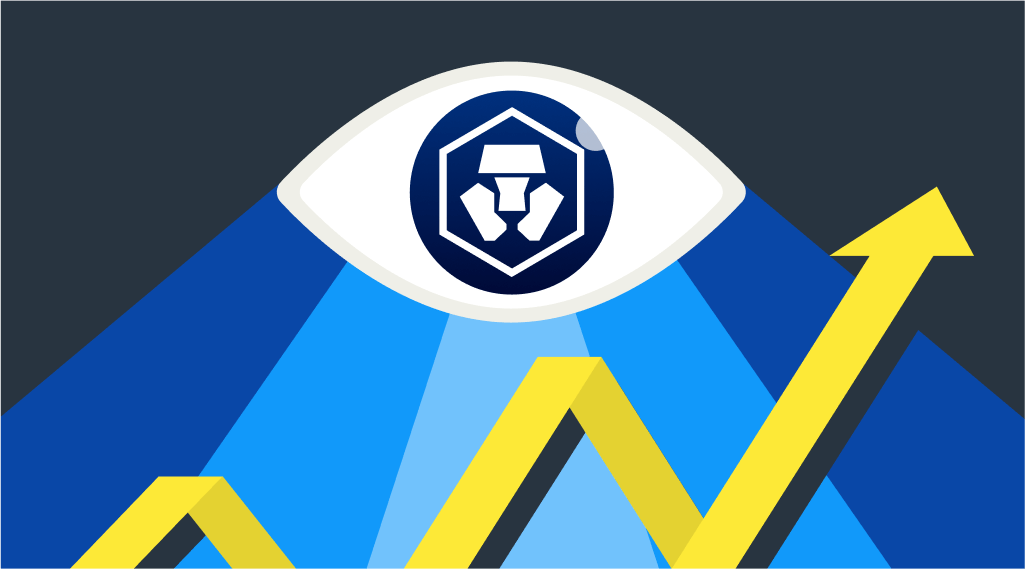 Cronos is the first blockchain network that interoperates with both the Ethereum and Cosmos ecosystems, supporting DeFi, NFTs, and the metaverse. It aims to massively scale the Web3 user community by providing builders with the ability to instantly port apps and crypto assets from other chains with low cost, high throughput, and fast finality. Cronos is powered by Ethermint, which allows for the rapid porting of apps and smart contracts from Ethereum and EVM-compatible chains. Cronos trades on the international market, just like the other tokens.
| | | |
| --- | --- | --- |
| Current CRO crypto price | CRO price prediction 2023 | CRO Coin price prediction 2025 |
| $0.1137 | $0.25 | $0.53 |
CRO Price Prediction
TechNewsLeader CRO Coin Price Prediction 2025
TechNewsLeader experts believe in the value behind CRO and give a very optimistic prediction. According to their estimates, by the year 2025, the token's price will fluctuate between $1.38 (+1,113%) and $1.68 (+1,377%) per coin. Additionally, TechNewsLeader claims that in 2031, CRO will cost between $12.58 (+10,964%) to $15.59 (+13,611%).
PricePrediction.net CRO Price Prediction 2030
PricePrediction.net analytics believe that CRO's earning potential is +515% in one year and +2,802% in five years. They give approximately the same price predictions for the coin as TechNewsLeader. Based on their forecasts, the estimated average CRO price at the end of 2030 will reach $10.20 (+8,870%). At the end of 2031, the average CRO crypto price may reach $15.56 (+13,585%).
DigitalCoinPrice Cronos Price Prediction 2025-2031
DigitalCoinPrice experts do not share the enthusiasm of the previous two sources. According to them, in 2025, the minimum CRO crypto price can only reach a maximum of $0.32 (+181%) per coin, while in 2031, it will reach a slightly higher price level with an average of $0.79 (+594%). This, however, might mean that the website's experts do not believe that a bull market will occur before 2031 as during the previous bull run CRO hit its all-time high of nearly a dollar per coin.
Long-term forecasts for CRO crypto price vary. Despite the market being so unpredictable, some crypto enthusiasts have forecasted CRO potential for 2040. For instance, Telegaon experts think that in 2040, the average price of CRO cryptocurrency may reach $57.23 (+50,234%) per coin depending upon the market trend. The website experts also believe that in 2050, the average price per CRO coin can be around $143.52 (+126,126%). 
Cronos Coin Price Chart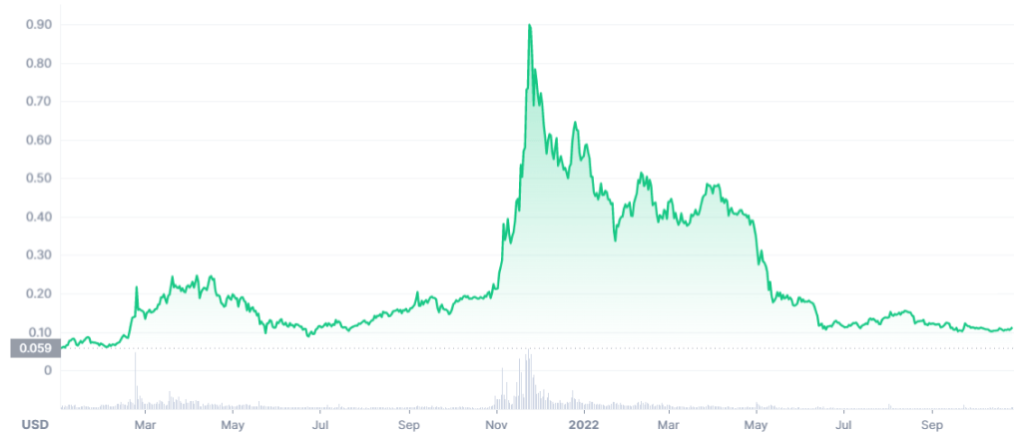 | | |
| --- | --- |
| Current Price | $0.1137 |
| Market Cap | $2,870,509,450.05 |
| Volume (24h) | $47,220,756.80 |
| Market Rank | #26 |
| Circulating Supply | 25.26B CRO |
| Total Supply | 30,263,013,692 CRO |
| 7 Day High / Low | $0.1138 / $0.1014 |
| All-Time High | $0.9698 Nov 24, 2021 |
Source: CoinMarketCap, 26 October 2022
CRO Coin Price Technical Analysis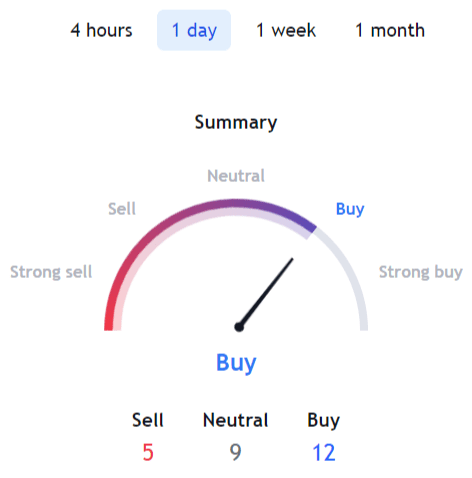 Source: Tradingview, Data was taken on October 26, 2022.
What Is CRO Crypto?
As mentioned before, Cronos is an Ethereum Virtual Machine (EVM)-compatible chain and it allows for easy porting of Ethereum smart contracts and dApps. It is true that Cronos token (CRO) is a digital token that was released by the open-source decentralized platform Crypto.org, and it remains the native token of the crypto exchange.
Crypto.com, the company standing behind the platform, was launched in 2016. It's one of the largest cryptocurrency exchanges in the world and was renamed to Crypto.com in 2018. Before that, it was known as Monaco Technology GmbH. Its platform token, called Monaco Coin (MCO), was also changed to CRO (Crypto.com Coin). With the launch of the Crypto.org blockchain in November 2021, the company rebranded the token name to Cronos but retained the ticker symbol CRO. The popular exchange is run by Kris Marszalek, Rafael Melo, Bobby Bao, and Garry Or. It's one of the 30 leading platforms in the world, and its trading volume in 24 hours exceeds $500M.
Cronos Technologies
The Cronos platform uses a scalable consensus mechanism, which is well protected by the activity of numerous validators. The network is able to process more transactions than Ethereum per minute which makes the system faster, greener, and less expensive when smart contracts are executed. What's more, the system employs the Inter Blockchain Communications (IBC) protocol that delivers interoperability and bridge to the Crypto.org Chain as well as other IBC-enabled chains, for instance, Cosmos Hub. Since it is aimed at the enhancement of interoperability between blockchains, it is often selected by decentralized gaming developers.
Cronos Features
Cronos cryptocurrency has a number of features that crypto enthusiasts find appealing. Among these are the following advantages:
EVM Compatible. Cronos is built on Ethermint, which supports rapid porting of apps & smart contracts from Ethereum and other EVM-compatible chains.
Scalable. Cronos can process more transactions per minute than Ethereum, making it faster, cheaper, and carbon-neutral to execute smart contracts.
Interoperable. The Inter Blockchain Communications (IBC) protocol enables interoperability and bridging to the Crypto.org Chain, and other IBC-enabled chains, such as Cosmos Hub.
Proof-of-Authority (POA). A more streamlined and scalable consensus mechanism consensus protocol while still maintaining security with a range of validators that many different parties run.
Open-source. Crypto.com welcomes the community to review and provide suggestions to strengthen Cronos.
Cronos Developments
The company hit a number of rocks while climbing to Top-30. In 2021, the exchange hired Matt Damon to star in a now-famous ad, which aired on October 28 that year. Following this and the crypto market recession, the actor and the company faced backlash on the Internet for promoting cryptocurrencies.
Additionally, Crypto.com also made sizable efforts to downsize its workforce and brand partnerships during the bear market. The company has cut headcount by more than 2,000 (30%-40% of staff) since layoffs began in 2021. Previous reporting had put the number closer to 1,000, and CEO Kris Marszalek in June said there had been job cuts of 260, or 5% of the workforce.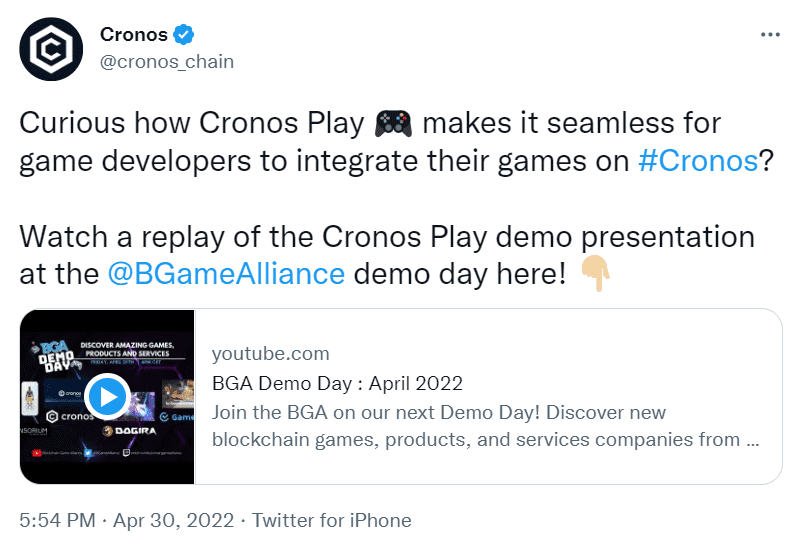 Despite this, the company has been going strong in terms of development. On April 6, 2022, Chronos released Cronos Play, which is a suite of tools and services for developers. The comprehensive package features a modular structure serving to streamline the development of gaming and GameFi apps on the basis of the Cronos ecosystem. Cronos pursues its own strategy for mass adoption of cryptocurrencies, and Cronos Play is one of its essential parts.
On April 8, 2022, the platform launched the IBC bridge with the Akash chain to alleviate cross-chain AKT token transfers. The process went smoothly since the Akash chain is an EVM-compatible chain built with Cosmos SDK.
Cronos Partnerships
Several days ago, Crypto.com signed on to boost Busan's blockchain aspirations. As part of the agreement, Crypto.com and Gate.io will establish regional offices in Busan and provide technology and infrastructure support to the city in building its first city-backed cryptocurrency exchange. Crypto.com pledges to support the growth of local blockchain startups. The exchange is the fourth global cryptocurrency platform to sign with Busan, following Binance, FTX and Huobi Global. In 2019, Busan was designated as a 'special blockchain regulation-free zone,' which allows blockchain developers to bring forth projects or ideas to the city government that might be restricted elsewhere in Korea due to regulations.
Peregrine Corporation, a private company, based in South Australia, has also teamed with Crypto.com to allow over 170 On the Run (OTR) convenience stores, like gas stations, eateries, and drive-throughs, to issue cryptocurrency as a payment option.
Moreover, Cronos has teamed up with Chainalysis, a blockchain intelligence startup, to provide real-time transaction monitoring capabilities for the Cronos (CRO) token and all other CRC-20 tokens on the Cronos network. The partnership indicates another step forward in the growth and adoption of the Cronos blockchain and digital assets. App developers and service providers will access the most innovative tools and services available.
Is CRO Coin a Good Investment?
Taking into consideration the fact that major crypto exchanges are the ones to drive mass crypto adoption, it's quite logical to assume that during the bull market their native tokens will rise. An improving cryptocurrency market and widespread interest in blockchain technology are likely to keep boosting CRO's price, in addition to the rising demand for CRO tokens on Crypto.com and the Cronos network. Many experts believe that Cronos is undervalued and may very well be profitable for the long term.
Where to Buy CRO Coin?
StealthEX is here to help you buy CRO crypto. You can do this privately and without the need to sign up for the service. Our crypto collection has more than 600 different coins and you can do wallet-to-wallet transfers instantly and problem-free.
How to Buy CRO Crypto?
Just go to StealthEX and follow these easy steps:
Choose the pair and the amount you want to exchange. For instance, BTC to CRO.
Press the "Start exchange" button.
Provide the recipient address to transfer your crypto to.
Process the transaction.
Receive your crypto coins.

Follow us on Medium, Twitter, Telegram, YouTube, and Reddit to stay updated about the latest news on StealthEX.io and the rest of the crypto world.
Don't forget to do your own research before buying any crypto. The views and opinions expressed in this article are solely those of the author.
CRO
Cronos
crypto price prediction
price analysis
price prediction
Recent Articles on Cryptocurrency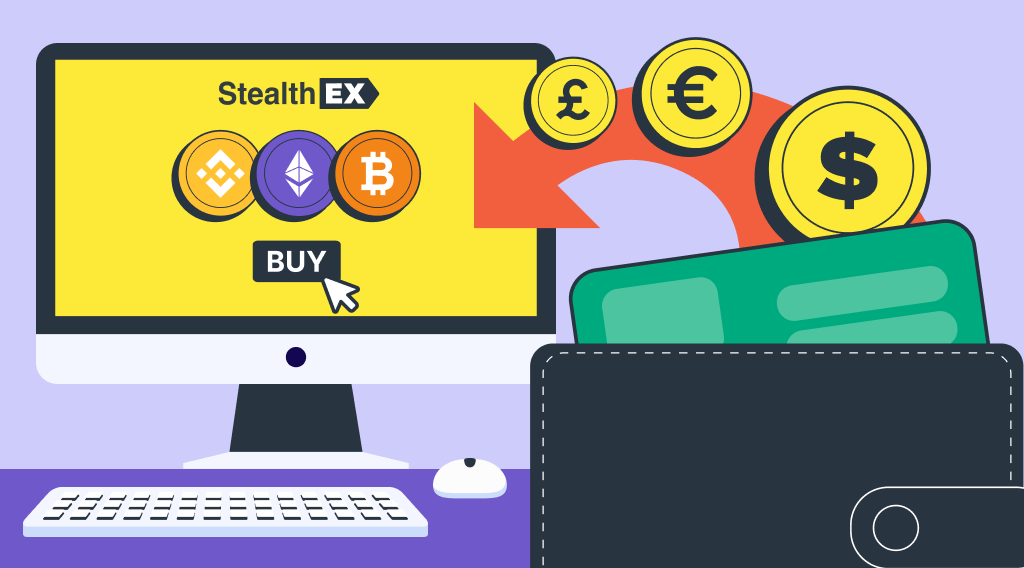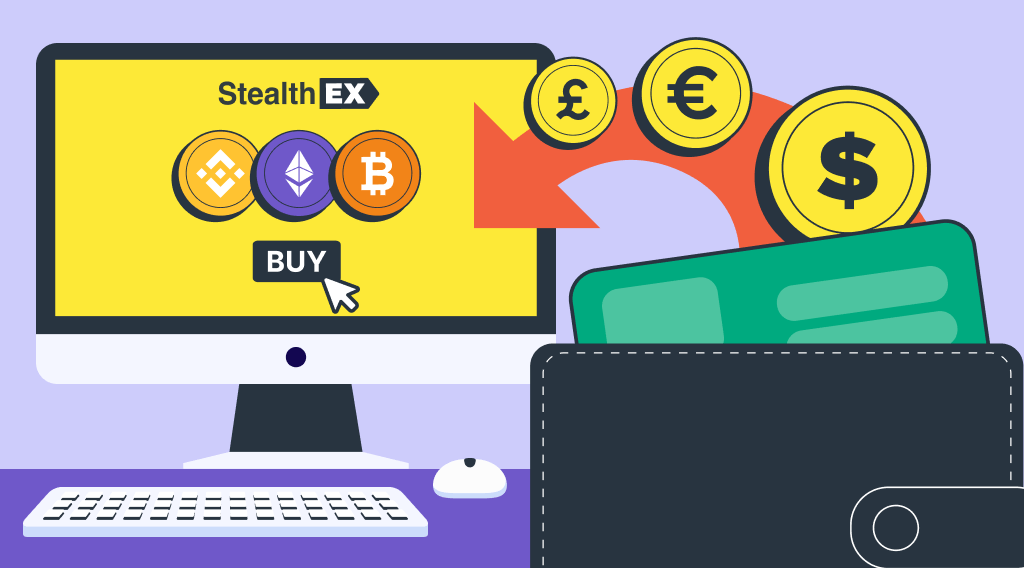 March 29, 2023
Our News
Buy Crypto with Credit Card: Fast & Easy on StealthEX
Buy crypto with a credit card on StealthEX: a secure, user-friendly platform for seamless and convenient transactions.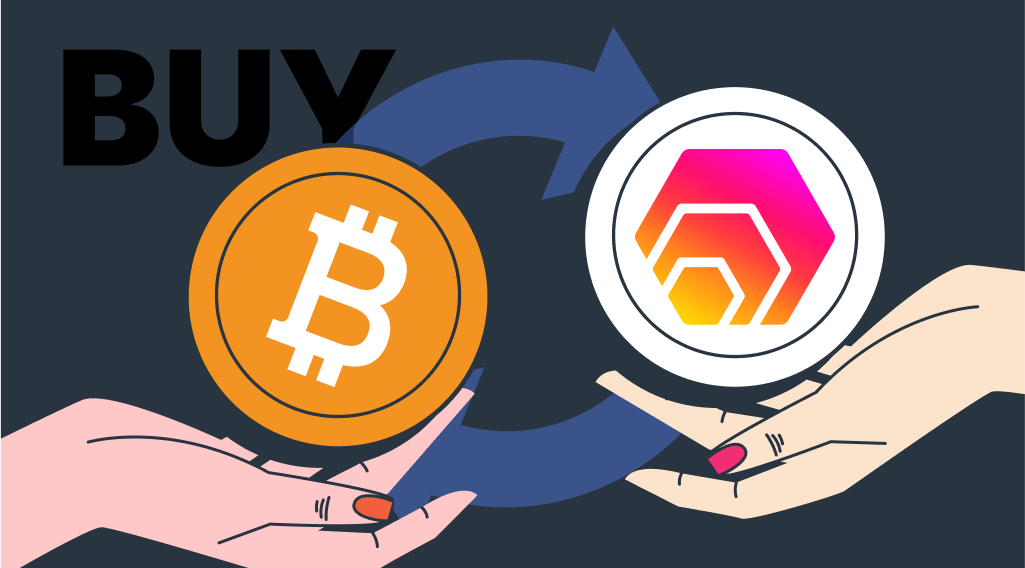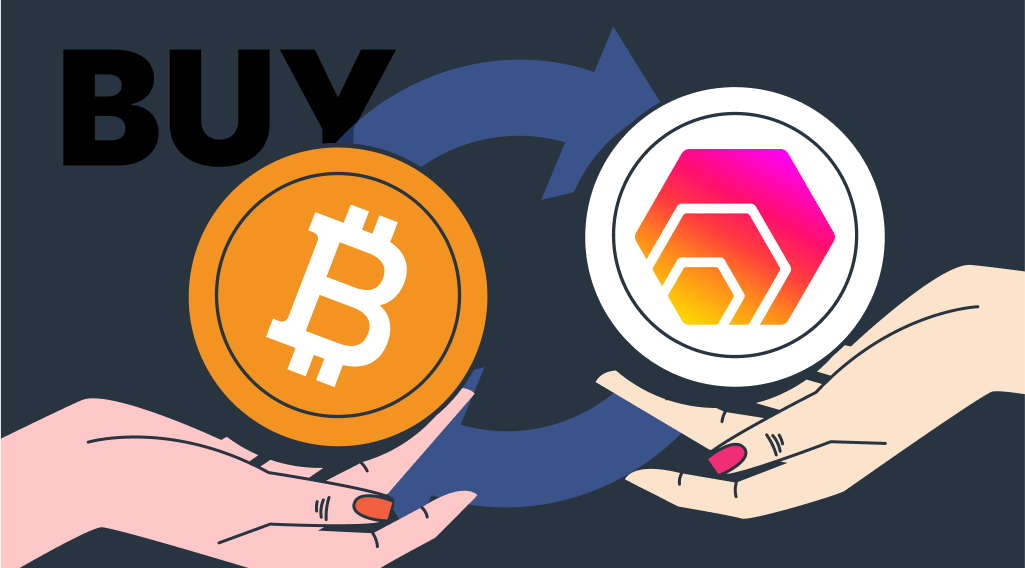 March 28, 2023
How to Buy
Where and How to Buy HEX Coin: A Comprehensive Guide
Learn to buy HEX coin effortlessly with our guide, exploring its background, benefits, and potential as an investment.