MANA Price Prediction: Can Decentraland Coin Reach $100?
August 10, 2023
Price Prediction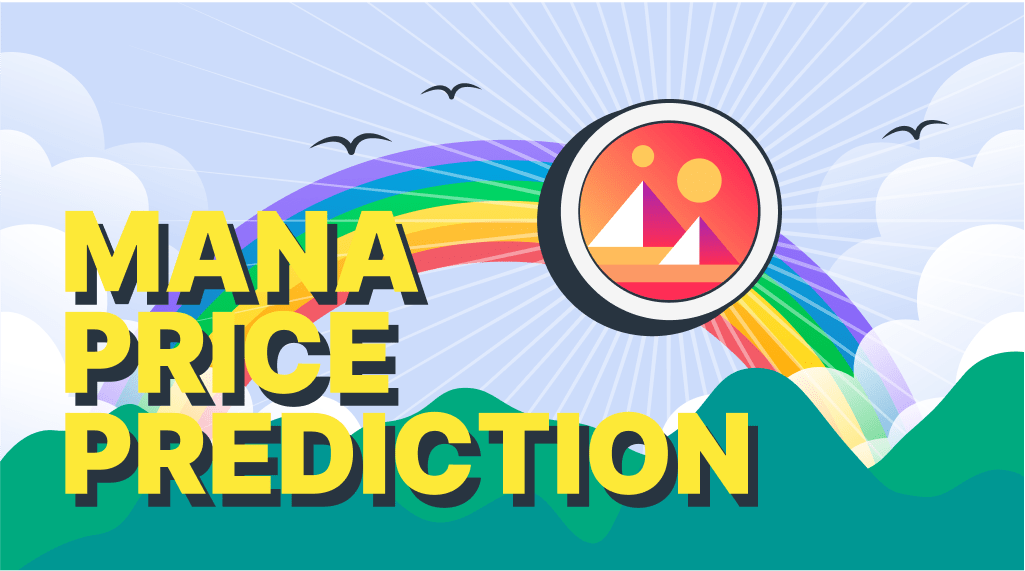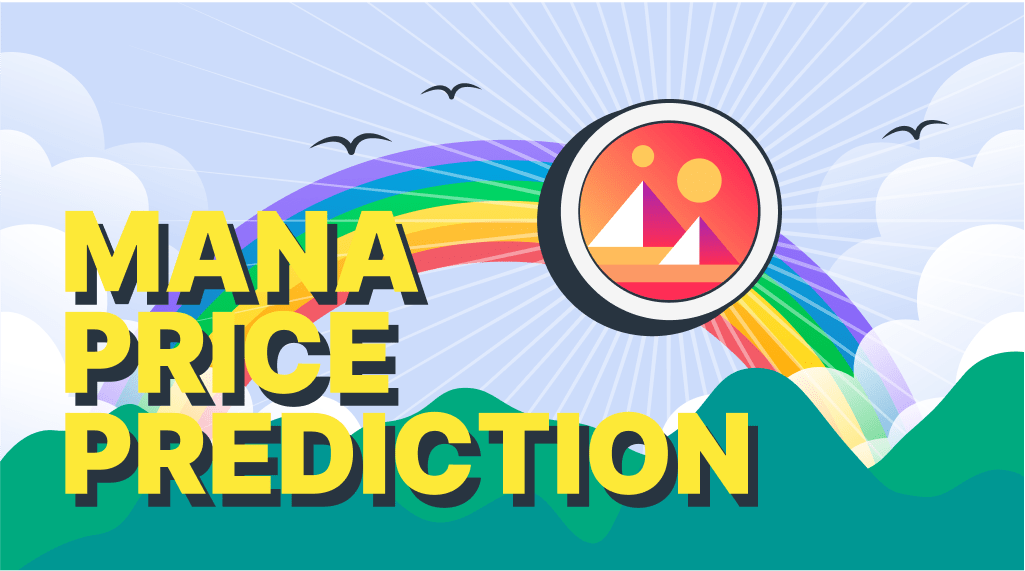 One of the fields the crypto industry has opened access to is metaverses, emerging digital spaces that use virtual reality and augmented reality. There's a number of projects that work on creating this kind of game platform, and one of the most well-known is Decentraland. Decentraland is a three-dimensional simulation of reality that features its own cryptocurrency, MANA. Initially released in 2020, this open-world metaverse represents a 3D user-owned digital game built on Ethereum. Let's take a look at the project's probable popularity in the future. Read more about MANA price prediction in the new StealthEX article.
Decentraland Overview: A Virtual World According to Your Taste
| | |
| --- | --- |
| Current Price | $0.369 |
| Market Cap | $697,570,008 |
| Volume (24h) | $42,607,686 |
| Market Rank | 57 |
| Circulating Supply | 1,893,095,371 MANA |
| Total Supply | 2,193,179,327 MANA |
| 1 Month High / Low | $0.4452 / $0.3589 |
| All-Time High | $5.9 Nov 25, 2021 |
What is Decentraland? It is software running on Ethereum that seeks to incentivize a global network of users to operate a shared virtual world. Users of Decentraland can explore, engage, and play games in this virtual environment while buying and selling digital property. The platform has developed over time to include user-interactive apps, in-world payments, and peer-to-peer communication. In Decentraland, operations are governed by two distinct sorts of tokens:
LAND is a non-fungible token (NFT) used to specify who owns land parcels that serve as representations of virtual property.
MANA makes it easier to buy LAND as well as digital items and services for usage in Decentraland.
The initial supply of the token is pegged at 2.8 billion MANA. The LAND auctions have seen up to 600 million MANA burned. The figure is likely to plummet with time due to burning mechanisms that have been put in place. This mechanism includes a 2.5% MANA burn on every transaction on the Decentraland marketplace. During the Initial Coin Offering of MANA, about 40% of the tokens were sold. More so, the team retained 20% to incentivize the community, while 20% of the token went to the development team and others that contributed to the project at its development stage. Lastly, 20% was as well held by Decentraland.
Decentraland (MANA) Price History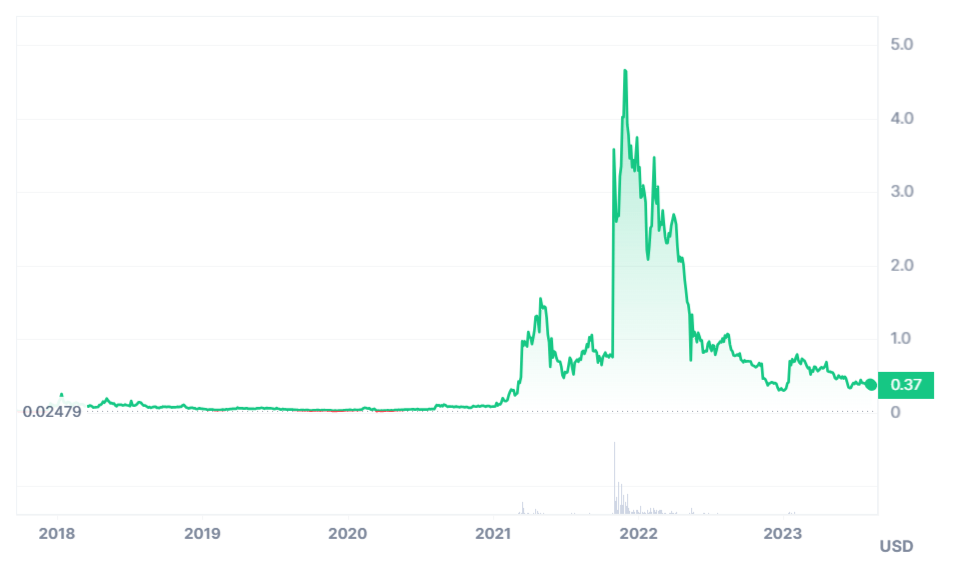 MANA Price History. Source: CoinMarketCap, 10 August 2023
In September 2017, MANA started trading at about $0.02. For the following few months, there was no price growth, and MANA occasionally fell below $0.01 due to small drops. By the end of the year, prices had broken $0.1 after starting to trend upward in December.
In 2018, the uptrend continued, peaking in January at $0.3. Over the course of the following week, prices fell to $0.08, and the remainder of the year was largely spent in decline.
Throughout the first few weeks of 2019, MANA's price fell steadily, reaching a low of $0.03 in February. After that, the first quarter saw some rises, with prices peaking at $0.08 at the end of March. The following few months took a downward turn after remaining stable until July, and MANA touched a low of $0.02 at the end of November. By the end of the year, MANA had recovered $0.03 following a trend reversal.
Prices rose as high as $0.07 in February 2020 due to persistent bullish momentum, but MANA soon dropped to a low of $0.01 in March following an almost 50% drop in value in a single day. This signaled the beginning of a phase of gradual expansion that turned exponential in August when prices hit $0.13. MANA consolidated for the remainder of the year and finished 2020 with a value of $0.08, more than double the year's beginning price.
As MANA continually recorded higher highs and lower lows throughout January and February of 2021, the rally picked back up. In the first half of March, the price gain became steeper, and for the following several weeks, MANA was more volatile, with regular pullbacks of over 30%. MANA achieved an all-time high of $1.68 on April 17, 2021, when its market cap was more than $2.1 billion. This indicated an increase of 2,000% for the entire year. At the moment, the price of MANA stays around a price level of $0.3. MANA's price trajectory as a whole frequently follows a boom-and-bust cycle. This is a trend where there is a rise in price during a time of increasing excitement, followed by a decline when doubt and disillusionment set in.
MANA Price Prediction 2023, 2025, 2030-2050
| | | | | | |
| --- | --- | --- | --- | --- | --- |
| Current MANA Coin Price | MANA Price Prediction 2023 | MANA Price Prediction 2025 | MANA Price Prediction 2030 | MANA Price Prediction 2040 | MANA Price Prediction 2050 |
| $0.369 | $0.81 | $1.34 | $35.63 | $108.31 | $265.12 |
Decentraland Price Prediction 2023
DigitalCoinPrice crypto analysts believe that the price of MANA will rise insignificantly: according to their website, the minimum price of Decentraland coin might drop to $0.33 (-10%), while its maximum price, $0.81 (+118%), will hover just below one dollar.
WalletInvestor crypto analysts have a very broad prediction for the Decentraland coin in 2023. According to their calculations, the cryptocurrency's price can go as low as $0.000001 (-99%). At its maximum, MANA coin might reach $0.741 (+99%).
PricePrediction experts do not expect MANA coin's price to skyrocket. They believe that in 2023, the expected maximum price of MANA will rise as high as $0.46 (+24%), and it may also drop to a minimum of $0.41 (+10%).
MANA Price Prediction 2025
DigitalCoinPrice believe that Decentraland cryptocurrency will steadily rise in price. Based on the experts' forecasts, in 2025, MANA crypto might go as high as $1.34 (+261%) per coin at its highest point. Its minimum price might go as low as $1.09 (+194%).
WalletInvestor experts believe that in 2025, MANA coin will reach the lowest price level of $0.0266 (-92%). Its maximum price will also go way below its current price – $0.0797 (-78%).
PricePrediction, on the contrary, believes that MANA coin will be rising in price over the next few years, and the expected maximum price of Decentraland coin at the end of 2025 will be $1.06 (+185%), and it may also drop to a minimum of $0.91 (+145%).
MANA Price Prediction 2030
According to DigitalCoinPrice forecasts, Decentraland coin will be making significant progress: in 2030, the highest price MANA coin may reach is $3.85 (+938%) per coin. It can also insignificantly drop in price to a minimum of $3.6 (+871%) per coin.
PricePrediction analysts expect MANA coin to go higher: at the end of 2030, its maximum price is estimated to rise to $6.81 (+1737%), and it may also drop to a minimum of $5.75 (1,451%).
Telegaon analysts believe that by 2030, MANA coin will reach its highest price levels and its absolute all-time high. According to their estimations, Decentraland coin's minimum price can go as low as $29.21 (+7,779%) per coin, while at its highest point it may reach $35.63 (+9,511%).
Decentraland Coin Price Prediction 2040
Telegaon provides us with long-term predictions for Decentraland crypto. Though the crypto market is highly volatile, the website's analysts believe that by 2040, the price of Decentraland cryptocurrency will reach $108.31 (+29,117%) at its highest point. Its minimum price is estimated to be $86.13 (+23,134%).
Decentraland MANA Price Prediction 2050
Telegaon also provides us with new price records for MANA for the year 2050. The coin's minimum price may rise even higher to break the $200 mark: $225.56 (+60,747%), while at its highest point MANA crypto can reach $265.12 (+71,418%).
MANA USDT Price Technical Analysis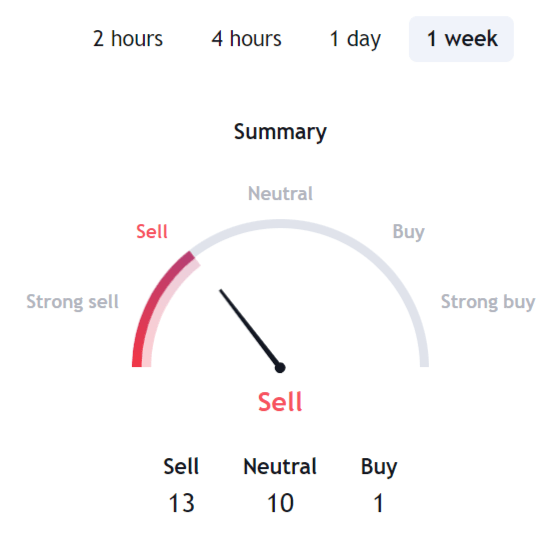 Source: Tradingview, Data was taken on August 10
Now that we've seen what the future can bring for MANA coin, let's find out a bit more about its features.
How Does Decentraland Work?
The Decentraland app is designed to keep track of land plots identified by LAND tokens. The software uses the Ethereum blockchain to keep track of who owns what digital real estate, and in order to interact with its ecosystem, users must possess its MANA token in an Ethereum wallet.
Additionally, developers are free to innovate on the Decentraland platform by creating the animation and user interface for their digital properties. Decentraland's architecture is made up of numerous layered elements created with Ethereum smart contracts.
The consensus layer keeps track of who owns which land pieces in a ledger. Each LAND parcel has a specific virtual world coordinate, an owner, and a link to a description file that describes the contents of the parcel. Each parcel's behavior is controlled by the content layer, which also contains the various files needed to render them:
Content Files – referencing all static audio and visuals.
Script Files – defining the placement and behavior of the referenced content.
Interaction Definition – peer-to-peer interactions such as gesturing, voice chat, and messaging.
The real-time layer also enables voice chat and messaging through user avatars, facilitating social interactions within Decentraland.
MANA Coin Use Cases
The broad overview of Decentraland MANA makes it easier to comprehend that MANA is the ecosystem's currency. How might you use it? Here are a few significant ways that MANA can benefit users of Decentraland:
Crypto wallet. The crypto wallet is one of the key issues while using the Decentraland metaverse. To interact with the Decentraland metaverse as a user, you must connect a blockchain wallet to it. All of the digital assets and data associated with all Decentraland experiences and transactions are stored in the wallet. To ensure seamless use of the wallet in various transactions on the Decentraland metaverse, users will need a MANA token.
Purchase virtual real estate. The Decentraland metaverse's design is clearly centered around the virtual land parcels. There are many virtual properties for sale, and MANA is necessary to purchase land parcels.
Trading MANA. Trading MANA is a reliable tool for buying and selling items with token-based values. In the event of a downturn, users could select goods and lands for comparatively lesser value and put them up for auction on the Decentraland marketplace. The analysis of Decentraland's MANA prediction for trading reasons reveals yet another potential application for MANA.
Virtual real estate mortgage. Mortgage applications may be aided by the option of making minimal down payments with MANA tokens. The mortgages might be used to buy a piece of virtual land in Decentraland. Users might then begin making tiny payments and eventually pay off the mortgage in accordance with conventional interest rates.
Decentraland Roadmap
In Q1 of 2023, Decentraland has continued to promote its platform by attracting more partners. Additionally, over 50 new creators were onboarded in Q1 by working with MVFW23 partners such as IoDF, The Fabricant, Altr and others. The Foundation worked with studio partners to help launch over 20 large scale activations including the second year of the Australian Tennis Open, Buxom Cosmetics, Pedigree Foster Dog campaign, Amorepacific, Doritos' Superbowl campaign, plus amazing fashion activations during MVFW23 from brands such as adidas, Tommy Hilfiger, Alo, and more.
The latest version of the SDK will bring with it big changes that will raise the bar on what can be done with Decentraland content. The platform creators also continue to work on its features, bringing more in-game assets and an improved interface with more scene animations.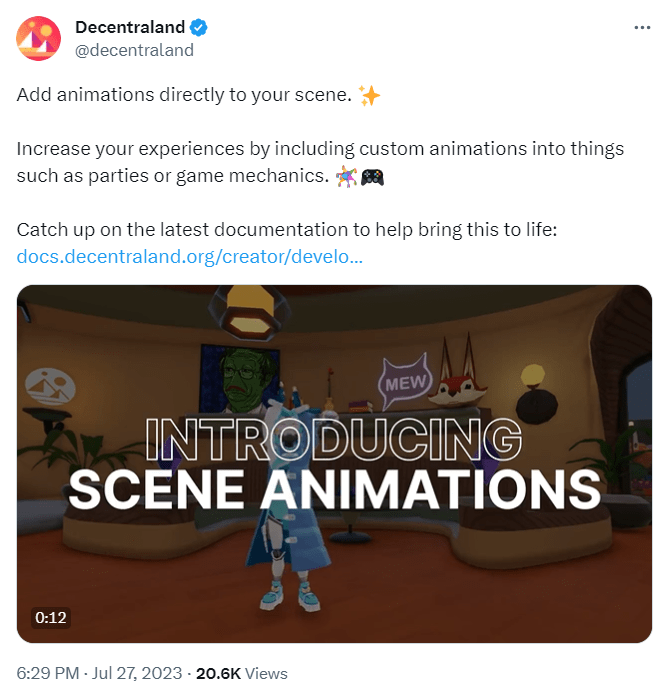 Decentraland Price Predictions: Expert's Opinion
Positive Decentraland MANA future forecasts should be taken into consideration due to the nature of Decentraland and its functions. The immersive and interesting experiences in Decentraland have drawn a lot of user curiosity. The metaverse goes well beyond virtual concerts.
Future Decentraland development will supply various brand-new and cutting-edge capabilities as the community expands. The main component of the entire Decentraland ecology is MANA. It enables you to purchase virtual property, manage your wallet, obtain a mortgage for virtual property, and even trade it on other exchanges. Some crypto experts go as far as to claim Decentraland to be one of the most promising coins on the market.
It is impossible to anticipate prices with any degree of confidence because a wide range of diverse circumstances could have an impact on how much Decentraland will eventually be worth. However, due to its fixed supply, MANA's price may rise in the event that Decentraland's user base expands in the future.
How High Can Decentraland Go?
Whatever the scenario, Mana is unlikely to reach a price of $1,000, however, at 50% every year, Mana could reach $50 in about 7 years.
Is Decentraland a Good Investment?
The demand for LAND and in-game purchases, developments in the rest of the crypto market, and changes in the overall economy are just a few of the many variables that have influenced the price of MANA. The market's equilibrium between supply and demand determines its current valuation, which is dynamic. It may be a good investment for those who believe that the concept of metaverses will become even more popular in the future.
Can Decentraland Price Reach $1?
MANA has the potential to reach $1 within the next few years.
Can Decentraland Coin Price Reach $10?
With a potential surge the price may go as high as $10.67 by the end of 2030.
Can Decentraland (MANA) Price Reach $100?
For MANA to reach the $100 target, MANA investors need to wait for a few years. The element that can drive Mana's success is an active Burn program. While a price prediction of $100 appears quite a stretch, it could all change if there was an active burn program that eliminates about 50% of the MANA tokens. That could push Mana to $100 by the end of this decade.
How to Buy Decentraland via StealthEX
StealthEX is here to help you buy Decentraland coin if you're looking for a way to invest in this cryptocurrency. You can do this privately and without the need to sign up for the service. Our crypto collection has more than 1300 different coins and you can do wallet-to-wallet transfers instantly and problem-free.
Just go to StealthEX, choose the amount and cryptocurrencies you want to swap, click Start Exchange, and get MANA coin to your wallet!

Follow us on Medium, Twitter, Telegram, YouTube, and Publish0x to stay updated about the latest news on StealthEX.io and the rest of the crypto world.
Don't forget to do your own research before buying any crypto. The views and opinions expressed in this article are solely those of the author.
crypto price prediction
Decentraland
MANA
metaverse
price analysis
Recent Articles on Cryptocurrency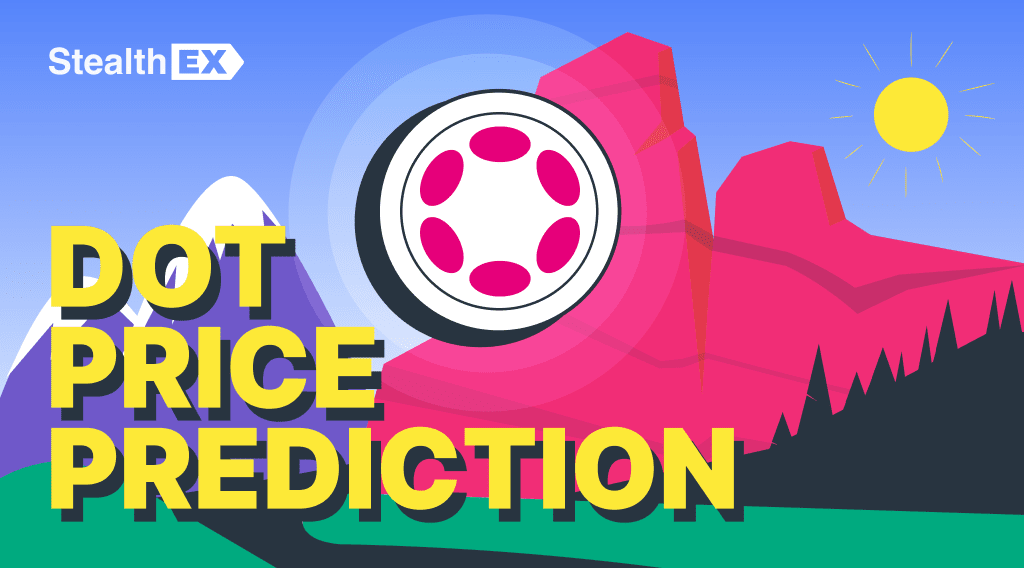 November 29, 2023
Price Prediction
Polkadot (DOT) Price Prediction: Will DOT Coin Reach $1000?
According to the long-term Polkadot price prediction by the end of 2030, the DOT price may rise to $195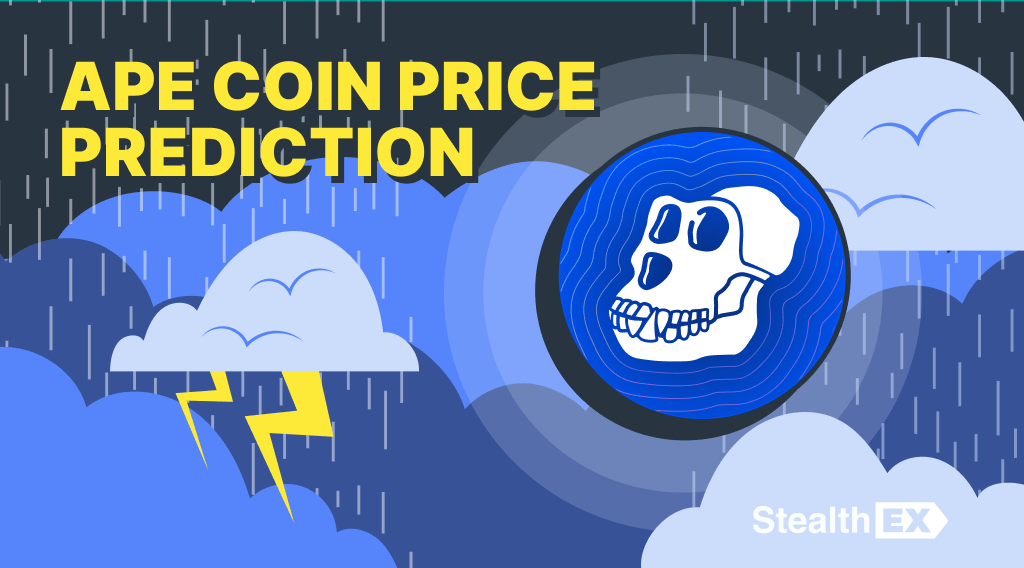 November 29, 2023
Price Prediction
ApeCoin Price Prediction: Is APE Coin a Good Investment?
According to the long-term ApeCoin price prediction by the end of 2030, the APE price may rise to $250