Buy Crypto with Credit Card: Fast & Easy on StealthEX
March 29, 2023
Our News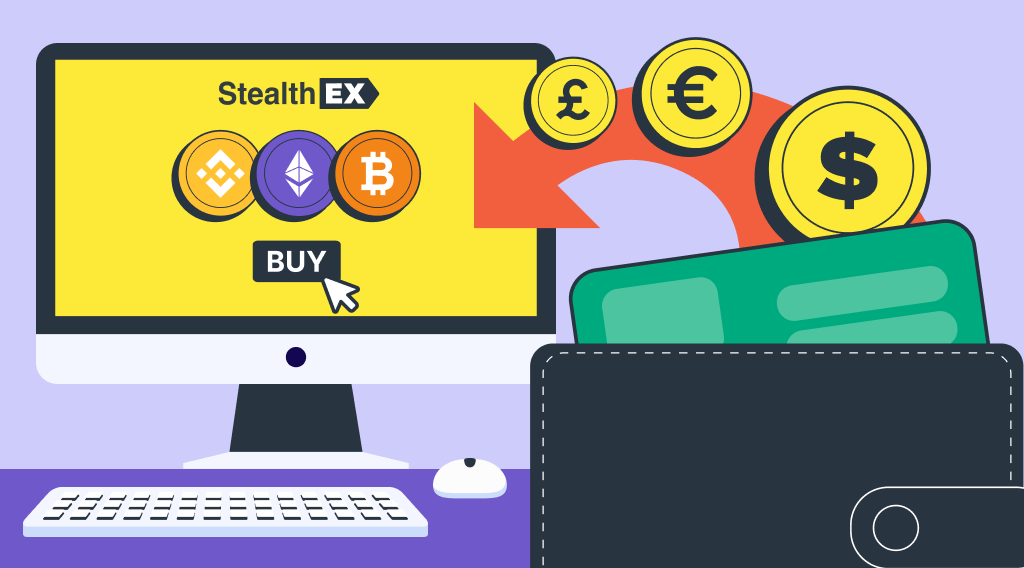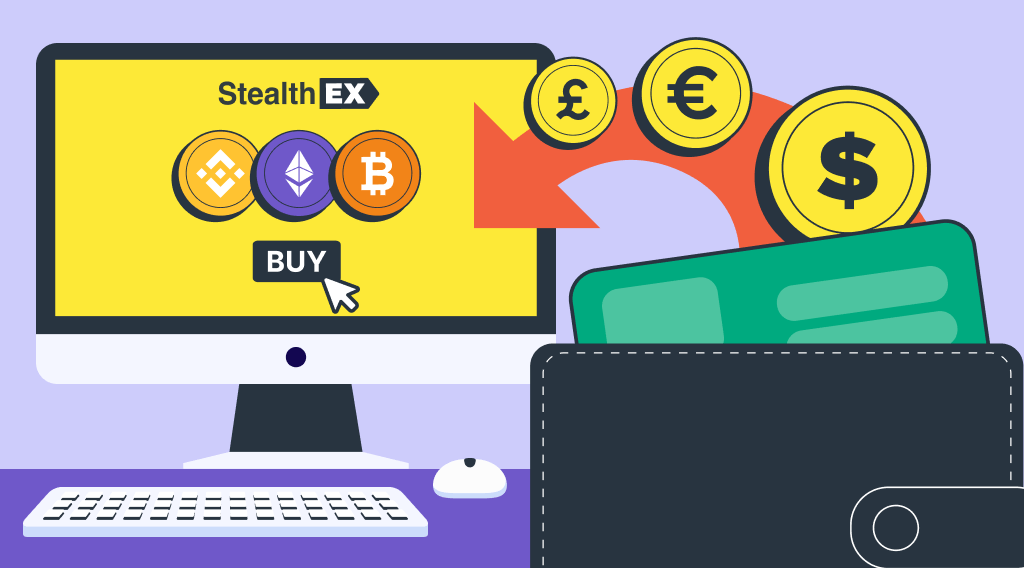 StealthEX is here for you if you're looking for an instant crypto exchange to buy crypto with credit card using fiat currency!
Buying crypto with a credit card can be exceptionally convenient if you'd like to invest in cryptocurrencies but are just starting out as a crypto enthusiast. The platform's interface is so easy-to-understand and user-friendly that it'll take you less than a minute to figure it out. As StealthEX is a non-custodial platform, it does not store your private keys, making the exchange private and secure. All you'll need to do a coin swap via StealthEX is a crypto wallet and your credit/debit card. Pretty simple, isn't it?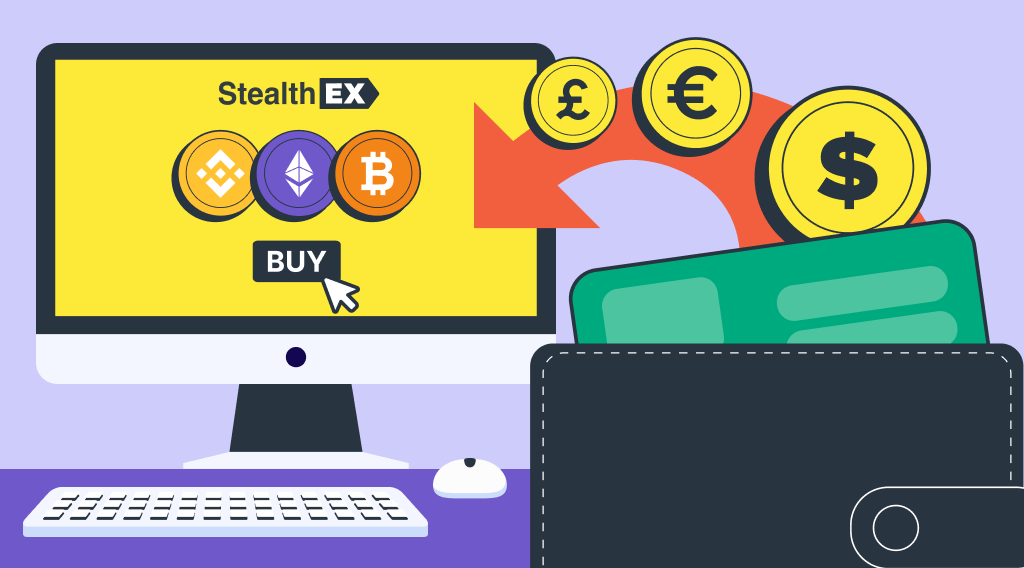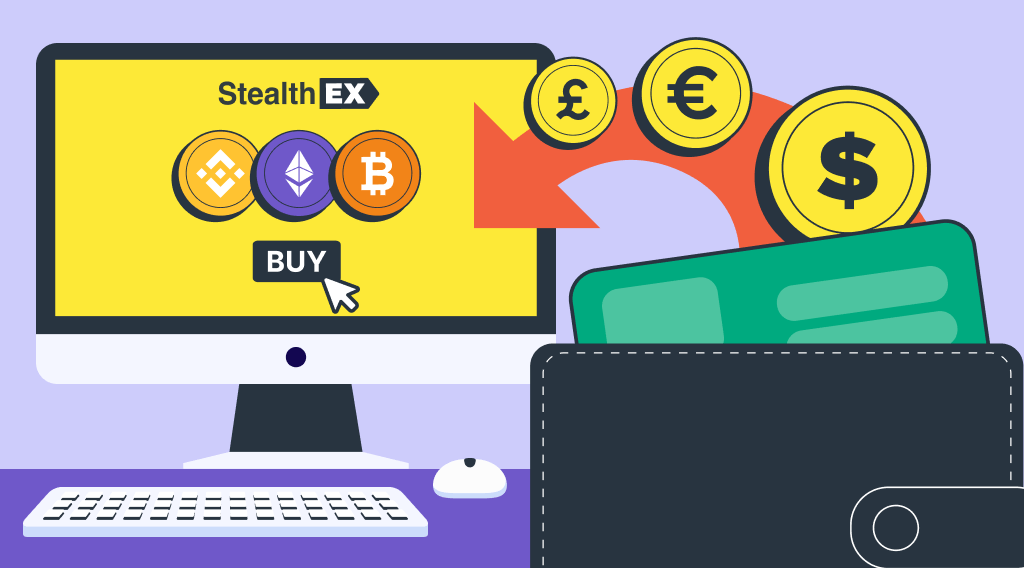 This exciting feature became available thanks to our partnership with a well-known fintech company – Mercuryo. The platform strives to provide their customers with the best services in the crypto market, and thanks to this StealthEX-Mercuryo collaboration, StealthEX users can now not only exchange crypto, but also initiate fiat-crypto swaps.
Can You Buy Crypto with a Credit Card? Yes, Use StealthEX!
Fiat to crypto swaps via StealthEX are done in a straightforward, simple, and hassle-free process. So how do you buy cryptocurrency with your credit card? To initiate the purchase just go to StealthEX and follow the instructions below:
Switch from Exchange to the Buy crypto section. Select a fiat currency, for example, USD, from the left drop-down list and BTC cryptocurrency from the right list of coins.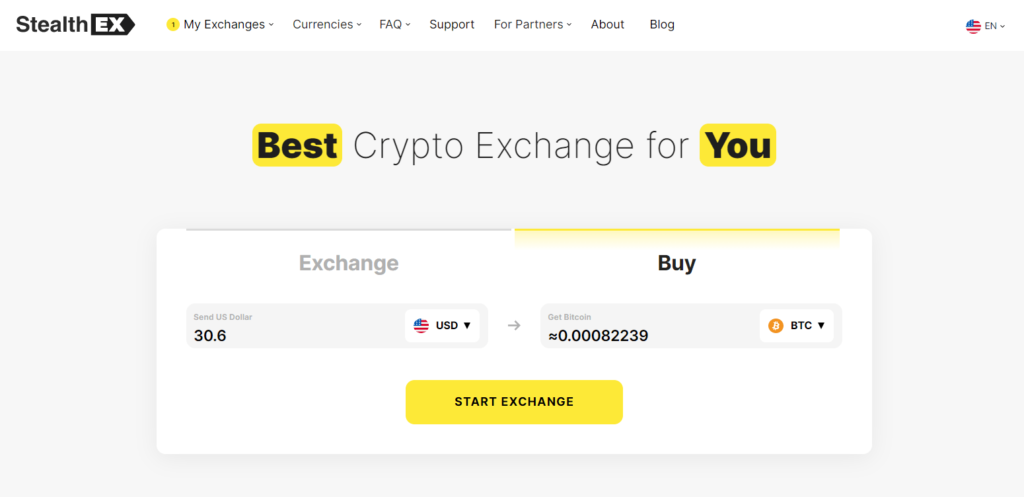 Enter the amount of fiat money he wants to exchange. Then the estimated amount of Bitcoin that you will receive appears in the right column. Press the Start Exchange button.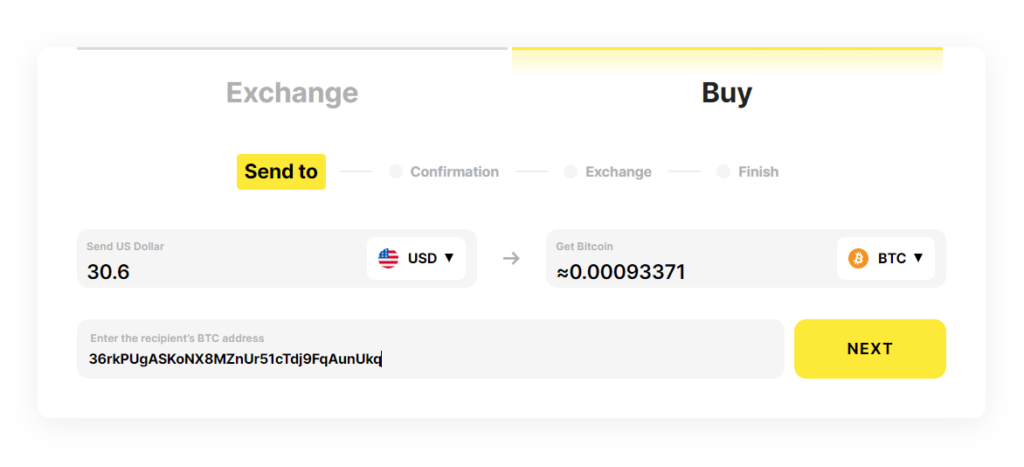 As the next step, you need to provide the Bitcoin recipient address. The recipient address must match the cryptocurrency you are going to receive. Remember to double-check the information you enter prior to the exchange as the transaction you make cannot be canceled.
As soon as you have carefully checked all the details, you can press the Next button and you will be redirected to the Confirmation page with the information about the exchange.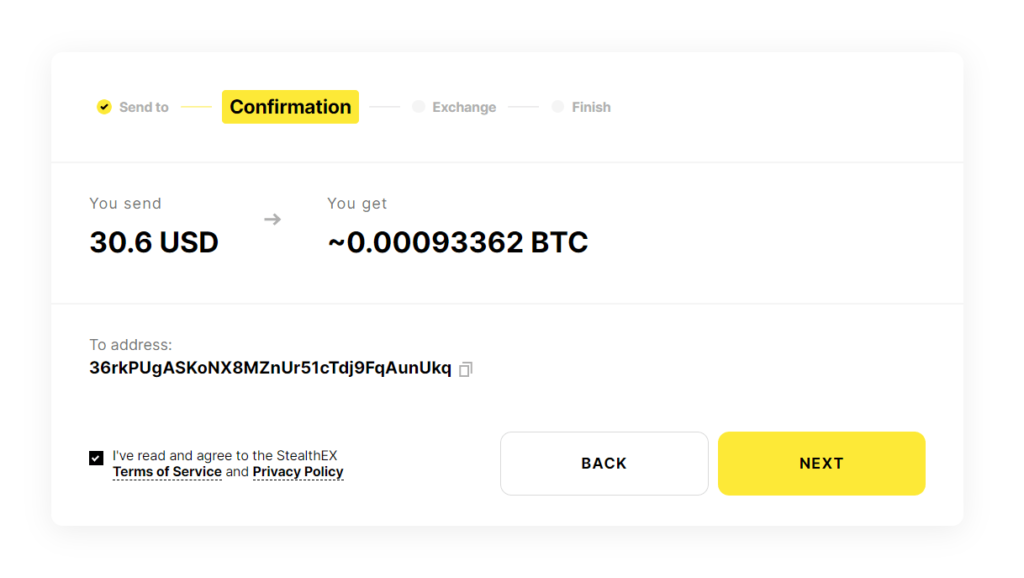 Here you can revise the address provided and the amount of BTC cryptocurrency you will receive.
Pressing the Next button you will be redirected to the Exchange page. Before purchasing crypto, read the Terms of Service of StealthEX and agree with them. By doing this, you confirm that you understand that our platform is not responsible for any claims, damages or costs arising from your use of Mercuryo services.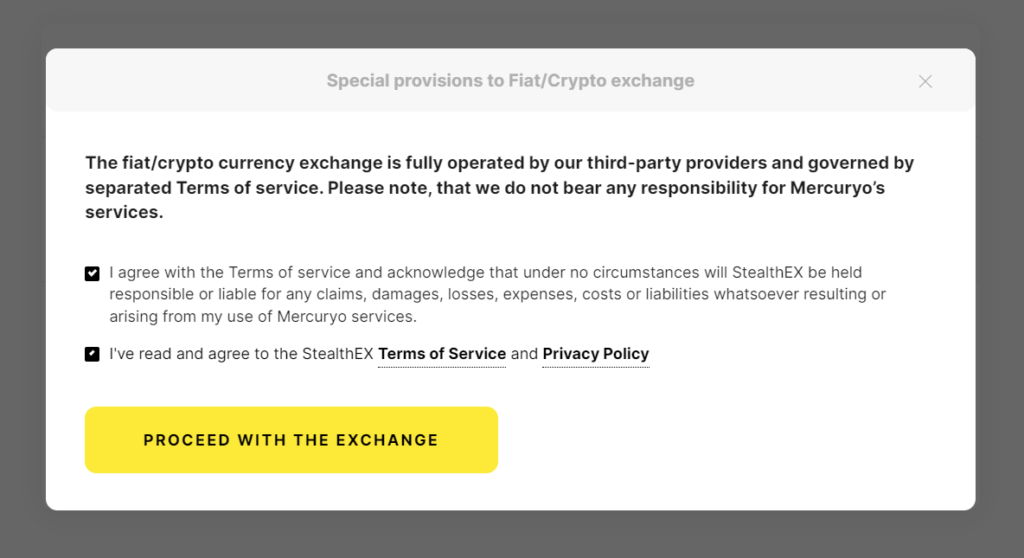 After pressing the Proceed with the Exchange button, the Mercury service will be opened inside the StealtEX interface.
Buying Crypto with Mercuryo Inside the StealtEX Interface
If you purchase crypto via Mercuryo for the first time, you have to verify your identity. You aren't required to go through this procedure again if you've already used these services.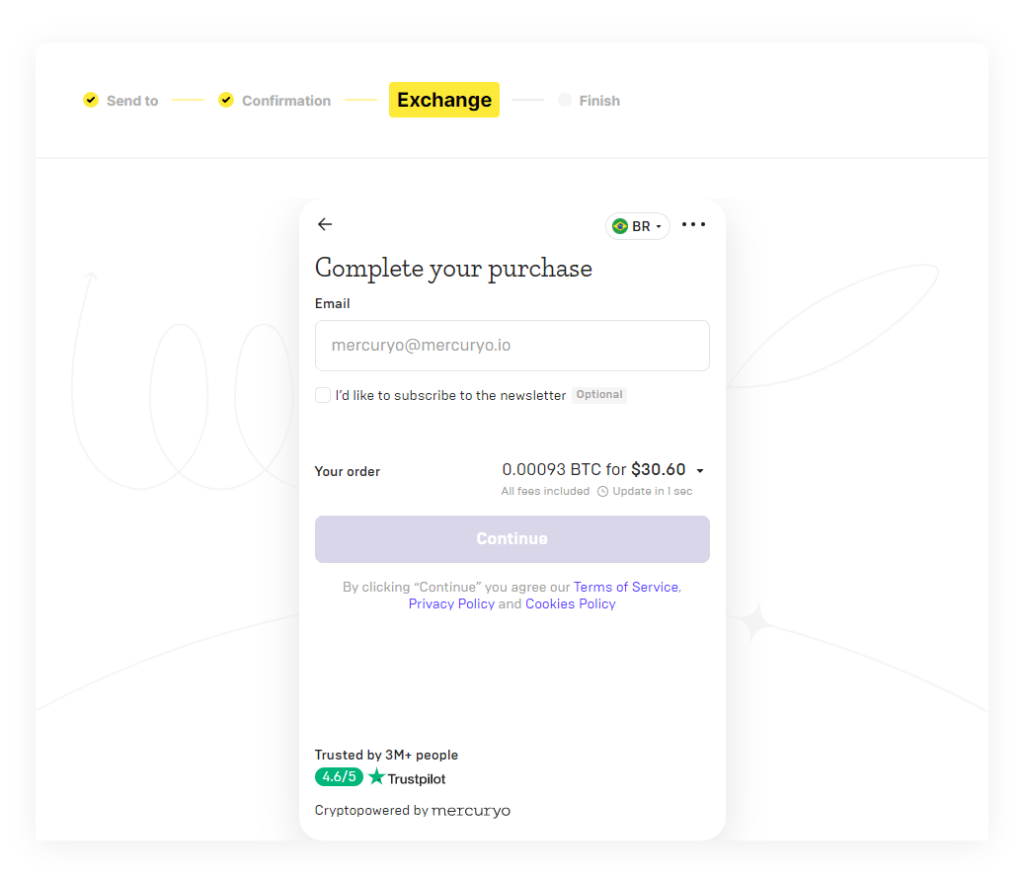 To verify your identity, you need to provide your phone number, email, enter confirmation codes that you've got to your phone and email. Then insert your personal info, including your first name, last name and date of birth.
After that, provide your card details, such as your card number, expiry date, cardholder name with capital letters and click Buy.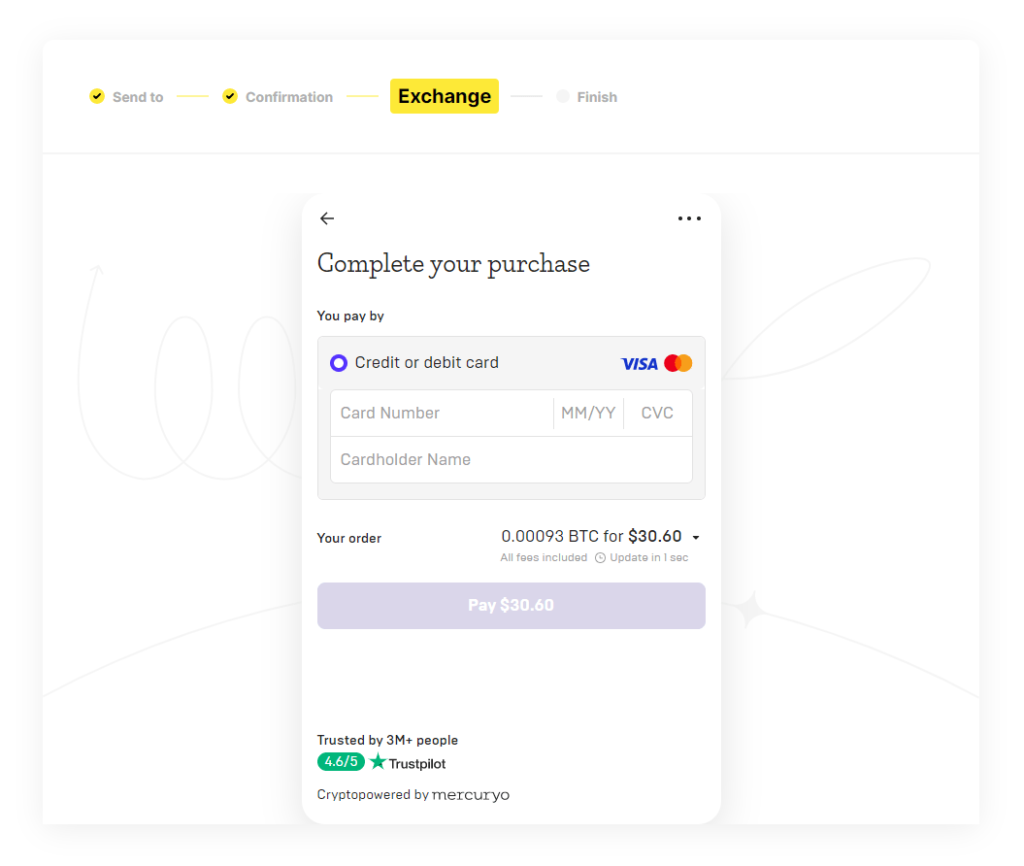 Mercuryo accepts only Visa and MasterCard: virtual, debit/credit cards and holds and immediately withdraws 1 EUR to check if your bank card is valid.
If you swap fiat money to crypto for the first time, you should also pass the KYC procedure. As soon as you complete it, your cryptocurrency will be sent to the blockchain address you have indicated earlier.
After buying crypto, you'll also receive a letter from our partner Mercuryo to your email with all data about this transaction, including the amount of fiat debited, the amount of crypto sent, Mercuryo ID of the transaction, top-up address.
And that's it! Your exchange will start. Our live chat with the Support Team will help you should you have any questions. And by the way, don't forget that StealthEX is here if you'd like to buy crypto at fixed rates.
As you can see, buying crypto with your credit card is a seamless process that does not require any thorough research. It's just as simple to buy crypto with no KYC via StealthEX. Give it a try and see for yourself how quickly you will receive your crypto!
Effortlessly Buy Crypto with Credit Card Using StealthEX Mobile App
In 2022, StealthEX launched a brand new Crypto Exchange Mobile App to make the process of buying crypto even more accessible to its customers. StealthEX Mobile app lets you take advantage of the service's benefits, including a feature-packed interface. The app is transparent, just like StealthEX's website, and requires no sign-up while maintaining your privacy. The app offers the same advantages as the website, but lets you initiate your transactions even quicker:
A vast crypto collection.
Exchange history.
Watchlist.
Crypto rates.
Choosing floating or fixed rate swaps.
Competitive rates are collected from a variety of major providers.
In order to make your fiat purchases hassle-free, StealthEX has added a number of fiat options to its efficient mobile app, so now both the main platform and the app have the same functionality and can be used for fiat-crypto purchases.
Unlock Crypto Freedom: StealthEX Offers Seamless Swaps!
As mentioned earlier, StealthEX gives their users an excellent opportunity to buy crypto with a credit/debit card. Not only that – the platform offers a number of benefits that are rarely found in other services: from cross-chain swaps to competitive crypto rates.
StealthEX is an instant cryptocurrency exchange that was founded in 2018 and provides its users with usability, security, and protection. StealthEX is aimed at making crypto transactions secure and efficient. With StealthEX, you can choose from a large crypto collection of over 700 digital assets, and this number constantly grows. With StealthEX, you can buy Bitcoin or Ethereum, Solana or Litecoin; the choice is vast.
In addition to allowing their users to purchase cryptocurrencies from their enormous collection without having to register or create an account, the platform allows no-KYC purchases under 700 EUR, which can be a great advantage for cryptocurrency newbies.
The platform has partnered with world-famous trading platforms, such as Binance, HitBTC, Huobi, KuCoin. Competitive rates are readily available to users: StealthEX finds the ultimate best rate for its customers by browsing its partners' offers. Moreover, with StealthEX, it's easy to initiate a swap between absolutely different blockchains without the need to go through the numerous steps that most swaps require. Basically, StealthEX allows its users to swap different crypto between two chains directly. It's one of the best features of the platform as it makes any swap effortless and trouble-free.
StealthEX: Expanding Crypto-Fiat Services
To let the platform expand its offer, StealthEX keeps working on its services, adding more customized features for the users. Today, this platform lets its users exchange crypto and buy a number of cryptocurrencies for fiat money (USD, EUR, GBP, TL, KES, ZAR, MXN, VND, BRL, and more).
If you'd like to buy crypto with fiat money, use StealthEX as your first choice: swapping crypto with this service is quick, efficient, and secure!

And don't forget to follow us on Medium, Twitter, Telegram, YouTube, and Publish0x to stay updated about the latest news on StealthEX.io and the rest of the crypto world.
Please do your own research before buying any crypto. The views and opinions expressed in this article are solely those of the author.
buy Bitcoin
how to buy
how to buy crypto
how to buy cryptocurrency
NO KYC
Recent Articles on Cryptocurrency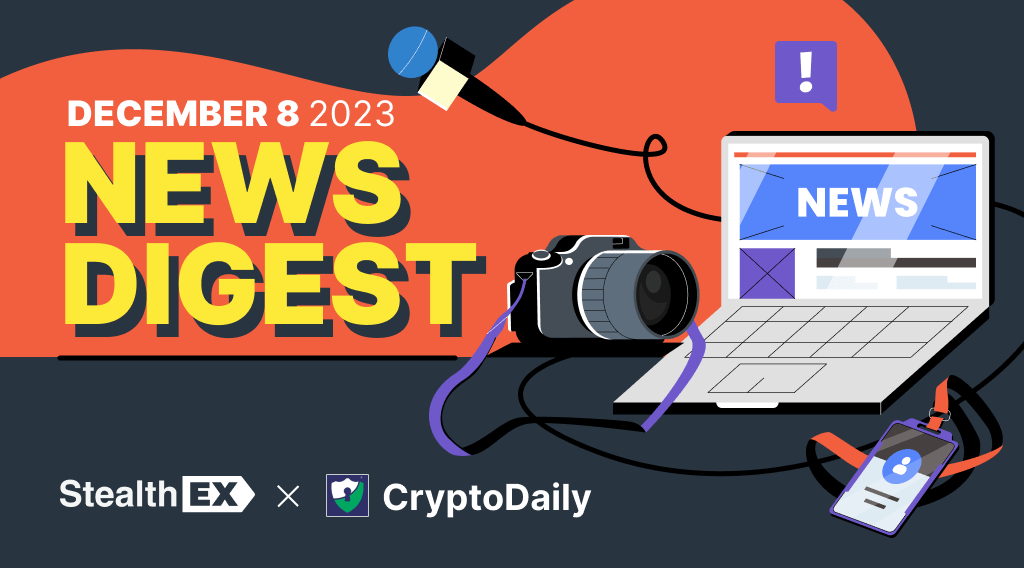 December 8, 2023
Crypto World
StealthEX & CryptoDaily: Weekly Crypto Insights
Explore key cryptocurrency developments and trends in StealthEX's insightful weekly roundup, in partnership with CryptoDaily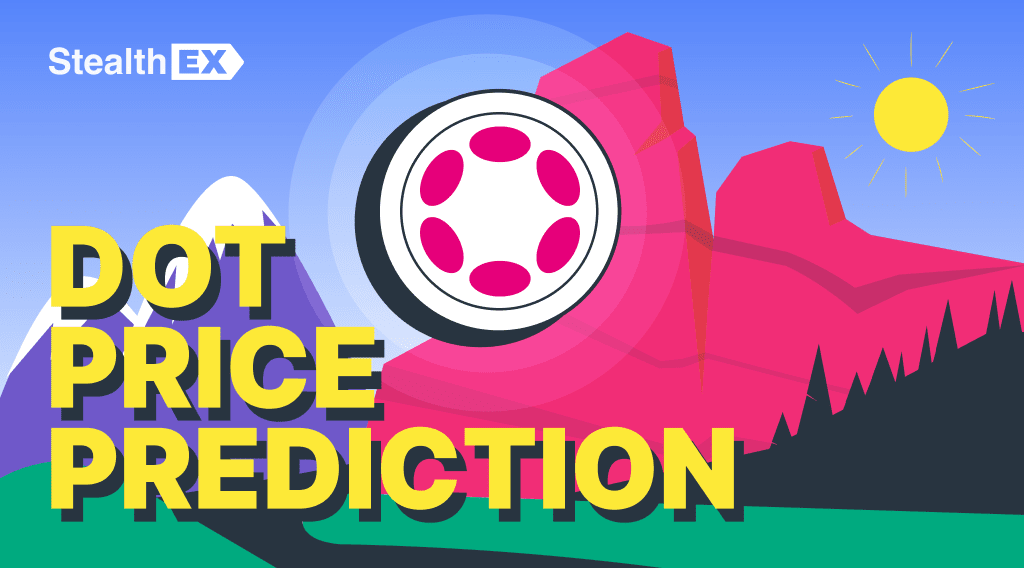 November 29, 2023
Price Prediction
Polkadot (DOT) Price Prediction: Will DOT Coin Reach $1000?
According to the long-term Polkadot price prediction by the end of 2030, the DOT price may rise to $195