MicroStrategy, Coinbase, and MoneyGram Wallet in StealthEX x CryptoDaily Digest
September 29, 2023
Crypto World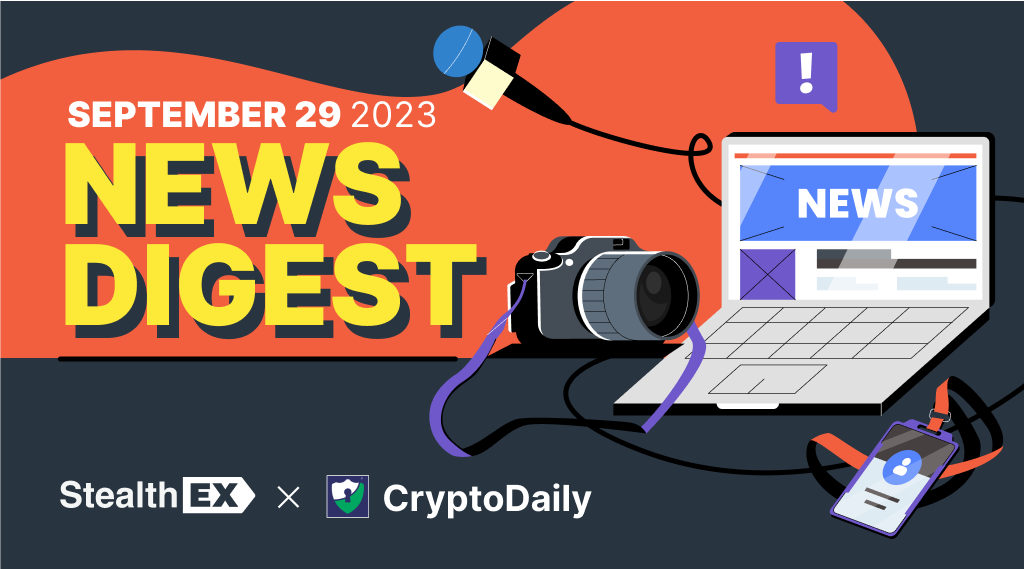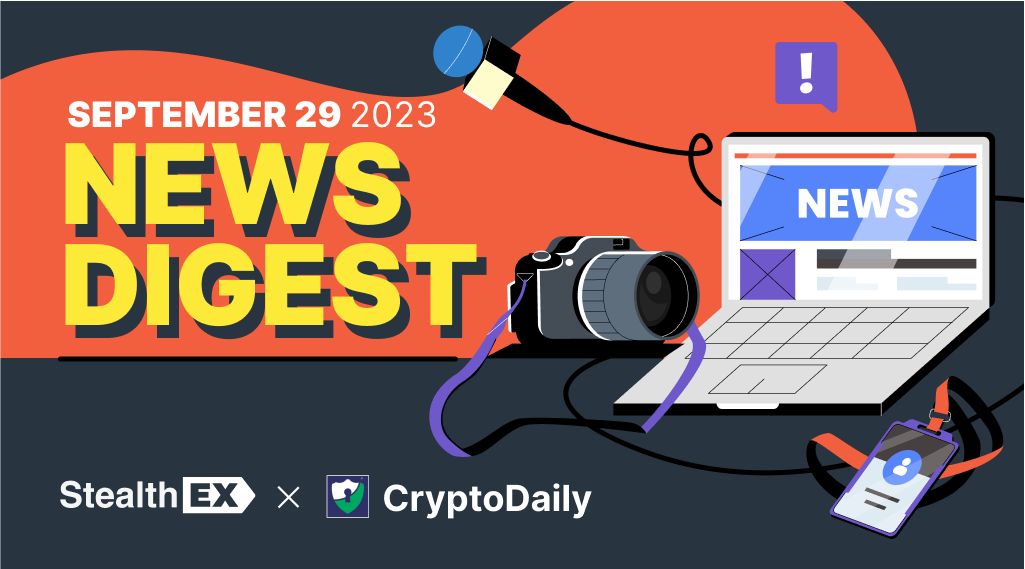 In the crypto sector, knowledge is power. Dive into StealthEX and CryptoDaily's weekly roundup for a snapshot of market shifts, tech innovations, regulations, and key collaborations. Stay ahead with our curated insights! Welcome to your essential crypto news digest!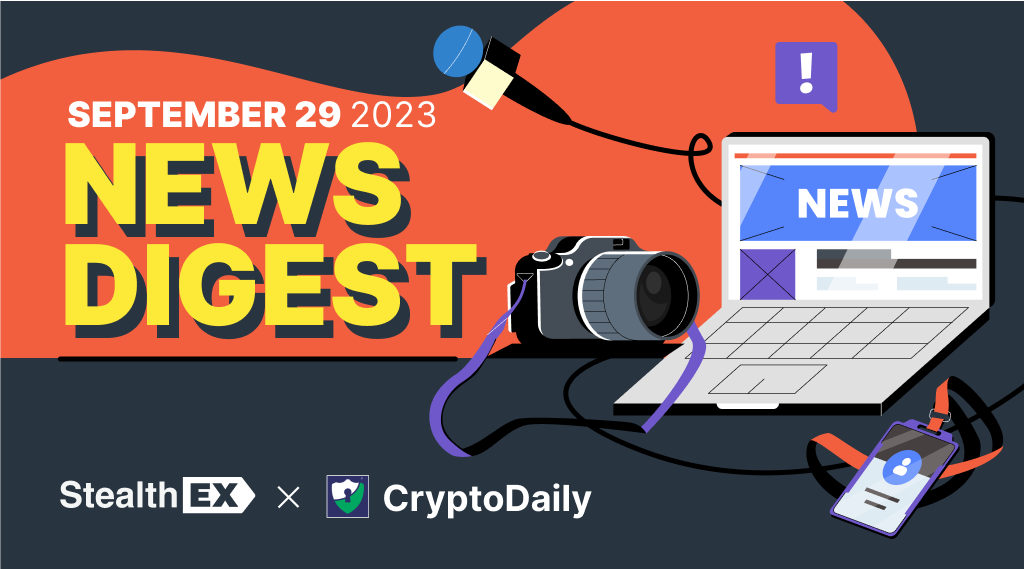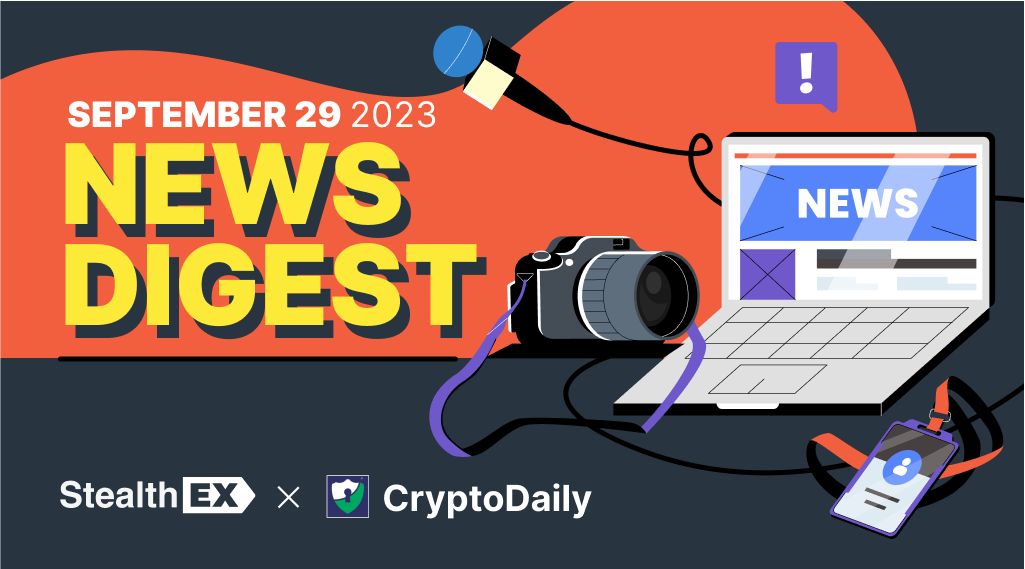 MicroStrategy Acquires Another Big Stash Of Bitcoin Worth $147M
Business intelligence company MicroStrategy has once again showcased its unwavering confidence in Bitcoin (BTC). The company recently announced the acquisition of an additional $147 million worth of Bitcoin, elevating its total holdings to a staggering 158k BTC. This recent procurement was made at an average price of $27,053 per Bitcoin, which is 9% lower than the average purchase price of its entire Bitcoin collection.
MicroStrategy's co-founder and executive chairman Michael Saylor shared this news on X, detailing that 5,445 BTC were bought for $147.3 million in cash. As of September 24, 2023, MicroStrategy's total Bitcoin holdings were acquired for approximately $4.68 billion, with an average price of $29,582 per Bitcoin. The company's commitment to Bitcoin is evident, as it has even sold 403,362 MSTR shares to fund this latest Bitcoin purchase.
Furthermore, MicroStrategy had previously intended to raise around $750 million through stock sales to buy more Bitcoin. The company's unwavering bullish stance on Bitcoin remains evident, especially with its continuous acquisitions, even as the cryptocurrency's price fluctuates.
SEC Gensler Told He Is Not Above the Law and Threatened with Subpoena
Gary Gensler, the Chairman of the Securities and Exchange Commission (SEC), faced intense scrutiny during a recent House Financial Services Committee hearing. Democrats and Republicans grilled Gensler with the spotlight on the SEC's transparency, especially concerning its interactions with FTX and its former CEO, Sam Bankman-Fried. Republican McHenry did not mince words, accusing Gensler of a "lack of responsiveness" and even threatening a subpoena if the SEC did not clarify its dealings.
One of the key moments during the hearing was when McHenry questioned Gensler about Bitcoin's classification, asking whether it was a security or a commodity. After some evasion, Gensler acknowledged that Bitcoin wasn't a security as per the Howey test but stopped short of labeling it a commodity. Another notable exchange occurred between Democrat Richie Torres and Gensler, where Torres inquired if a tokenized Pokemon card on a digital exchange would be treated as a security. Gensler's response was non-committal, stating he'd need more information.
Congressman Tom Emmer also took a critical stance, quoting Gensler's previous remarks about bank executives' concerns over the shift of deposits into crypto exchanges and wallets. Emmer questioned Gensler's regulatory approach, suggesting it might be more about protecting industry incumbents than fostering innovation. He concluded by emphasizing that even Federal Courts have pointed out the potential harm caused by the SEC's actions, questioning its legal authority to stifle competition in financial markets.
---
Choose StealthEX for Exchange and Buy Crypto
Earn from Each Exchange by Joining StealthEX Affiliate Program.
Become a partner right now and use affiliate tools:
---
Marathon Digital's Experiment Results to Invalid BTC Block
Marathon Digital, a prominent Bitcoin miner, recently acknowledged mining an invalid block on the Bitcoin network. This occurred on September 26 at 9:42 pm UTC at block height 809478. The company attributed this to an optimization experiment that inadvertently led to the error. The glitch was identified as an unexpected bug within Marathon Digital's internal development environment, unrelated to their main Bitcoin production pool or the primary Bitcoin Core software.
Research entities, including BitMEX Research and an anonymous core developer named "0xB10C", pinpointed the mistake as a "transaction ordering issue". Jameson Lopp, the founder of CasaHODL, further confirmed the case. Specifically, two transactions were improperly ordered, resulting in an invalid block. According to a Bitcoin developer named "mononaut", the transactions were reordered based on ascending absolute fees, causing the discrepancy.
Marathon Digital quickly addressed the situation, emphasizing that only a small fraction of their hash rate was used for such experimental endeavors. Industry experts, like Dylan LeClair, advised that future tests of this kind should first be conducted on a testnet to prevent potential errors on the main Bitcoin network. Reflecting on the incident, Marathon highlighted the robustness of the Bitcoin network, which promptly detected and corrected the invalid block.
Marathon Digital, a significant player in the cryptocurrency domain since 2021, is recognized as the second-largest Bitcoin holder among public entities. Following the incident, Marathon Digital's share price dipped by approximately 2.91% as of 20:00 EDT on September 27. The company currently possesses 11,466 BTC, with its stock priced at $8.01 and a market capitalization of $1.4 billion.
Coinbase Holds as Much Bitcoin as Satoshi Nakamoto
Coinbase, one of the leading cryptocurrency exchanges, is now believed to hold an amount of Bitcoin comparable to that of Bitcoin's enigmatic creator, Satoshi Nakamoto. According to insights from Arkham, a blockchain analysis platform, this equates to approximately 5% of all existing Bitcoin.
Over the years, under the leadership of CEO Brian Armstrong, Coinbase has consistently augmented its Bitcoin reserves. Satoshi Nakamoto's Bitcoin wallet remains untouched since the inception of the cryptocurrency. Possessing 5% of all Bitcoin is a significant achievement for Coinbase, positioning it favorably in a future where Bitcoin could emerge as a dominant global asset, especially given its independence from the depreciating fiat monetary system.
Arkham's analysis, however, does come with a caveat. The platform has yet to examine all of Coinbase's wallets comprehensively. They have identified and tagged over 36 million BTC deposit and holding addresses associated with Coinbase. Their largest identified cold wallet contains around 10,000 BTC. Arkham speculates that there are potentially thousands more BTC in Coinbase's possession that still need to be labeled.
Apart from Bitcoin, Coinbase also holds other cryptocurrencies. ETH is its second-largest holding, valued at $2.68 billion, followed by $488 million in LINK and $193 billion in BNB, the native token of its major competitor, Binance.
MoneyGram to Introduce Non-Custodial Digital Wallet in 2024
MoneyGram International, a frontrunner in the fintech sector, has declared its plans to unveil a non-custodial digital wallet by the first quarter of 2024. This pioneering venture is designed to offer users enhanced security for storing and managing their digital assets. Furthermore, the initiative will enable consumers to harness stablecoin technology, ensuring a smooth transition between traditional fiat and crypto currencies.
The announcement was made by MoneyGram's CEO, Alex Holmes, during the Stellar Development Foundation's annual Meridian conference. Holmes emphasized the transformative potential of the digital wallet in revolutionizing cross-border payments. He articulated,
Through the services we provide in partnership with SDF, MoneyGram has made strides to create equitable access to the global financial system… The MoneyGram non-custodial digital wallet advances this mission even further.

Alex Holmes, MoneyGram's CEO
Once activated, users can visit any participating MoneyGram location to convert their digital assets into cash, thereby enhancing the utility of their holdings. Additionally, they can effortlessly transfer digital assets to other wallet users.
A notable feature of this wallet is MoneyGram's incorporation of its advanced global compliance screening for all users.
The digital wallet will be available as a complimentary service until June 2024. It operates on the efficient Stellar network and integrates seamlessly with MoneyGram's fiat on and off-ramp services linked to the Stellar network. The wallet's development was a collaborative effort between Cheesecake Labs and MoneyGram.
This article is not supposed to provide financial advice. Digital assets are risky. Be sure to do your own research and consult your financial advisor before investing.
Bitcoin
crypto news
crypto world
CryptoDaily
Ethereum
Recent Articles on Cryptocurrency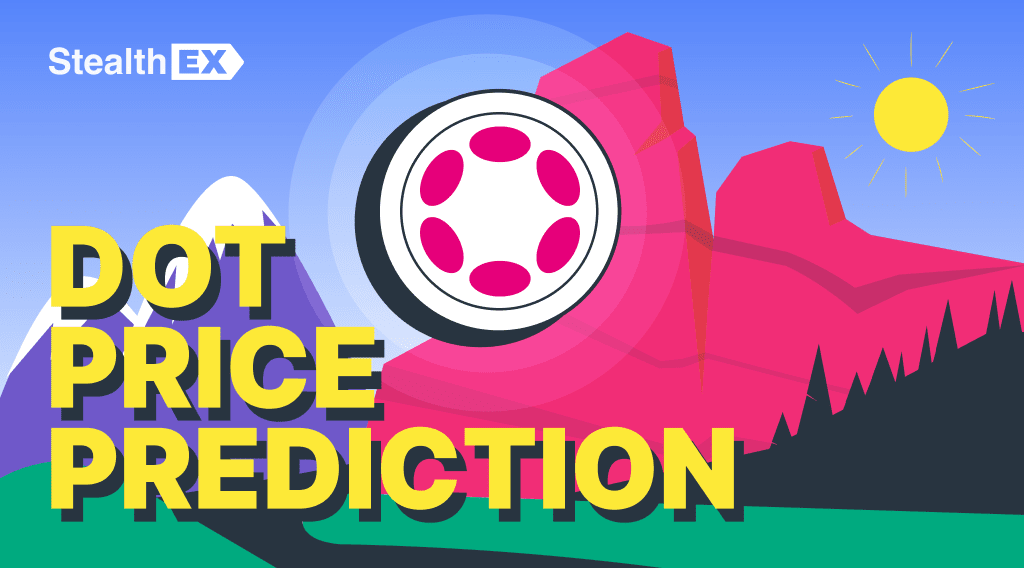 November 29, 2023
Price Prediction
Polkadot (DOT) Price Prediction: Will DOT Coin Reach $1000?
According to the long-term Polkadot price prediction by the end of 2030, the DOT price may rise to $195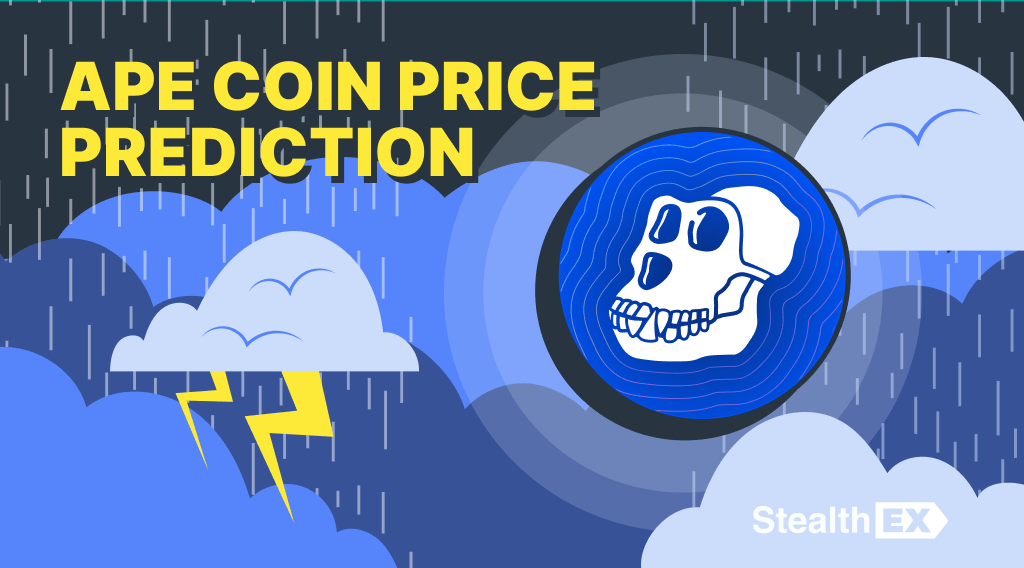 November 29, 2023
Price Prediction
ApeCoin Price Prediction: Is APE Coin a Good Investment?
According to the long-term ApeCoin price prediction by the end of 2030, the APE price may rise to $250