How to Convert ETH to USDT at the Best Rates: Step-by-Step Guide
August 22, 2023
How to Buy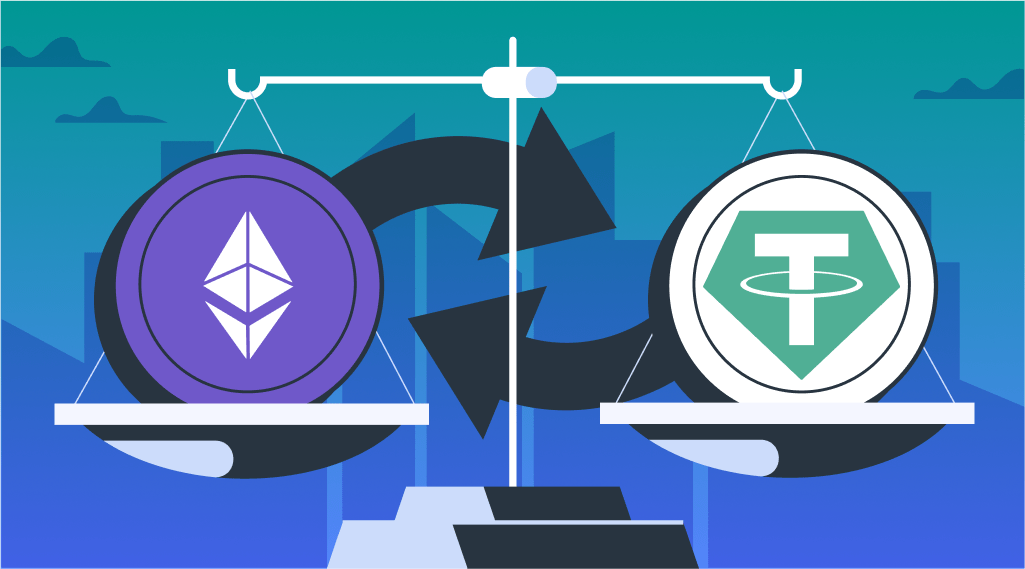 Ethereum is the second largest cryptocurrency in the world with a volatile price, while Tether is the third-largest cryptocurrency after Bitcoin (ETH) and Ethereum (ETH) and the largest asset-backed stablecoin. Both cryptocurrencies are essential bricks in the overall crypto market. Let's take a closer look at both cryptocurrencies, their origins, and how to convert ETH to USDT instantly.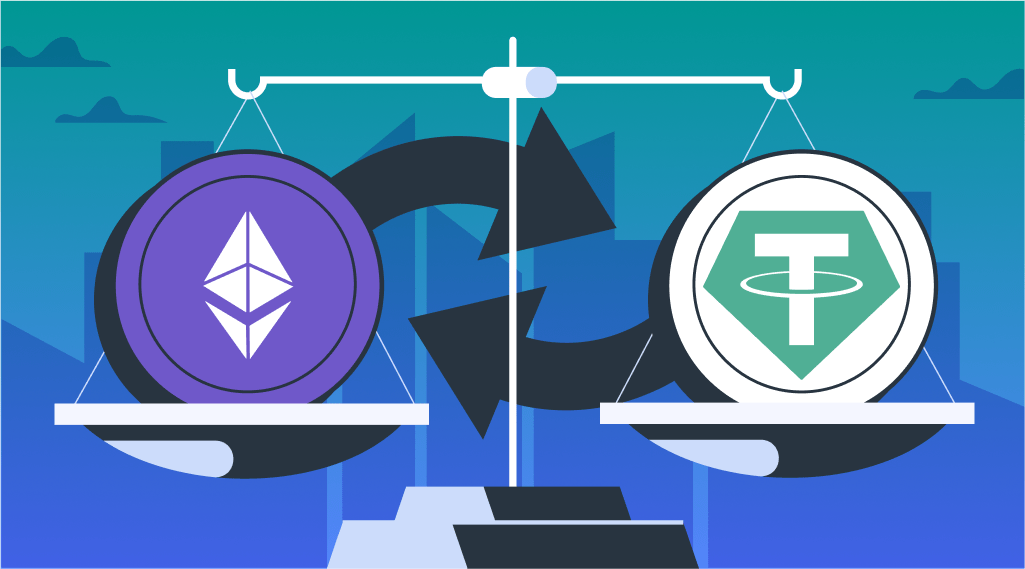 Where to Convert ETH to USDT?
There are many exchanges where one can swap ETH to USDT, and StealthEX is one of the safest options. The platform offers users to get USDT with no extra fees and with the best floating and fixed rates. This cryptocurrency is always freely available for purchase via StealthEX.
How to Convert ETH to USDT: An Ultimate Guide
Just follow the guidelines below. Let's imagine you want to exchange ETH for USDT, that is, to use its Bitcoin to USDT exchange. To make an exchange, you need to take a few simple steps.
1. First, you should choose Ethereum in the left drop-down list. Then choose USDT in the list of coins on the right. After setting the pair it is necessary to enter the amount of ETH you want to exchange. Here you will see the estimated amount of Tether crypto you will receive after the exchange. When everything is set, press the Start Exchange button, and you will be taken to the next page.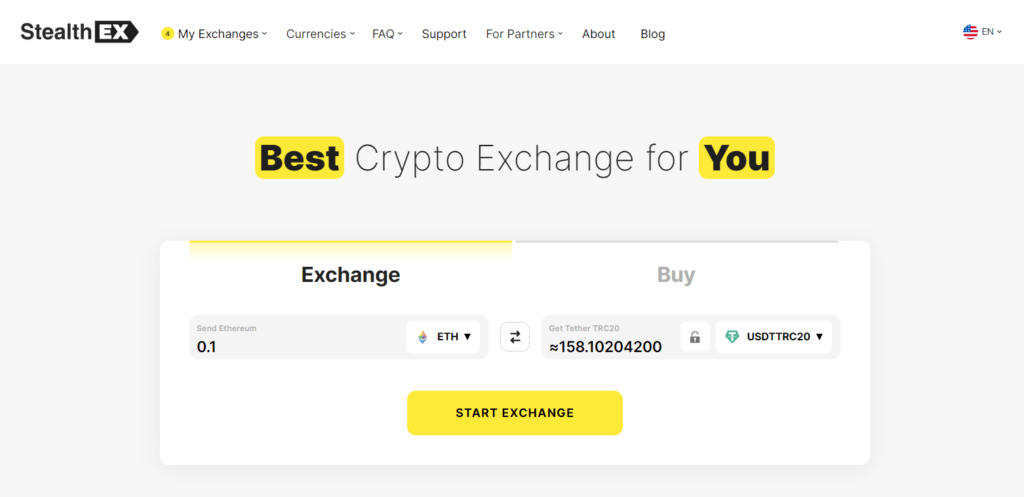 2. Provide the USDT coin recipient address. The recipient address must match the crypto you are going to receive. Remember to double-check the information you enter prior to the exchange.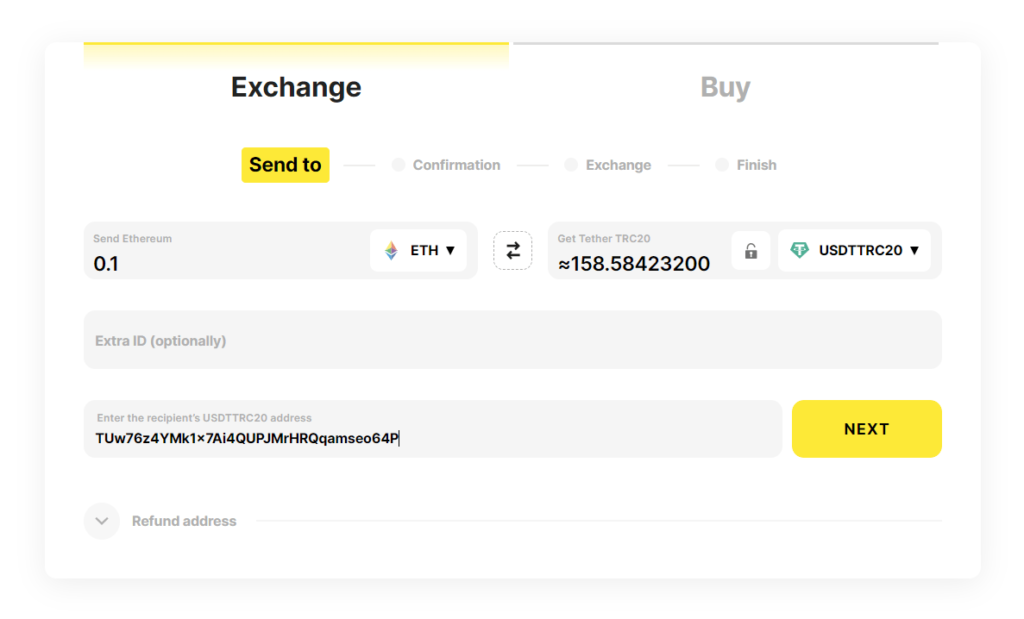 As soon as you have carefully checked all the details, you can press the Next button and you will be redirected to the Confirmation page. Don't forget to read and check the Terms of Use and Privacy Policy box. When you press the Next button, you will be redirected to the Exchange page.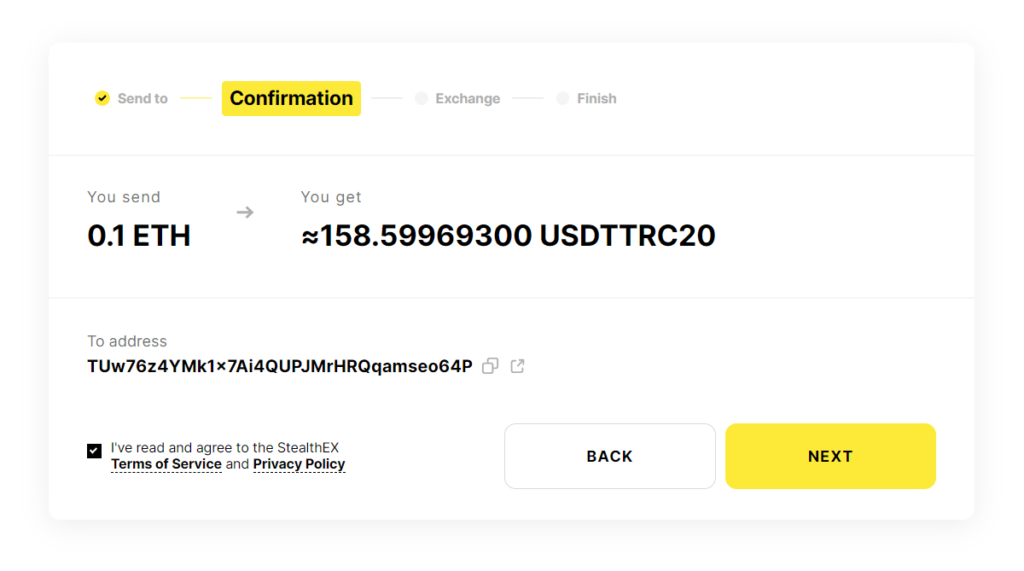 3. All you need to do now is send the deposit in Ethereum to the address StealthEX has generated for you. After you send coins, your swap will be processed. The exchange statuses on the page will be renewed automatically during the time of the exchange.
3.1 The first status is Awaiting deposit. The following status is Confirming. This means that StealthEX is confirming the transaction you made.
3.2 The next status is Exchanging. During this time the exchange is being made.
3.3. Then the status will be changed to Sending to your wallet. This indicates that there are just a few minutes until you receive your Tether (USDT).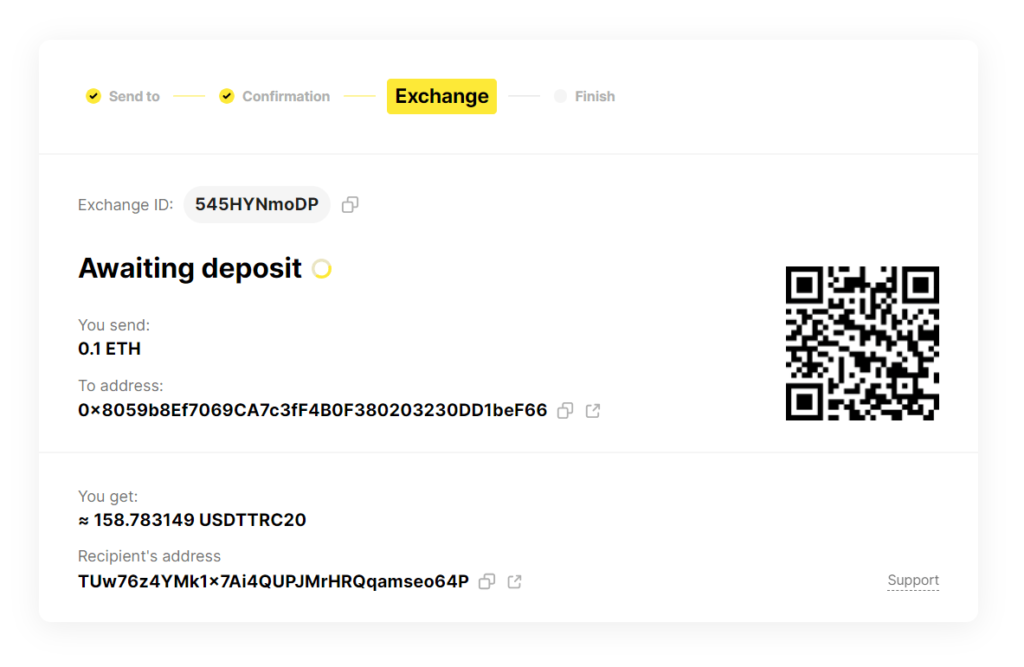 4. Finally, you will be redirected to the Finish page. This shows that the exchange has been successfully made and you will receive crypto to the address provided. To be sure that USDT crypto was sent to your wallet you can also use the Output hash shown on this page and check it in the blockchain list of transactions.
From here you can either create a new exchange on StealthEX or leave the page and check your USDT wallet to be surprised at how fast you get Tether coin sent to your address. Usually, the process is quite rapid so you won't need to wait long: USDT swap is processed in a matter of minutes.
Now that we've sorted out how you can buy Tether (USDT) via StealthEX, let's take a closer look at the project and its properties.
---
Choose StealthEX for Exchange and Buy Crypto
Earn from Each Exchange by Joining StealthEX Affiliate Program.
Become a partner right now and use affiliate tools:
---
Ethereum (ETH) and Tether (USDT) – Two Key Cryptocurrencies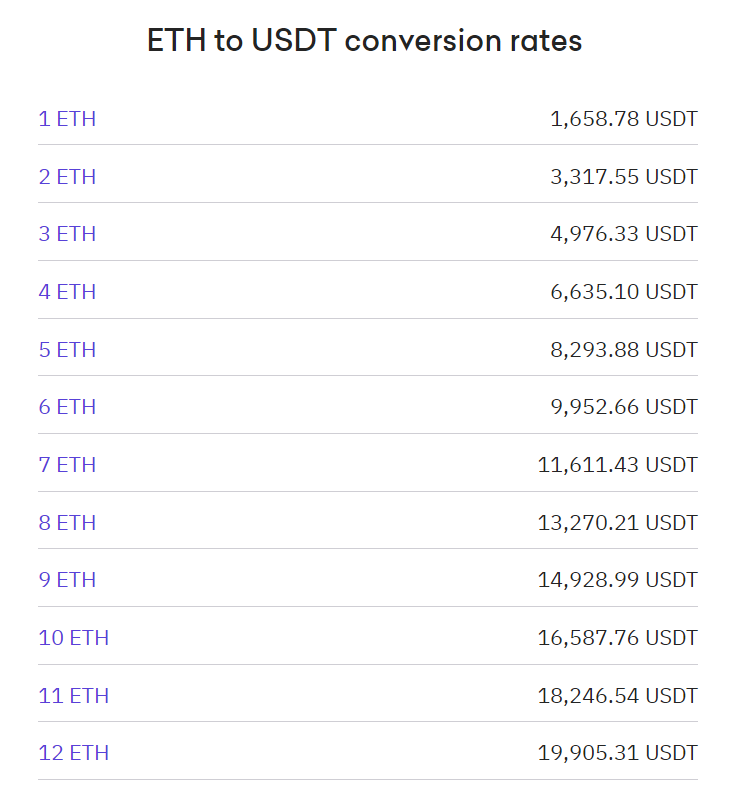 ETH to USDT Converter. Source: Kraken.com
Tether (USDT) was created in October 2014, and its main purpose was initially to disrupt the legacy financial system. USDT stablecoin is tied to the USD on a 1:1 ratio, which makes it a lot less volatile than other cryptocurrencies.
Originally, Tether was built on the Bitcoin blockchain and used the Omni protocol. In 2018, USDT devs team started to issue additional ERC-20 standard USDT tokens, which increased the network's transaction speed and allowed use of Tether in smart contracts and dApps. In March 2019, Tether USDT TRC-20 was introduced to the Tron blockchain. USDT is one of the most recognized and trusted digital coins on the market, ranking number three on Coinmarketcap.
Ethereum is the second most widely used cryptocurrency because it was the first alternative coin other than Bitcoin. Ethereum has continuously provided Bitcoin with fierce competition while holding its ground. Because of its exceptional qualities and cutting-edge capabilities, ether is praised as a utility coin. It is the first digital currency that can be programmed, and when specific conditions are satisfied, instructions stored on the blockchain automatically execute. Additionally, Ethereum offers its customers the popular and much sought-after smart contracts.
Both cryptocurrencies are often swapped between themselves. Below, you can find the ETH to USD price chart that can be used to compare Ether and Tether prices.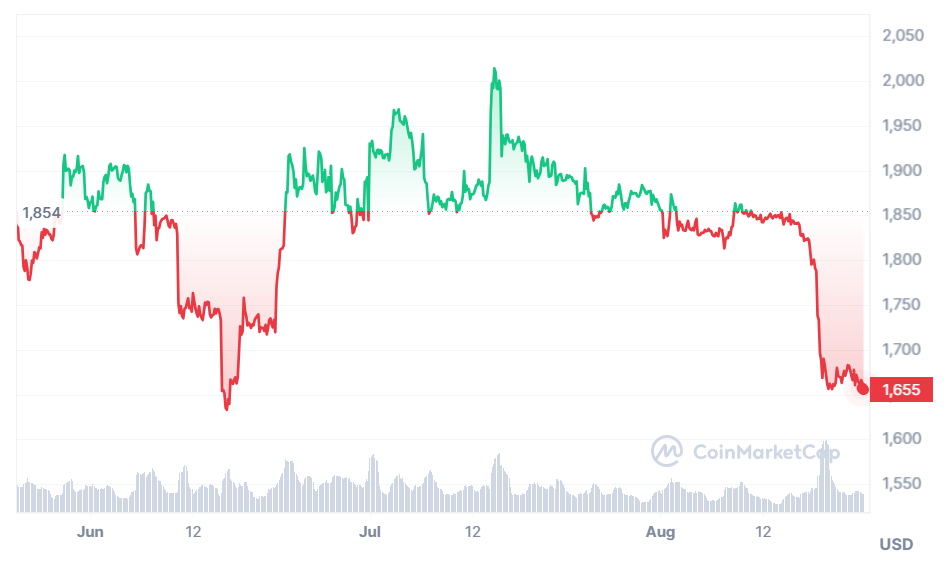 Ethereum to USD Price Chart (last 90 days). Source: Coinmarketcap.com
Ethereum (ETH): All About Smart Contracts and dApps
Ethereum is a platform that allows for the creation of decentralized apps and smart contracts. Applications can be created by developers and then run on smart contracts. Like Bitcoin, Ether can be used as money, but there is less of a market for the Ether token. Ether is primarily used for four things: trading as a digital currency on exchanges, holding as an investment, making purchases of goods and services, and paying transaction fees on the Ethereum network. The blockchain is updated frequently, which makes it work more effectively and efficiently: for instance, in 2022, it has gone through the famous Merge.
Ether is also frequently used to manage and create dApps. There are no restrictions on the total amount of tokens that may be produced over the course of its existence, however the blockchain has an annual ceiling of 18 million. Ethereum's value would change based on how it operated and the demand for tokens issued using the network and dApps. Developers now had a new platform to apply cutting-edge ideas and technological advancements to with the advent of Ethereum, made possible by the Ethereum Virtual Machine, or EVM.
Tether (USDT): A Trusted Stablecoin
Similar to Ethereum, the Tether is also seen as a trading currency that could go well with everyday usage. According to an analysis, nearly 97.0% of tether usage was directly distributed from the tether treasury to exchanges based on a 180-day average. In recent times, USDT is also issued on other public chains, such as Polygon, BSC, etc. There is a number of Tether variations, such as Euro Tether (EUR₮) and Tether Gold (XAU₮). Remarkably, many Tether tokens already sit on the Tron and Ethereum blockchain network.
Why StealthEX? Effortless ETH-USDT Swaps and Fiat-to-Crypto
While many services offer ETH-USDT swaps, not many provide you with an all-in-one customer experience. StealthEX is a convenient instant crypto exchange with over 1300 coins and tokens that offers a safe and efficient way to buy or exchange cryptocurrencies. Traders and investors can purchase and transfer Ethereum to Tether USDT with no limits and even without registering on the platform. The service does not charge any extra or hidden fees, and as it's non-custodial, it also offers its customers privacy and security: your private keys remain with you as the end user. StealthEX automatically finds the cheapest price for your exchange and begins the transaction.
Cross-chain swaps with StealthEX provide a multi-cryptocurrency exchange and independence for anyone using the platform. Basically, StealthEX allows its users to swap different crypto between two chains directly, and in the optical eyes of the nodes and the general public, the transaction is deemed a regular one. The platform gives a great opportunity to do cross-chain swaps without using any third parties, such as exchanges or cross-bridges.
Moreover, you can buy Ethereum with a credit card. Fiat/crypto swaps via StealthEX are simple and hassle-free. StealthEX users can initiate fiat-crypto swaps without any KYC under €700, so if your desired amount for buying crypto fits these criteria, no verification is necessary.
If you have any questions, check out the comprehensive FAQ that contains the most important information about StealthEX.

And don't forget to follow StealthEX on Medium, Twitter, Telegram, YouTube, and Publish0x to stay updated about the latest news on StealthEX.io and the rest of the crypto world.
Please make sure to do your own research before buying any crypto. The views and opinions expressed in this article are solely those of the author.
crypto swap
ETH
Ethereum
Tether
USDT
Recent Articles on Cryptocurrency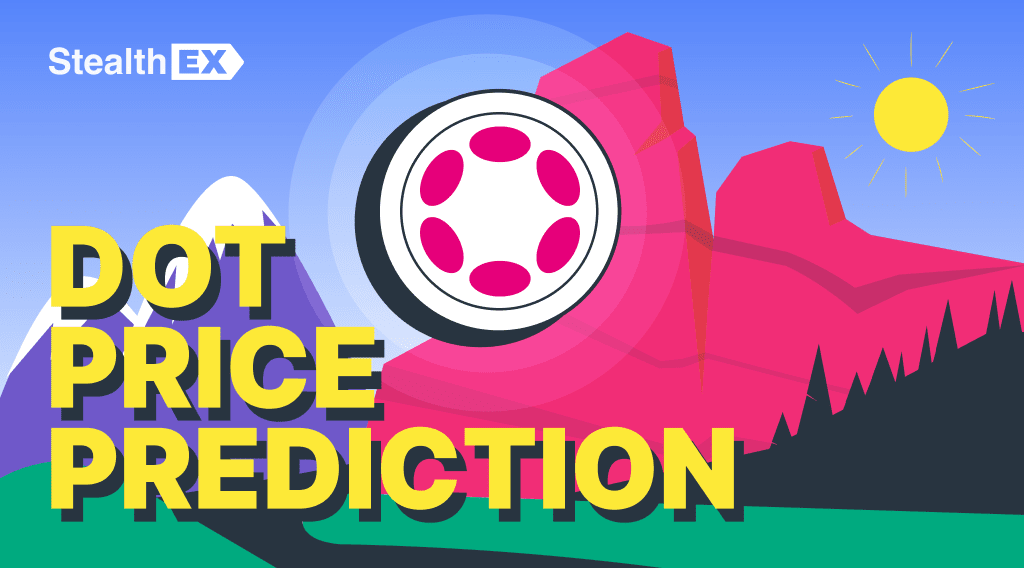 November 29, 2023
Price Prediction
Polkadot (DOT) Price Prediction: Will DOT Coin Reach $1000?
According to the long-term Polkadot price prediction by the end of 2030, the DOT price may rise to $195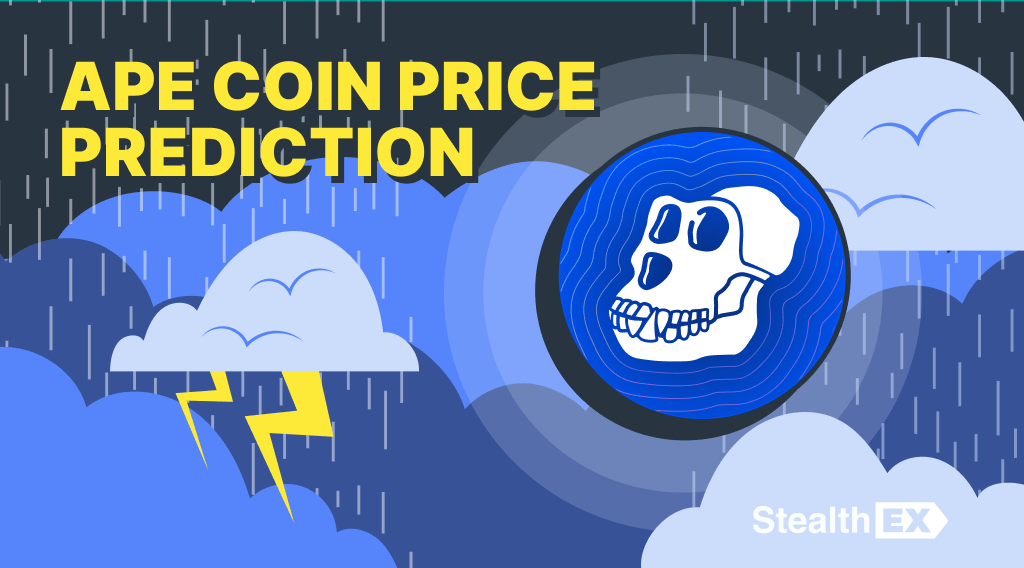 November 29, 2023
Price Prediction
ApeCoin Price Prediction: Is APE Coin a Good Investment?
According to the long-term ApeCoin price prediction by the end of 2030, the APE price may rise to $250