APE Coin Price Prediction: Will It Reach New Price Levels?
August 25, 2022
Price Prediction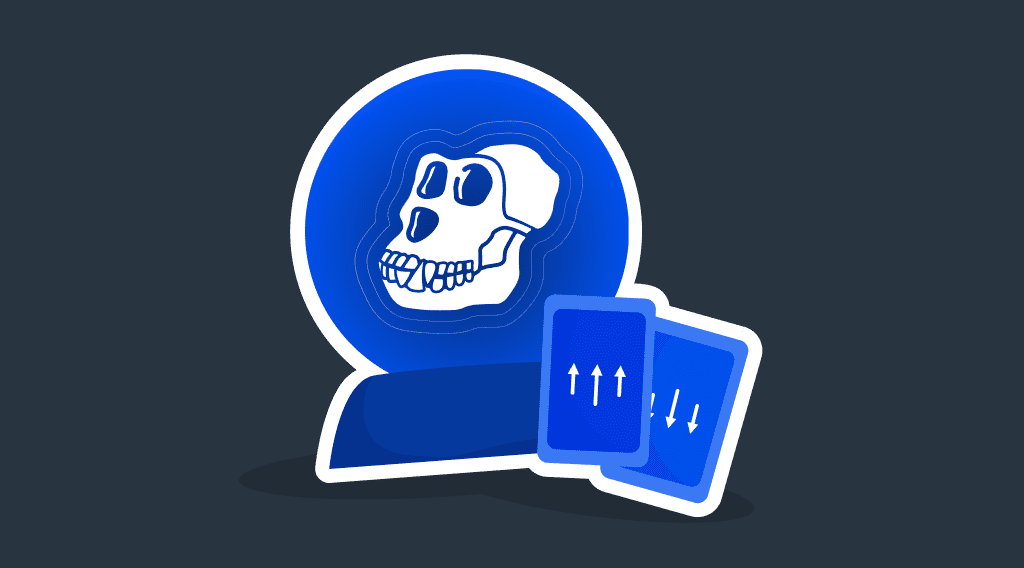 ApeCoin (APE) is a famous metaverse token associated with Bored Apes Yacht Club (BAYC) NFTs. This ERC-20 token is the utility token of the APE ecosystem and a payment token deployed across web3 dApps. ApeCoin is the ecosystem's governance token, allowing its holders to participate in ApeCoin DAO (decentralized organization). It also gives all its participants a shared and open currency that can be used without centralized intermediaries. Moreover, APE provides access to certain parts of the ecosystem that are otherwise unavailable, such as exclusive games, merchandise, events, and services. With a large number of useful features and a fair degree of hype around the NFT collection, it's not surprising that the crypto project ranks #36 on CoinMarketCap. Read more about APE coin price prediction 2025-2031 in the new StealthEX article.
| | | |
| --- | --- | --- |
| Current APE crypto price | ApeCoin price prediction 2022 | APE coin price prediction 2025 |
| $5.45 | $7.56 | $26.34 |

PricePrediction APE Coin Price Prediction
PricePrediction experts think that APE crypto is going to rise in price, and in comparison to many other cryptocurrencies, it will happen within the next few years. The analysts at PricePrediction believe that the average ApeCoin price in 2025 will be equivalent to $26.34 (+383%), while at its minimum it might reach $25.61 (+369%) and at its maximum, it will skyrocket to $30.29 (+455%). They even go as far as 2031, when, according to their estimates, APE crypto will go as high as $279.90 (+5,035%).
WalletInvestor ApeCoin Price Prediction
According to many analytics, APE coin earning potential is +128% in one year and +981% in five years. WalletInvestor analytics also see this cryptocurrency as a promising digital asset. Based on their predictions, the estimated average APE price at the end of 2025 will be around $28.243 (+418%). At the end of 2027, the average APE coin price will fluctuate around $39.651 (+627%).
DigitalCoinPrice APE Coin Price Prediction
DigitalCoinPrice believes that in 2025, the minimum APE crypto price may be equivalent to $9.36 per coin (+71%), while in 2031 it will reach a new price level of $30 (+450%).
Long-Term APE Crypto Predictions
Long-term forecasts for ApeCoin crypto price vary. For instance, Telegaon believes that APE crypto may reach $497.31 (+9,024%) in 2040 and even go over $1,000 in 2050: according to their estimates, in 2050, the coin will climb up to a staggering $1,142.36 (+20,860%).
On the other hand, some sources, such as CryptoCurrencyPricePrediction, forecast that in January of 2030, the price of APE coin will only reach $164.69 (+2,921%) and during this year, the coin will leap to $215.98 (+3,862%).
ApeCoin Coin Price Chart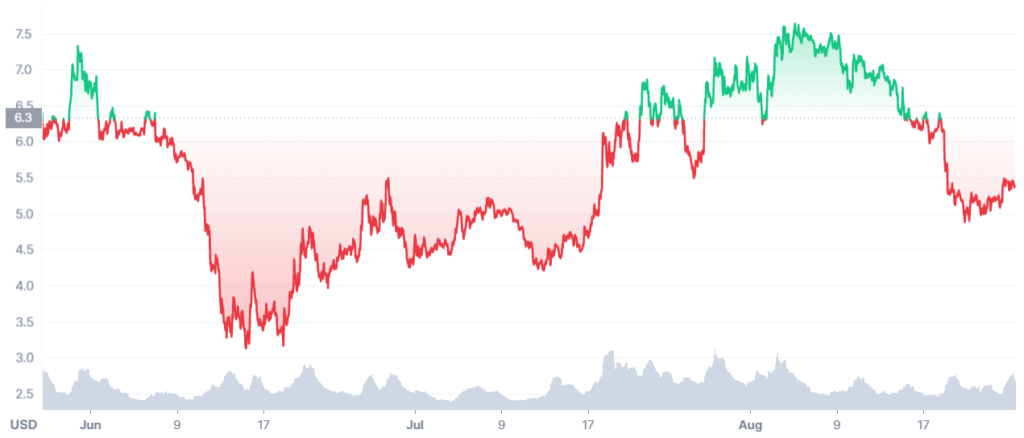 | | |
| --- | --- |
| Current Price | $5.42 |
| Market Cap | $1,666,693,287 |
| Volume (24h) | $495,642,756 |
| Market Rank | #36 |
| Circulating Supply | 306,875,000 APE |
| Total Supply | 1,000,000,000 APE |
| 7 Day High / Low | $7.68 / $4.87 |
| All-Time High | $39.40 Mar 17, 2022 |
Source: CoinMarketCap, 25 August 2022
APE Crypto Price Technical Analysis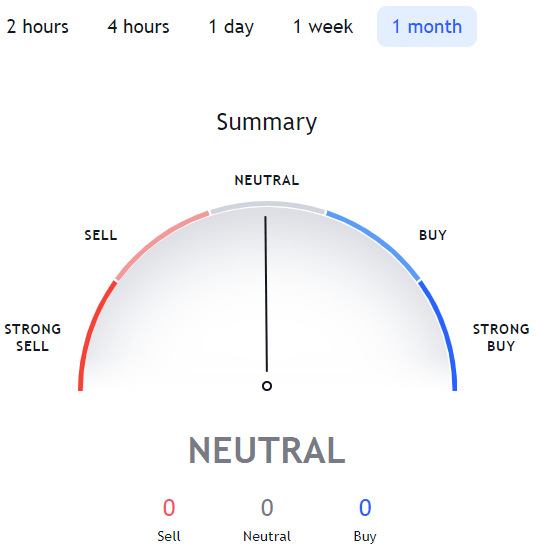 Source: Tradingview, Data was taken on August 25, 2022.
ApeCoin is most often associated with the Bored Ape Yacht Club, one of the most popular NFT digital collections. Since its launch in April 2021, Bored Ape Yacht Club (BAYC) by Yuga Labs has become viral.
Bored Ape Yacht Club, a collection of 10,000 algorithmically generated images of cartoon apes minted and sold as non-fungible tokens (NFTs) on the Ethereum blockchain, counts a number of celebrities as owners, including Paris Hilton and Steph Curry. Snoop Dogg was also one of the latest high profile names to join the BAYC thanks to crypto company MoonPay. MoonPay has onboarded Lil Baby, Post Malone, DJ Khaled, and Jimmy Fallon into the club. Even rapper Eminem bought a digital ape image on OpenSea for 123.45 ETH ($452,000 at the time).
BAYC is well-known for having a vibrant and active community of supporters. The traditional corporate entity registered in Delaware also owns the IP of another two popular NFT projects, CryptoPunks and Meebits.
APE is a popular and quite expensive token with a total supply of 1 billion tokens. It is controlled and built on by the community. The ApeCoin DAO is an organization that allows all APE holders to vote on governance decisions related to the token. In addition, APE is adopted by Yuga Labs as the primary token for all new products and services.
ApeCoin DAO
APE was founded to be used within the growing APE ecosystem. It is governed by the ApeCoin DAO and supported by the APE Foundation.
The 150 million ApeCoin tokens (or 30.25% of the circulating supply) from the so-called 'Ecosystem Fund' were disbursed in the following proportion to BAYC NFT holders.
Bored Ape NFT: 10,094 tokens.
Bored Ape + Kennel Club: 10,950 tokens.
Mutant Ape + Kennel Club: 2,898 tokens.
Mutant Ape: 2,042 tokens.
ApeCoin DAO allows all holders to participate in governance decisions. They can decide how to allocate the Ecosystem Fund, make governance rules, select projects, partnerships, etc. After the DAO members vote on the proposals, the APE Foundation will proceed to carry out the community-led governance decisions.
The APE Foundation is the legal steward of the DAO. It facilitates the growth and development of the APE ecosystem in a fair and inclusive way. The foundation also has a special board that consists of 5 members from the tech and crypto community, including Reddit co-founder Alexis Ohanian. It ensures that the community's visions are implemented. As a decentralized board, the initial board members will serve for 6 months before APE holders vote for new board members on an annual basis. They also can:
Vote using governance tokens.
Utilize ApeCoin to buy virtual land, play games, and purchase services.
Access exclusive merchandise and games.
Use the token in third-party applications.
The last feature is especially attractive taking into consideration that Benji Bananas, developed by Animoca Brands (whose co-founder, Yat Siu, is on the board of the Ape Foundation), is adopting ApeCoin as a kind of in-game currency. For 25 ApeCoins, you can buy a Benji Bananas Membership Pass, which lets you earn 'special tokens' in-game. Those tokens can then be swapped for ApeCoins.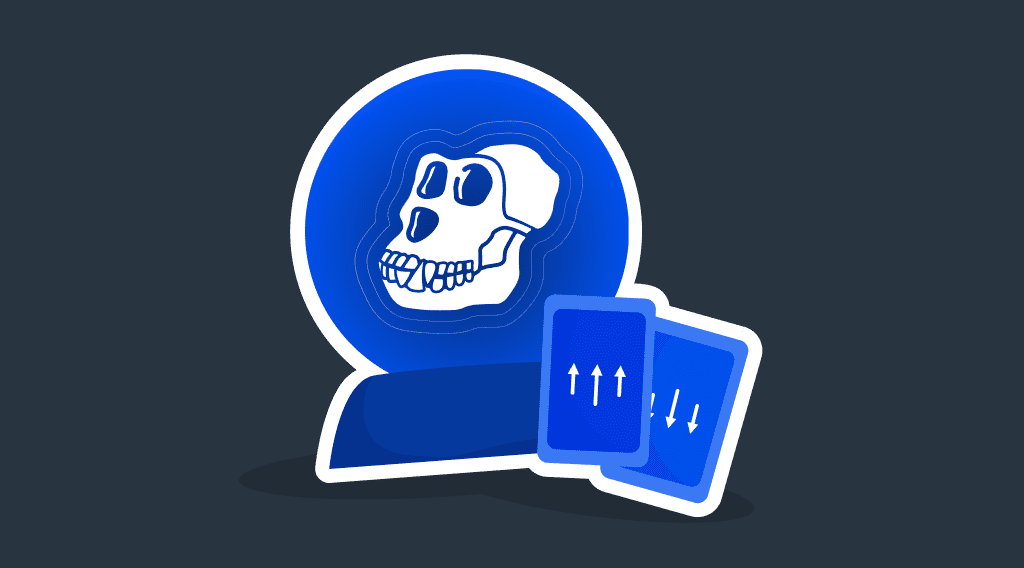 ApeCoin History
The token was launched on March 18, 2022, and immediately became a hit among crypto enthusiasts. It was first distributed to Bored Ape and Mutant Ape NFT holders, who received about 10,000 and 2,000 tokens respectively. The token airdropped to all the investors of the BAYC and related NFT collections, such as the Mutant Ape Yacht Club and the Bored Ape Kennel Club. Through the airdrop, owners of BAYC NFTs could claim APE tokens for free and resell them whenever they wished. Some investors cashed in and made loads of money, ultimately hyping the crypto even more.
In February 2022, Financial Times reported that Yuga Labs was discussing the token's future with venture capital heavyweight Andreessen Horowitz. The startup was seeking a valuation of as much as $5 billion in the proposed funding round.
In early August 2022, Gucci, a high-end Italian fashion company, became the first major brand to accept payments in the form of the Bored Ape Yacht Club-affiliated ApeCoin (APE).
Is Ape Coin a Good Investment?
Crypto experts believe that the crypto's rising adoption might be one of the major triggers that will surge its market value. At the moment, ApeCoin and BAYC developers are building momentum in the decentralized market. If everything goes well, APE coin might get bullish and topple some of the largest cryptocurrencies in the market.
Where and How to Buy APE Coin?
StealthEX is here to help you buy ApeCoin crypto. You can do this privately and without the need to sign up for the service. Our crypto collection has more than 450 different coins and you can do wallet-to-wallet transfers instantly and problem-free.
Just go to StealthEX and follow these easy steps:
Choose the pair and the amount you want to exchange. For instance, BTC to APE.
Press the "Start exchange" button.
Provide the recipient address to transfer your crypto to.
Process the transaction.
Receive your crypto coins.

Follow us on Medium, Twitter, Telegram, YouTube, and Reddit to stay updated about the latest news on StealthEX.io and the rest of the crypto world.
Don't forget to do your own research before buying any crypto. The views and opinions expressed in this article are solely those of the author.
APE
ApeCoin
crypto price prediction
NFT
price prediction
Recent Articles on Cryptocurrency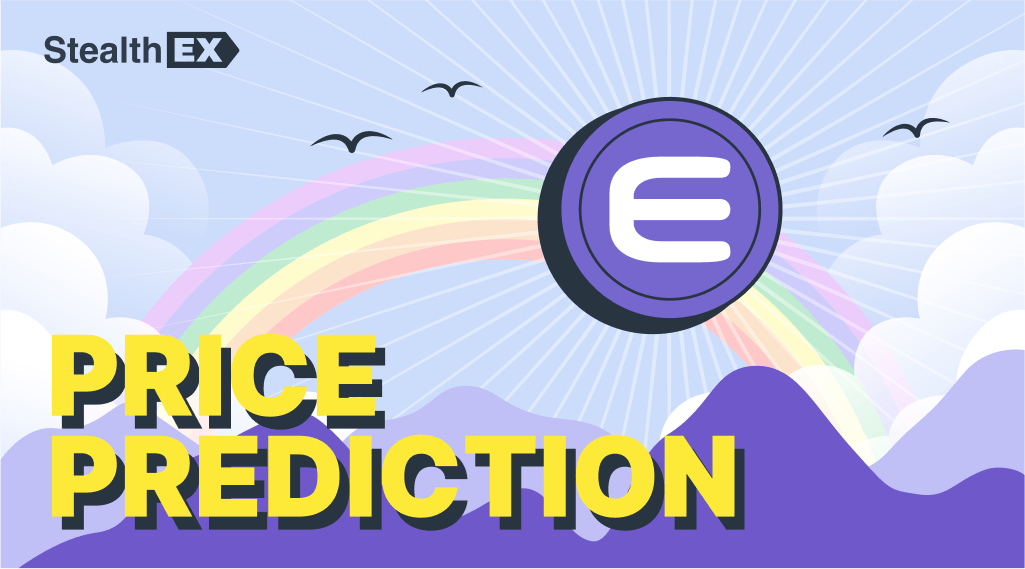 September 27, 2023
Price Prediction
Enjin Coin Price Prediction: How High Will $ENJ Crypto Go?
Based on expert Enjin Coin price prediction, the maximum price of ENJ crypto is predicted to be $75 by 2030.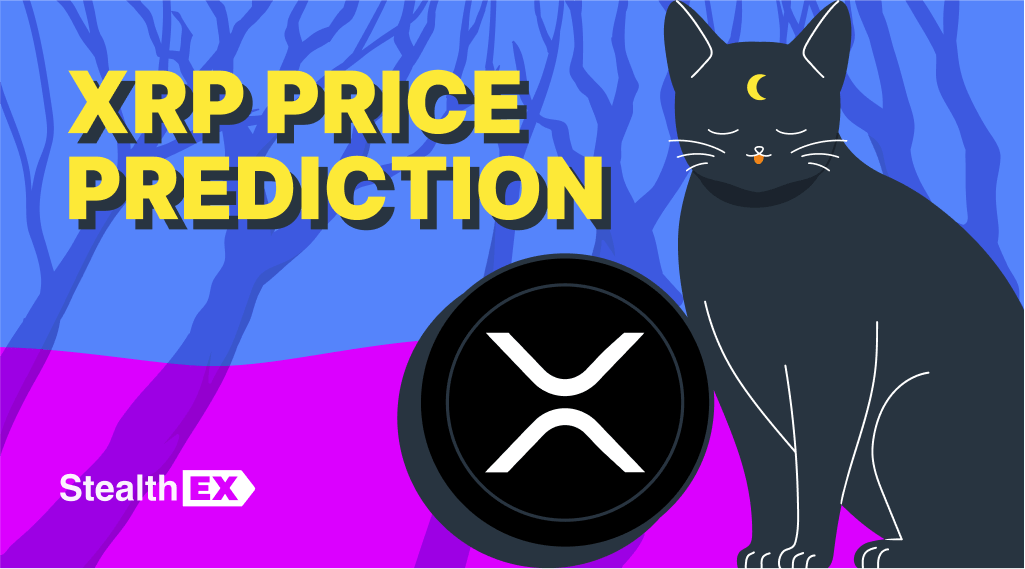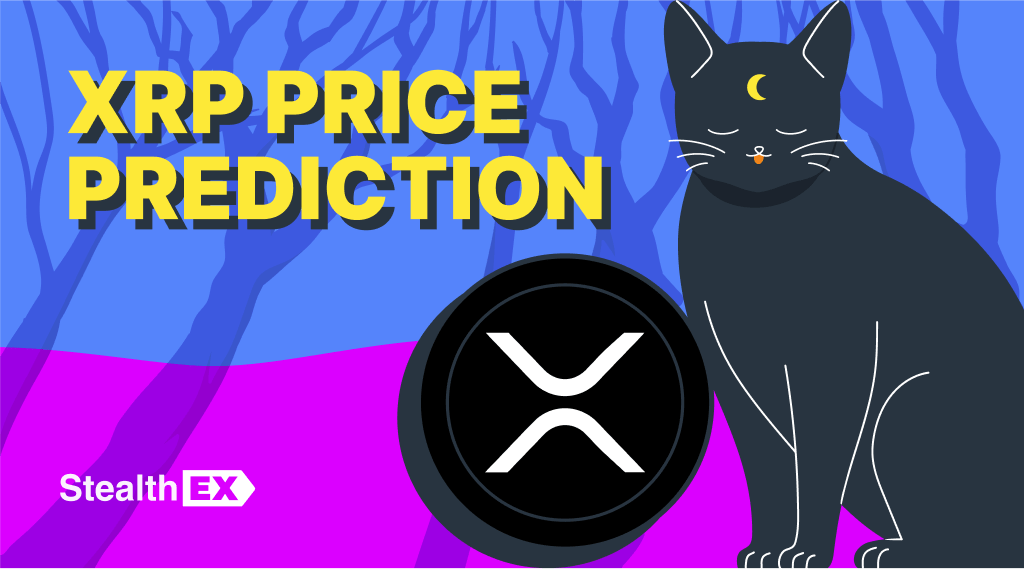 September 26, 2023
Price Prediction
Ripple XRP Price Prediction: How High Can XRP Go?
Based on expert XRP price prediction, the maximum price of XRP coin is predicted to be $12 by 2030.