ApeCoin Price Prediction: Is APE Coin a Good Investment?
November 29, 2023
Price Prediction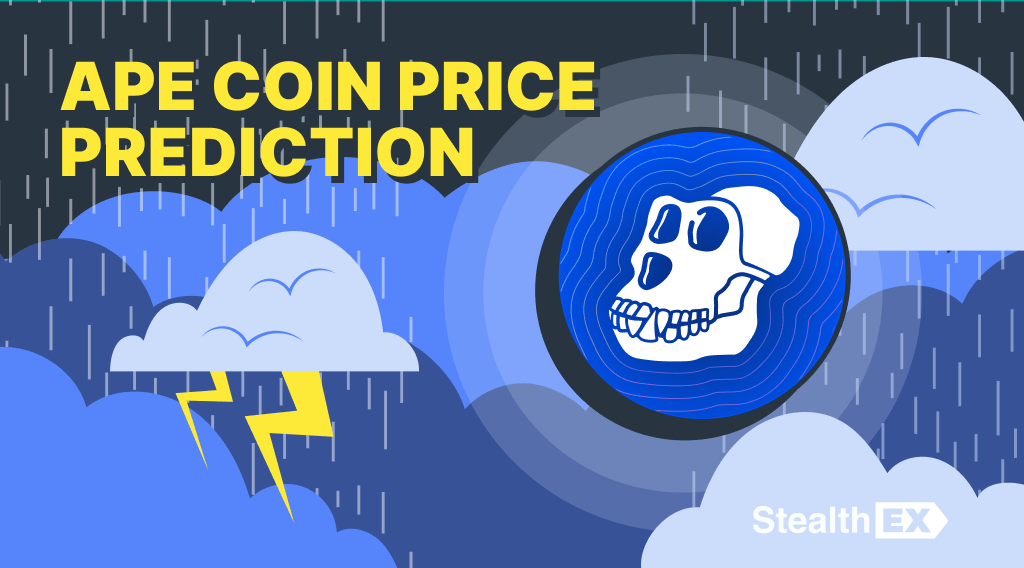 There are many projects on the crypto market that are both entertaining and provide some real value to society. One of these is ApeCoin (APE), a cryptocurrency adopted to be the native coin of Bored Ape Yacht Club (BAYC), developed by Yuga Labs. Since the ApeCoin DAO came into being in April 2021, the BAYC has been among the top non-fungible token (NFT) collections with a vibrant community. APE coin is still trending and at the moment is one of the Top 100 cryptocurrencies. Read more about ApeCoin price prediction in the new StealthEX article.
| | | |
| --- | --- | --- |
| Current APE Coin Price | ApeCoin Price Prediction 2025 | ApeCoin Price Prediction 2030 |
| $1.57 | $5 | $250 |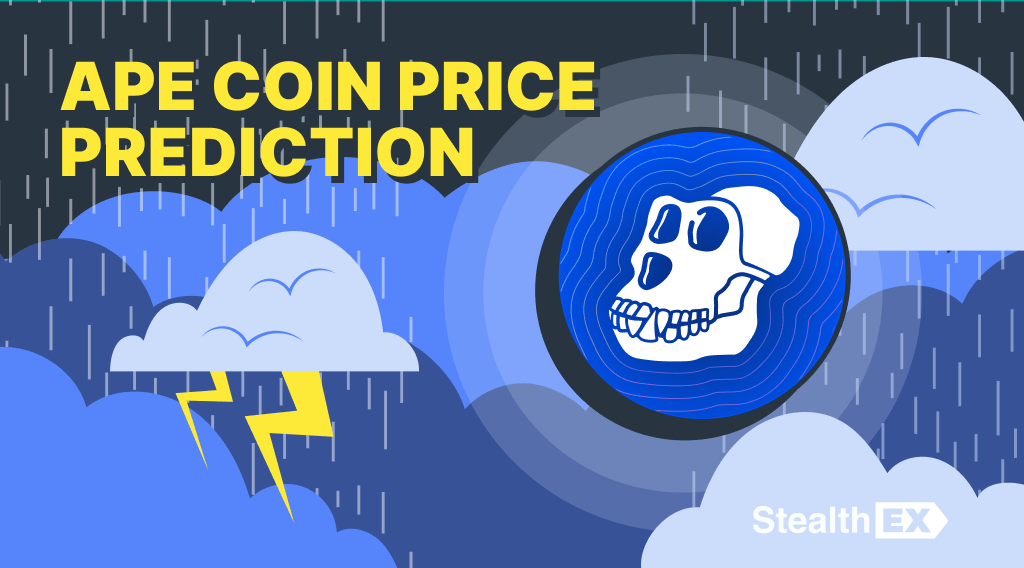 ApeCoin (APE) Overview
What Is ApeCoin? APE is an Ethereum-based token governed by ApeCoin DAO, a decentralized autonomous organization (DAO) tasked with making decisions around things like ecosystem fund allocations, governance rules, projects, partnerships, and more. All holders of APE are eligible to be members of ApeCoin DAO.
The coin came from Yuga Labs, a Web3 firm, and its Bored Ape Yacht Club (BAYC) NFT series. The 10,000 separate cartoon ape drawings in the collection each have their own distinctive style and appearance, and the blockchain verifies who owns each one. One of the most successful NFT initiatives so far is BAYC, which has gained viral appeal with well-known owners like Eminem and Jimmy Fallon.
| | |
| --- | --- |
| Current Price | $1.57 |
| Market Cap | $576,616,777 |
| Volume (24h) | $79,804,999 |
| Market Rank | #79 |
| Circulating Supply | 368,593,750 APE |
| Total Supply | 1,000,000,000 APE |
| 1 Month High / Low | $1.75 / $1.28 |
| All-Time High | $39.4 Mar 17, 2022 |
Collectively, APE token owners make governance decisions by voting on matters such as funding distribution, rule formulation, collaborations, project selection, and more. The community's governance choices are carried out by the ApeCoin Foundation.
The ApeCoin Foundation promotes the expansion of the ecosystem in its capacity as the DAO's legal representative. The Board, a unique entity inside the Foundation, carries out the goals set forth by the community. There are five representatives of the technology and cryptocurrency community on the APE Board. Every year, ApeCoin users cast votes to choose the new Board members.
As the open-source protocol layer of the ecosystem, ApeCoin serves several purposes:
Governance: ApeCoin is the ecosystem's governance token, allowing ApeCoin holders to participate in ApeCoin DAO.
Unification of spend: ApeCoin is the ecosystem's utility token, giving all its participants a shared and open currency that can be used without centralized intermediaries.
Access: ApeCoin provides access to certain parts of the ecosystem that are otherwise unavailable, such as exclusive games, merch, events, and services.
Incentivization: ApeCoin is a tool for third-party developers to participate in the ecosystem by incorporating APE into services, games, and other projects.
ApeCoin Use Cases
ApeCoin has several uses in the ecosystem as a utility and governance token. APE use cases include giving holders access to premium features like games, events, products, and services, as well as allowing them to take part in the DAO's governance.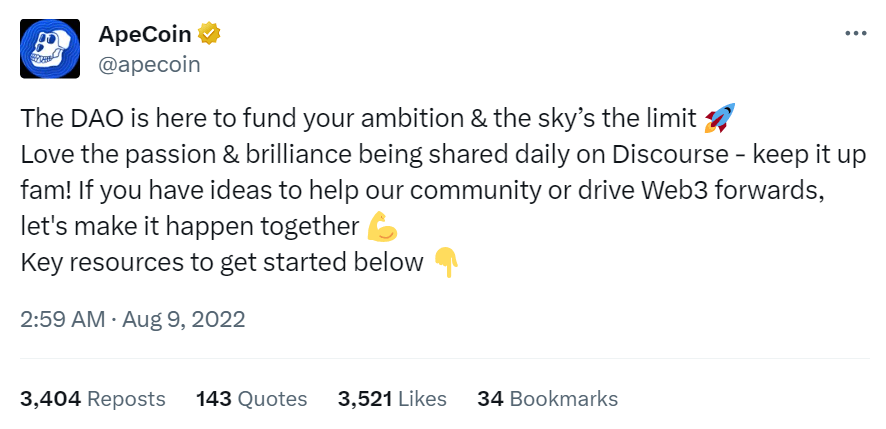 APE coin is a payment-ready cryptocurrency with a design that is identical to any other Web3 coin. Since ApeCoin is a widely used ERC-20 token, most retailers consider it to be acceptable. Additionally, the coin is already being used as NFT rewards; holders who have the BAYC can cash in their free APE right away.
ApeCoin is used by outside developers to participate in the ecosystem and add the currency to their apps, games, and other endeavors. For example, the currency is used as a reward for gamers in Animoca Brands' Play-to-Earn (P2E) mobile game Benji Bananas. While playing, they will be able to obtain unique tokens, which they may then exchange for APE coins.
APE Coin Price History
When APE went public on March 17, 2022, it opened for trading at $7.26. Overnight, it reached a peak of $16.47. APE peaked at $26.19 at the end of April, after a month of trading at roughly $13, and then fell back to $13 in May.
There is a maximum of 10 billion tokens available for ApeCoin. At launch, the protocol put 30.25% of them into circulation; the remaining portion will be added during the next four years.
For the first ninety days following debut, owners of NFTs in the Bored Ape Yacht Club metaverse could obtain 150 million APE tokens from the ApeCoin website. 10,094 APE coins could be claimed by anyone holding a Bored Ape NFT. At the peak of APE in April 2022, which was $26.19, that was nearly $300,000.
ApeCoin Price Chart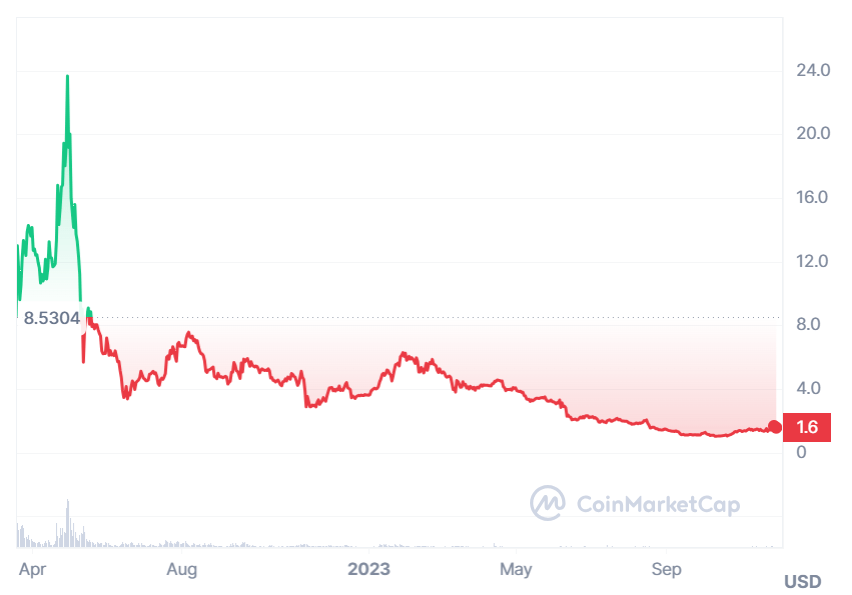 Source: CoinMarketCap, November 29, 2023
2,042 APE tokens might be obtained by holders of a Mutant Ape, a derivative NFT given to BAYC holders in 2021. 10,950 tokens were available to owners of both the Bored Ape NFTs and the Kennel Club NFTs, a different derivative NFT project. Two thousand nine hundred tokens were awarded to anyone who had both a Mutant Ape and a Kennel Club NFT. The price for APE coin has since then dropped, and at the moment, APE's price fluctuates around $1.57.
ApeCoin Price Prediction up to $500
ApeCoin Price Prediction 2024
According to DigitalCoinPrice, ApeCoin crypto will increase in price. Based on the experts' forecasts, in 2024, APE might go as high as $4.1 (+156%) per coin at its highest point. Its minimum price might go as low as $3.43 (+114%).
Based on the experts' forecasts at PricePrediction, in 2024, APE Coin coin will start out with $2.56 (+60%) as its lowest price and rise to a maximum of $3.12 (+95%).
WalletInvestor gives a negative price prediction for APE in 2024: their experts believe that it might go as low as $0.0754 (-95%), while at its peak it can reach $0.226 (-85%).
APE Coin Price Prediction 2025
DigitalCoinPrice experts believe that in 2025, ApeCoin crypto will make more gains. Based on their predictions, APE can rise in price and reach $5.82 (+263%) per coin at its peak. Its minimum price might drop to $4.7 (+193%).
WalletInvestor analysts think that in 2025 the price of ApeCoin will stay quite low, gaining only a fraction of its current price: according to their estimations, the cryptocurrency's minimum price will hover around $0.159 (-90%), while at its peak it might reach $0.476 (-70%).
According to PricePrediction, the expected maximum price of ApeCoin crypto at the end of 2025 will be $4.38 (+173%), and it may also drop to a minimum of $3.55 (+121%).
ApeCoin Price Prediction 2030
DigitalCoinPrice crypto analysts think that by 2030, ApeCoin coin will considerably rise in price: its minimum price level is expected to be around $10.78 (+573%), while its maximum price will go as high as $11.82 (+638%).
PricePrediction experts believe that APE's progress in terms of price will be even more significant: according to them, the crypto's lowest price will hover around $15.06 (+841%), while at its peak it might reach $18.36 (+1,047%).
According to Telegaon forecasts, by 2030 APE crypto will skyrocket. This website believes that ApeCoin can go as high as $250.13 (+15,533%) per coin. It can also drop in price to a minimum of $212.98 (+13,211%) per coin.
APE Coin Price Prediction 2040
According to Telegaon forecasts, by 2040 APE crypto will be making further progress. This website believes that ApeCoin can drop to a minimum of $473.56 (+29,497%) per coin. It can also rise in price even more and reach $518.94 (+32,333%) per coin.
Experts at CoinMarketCap believe that by 2040, Ape Coin will rise in price: the maximum price of APE Coin is projected to be around $121.29 (+7,480%). If the market turns bearish, the minimum price level of APE coin could fall down to $115.67 (+7.129%).
APE USDT Price Technical Analysis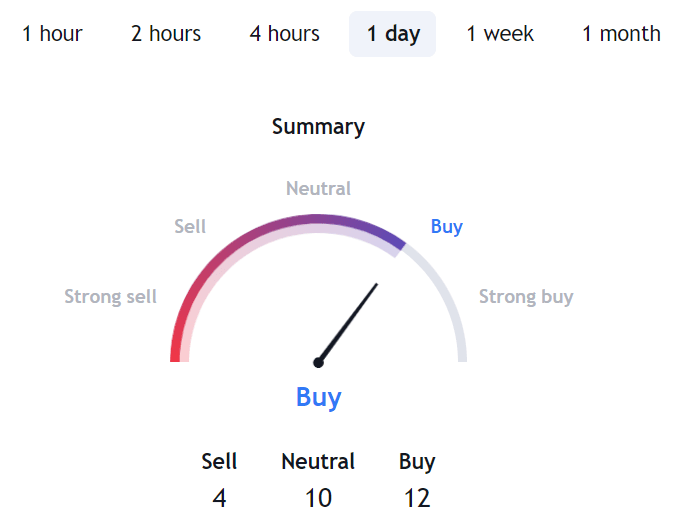 Source: Tradingview, Data was taken on November 29, 2023
Now that we've seen possible price predictions for APE Coin, let's find out a bit more about what crypto experts have to say about it.
ApeCoin Price Prediction: Experts' Opinions
Regarding ApeCoin, investors are split; while some are adamantly in favor of it, others believe its bubble will burst in a matter of weeks. Many experts predict that ApeCoin will yield substantial returns over the long run as an investment. It's crucial to remember that these projections could alter in response to a number of variables, including market dynamics, legislative changes, and technological improvements.
Experts at CoinMarketCap believe that APE coin represents value for the market and will inevitably rise in price, reaching $39.77 in 2030.
Factors Affecting ApeCoin Coin Price
As cryptocurrencies regain momentum and become more mainstream, their chances of attracting specific regulations by the government are tremendously high. Certain governments across the world do not appreciate the unregulated and decentralized nature of this currency. Resultantly, they take certain measures to control this market.
The easiest way to control the crypto market is to add taxation in transactions. Such regulations and limitations will increase the centralisation of virtual currency, thus, affecting the cryptocurrency price. When it comes to ApeCoin, its popularity may also depend on the NFT market and its condition.
Additionally, here are some key points to consider when evaluating ApeCoin as an investment:
Purpose and technology.
Market regulations.
Development, adoption, and partnerships.
Long-term vision.
Use cases.
Risks and Opportunities
Purchasing cryptocurrencies too high is the first thing to be cautious of, particularly with respect to more recent ones like ApeCoin. During the initial trading days, investors may exhibit a great deal of enthusiasm. They could purchase it in the hopes that the price will rise, then sell it for a profit before it might drop. Another thing you need to be wary of is the extreme volatility cryptocurrencies are subject to.
However, when it comes to Ape Coin, experts have divided opinions about its value. To put things in perspective, Bored Ape's NFTs were purchased by superstars like Justin Bieber and Eminem. Importantly, ApeCoin describes the APE Foundation as the 'steward' of the token.
The foundation, which is managed by ApeCoin DAO, has its governance community-led and decentralized. All of this means that this cryptocurrency has a solid goal and vision, coupled with media hype and popularity.
What Price Will ApeCoin Go To?
It's quite possible for this cryptocurrency to reach $10, $20 and even $250 in 2030.
What Is the APE Coin Price Forecast for 2024?
According to PricePrediction ApeCoin could reach a maximum price of $3.12 and a minimum price of $2.56, resulting in an average price of $2.63 for 2024.
What Will APE Coin Be Worth in 2025?
Based on DigitalCoinPrice predictions, in 2025 APE can rise in price and reach $5.82 per coin at its peak. Its minimum price might drop to $4.7.
Can APE Coin Hit $1000?
ApeCoin would need to gain over 62,000% to reach $1,000. This is not feasible, however, with time, it can reach a significant price level.
Is APE Coin Going to 100x?
For Ape Coin to skyrocket, it needs to come up with something extraordinary, to revolutionize the crypto industry. It can happen, however, most experts agree that the coin's price won't reach these highs.
Conclusion
It's crucial to conduct your own research before investing in any cryptocurrency and base your choice on your risk tolerance and financial objectives. ApeCoin (APE) is a relatively new cryptocurrency that has generated a lot of stir in the crypto community. When choosing to purchase ApeCoin, there are possible risks and rewards to take into account, just as with any investment.
Where to Buy ApeCoin?
StealthEX is here to help you buy ApeCoin (APE) if you're looking for a way to invest in this cryptocurrency. You can buy APE tokens privately and without the need to sign up for the service. StealthEX crypto collection has more than 1400 different coins and you can do wallet-to-wallet transfers instantly and problem-free.
How to Buy Ape Coin: Quick-Step Guide
Just go to StealthEX and follow these easy steps:
Choose the pair and the amount you want to exchange — for instance, ETH to APE.
Press the "Start exchange" button.
Provide the recipient address to transfer your crypto to.
Process the transaction.
Receive your crypto coins.

Follow us on Medium, Twitter, Telegram, YouTube, and Publish0x to stay updated about the latest news on StealthEX.io and the rest of the crypto world.
Don't forget to do your own research before buying any crypto. The views and opinions expressed in this article are solely those of the author.
APE
ApeCoin
crypto price prediction
NFT
price prediction
Recent Articles on Cryptocurrency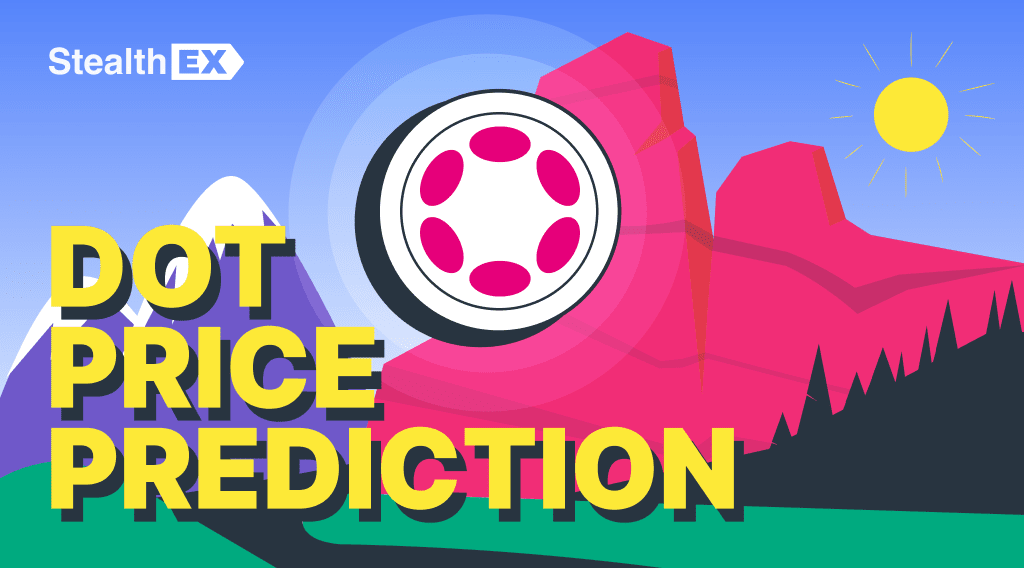 November 29, 2023
Price Prediction
Polkadot (DOT) Price Prediction: Will DOT Coin Reach $1000?
According to the long-term Polkadot price prediction by the end of 2030, the DOT price may rise to $195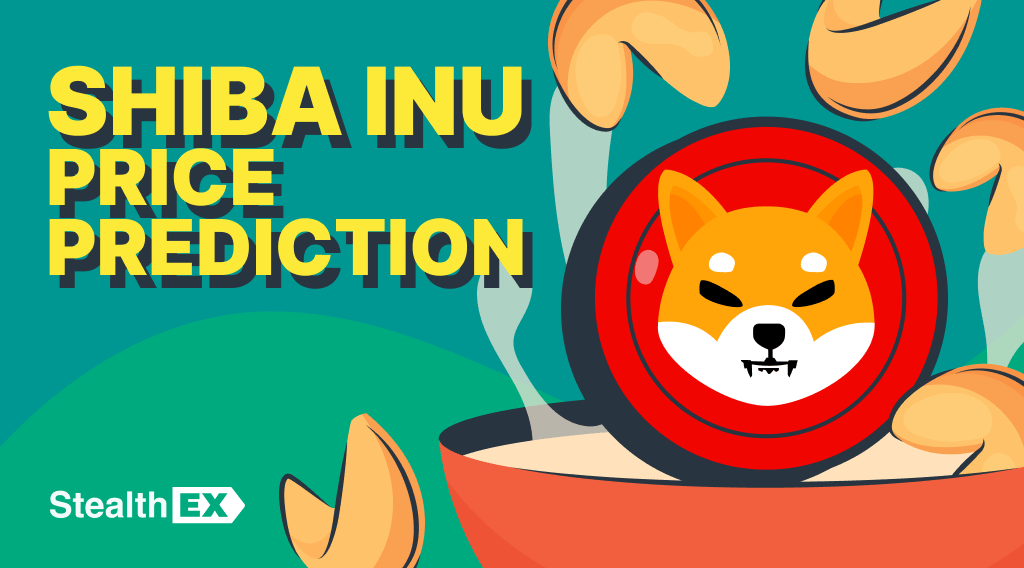 November 28, 2023
Price Prediction
Shiba Inu Price Prediction: Will SHIB Coin Reach $1?
Shiba Inu price prediction, by the end of 2030, the SHIB coin price is expected to reach a maximum level…