Ethereum Price Prediction 2025: Will ETH Reach New Heights Soon?
August 3, 2023
Price Prediction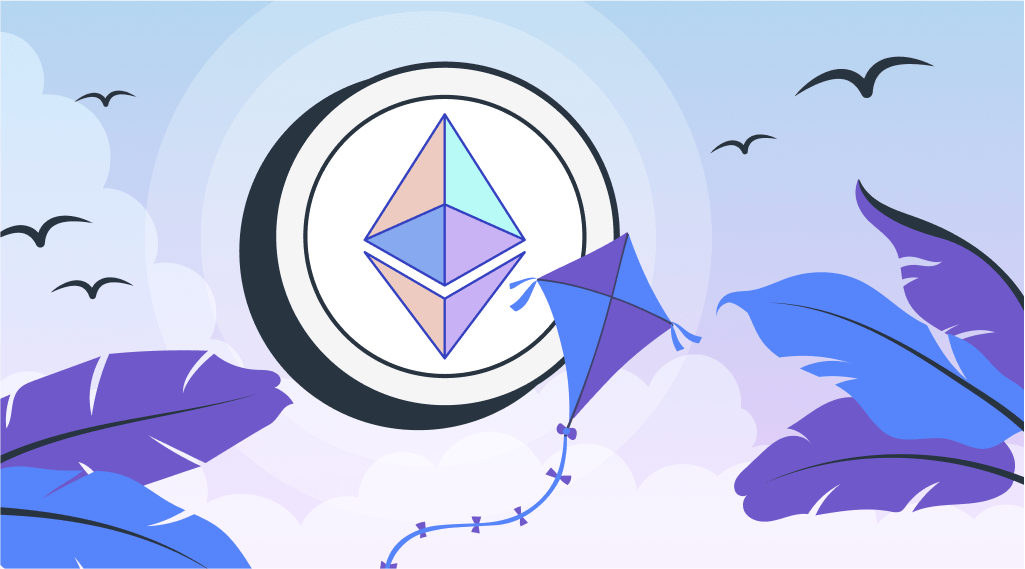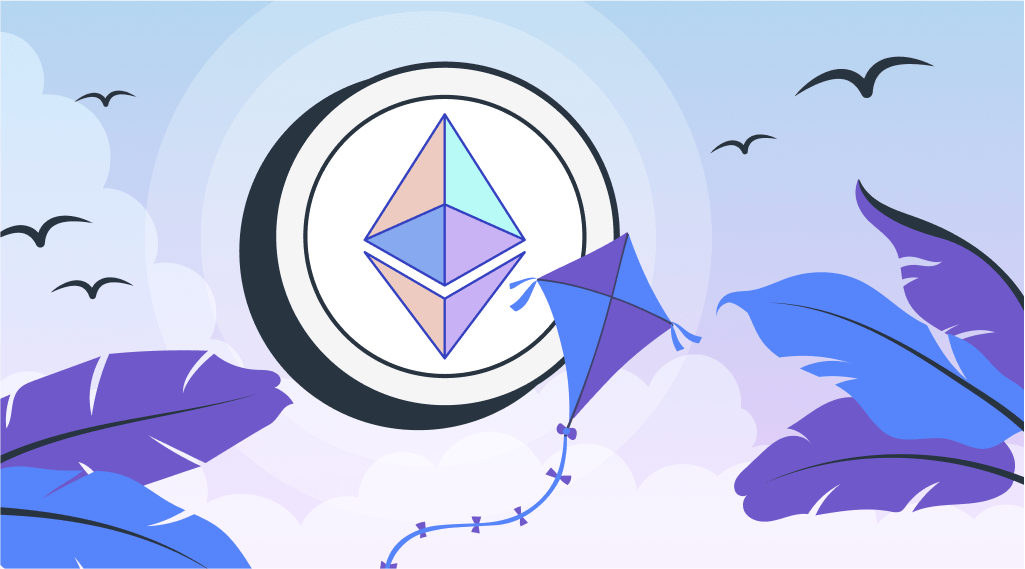 Ethereum remains one of the most prominent cryptocurrencies on the market, and it's quite possible it will reach a new all-time high before 2025, with the next Bitcoin halving. Read more about Ethereum price prediction 2025 in the new StealthEX article.
Ethereum Price Prediction 2023, 2024, 2025 Summary
| | | | |
| --- | --- | --- | --- |
| Year | Minimum ETH Price | Average ETH Price | Maximum ETH Price |
| 2023 | $1,647.09 | $3,918.93 | $4,037.78 |
| 2024 | $3,932.83 | $4,456.89 | $4,668.22 |
| 2025 | $5,405.42 | $5,946.84 | $6,632.66 |
Ethereum Overview
Let's take a closer look at Ethereum platform's main traits and quickly go over some of their implications.
Ethereum Features
Open and 'permissionless' access. On the Ethereum network, anyone is free to build, run, and consume applications. There is no need to register an account (ask for permission) in order to create, deploy, or utilize an application, and the network does not determine which applications to execute. Instead, the resources of the shared computer are allocated solely by market forces. In other words, the network's processing power will be available to anyone willing to pay. It has a strong democratizing effect. It implies that everyone in the globe might theoretically utilize, for instance, Ethereum-based financial protocols for lending and borrowing. Additionally, it means that anyone can create an application on Ethereum and make it available to everyone else in the world without needing a third party's permission.
Transparency. Both the operating system and the apps that run on it are transparent to anyone. Participants can assess even the smallest elements of applications before deciding whether to interact with them because there are no secret algorithms or proprietary software. The history of each application is likewise fully transparent. For instance, anyone can view historical data on the amount of collateral maintained in a lending protocol, from its origin to the present.
Immutability. Once the network has agreed upon the status of the shared computer, it is a record that cannot be altered. All participants have a high degree of confidence that fraud is not being committed due to the immutability of the present and past states and the previously mentioned transparency. Therefore, you can verify the information for yourself rather than, for example, trusting that an intermediary or its auditors are tracking it accurately.
Durability. The network is highly challenging to shut down, as are many of the apps that use it. This is made possible by the network's distributed and decentralized structure. The term 'distributed' describes how the processing power and memory of the shared computer are dispersed around the globe. Decentralised implies that there is no central authority. Although Ethereum has public spokespersons, it is not specifically owned by anyone. This implies that while governments, for instance, can outright ban Ethereum and perhaps even target prominent figures connected to it, it is incredibly difficult to stop the majority of people from using it, and even harder to shut it down entirely.
Neutrality. Finally, the protocol or 'operating system' develops through a quasi-political process where consensus building is valued and 'credible neutrality' is the proclaimed objective. This indicates that, in comparison to previous private computing models, Ethereum might be able to adapt to the needs of participants in a novel way. Participants are given more assurance that they will always have equal access to the network's resources and that the network won't develop in a way that puts the needs of one group ahead of those of another.
Ethereum Price History
The block 46147 transaction hash was used to complete the first Ethereum transaction on August 7, 2015. Since its introduction in 2015, Ethereum price was trading below $1 for the most part of 2015, but by March 2016, when it briefly touched $10.03 on March 4, 2016, it had crossed the $10 threshold.
In May 2017, Ether, which had gained popularity by then, crossed the $100 threshold. Ether had a value of $774.69 by the end of 2017, and by the first week of 2018, it had surpassed $1,000. After the unheard-of surge, Ether price also declined as a result of the cryptocurrency crash of 2018, also known as the Bitcoin crash, and its value dropped to under $100 per unit by the end of the year.
From 2019 to 2021, Ether once again continued to rally and reached its highest price of $4,815 on November 9, 2021. For the first half of 2022, Ether had dipped in value. At the moment, its price hovers around $1,800, which is quite impressive taking into consideration the current bearish market. In addition, Ethereum has undergone significant technological upgrades to its blockchain since its inception in 2015, for instance, the famous Merge that was executed in September 2022 and saw the blockchain transition to the more convenient and eco-friendly Proof-of-Stake consensus model.
ETH Coin Price Chart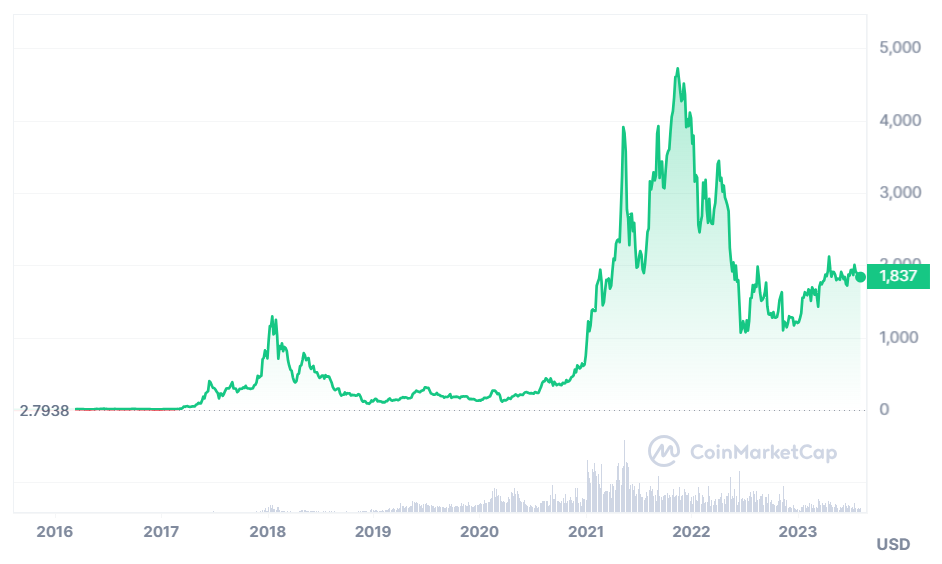 ETH Price History. Source: CoinMarketCap, 3 August 2023
| | |
| --- | --- |
| Current Price | $1,835.27 |
| Market Cap | $220,554,475,965 |
| Volume (24h) | $5,461,132,039 |
| Market Rank | 2 |
| Circulating Supply | 120,170,968 ETH |
| Total Supply | 120,170,968 ETH |
| 1 Month High / Low | $2,026.20 / $1,817.92 |
| All-Time High | $4,891.70 Nov 16, 2021  |
Ethereum Price Prediction
The overall expectations for Ethereum have changed during the month. Earlier in July, the crypto market rose as positive mood flows across trading floors: U.S. District Judge ruled partially in favor of Ripple on 13 July 2023, and the price predictions included the general expectation that the bear market would end, giving way to bullish tendencies. However, two weeks later, the mood has subsided, and crypto price predictions have changed.
One the most trusted web resources for cryptocurrency price predictions, DigitalCoinPrice, believes that Ethereum will continue growing in price. According to its estimations, in 2023 the minimum price of Ether might drop to $1,647.09 (-10%), while its maximum price, $4,037.78, will see the cryptocurrency rise in price by 119%.
PricePrediction analysts have a more optimistic outlook on the price of Ethereum and believe that it will not fall, but rather rise: according to their estimates, the price of Ethereum can go as low as $2,075.51 (+12%), and it can also reach $2,340.15 (+27%) at its peak.
WalletInvestor crypto experts are not enthusiastic about Ethereum making it to a new all-time high. According to their calculations, Ethereum's price can drop down to a minimum of $945.657 (-48%). At its maximum, Ethereum might rise to $2,017.026 (+9%).
Ethereum Price Prediction 2024
DigitalCoinPrice experts believe that the second biggest cryptocurrency will rise in price to reach $3,944.57 (+114%) per coin at its lowest point. Its maximum price is expected to go as high as $4,682.16 (+154%).
PricePrediction analysts are a little less optimistic than DigitalCoinPrice and believe that ETH will rise in price, but slowly. According to their website, the expected minimum price of ETH coin at the end of 2025 will be $3,070.96 (+67%), and it may also go as high as $3,862.74 (+102%) at its peak, stopping a bit lower than its all-time high.
WalletInvestor experts give a very broad negative price prediction for Ethereum. They believe that ETH's price will drop drastically – its maximum price at the end of December of 2025 is forecasted to hover around $0.000001 (-100%). Its maximum price can, however, reach $1,219.795 (-33%).
Ethereum Price Prediction 2025
According to DigitalCoinPrice, in 2025 Ethereum will continue growing in price: its minimum is forecasted to stop at $5,421.56 (+195%) per coin, which will still be Ethereum's all-time high. It can also reach its maximum price level of $6,652.47 (+262%) per coin.
PricePrediction analysts are a bit less enthusiastic about Ethereum outperformance, however, their analysts also believe that the cryptocurrency will nearly break its older price record of $4,891.70 per piece. According to this website, the expected maximum price of ETH coin at the end of 2025 will be $5,379.07 (+192%), and it can also drop to a minimum of $4,360.08 (+137%).
According to WalletInvestor crypto analysts, 2024-2025 are going to be a rough time for the crypto industry, and Ethereum will only start recovering by the end of 2025 with a minimum price level of $114.007 (-93%) and a maximum price level of $342.021 (-81%).
CryptoPredictions experts think that Ethereum won't do as good: according to their estimates, by December 2025, it might cost as little as $1,271.323 (-30%) or rise to a maximum of $1,869.593 (+1%), overcoming its current price.
Telegaon remains the most optimistic crypto price predictions website. Its analysts expect that by 2025, Ethereum's minimum price will be $5,196.98 (+192%), while at its maximum it can reach a new all-time high, skyrocketing to $6,489.17 (+253%).
ETH USDT Price Technical Analysis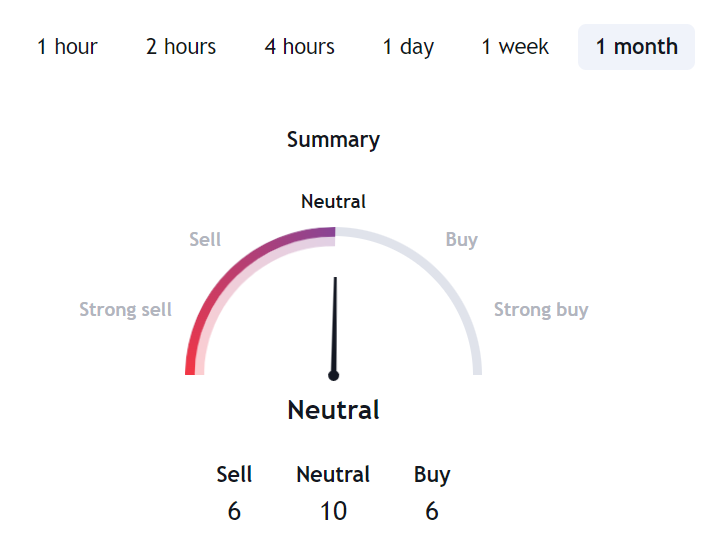 Source: Tradingview, Data was taken on August 3
Now that we've seen what the future can bring for Ethereum, let's find out what the future might bring for the second largest cryptocurrency.
Ethereum to Become a World Computer
Ethereum's roadmap shows a tactical approach to important problems including high gas fees, privacy and security worries, and centralization. It attempts to implement rollup-centric scaling, improve privacy, and streamline the protocol through a number of stages. Ethereum aspires to reach global scalability and develop into a potent decentralized world computer, enabling widespread adoption and revolutionizing numerous industries. To this end, it makes use of cutting-edge technologies like L2 rollups and smart contract wallets.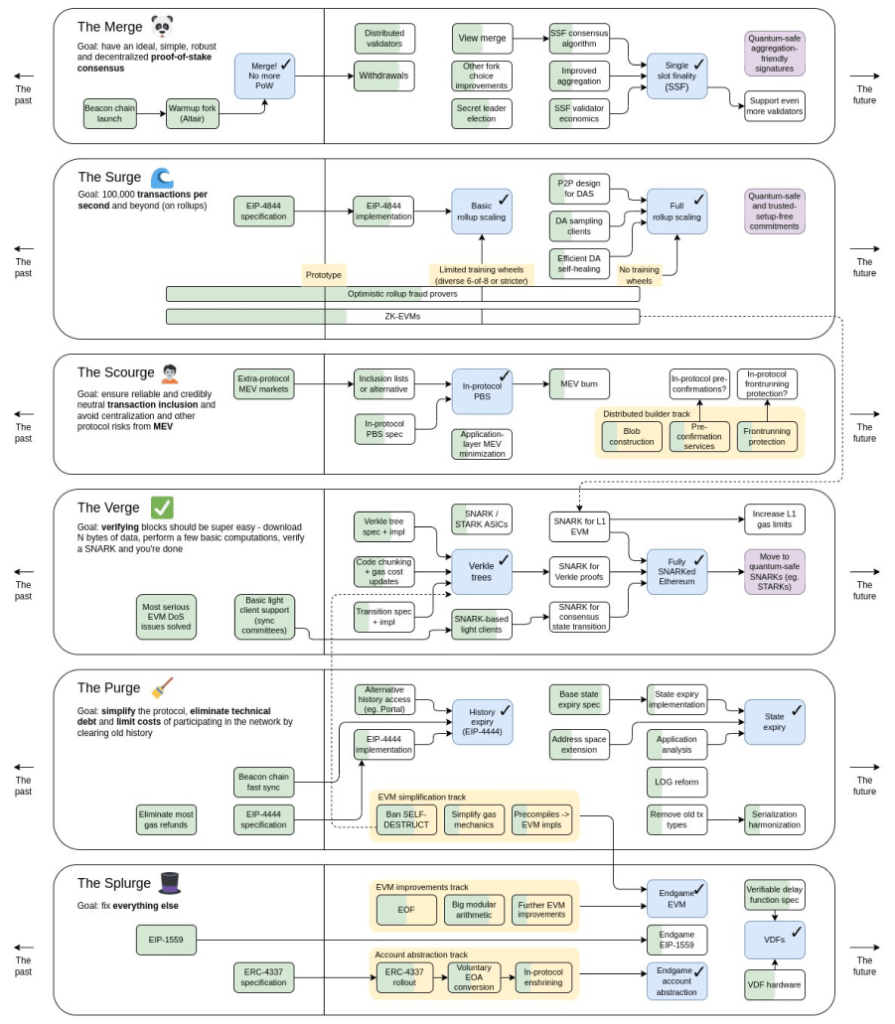 Ethereum's founder Vitalik Buterin has outlined three significant technological changes for the second largest cryptocurrency to take off on a global scale:
Scaling via Rollups. The roll-up approach is how Ethereum plans to expand globally. On top of a primary blockchain (L1), a rollup is a layer-two (L2) chain. These rollups handle L2 chain transactions, aggregate them together, and then broadcast the bundled transactions on the L1 chain. Transactions are grouped together by the roll-up so that petrol fees are not charged for each transaction.
Smart contract wallets. Smart contract wallets will be introduced with the next Ethereum upgrades. It's anticipated that account recovery and onboarding would go more smoothly. Cryptocurrency transfers between different blockchain networks should become simpler.
Privacy transition. Ethereum will keep advocating for user privacy. Upgrades on the roadmap are intended to provide 'privacy-preserving funds transfers.' One address per transaction as opposed to one address per chain has been suggested by Buterin as the way things might go in the future. However, given the complexity, this is still a work in progress.
How Will ETH Price Change in the Near Future?
One of the finance platforms called Finder has asked 32 fintech and crypto experts to give their end-of-year price predictions for Ethereum. Most experts agree that the year will prove to be a good one for one of the most popular altcoins.
According to the findings provided to Finbold, the experts predict that Ethereum will increase as the year goes on, but it will not reach its record high ($4,891) level. On November 16, 2021, right before the onset of the crypto winter, the coin achieved its peak.
Finance experts surveyed predict that the highest price of ETH will be around $2,758 in 2023. The price is then anticipated to begin declining once more in the second half of 2023, falling to $2,342 by the conclusion of the year.
Is Ethereum a Good Investment?
Due to its potential for large returns and benefits of diversification, investors include ETH in their diversified portfolios. Additionally, acceptance of ETH as a valid investment is expanding and becoming more mainstream. Ethereum is showing new and improved levels of interconnection for businesses and private individuals around the world, and the blockchain is aimed at becoming a world computer, so the project's main cryptocurrency may considerably rise in price.
Fascinating new initiatives are being developed, including microgrids, electric vehicle charging stations, crypto collectibles, house mortgages, medical records, and many more, and all of this is going on within Ethereum's ecosystem. Additionally, Ethereum can run uncensorable apps, while the concept of tokenization and all its use cases for Ethereum can pave the way into the digital future. So it can be said that despite Ethereum's high volatility, it may be seen as a potentially good investment option.
How to Buy Ethereum via StealthEX
StealthEX is here to help you buy Ethereum if you're looking for a way to invest in this cryptocurrency. You can do this privately and without the need to sign up for the service. Our crypto collection has more than 1200 different coins and you can do wallet-to-wallet transfers instantly and problem-free.
Just go to StealthEX, choose the amount and cryptocurrencies you want to swap, click Start Exchange, and get ETH crypto to your wallet!
Follow us on Medium, Twitter, Telegram, YouTube, and Publish0x to stay updated about the latest news on StealthEX.io and the rest of the crypto world.
Don't forget to do your own research before buying any crypto. The views and opinions expressed in this article are solely those of the author.
ETH
ETH price prediction
Ethereum
Ethereum price prediction
price prediction
Recent Articles on Cryptocurrency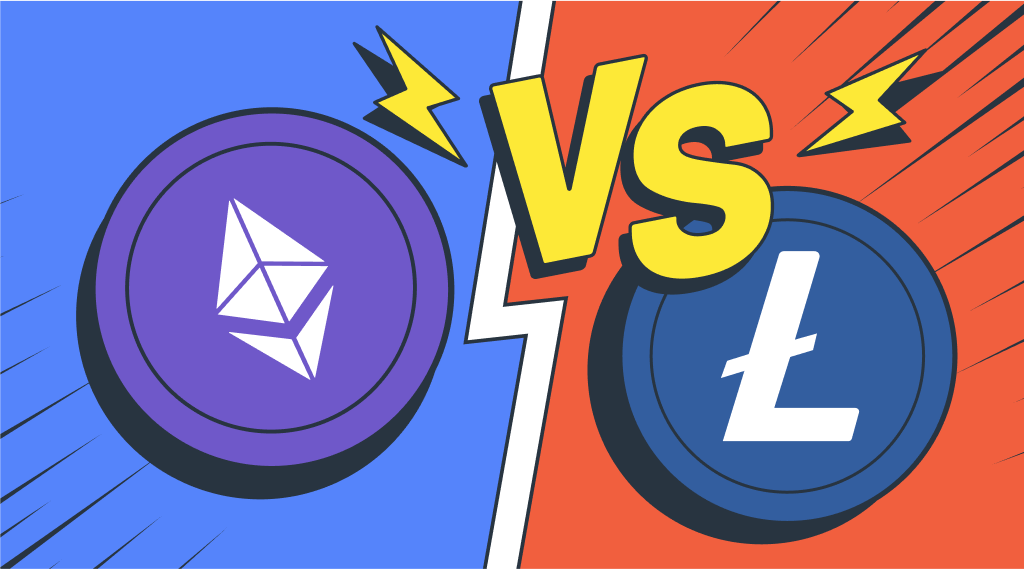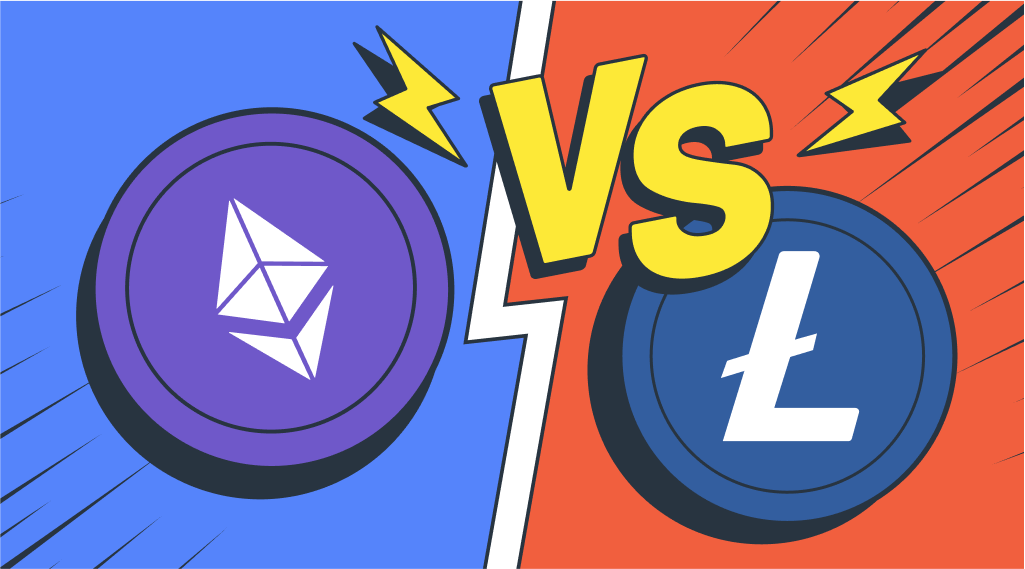 September 25, 2023
Crypto World
Litecoin vs Ethereum: Which Crypto to Choose? LTC & ETH
This article delves into the differences and similarities between LTC and ETH, offering a comprehensive comparison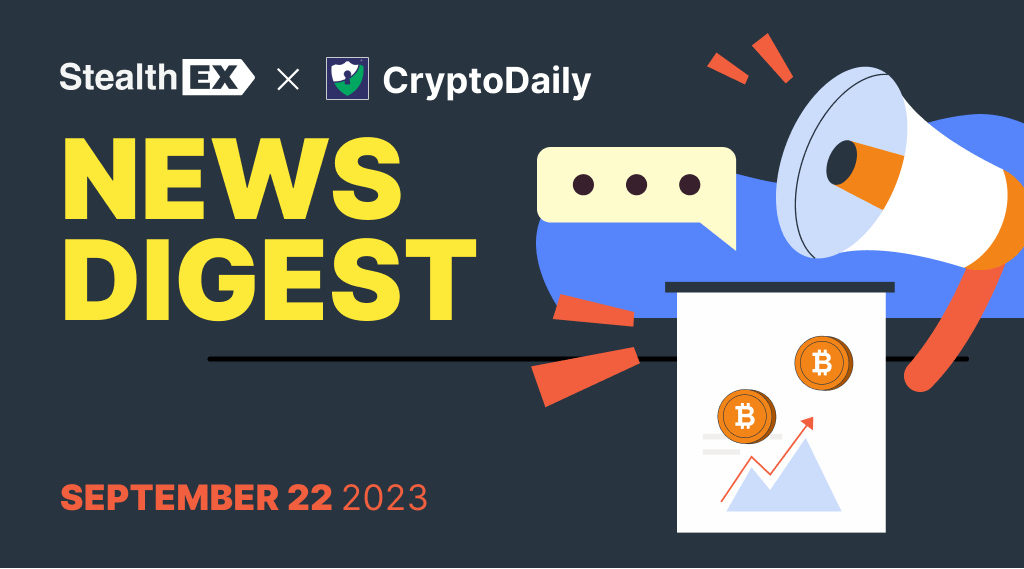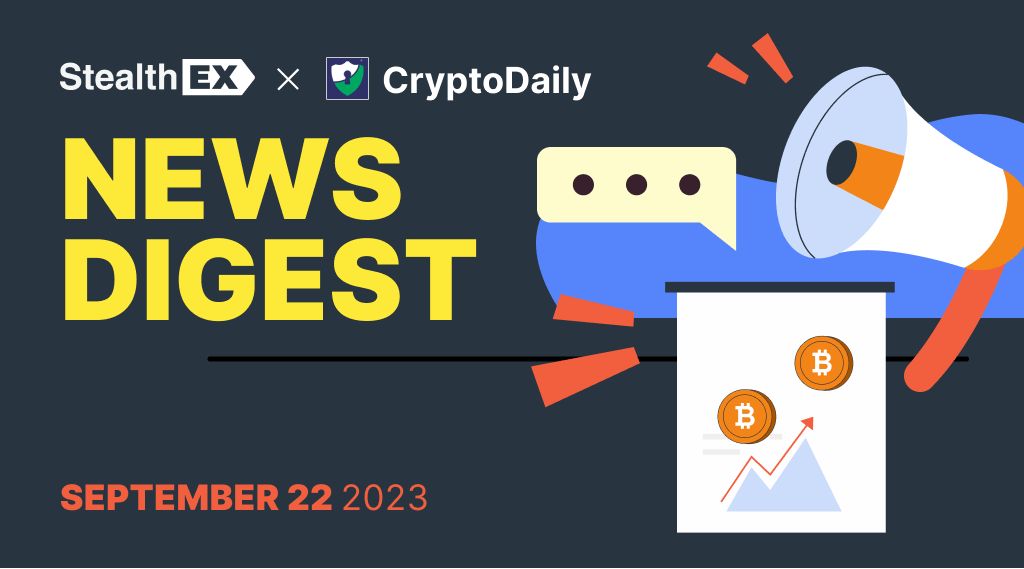 September 22, 2023
Crypto World
USDC on Polkadot, FTX Lawsuit, and SEC Actions: StealthEX x CryptoDaily Digest
In the dynamic sector of crypto, staying informed is crucial. Dive in to get a concise overview of the week's…