How to Convert ETH to BTC at the Best Rates: Step-by-Step Guide
July 10, 2023
How to Buy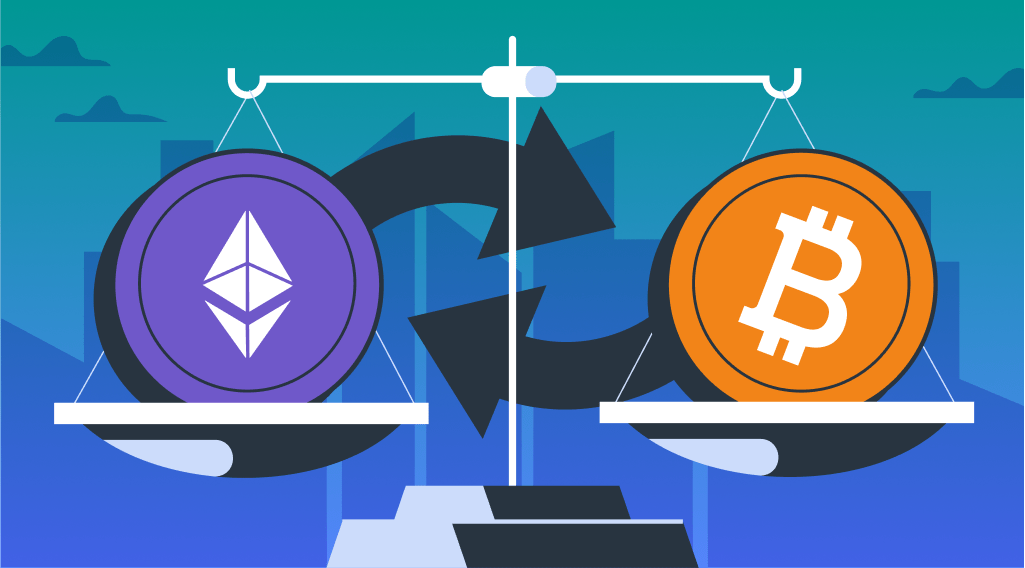 Two of the most popular cryptocurrencies today are Bitcoin (BTC) and Ethereum (ETH), and they attract the most attention. While Bitcoin works better as a peer-to-peer transaction system, Ethereum works well when you need to create and build distributed applications and smart contracts. To be able to freely use both of these cryptocurrencies, you will sometimes need to swap one for another. Let's see how you can quickly and effortlessly convert ETH to BTC.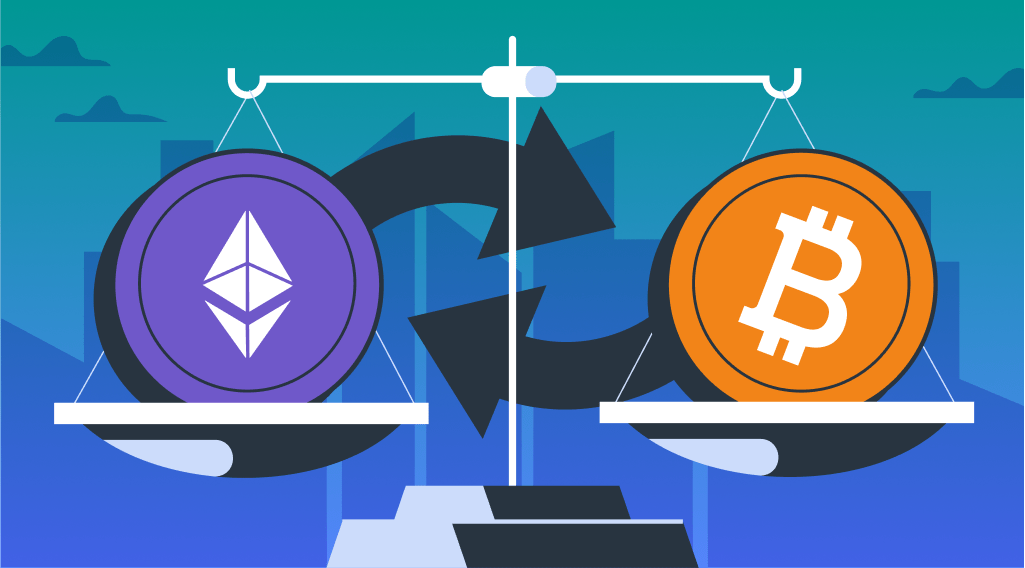 There are many exchanges where one can buy Bitcoin (BTC), and StealthEX is one of the safest options. This platform offers users to get ETH with no extra fees and with the best floating and fixed rates. The second most-famous cryptocurrency is always freely available for purchase via StealthEX.
How to Convert Ethereum (ETH) to Bitcoin (BTC)?
Let's imagine you want to exchange Ethereum for Bitcoin. Just follow the guidelines below.
To make an exchange, you need to take a few simple steps. First, you should choose ETH in the left drop-down list. Then choose Bitcoin in the list of coins on the right.
After setting the pair it is necessary to enter the amount of ETH you want to exchange. Following that, you will see the estimated amount of Bitcoin you will receive once the exchange has been completed.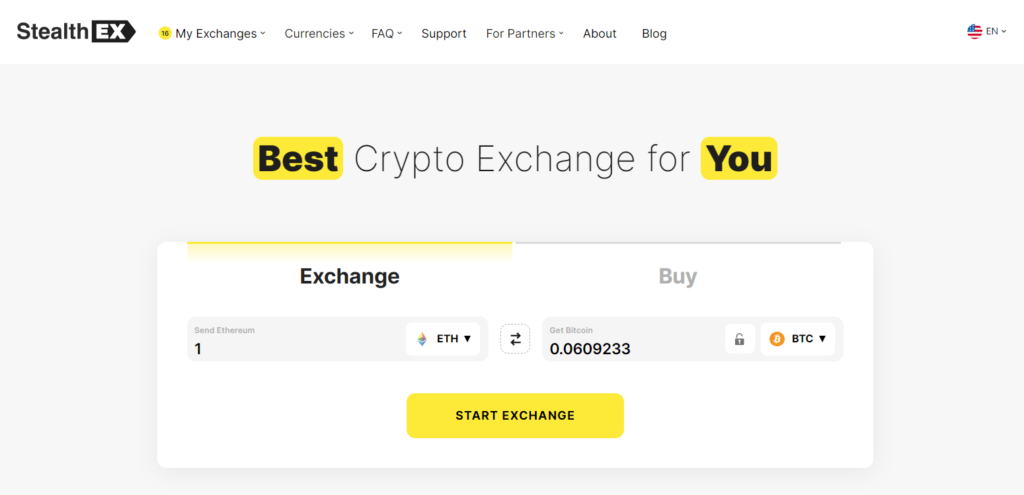 When everything is set, press the Start Exchange button and you will be taken to the next page.
In the second step, you need to provide the Bitcoin recipient address. The recipient address must match the crypto you are going to receive. Remember to double-check the information you enter prior to the exchange as the transaction you make cannot be canceled.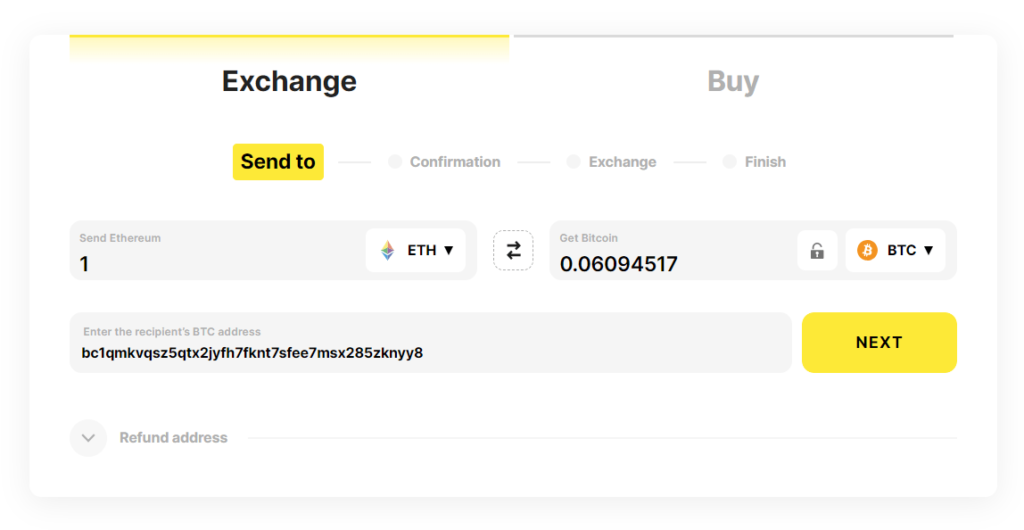 As soon as you have carefully checked all the details, you can press the Next button and you will be redirected to the Confirmation page.
Here you can revise the address provided and the amount of Bitcoin you will receive. Don't forget to read and check the Terms of Use and Privacy Policy box. Without checking the box you will not be able to continue the exchange.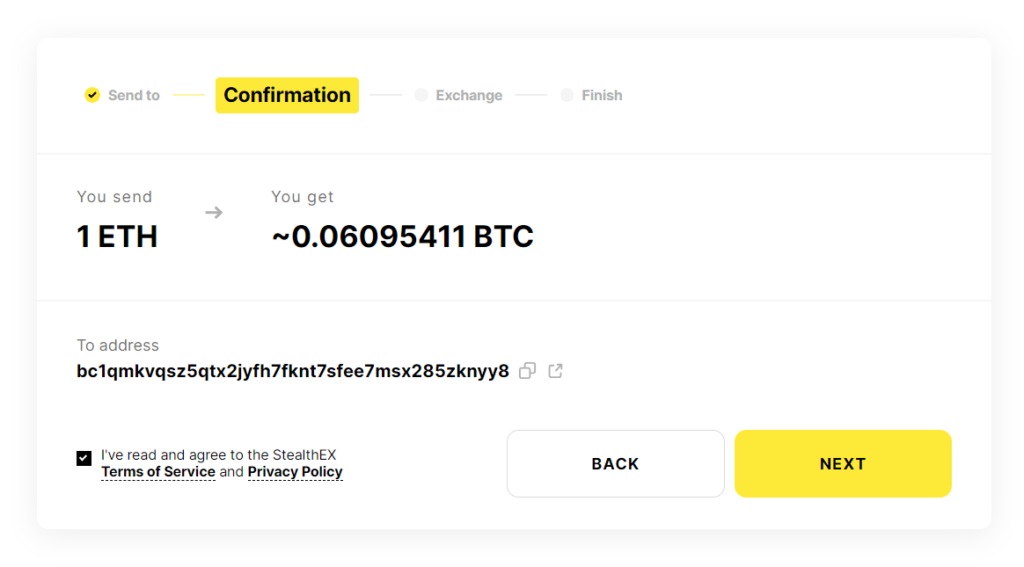 Pressing the Next button you will be redirected to the Exchange page.
At first, you will see the address where you need to send your Bitcoin to continue the exchange. StealthEX will also provide you with the exchange ID. It will allow you to keep all the information about the swap. It is recommended to save your exchange ID or the link to your exchange.
ETH to BTC Exchange Statuses
After sending Ethereum to the shown address, the information on the Exchange page will be renewed automatically. The Exchange page has several statuses that will change during the time of the exchange.
The first status is Awaiting deposit.
The following status is Confirming. This means that StealthEX is confirming the transaction you made.
The next status is Exchanging. During this time the exchange is being made.
Then the status will be changed to Sending to your wallet. This indicates that there are just a few minutes until you receive your Bitcoin (BTC).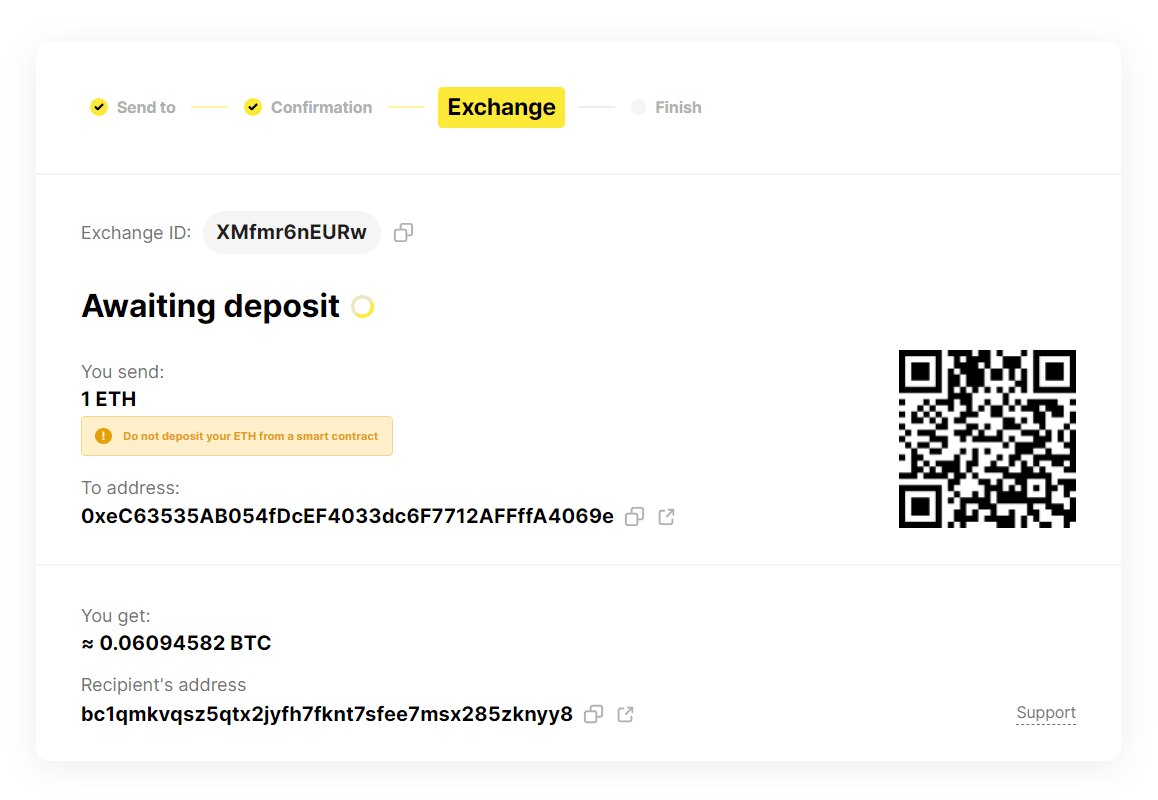 Finally, you will be redirected to the Finish page. This shows that the exchange has been successfully made and you will receive crypto to the address provided. To be sure that Ethereum (ETH) was sent to your wallet you can also use the Output hash shown on this page and check it in the blockchain list of transactions.
From here you can either create a new exchange on StealthEX or leave the page and check your BTC wallet to be surprised at how fast you get Bitcoin sent to your address. Usually, the process is quite rapid so you won't need to wait long: Ethereum-Bitcoin coin swaps are processed in a matter of minutes.
Now that we've sorted out how you can swap Ethereum to Bitcoin via StealthEX, let's take a closer look at both cryptocurrencies to compare them and find the differences between them.
Ethereum and Bitcoin – Key Metrics
Bitcoin (BTC) and Ethereum (ETH) are the two most popular cryptocurrencies, and they have significantly aided the sector's growth. Bitcoin was the first cryptocurrency to be formed and is seen as digital gold or "gold 2.0", whereas Ethereum is regarded as a global decentralized computer. Ether, the native cryptocurrency of the Ethereum network, is the second most popular digital token after Bitcoin. Bitcoin and Ethereum are the top two cryptocurrencies according to many measures. These indicators include market valuation, unique wallet addresses, and cryptocurrency exchange trading volume. Comparisons between Ether and Bitcoin are only natural given that Ether is the second-largest cryptocurrency by market capitalization.
Both cryptocurrencies are often swapped between themselves. Below, you can find the ETH to BTC price chart that can be used to compare Ether and Bitcoin prices.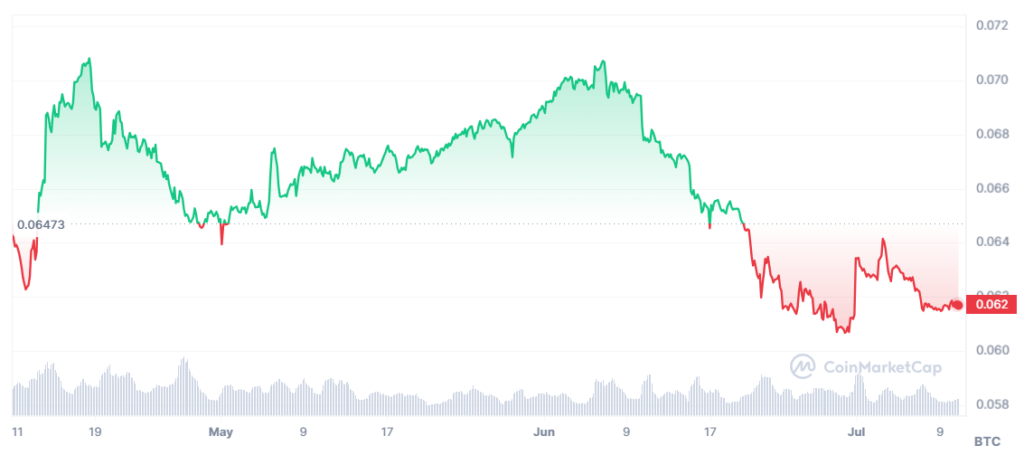 Ethereum to Bitcoin Price Chart (90 Days). Source: coinmarketcap.com
---
---
Bitcoin: The Number One Cryptocurrency
Bitcoin has been the most valuable coin by market capitalization since its introduction. Bitcoin, as a digital currency, has no physical existence, and many see it as a viable alternative to established fiat currencies.
Each Bitcoin coin or token is a store of value. Users can exchange Bitcoin for a variety of goods and services, just like cash. All transactions are recorded on a blockchain ledger, which includes a list of the parties and sums involved.
Users mine Bitcoin tokens in a decentralized manner. The Bitcoin network's computers, known as nodes, will execute transactions and receive fresh tokens in exchange for their efforts. However, incentives are only distributed to one of the Bitcoin network's nodes. Miners with more powerful rigs have a far better chance of obtaining rewards.
With a hard constraint of 21 million Bitcoin tokens, the value of Bitcoin is also determined by its perceived scarcity. Based on current mining capabilities and reward yield, mining all Bitcoin tokens will most likely take until the year 2140.
The mining process becomes more difficult as fewer tokens become accessible and rewards lose value. This method also contributes to the increased value of Bitcoin as an investment. Quite logically, Bitcoin is the most expensive cryptocurrency on the market and is expected to rise in price within a few years.
Ethereum: The DApps Hub
Ethereum is a platform that allows for the creation of decentralized apps and smart contracts. Developers can design applications that are then executed on smart contracts. Ether, like Bitcoin, can be used as money, however the demand for the Ether token is not as high. Ether is used mainly for four purposes: It is traded as a digital currency on exchanges, held as an investment, used to purchase goods and services, and used on the Ethereum network to pay transaction fees. The blockchain is constantly updated, which helps it to function better and more efficiently.
In addition, Ether is widely used to administer and develop dApps. There are no limits to the number of tokens that can be created over its lifetime, however the blockchain has a cap of 18 million each year. The value of Ethereum would fluctuate depending on its operations and the demand for tokens distributed with the help of the platform and dApps. When Etehreum appeared, developers acquired a new platform that can be used to apply innovative concepts and technological solutions to, and all this was made possible thanks to the Ethereum Virtual Machine or EVM. You can read more about Ethereum Virtual Machine in one of our articles.
Ethereum vs. Bitcoin: Pioneers in the World of Crypto
Ether and Bitcoin are comparable in many ways: both are digital currencies that can be traded on internet exchanges and kept in various cryptocurrency wallets. Both Bitcoin and Ethereum are assets based on a publicly displayed distributed ledger known as a blockchain that may be stored in digital wallets, employ alphanumeric strings as addresses, and are sold on cryptocurrency exchanges. Bitcoin and Ethereum are both decentralized cryptocurrencies, which means they are neither issued or regulated by central banks or other financial institutions. Instead, they rely on computers running copies of their networks, referred to as nodes, to verify that all network participants are on the same page.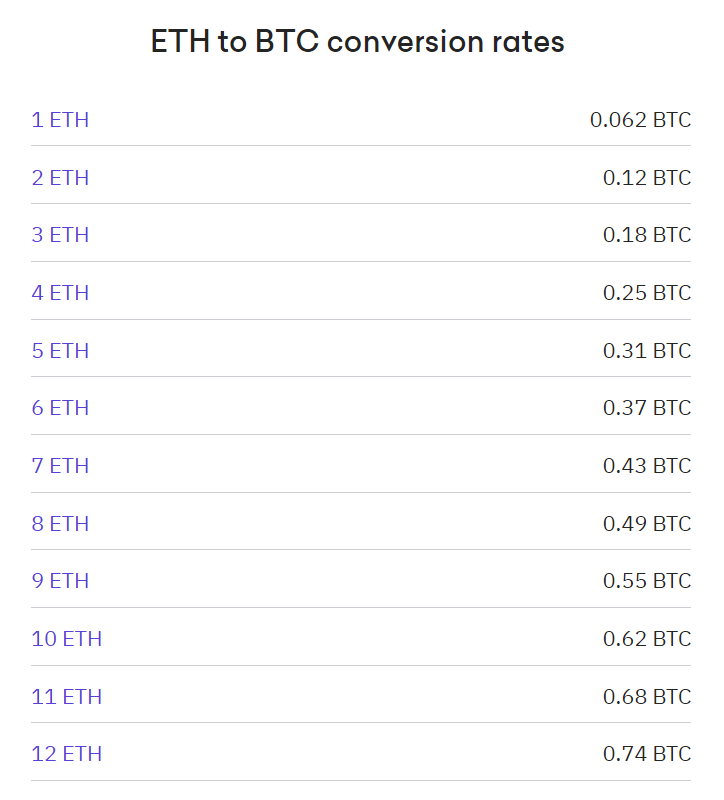 Ethereum to Bitcoin Converter. Source: kraken.com
There are, nevertheless, numerous important differences. While Bitcoin is intended to be a money and a store of value, the Ethereum network is intended to be used for complicated smart contracts and decentralized applications.
While both the Bitcoin and Ethereum networks are based on the distributed ledger and cryptography principles, they differ in numerous respects. Transactions on the Ethereum network, for example, may include executable code, whereas data attached to Bitcoin network transactions is solely intended to record transaction metadata. Other differences include block time (ETH transaction is confirmed in seconds, but a BTC transaction takes minutes), and their consensus algorithms: Bitcoin employs SHA-256, but Ethereum employs LMDGhost.
Public wallet addresses are also different on both networks. These wallet addresses are unique identifiers that allow users to receive funds, comparable to an International Bank Account Number (IBAN), which is a unique identifier financial institutions use to identify which bank and country a client's account belongs to. On Bitcoin, addresses can start with a 1, a 3, or with 'bc1,' while on Ethereum these start with '0x.'
New tokens can be created on both the Bitcoin and Ethereum networks. Bitcoin makes use of the Omni layer, which is a platform for producing and trading currencies on the Bitcoin network. The adoption of the Omni layer has been centered on stablecoins. Ethereum tokens, on the other hand, are issued in accordance with many standards, the most common of which being ERC-20.
What Makes Ethereum and Bitcoin Similar?
Here is a short overview of what makes ETH and BTC similar.
Can be regulated. These two currencies are governed by a variety of government rules. Many governments allow currency trading, however there may be some restrictions on what a person can obtain. Profits from cryptocurrency investments will be taxed in some nations.
Decentralized. Both currencies are decentralized and rely on a blockchain operated by various nodes, making them hard to control by a central authority such as the government.
Properly validated. Before anything can happen on the blockchain, all transactions must be confirmed. A blockchain is used by both Bitcoin and Ethereum to record transactions and ensure that nothing is lost in the process.
Pseudonymous. Both Bitcoin and Ethereum support secure transactions. While each transaction may be tracked and recognized, the identifying information includes the sender and recipient's public keys. Although no names are published, all participants must still guarantee that their private keys are kept secure in order to keep their information private from the public.
Why StealthEX? Effortless ETH-BTC Swaps and Fiat-to-Crypto
While many services offer ETH-BTC swaps, not many provide you with an all-in-one customer experience. StealthEX is a convenient instant crypto exchange with over 1000 coins and tokens that offers a safe and efficient way to buy or exchange cryptocurrencies. Traders and investors can purchase and transfer Ethereum to Bitcoin with no limits and even without registering on the platform. The service does not charge any extra or hidden fees, and as it's non-custodial, it also offers its customers privacy and security: your private keys remain with you as the end user. StealthEX automatically finds the cheapest price for your exchange and begins the transaction.
Cross-chain swaps with StealthEX provide a multi-cryptocurrency exchange and independence for anyone using the platform. Basically, StealthEX allows its users to swap different crypto between two chains directly, and in the optical eyes of the nodes and the general public, the transaction is deemed a regular one. The platform gives a great opportunity to do cross-chain swaps without using any third parties, such as exchanges or cross-bridges.
Moreover, you can buy Bitcoin with a credit card. Fiat/crypto swaps via StealthEX are simple and hassle-free. StealthEX users can initiate fiat-crypto swaps without any KYC under €700, so if your desired amount for buying crypto fits this criteria, no verification is necessary.
If you have any questions, check out the comprehensive FAQ that contains the most important information about StealthEX.
And don't forget to follow StealthEX on Medium, Twitter, Telegram, YouTube, and Publish0x to stay updated about the latest news on StealthEX.io and the rest of the crypto world.
Please make sure to do your own research before buying any crypto. The views and opinions expressed in this article are solely those of the author.
Bitcoin
BTC
ETH
ETH to BTC
Ethereum
Recent Articles on Cryptocurrency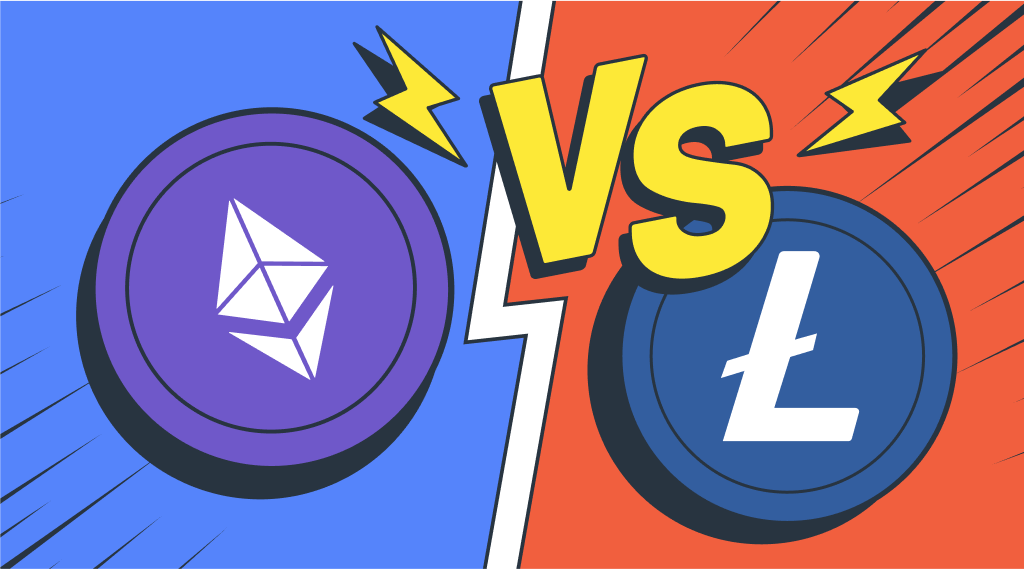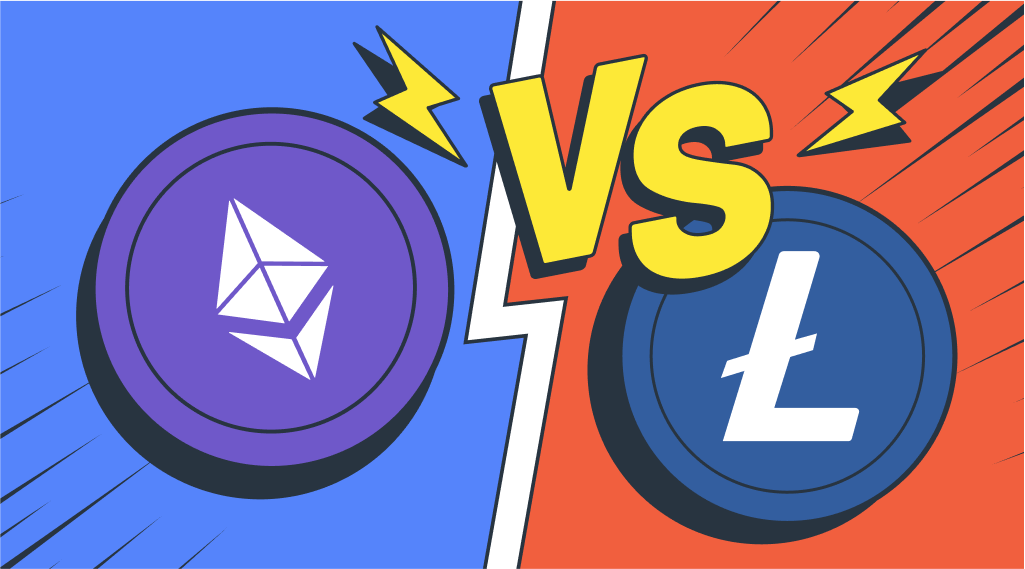 September 25, 2023
Crypto World
Litecoin vs Ethereum: Which Crypto to Choose? LTC & ETH
This article delves into the differences and similarities between LTC and ETH, offering a comprehensive comparison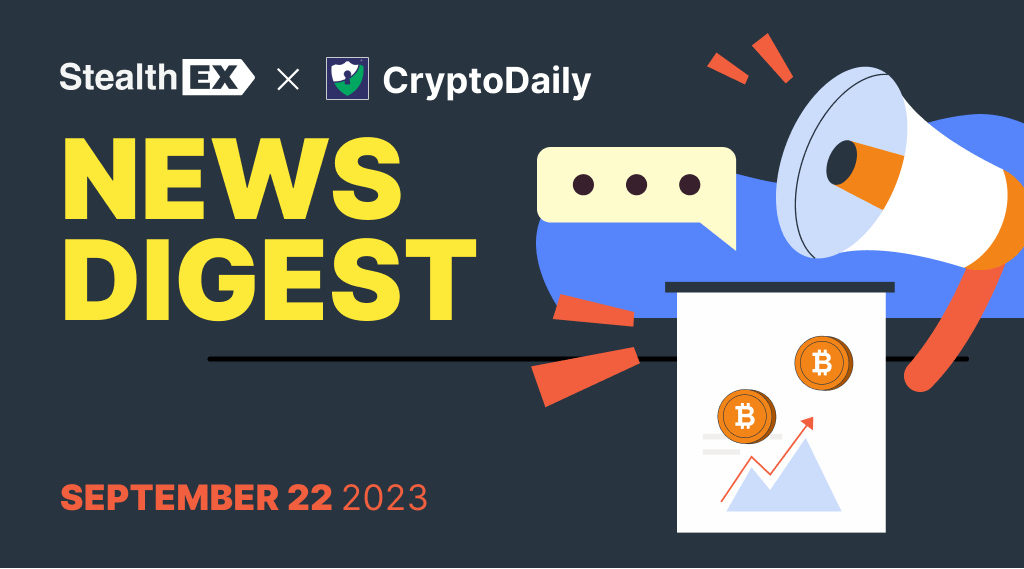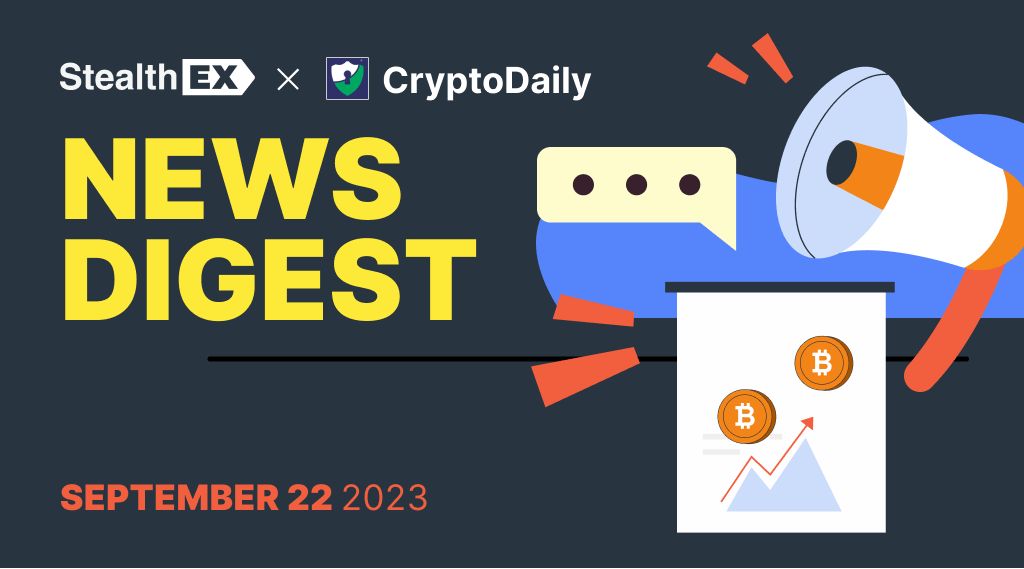 September 22, 2023
Crypto World
USDC on Polkadot, FTX Lawsuit, and SEC Actions: StealthEX x CryptoDaily Digest
In the dynamic sector of crypto, staying informed is crucial. Dive in to get a concise overview of the week's…