Litecoin Price Prediction: Will LTC Coin Reach $1000?
September 21, 2023
Price Prediction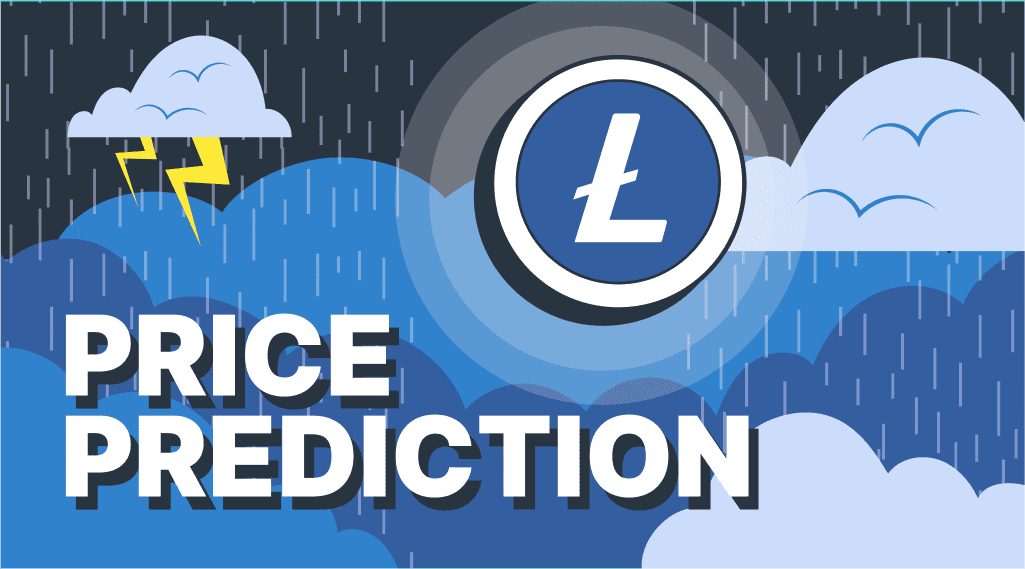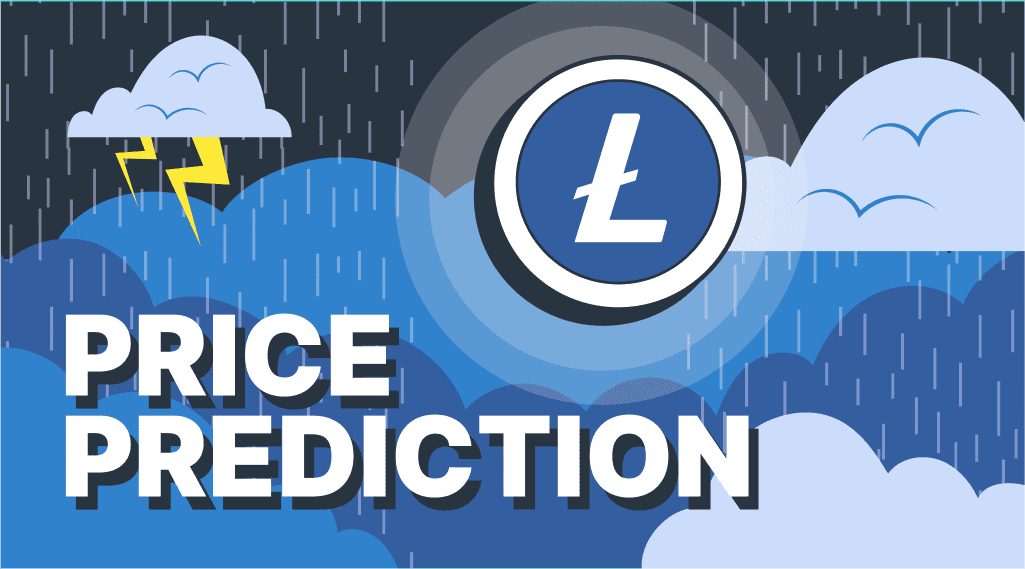 Litecoin (LTC) crypto was founded in 2011 by Charlie Lee, a former Google employee. Although Litecoin is similar to Bitcoin in many ways, some interesting aspects have been changed. This has helped Litecoin to find its audience and to become a key part of the crypto asset world. Litecoin has maintained a spot in the top-15 cryptocurrencies in terms of market value despite its lack of support for smart contracts and remains a well-known and trusted cryptocurrency. What to expect from crypto silver in the future? Read more about Litecoin price prediction in the new StealthEX article.
| | | |
| --- | --- | --- |
| Current LTC Price | LTC Crypto Price Prediction 2025 | LTC Crypto Price Prediction 2030 |
| $63.62 | $246.11 | $707.63 |
Litecoin Overview: Silver In The World Of Crypto
An open-source global peer-to-peer (P2P) cryptocurrency network called Litecoin enables users to transmit payments quickly and cheaply around the globe. The speed, scalability, and centralization problems that the Bitcoin network was plagued by led to the creation of the Litecoin network, which was launched on October 13, 2011.
With rapid transaction confirmations, Litecoin is intended to be the perfect digital asset payment option for both consumers and businesses. It secures the network via a Proof-of-Work (PoW) consensus, like Bitcoin. However, compared to Bitcoin, its network uses a different hashing method. While Bitcoin employs SHA-256, Litecoin makes use of Scrypt.
Charlie Lee, a Massachusetts Institute of Technology (MIT) alumnus and former Google employee, invented Litecoin in October 2011. In order to address the sluggish transaction speed and lack of scalability of Bitcoin, Lee made the decision to develop a 'lighter' version of Bitcoin that would enable faster transactions and more scalability, as well as cheaper transaction fees.
Lee began working for Coinbase as the Director of Engineering in 2013. Litecoin's price jumped tenfold, from $3 to $30, when this information hit the market. In December 2017, when the value of Litecoin reached its pinnacle, Lee sold all of his assets. Lee retired from Coinbase in 2017 and is now in charge of the Litecoin Foundation, which is dedicated to advancing Litecoin.
Litecoin Price History
Litecoin quickly found listings on various exchanges and its price reached 30 cents. Between 2011 and 2013, its price varied from a few dozen cents to $3. But starting in November 2013, Litecoin's price went on its first exuberant bull run over a matter of days. The price multiplied by more than a factor of ten to reach about $34.
With the 2014 bear market and the scandal that engulfed Mt.Gox exchange, Litecoin's price collapsed to around $1-2 in January 2015.
After a slight lift in spring 2015, Litecoin consolidated for the next two years with its price holding around $3. But in late March 2017, Litecoin began its second climb. It went from $7 at the end of March to $54 by July 2017 and reached $76 in September of that year.
In the final two months of 2017, Litecoin was part of the cryptocurrency bubble and its price sky-rocketed. It hit its all-time high of around $314 on 19 December 2017. In 2018, Litecoin, along with the rest of the cryptoverse, crashed and in December, its price fell to $24.
The next year, Litecoin restarted its upward swing and its price climbed to $137 in June 2019, before falling back to $37 in the second half of 2019. Since summer 2020, it has participated in the new bull market and reached its absolute all-time high of $412.96 in 2021. At the moment, LTC costs $63.61 as the bear market is still ongoing.
LTC Price Chart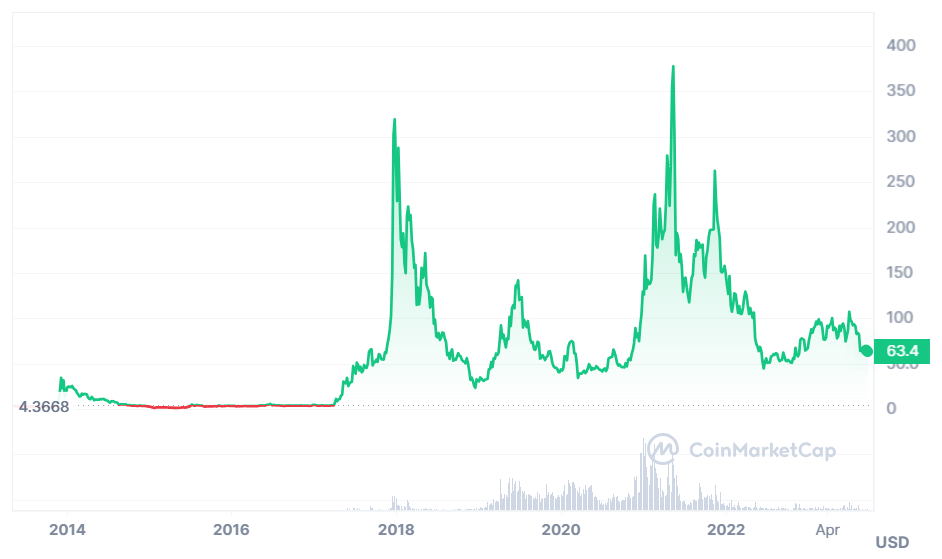 Litecoin Price History. Source: CoinMarketCap, 21 September 2023
| | |
| --- | --- |
| Current Price | $63.62 |
| Market Cap | $340,353,597 |
| Volume (24h) | $340,353,597 |
| Market Rank | #15 |
| Circulating Supply | 73,677,158 LTC |
| Total Supply | 84,000,000 LTC |
| 1 Month High / Low | $70.22 / $58.04 |
| All-Time High | $412.96 May 10, 2021 |
Litecoin Price Prediction
Litecoin Price Forecast for the End of 2023
DigitalCoinPrice experts believe that the cryptocurrency can either drop to a minimum of $57.38 (-14%), or double in price up to $142.63 (+111%) at its highest point.
PricePrediction analysts think that Litecoin will make gains until the end of 2023: its minimum price will go as high as $92.98 (+37%), while at its peak Litecoin can reach $105.02 (+55%).
WalletInvestor experts are of the opinion that by December 2023, the price of crypto silver can lose half of its current value: $31.092 (-53%), while at its peak it can reach $155.455 (+130%).
Litecoin Price Prediction 2024
DigitalCoinPrice experts give an optimistic prediction for Litecoin: they believe that in 2024, its minimum price will be $144.53 (+114%), while at its peak it might climb to $174.78 (+159%).
PricePrediction website analysts also think that in 2024 Litecoin might considerably rise in price. According to their calculations, LTC price can reach $136.01 (+101%) at its lowest point and $160.96 (+138%) at its peak.
WalletInvestor crypto analysts believe that Litecoin can experience a sharp decline in price, when it will hit $1.507 (-97%) at its lowest point and give a very broad prediction for the cryptocurrency. At its maximum in 2024, Litecoin might reach $128.243 (+90%).
Litecoin Price Prediction 2025
DigitalCoinPrice experts believe that in 2025, LTC will continue rising in price. Based on their forecasts, Litecoin might go as high as $246.11 (+265%) per coin at its peak. Its minimum price can drop to $198.65 (+194%).
WalletInvestor analysts give the same broad prediction for Litecoin in 2025: they believe that by the end of December 2025 it may either drop to a fraction of its current price to reach $0.000001 (-99%), or it can rise in price to a maximum of $108.359 (+60%), which will still be lower than their maximum price prediction for the year 2024.
In contrast to WalletInvestor, PricePrediction experts believe that Litecoin will continue rising in price: at its peak it might go as high as $237.12 (+251%), and it may also drop to a minimum of $199.61 (+196%).
Telegaon analysts think that in 2025, Litecoin's minimum price will drop to $263.19 (+290%), while at its peak, it might reach $365.23 (+442%).
Litecoin Price Prediction 2030
According to DigitalCoinPrice, Litecoin will continue rising in price. In 2030, LTC crypto might go as high as $707.63 (+950%) per coin. It can also experience a decline in price to a minimum level of $656.76 (+874%).
PricePrediction claims that by 2030, the price of Litecoin will skyrocket. According to their website, LTC might reach $1,565.15 (+2,222%) at its absolute peak in 2030, and it can also drop to a minimum of $1,305.41 (+1,837%).
Telegaon experts believe that in 2030, Litecoin will considerably rise in price to reach $688.12 (+921%) at its lowest point. Its maximum price might reach $750.24 (+1,013%).
Litecoin Price Prediction 2040
According to Telegaon forecasts, by 2040 LTC crypto will experience a further boost in price: the highest price Litecoin is forecasted to reach is a staggering $1,543.93 (+2,191%) per coin. It can also drop in price to a minimum of $1,207.34 (+1,691%) per coin.
LTC USD Price Technical Analysis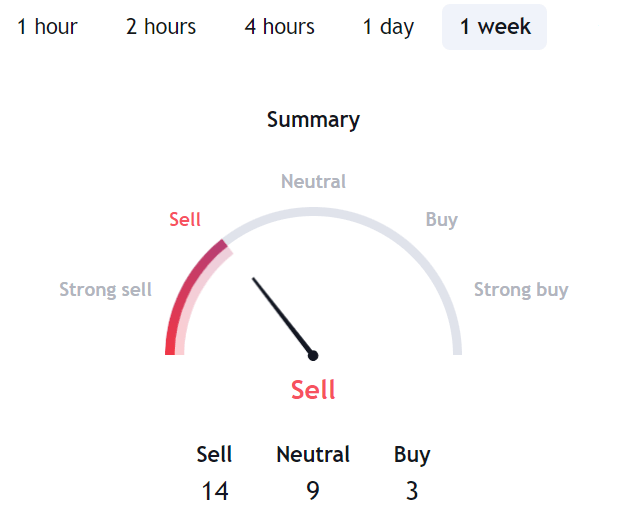 Source: Tradingview, Data was taken on September 21
LTC Price Predictions: Experts' Opinions
While Litecoin's early stages did not receive widespread acceptance, it needed time for LTC to develop that trust and strive towards it. It undoubtedly became a market leader and is still strong today. Many cryptocurrency specialists believe that the market cap of Litecoin has enormous potential.
For instance, they believe that the price of Litecoin will steadily rise. Experts from CoinPriceForecast believe that the forecasted Litecoin price at the end of 2023 is $89.40 – and the year to year change +29%. In the first half of 2024, the Litecoin price will climb to $110.06; in the second half, the price would lose $6.70 and close the year at $103.36, which is +25% to the current price.
And while Litecoin's recent halving didn't lead to any surges in price, the price of Litecoin could go up in the future due to factors such as increased adoption by merchants and businesses, FOMO (fear of missing out), and positive news about Litecoin.
Now that we've seen what the future can bring for Litecoin, let's find out a bit more about its features and the opinions of crypto experts.
Litecoin: Features
Litecoin was specifically designed to reduce the amount of time it takes to validate a new block, and to uphold storage efficiency. In this section, we'll take a look at some of its properties:
Transaction speed. Litecoin has a transaction processing speed of 54 TPS, which is significantly higher than Bitcoin's transaction processing speed of 5 TPS.
Scalability. The block mining time for Litecoin is two and a half minutes, which is four times faster than the ten minutes it takes for Bitcoin to generate blocks. As a result, Litecoin's network is able to achieve a higher throughput.
Decentralization. The Scrypt hashing algorithm is used to power Litecoin's PoW consensus mechanism, giving the network a lower barrier to entry and allowing more individuals to participate in the Litecoin mining process.
Transaction fees. The fee structure of Litecoin is 1/50th the size of Bitcoin's, which drastically reduces transaction costs.
Security. Litecoin's Scrypt hashing is designed to be more secure than alternative functions against hardware brute-force attacks. Even after a decade, Litecoin hasn't suffered any major exploits, demonstrating its reliability as a cryptocurrency.
Privacy. Litecoin is also a privacy cryptocurrency. The MWEB (MimbleWimble Extension Block) upgrade allows users to opt in as necessary to conduct private transactions, and transaction anonymity is guaranteed, so that a transaction amount is known only to the sender and receiver.
Factors Affecting Litecoin Price
Technical analysis is a tool that can help predict Litecoin's price movements. Technical analysts use charts and other tools to evaluate market trends and identify potential price movements. Some key indicators used in technical analysis include moving averages, support and resistance levels, and momentum indicators. During its history, Litecoin was doing well and even hit considerable all-time highs a couple of times. This may show that LTC has good potential and can give returns during a new bull market. If, as analysts claim, we are to expect it in 2024, Litecoin will surely be at the forefront of altcoins.
Risks and Opportunities
In conclusion, a variety of factors, including market variables, cryptocurrency trends, news and events, technical analysis, and investor sentiment, all have an impact on the price of Litecoin. You may invest in Litecoin with greater confidence if you comprehend these elements and how they relate to one another.
It's important to remember that the cryptocurrency market is still in its infancy, which makes it extremely vulnerable to price swings and volatility. Investors may benefit greatly from this volatility, but there are also many hazards involved. As a result, when investing in Litecoin, it's crucial to have a long-term investment strategy in place. While opportunities are many, crypto assets still remain a risky form of investment for professionals.
Litecoin Halving
Whenever miners complete a block, they earn LTC rewards. However, as with Bitcoin halving, the mining rewards for Litecoin decrease over time. Based on the previous LTC halving event on August 2, 2023, Litecoin now offers 6.25 LTC per completed block.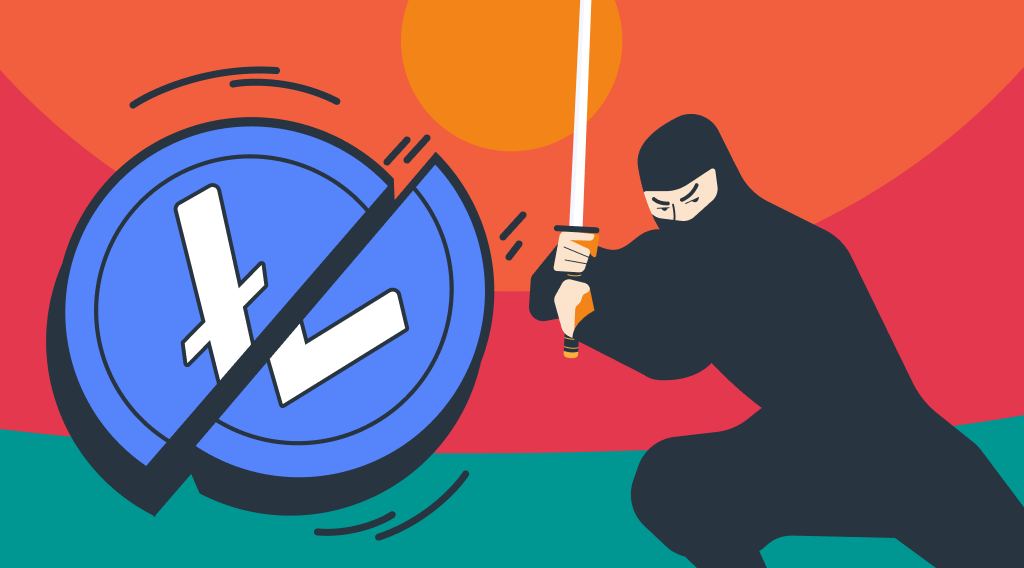 The next halving event will take place on July 31, 2027, and will decrease mining rewards to 3.125 LTC per completed block.
Is Litecoin A Good Investment?
Rather than focusing on its functionality, many investors are interested in Litecoin as a potential long-term holding. They speculate that Litecoin will build relative wealth over time like other investments. Litecoin is also one of the oldest cryptocurrencies on the market, which makes it more trustworthy in the eyes of investors.
Additionally, cryptocurrencies usually use a technology known as blockchain to create services that can run without a controlling authority such as a central bank. While the use of crypto for payment remains far from being the norm, Litecoin is positioning itself as a leader in that area.
Will Litecoin Go Up?
Litecoin is a reputable cryptocurrency with a solid community and a long track record. According to many long-term price projections, LTC deserves attention due to its growing adoption, dominance, and past bullish momentum.
Will Litecoin Reach $500?
Many experts believe that this can happen between 2025 and 2030, and it wouldn't be surprising.
Will Litecoin Reach $1000?
Litecoin might hit the $1000 price level by the end of 2030. In a short amount of time, crypto assets can yield profits of more than 1000X. Numerous cryptocurrencies, including Shiba Inu and Ethereum, have enjoyed surprising price increases. With sound fundamentals, any cryptocurrency can experience the same thing. Long-term Litecoin price forecasts are only indicative, thus it is always wiser to depend on price analysis and temper your optimism when making investments.
Can Litecoin Reach $5000?
Litecoin has a good chance to reach $5000, however, it will not happen too soon. Nonetheless, LTC has many use cases in real life and has a huge supporting community behind it, which can certainly help its price to increase in the future.
Litecoin vs Bitcoin
Litecoin is often compared to Bitcoin, however, they both have a number of considerable differentiating traits. The first difference between Litecoin and Bitcoin lies in their maximum supply cap. Bitcoin has a supply capped at 21 million, while Litecoin's supply is constrained to 84 million.
Another distinction between Litecoin and Bitcoin lies in the protocols to mine coins. As mentioned earlier, Bitcoin uses SHA-256 and Litecoin relies on a modified version of Scrypt to generate coins. The difference in protocols has implications on transaction processing times for both coins. The slow transaction speed frustrates merchants who want to accept Bitcoin as payment. You can wait up to an hour, on average, for the six confirmations required for a Bitcoin transaction. Litecoin is certainly more preferable than BTC in this relation: LTC is four times as fast as BTC in processing and confirming transactions.
The speed in processing transactions can come at the expense of security because fewer rounds of transaction verification are involved. Litecoin's confirmation time of 2.5 minutes (as opposed to the roughly 10 minutes that Bitcoin takes to confirm transactions) is convenient for small merchants who do not want or need their transactions to be super secure.
In 2017, Litecoin adopted 'Segregated Witness,' a technology that helps cryptocurrencies add more transactions into each block. Later that year, the first Lightning transaction was completed on Litecoin, a development that showcased how it could use a layered network design.
Additionally, Litecoin has added a privacy feature to its network. MimbleWimble, named after the tongue-tying spell in Harry Potter, is a privacy and scalability upgrade deployed on the Litecoin network on May 19, 2022.
Where Can You Buy LTC Coin?
StealthEX is here to help you buy LTC coin if you're looking for a way to invest in this cryptocurrency. You can do this privately and without the need to sign up for the service. Our crypto collection has more than 1400 different coins and you can do wallet-to-wallet transfers instantly and problem-free.
Just go to StealthEX, choose the amount and cryptocurrencies you want to swap to Litecoin, for example, ETH to LTC, and click Start Exchange.

Follow us on Medium, Twitter, Telegram, YouTube, and Publish0x to stay updated about the latest news on StealthEX.io and the rest of the crypto world.
Don't forget to do your own research before buying any crypto. The views and opinions expressed in this article are solely those of the author.
crypto price prediction
Litecoin
LTC
price analysis
price prediction
Recent Articles on Cryptocurrency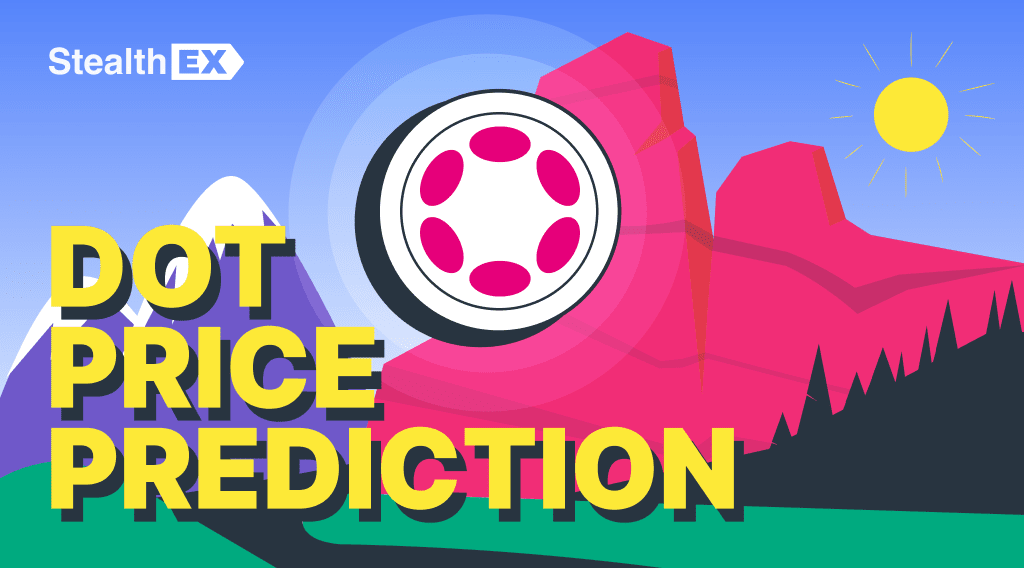 November 29, 2023
Price Prediction
Polkadot (DOT) Price Prediction: Will DOT Coin Reach $1000?
According to the long-term Polkadot price prediction by the end of 2030, the DOT price may rise to $195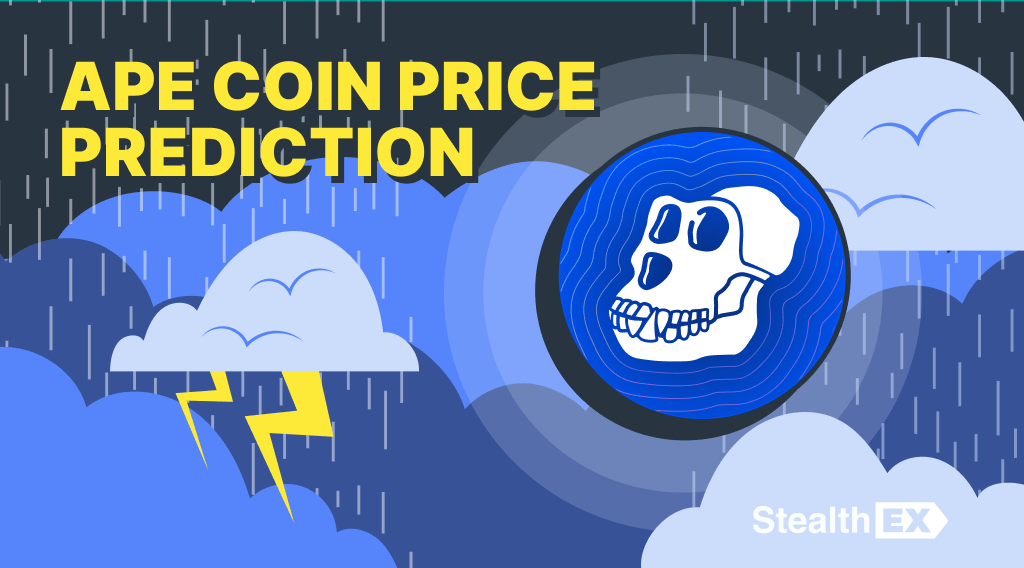 November 29, 2023
Price Prediction
ApeCoin Price Prediction: Is APE Coin a Good Investment?
According to the long-term ApeCoin price prediction by the end of 2030, the APE price may rise to $250